Review
HelloSign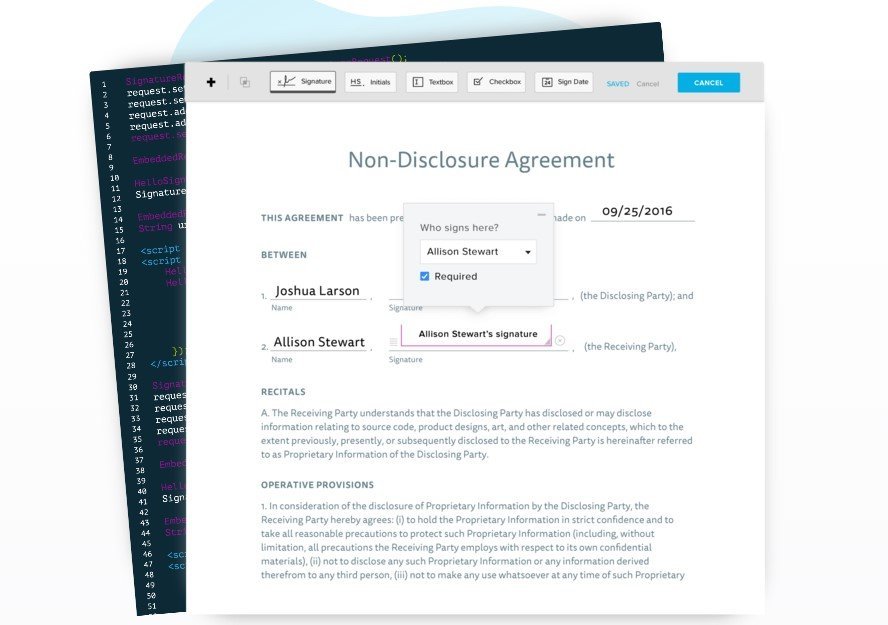 Overview
Safe and secure and legally binding, HelloSign simplifies the signing process on any device, anywhere and is one of the most powerful platforms for business agreements.
· Works well with most apps
· Simple and beautiful interface
· Secure
· Works on mobile
· Audit trails
A limited, free package is available. Contact for more pricing details.
Small (<50 employees), Medium (50 to 1000 Enterprise (>1001 employees)
HelloSign simplifies the signing process and is one of the most powerful platforms for business agreements. HellSign is safe and secure and it is legally binding. The average workflow relies on hard-to-use PDFs that are complex, error-prone, and pretty unintelligent.
HelloWorks is an entirely new experience where customers only see relevant information that is validated and verified in a beautifully simple flow. The end result is a workflow that gets completed more accurately and at a higher rate which directly affects your bottom line.
HelloSign's eSignature API is the only one on the market that allows customers to completely white label and seamlessly embed the user's signing experience. This provides an optimal user experience for the customers while the user maintains full control of the most valuable asset — the brand.
Developers love HelloSigns's REST API, clean and straightforward documentation, and extensive SDKs. On average, full-featured integrations average less than 2.5 days of development - the fastest in the industry! HelloSign has a modern, user-friendly interface that has powerful features. Since business is done on the run these days, HelloSign has also optimized the signing experience for mobile so that the user and the customers can sign from anywhere, at any time, on any device. very importantly, HelloSign is compliant with all major eSignature laws including ESIGN, UETA, and European eIDAS.
The SSL encryption, world-class server infrastructure and audit trails ensure that the user's documents are kept safe and secure. Additional security options like two factor authentication and user passcodes give the user extra peace of mind. This simple and secure e-signature programme is ideal for any business.