Review
Deacom ERP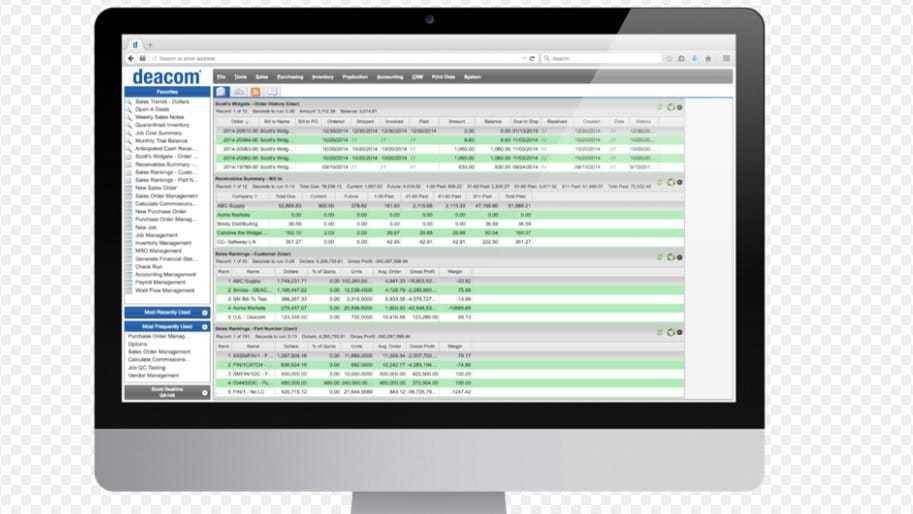 Overview
DEACOM Enterprise Resource Planning software provide manufacturers and distributors the tools they require to manage everything from formulation to shipment, all within a single-system.
ERP Software,ERP Software SMB
• Accounting
• Purchasing management
• Sales management
• Formulation & Quality control
• Production management
• Inventory management
• Maintenance
• Customer Relationship Management
• Regulatory Reporting/BI
• EDI
Small (<50 employees), Medium (50 to 1000 Enterprise (>1001 employees)
What is best?
• Accounting
• Purchasing management
• Sales management
• Formulation & Quality control
• Production management
• Inventory management
• Maintenance
Deacom ERP is a full-function ERP solution that supports all core functional areas of the manufacturing industry. Deacom's solutions use a single set of business rules, written with one set of code, and avoids the typical customizations inherent with traditional ERP model. Deacom's strategy is to provide drive consistency and usability throughout the software.
Deacom ERP is delivered as a web-based solution and can be accessed anywhere, anytime, and on any device. Deacom's single-system ERP software is capable of scaling with your business as requirements change and evolve using the rapid development cycle and Kaizen methodology enabling a strong process control for your business processes.
Deacom's Accounting module consists of configurable dashboards that allow real-time access to financial data, reports and statements, accounting summaries and reports, and sales orders, invoices and customer statements. Deacom's Purchasing module lets you access inventory management, purchasing analysis and reporting tools, and automatically create purchase orders, 1099 forms, and backorders whenever required.
Deacom's Formulation and Quality control module lets you perform QC testing for raw materials received, and also set up and make changes to formulas that impact inventory and production planning. Deacom's production module gives you a 360-degree view of the production process from scheduling jobs, tracking execution, to calculations of actual production costs.
It leverages on integrated APIs to view live data of each worker's current task, track accumulated hours on each job, remaining hours, and estimated completion dates. Deacom's CRM module enables you to manage customer data, track sales commissions, and execute marketing campaigns, all on-the-go with iOS and Android mobile apps.
Deacom's Inventory management enables you to maintain multiple warehouses and track inventory across the entire organization. Deacom's Regulatory reporting module helps you generate regulatory document using Deacoms's reporting editor, comply with SARA reporting requirements, and deliver compliance data directly to online SDS forms.
You may like to read: Top ERP Software, Free, Open Source ERP Software, Top ERP Software for SMB, Top Cloud ERP Software, ERP Software for Large Business.