Review
Tally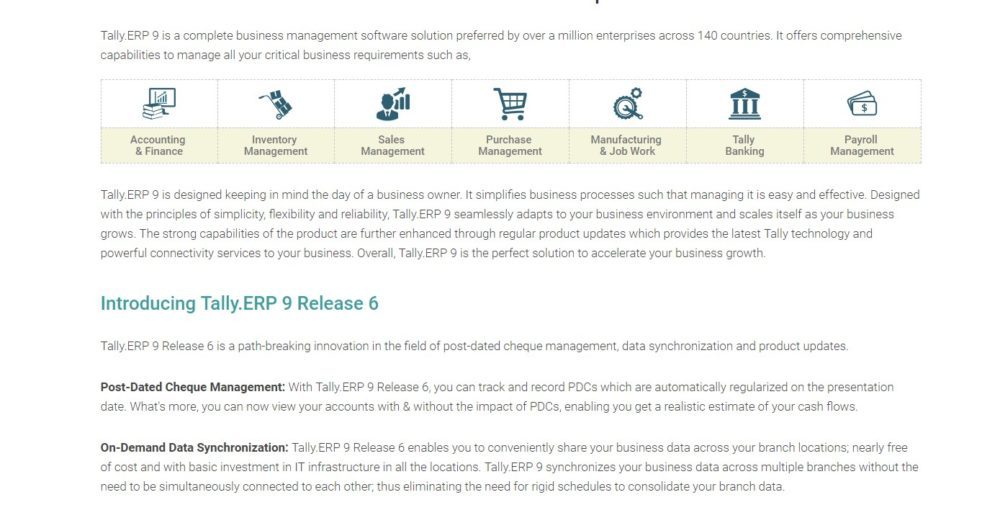 Overview
With Tally's accounting prowess, you can accurately plan purchases, manage working capital and improve cash flow for your organization. It allows you to keep a check on expenditures, handle exceptions in business processes and manage your financials in a better fashion.
• Credit Management
• Maintain Multiple Companies
• Fund Flow & Cash Flow
• Unlimited Cost & Profit Centers
• Multi Currency Accounting
• Interest Calculation
• Flexible Classification of Chart of Accounts
• Unified Groups and Ledgers
• Tally.ERP 9 – Silver - $ 126 / year
• Tally.ERP 9 – Gold - $ 378 / year
• Tally.Server 9 – Gold - $ 9,450 / year
Small (<50 employees), Medium (50 to 1000 Enterprise (>1001 employees)
What is best?
• Consolidation of Companies
• Budgets & Controls View
• Contact Details at Report Level
• Receivables & Payables Management
• Concurrent data access
• Security and control
• Zero Downtime
What are the benefits?
• Monitoring and optimization
• Simple and rapid development
• Seamless project management
• Easy debugging and diagnostics
• Convenient auto complete capability
• Enhanced search and compilation support
Tally Solutions is a group of business software products subscription that caters to millions of users across industries in around 140 countries by offering business solutions. It's a complete management business solution.
It offers three products and services which include, the Tally.ERP 9, which is a complete business management software that enables you to manage all aspects of your business such as accounting, inventory, taxation, payroll and much more. It makes managing your business processes simple so that managing it becomes easy and effective and eventually helps your business grow faster.
As your business grows, it adapts to the growth by scaling itself. The second one is Tally Software Services, which is a software subscription that basically ensures that your business will remain up-to-date with the latest advancements in technology. It also makes sure that you have a bird's eye view of your entire business, across all branches even while you are on the move. This way, you stay connected with your customers, banks and any other business stakeholders in an efficient way.
The third one is Tally.Server 9 which is an enterprise-class product for medium and large-sized businesses that have a pace of growth that requires them to invest in IT infrastructure that will improve their business efficiency. It optimizes business performance and if your enterprise is looking at exponential growth, then it's the right choice for you. It gives enterprises simultaneous data access from multiple Tally.
ERP9 users, simple & swift deployment, and more security & control measures. Finally, there is the Tally.Developer 9, which is an editor, search engine and a compiler which a programmer uses to simplify his efforts using the powerful features it offers. This reduces the complexity involved in designing the code, which then helps save time and costs to create effective solutions.
You may like to read: Top Accounting Software, Top Free and Open Source Accounting Software and How to Select the Best Accounting Software for Your Business