Top 26 Free and Open Source Accounting Software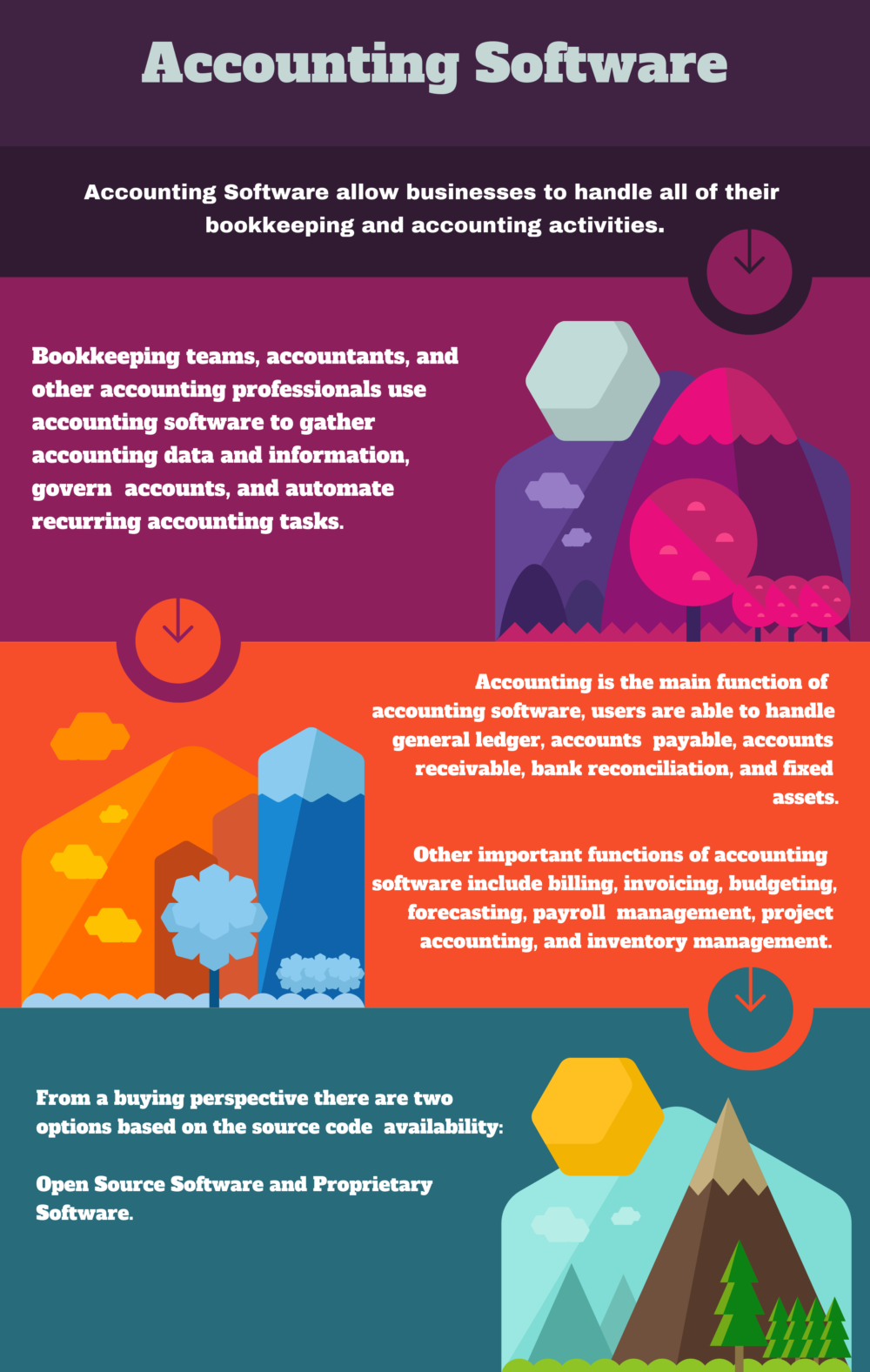 Accounting is an important part of everyday business operations. Small, medium and large-sized businesses need to handle financial data and information to ensure all financial resources end up in the right places. When using the right software, companies can perform simple and complex financial transactions.
Accounting can gather, summarize, analyze, and report financial data. Moreover, companies can automate bookkeeping processes that are difficult to handle manually. This means businesses can process their financial transactions and records at greater speeds.
Businesses also need to ensure that all of their financial records are accurate and up to date. For that reason, they have to use an application that can identify and correct errors.
In addition to facilitating faster and efficient accounting processes, accounting software helps companies reduce costs such as administrative and accounting department costs. Also, organizations can file their taxes with ease and generate accurate reports at any given moment.
You may like to read: How to Select the Best Accounting Software for Your Business
What are the Best Free Accounting Software: QuickBooks, FreshBooks, Wave, Pivot Accounting Pro, Akaunting, NolaPro Desktop Free Edition, Adminsoft Accounts, ZarMoney, VT Cash Book, Brightbook, QuickFile, NCH Express Accounts, WP ERP Accounting, Pandle, Manager, Momenteo Free Edition, ZipBooks Free Edition, Kiwili Free Edition, SlickPie Starter Edition are some of the best examples of Free Accounting Software.
What are the Best Open Source Accounting Software: GnuCash, SQL-Ledger, FrontAccounting, TurboCASH, LedgerSMB, Money Manager Ex, PhreeBooks, xTuple PostBooks are some of the best examples of Open Source Accounting Software.
You may like to read: Top Accounting Software
What are Accounting Software?
Accounting Software allow businesses to handle all of their bookkeeping and accounting activities. This includes storing financial data and performing various business transactions on a daily basis. Bookkeeping teams, accountants, and other accounting professionals use accounting software to gather accounting data and information, govern accounts, and automate recurring accounting tasks.
Since accounting is the main function of accounting software, users are able to handle general ledger, accounts payable, accounts receivable, bank reconciliation, and fixed assets.
Other important functions of accounting software include billing, invoicing, budgeting, forecasting, payroll management, project accounting, and inventory management. When it comes to choosing a suitable accounting software program, companies can choose from several categories depending on their business operations and needs.
You may like to read: Top Accounting Software
The most common categories of accounting software include billing and invoicing systems, payroll management systems, enterprise resource planning systems, and time and expense management systems. It's up to the company's accounting professionals to determine which accounting software program meets their needs.
You may like to read: Top Accounting Software, and How to Select the Best Accounting Software for Your Business
Some of the benefits include:
Accurate financial data
Reduced operational costs
Improved efficiency
Top Free Accounting Software
QuickBooks, FreshBooks, Wave, Pivot Accounting Pro, Akaunting, NolaPro Desktop Free Edition, Adminsoft Accounts, ZarMoney, VT Cash Book, Brightbook, QuickFile, NCH Express Accounts, WP ERP Accounting, Pandle, Manager, Momenteo Free Edition, ZipBooks Free Edition, Kiwili Free Edition, SlickPie Starter Edition are some of the Top Free Accounting Software.
1
QuickBooks enables you to quickly design an invoice template to represent your brand, or modify one of pre-installed online invoice templates. It also allows you to send your invoices with a Pay Now link so your customers can make online credit card payments instantly and easily. You can also track when invoices are sent, viewed, and paid. QuickBooks lets you stay in-sync with your bank by automatically downloading, categorizing, and reconciling bank and credit card transactions. QuickBooks helps you track and record expenses making it easy to reference during tax reconciliation and filing. It allows you to take a photo…
2
FreshBooks is a cloud-based accounting application that can be securely accessed from any device, anywhere. FreshBooks Invoicing software provides the tools you need to customize your invoices to reflect your brand. You can change colors, add logos, or even adjust currencies. Again, all your accounting activity is captured in FreshBooks, so you can easily transform an estimate, project or time sheet into an invoice. With FreshBooks, you can use invoice templates for regular clients so you do not have to create a new one every time.FreshBooks lets you accept credit cards so your clients can pay you via multiple online…
3
Wave is an accounting software which covers the spectrum of a small business owner's financial life, and helps businesses grow and thrive by providing access to capital (Lending), improving cash flow (Payments), delivering money to employees (Payroll), helping businesses get paid (Invoicing), preparing for tax time and providing business insights (Accounting, Receipts). Wave's payment and credit card processing feature offers sub-features such as accept credit cards on the invoices users send, set up recurring billing for users' repeat customers—charge a card and send a receipt without lifting a finger, customers pay faster where most invoices get paid in 2 business…
4
Pivot Accounting Pro is an accounting software and tax package tool for self-employed sole proprietors operating anywhere in Canada. Pivot Accounting Pro offers the tax package tool that allows proprietors to determine what their GST/HST owing and taxable income is for the year. Pivot Accounting Pro supports every province in Canada and can handle taxation years where the GST, PST, or HST rates changed during the year. Pivot Accounting Pro provides influential accounting reports and summaries that can be exported to a PDF format and emailed to a tax practitioner. The accounting software and tax package tool are also created…
5
Akaunting is a free and online accounting software designed for small businesses to manage their finances and stay on top of their cash flow. Invoicing, accepting online payments and keeping track of expenses couldn't be simpler. Akaunting is built with modern technologies such as Laravel, Bootstrap, jQuery, Swift Mailer, API etc. With Akaunting, access financials instantly from any device: Mac, PC, tablet or phone. Akaunting is an Open Source project with contributors from all over the world. Akaunting is hosted on GitHub and open for everyone to contribute. With Akaunting software, send professional invoices to clients and start accepting online…
6
NolaPro is a powerful and fully customizable accounting software which offers over 100 add-ons and tons of setup choices. NolaPro offers features such as automatic updates, data backups, secure site, customer tracking, billing, payables, general ledger, international features, multiple languages, multiple users, multiple companies, inventory, payroll / timeclock, orders / POS and b2b web portal and add-ons like 12 month history of customer sales or units sold, block salesperson changes, create customer groups. NolaPro also provides customer item discounts, customer notes, customer page customizer, email center, employee notes, employee time tracking, employee-specific tax expense for GL, limit salesman access, VTIGER(tm)…
7
Adminsoft Accounts is a full double entry accounting system, complete with Accounts Receivable (Sales Ledger), Accounts Payable (Purchase Ledger), General Ledger (Nominal Ledger), Stock Control / Inventory, Purchase Order Processing, Invoice software, Human Resources, and even payroll software. It's also multi-user, multi-company, and multi-currency. In addition, it contains special modules (which can also be used for free) for retail, cafe, and restaurant trade, and for point of sale and workshop operations in the autotrade. The software will run on just about any PC running Windows, from Windows 98 through to Windows 10. It will also run on iMac or Linux…
8
ZarMoney is accounting software that has every aspect of its program designed to give businesses greater access and more command of information to accelerate and enhance the accounting process. ZarMoney is scalable and adapts to business quickly and provides comprehensive command over full inventory management, customized reports, and automated controls. With ZarMoney, businesses can enjoy the ultimate mobility and remote connectivity for optimum management agility and enhance access to their books from any device and any location. The built-in messaging and alerts feature offers businesses with an excellent platform to allow them to communicate at any time as well as…
9
VT Cash Book can be used to record the day to day cash transactions for any size of business. VT Cash Book is extremely simple to use and data entry is very fast. VT Cash Book is a highly simplified version of VT Transaction+. VT Cash Book files can be opened in VT Transaction+ and vice versa. Support is only provided to VT Cash Book users if they have purchased a license for VT Transaction+. Five support enquiries can be made within a year of purchase at no additional charge. Reports in VT Cash Book are in windows. Switch between…
10
Brightbook is a completely free software that makes invoicing a very easy task. It offers invoicing, instant insights along with accounting software that allows you to import banking statements to see profit and loss. It also provides the feature of multiple users using the software with selective access according to hierarchy and requirement for extra security and privacy. Brightbook is the perfect bookkeeping solution for small business owners, freelancers and contractors. Brightbook makes bookkeeping an easier, less time-consuming and more enjoyable process. And because it's online, use it anytime, anywhere. Brightbook has Bank-level security - it uses the same level…
11
QuickFile is a provider of cloud accounting software for businesses of multiple sizes. With affordable pricing and useful features, it's popular with small and medium businesses. QuickFile provides a full suite of accounting features including professional invoicing, expense management, VAT, bank feeds and over 300 integrations. QuickFile was designed from the onset to be simple and intuitive. No steep learning curve. A simple, yet effective piece of software to aid businesses with their bookkeeping and accounting, QuickFile often implements new features based on community demand. QuickFile can create a branded online portal where clients can view, download, print and pay…
12
NCH Express Accounts is a professional business accounting software that offers an excellent platform to easily track payments and deposit transactions, view balances and reports to see how the business is doing, and email or fax reports directly to the accountants. NCH Express Accounts accounting software is also perfect for a small business needing to document and report on incoming and outgoing cash flow including sales, receipts, payments, and purchases. The key features offered by NCH Express Accounts include sales and accounts receivable, accounts payable, financial analysis and reports. The sales and accounts receivable feature facilitates tracking sales and accounts…
13
WP ERP Accounting is accounting software that uses a graphical dashboard that allows businesses to view all vital information quickly. WP ERP Accounting is also flexible enough to accommodate all types of sales transactions and calculate any sales data the user inputs. WP ERP Accounting uses an intuitive and interactive system that makes it possible for beginners to understand and work smoothly with balance sheets, debit, credit, income statements, and cash flows. The sales transactions feature gives the actual scenario of everything such as total outstanding and received amounts, over dues, and partial payments. The sales transactions feature also enables…
14
Pandle is a cloud-based accounting solution for small businesses across the UK. The platform helps streamline accounting activities including invoicing, quotations, receipt uploads, payroll services and tax estimations. Pandle supports multiple currencies and exchange rates for currency conversions. Accountants and business owners can create invoices as well as email bulk invoices to customers and suppliers. Users can also set up recurring invoices and send reminders for pending invoices. Pandle has banking features that enable users to upload transaction receipts and pull transaction history from bank accounts in real time. Pandle's reporting capabilities allow users to view financial statements and analyze…
15
Manager Accounting software is one of the most powerful and free accounting software for small businesses. This simple budget software has the best features that help in keeping track of credit notes, purchase orders, bank reconciliation, aged payables, journal entries, charts of accounts, etc. This software works great with Windows-based, Mac and Linux systems. In order to make sure that Manager runs very fast even if you have larger amount of data, all servers are using high frequency Intel Xeon processors with turbo up to 3.3GHz. Manager includes many features for customizing business' look to the outside world. It also…
16
Momenteo is accounting software that allows freelancers keep track of their work done, expenses, and travels in the provided beautiful calendar. Momenteo also allows freelancers to manage their clients, invoices, expenses and travels easily while having a clear portrait of their financial status. Momenteo is cloud-based and automated; therefore, the user's data is stored in the safest way possible. The key features offered by Momenteo include invoices, clients, calendar, time tracking, estimates, reports, and expenses. The invoices allow the users to send beautiful invoices to their clients. The accounting software then allows tracking the status of the invoices and send…
17
ZipBooks is an accounting and invoicing software that simple, beautiful, and powerful and offers tools to make bookkeeping and reporting in accounting smarter. ZipBooks also offers tools that allow sending professional invoices in seconds and getting paid seamlessly. ZipBooks uses the data-driven intelligence that goes beyond the historical reports in other accounting software to automate, predict and advise. ZipBooks also offers actionable insights based on millions of data points to help businesses to make simple tweaks with an outsized impact. With ZipBooks, a business can automate everything with recurring auto-bills while integrating ZipBooks into their books. The key features offered…
18
Kiwili is accounting software that uses a uses a simple sign-up process that has the ability to access all functions through a single dashboard. Kiwili also allows businesses to view and administer business functions with commendable ease as well as enable creating multiple projects and assigning tasks. The key features offered by Kiwili include invoices management, creating projects and assigning tasks, time tracking and billing, and report generation. The project creation and tasks assignment feature provide an excellent platform to create numerous projects. The task assignment feature then allows creating multiple tasks within the projects which can be created and…
19
SlickPie is a basic expense management software offers all the basic tools for the start-up micro-business management. SlickPie is also ideal for the fresh to the market companies as well as established businesses. SlickPie is also designed to fit small business needs by doing all the heavy lifting work to deliver the most delightful expense management experience. SlickPie uses a MagicBot which acts as an automated receipt data entry tool that enables the business to streamline their expense by automatically pulling information from receipts and converting it into digital data. The expense management tool offers business accounting features starting from…
Top Open Source Accounting Software
GnuCash, SQL-Ledger, FrontAccounting, TurboCASH, LedgerSMB, Money Manager Ex, PhreeBooks, xTuple PostBooks are some of the Top Open Source Accounting Software.
1
GnuCash is an easy to use, yet powerful and flexible personal and small-business financial-accounting software, freely licensed under the GNU GPL and available for GNU/Linux, BSD, Solaris, Mac OS X and Microsoft Windows which allows the users to track bank accounts, stocks, income and expenses and also is a quick and intuitive to use as a checkbook register that is based on professional accounting principles to ensure balanced books and accurate reports. GnuCash offers features such as Small business accounting features, multiple currencies, stock/mutual fund portfolios, online stock & mutual fund quotes, experimental database support, QIF and OFX import, HBCI…
2
SQL Ledger is a web based ERP system that runs on any NIX, Mac, or Windows platform. Data is stored in SQL database server so that the displayed of any text or GUI browser can be uses. It is freely available an written in an easy readable perl code. There is intuitive interface so that the learning curve is kept to a minimum. It support foreign languages and no special programs is required make changes or add a new language. Installation takes only a few minute bit it is easy to do. It has a lot of features which makes…
3
FrontAccounting ERP is a free, downloadable web-based accounting system designed for small and medium businesses. The software allows users to manage their accounts online whether it be for purchase orders, accounts payable, sales orders, deposits, customer invoices or credit notes. FrontAccounting ERP can be accessed from anywhere in the World and different companies can be set-up simultaneously. The software is a multi-user system, supports various languages and can handle a number of currencies, and subscription for remote accessibility is low-cost for open source accounting. FrontAccounting ERP comes with flexible tax configuration tools and works with all banking and general ledger…
4
TurboCASH is a powerful, flexible, small open source accounting software that is one of the world's first fully-featured open source accounts packages for small businesses. Since it's open source, developers can add plug-ins to the main programme and this enables various vertical market opportunities. New versions of the software are released every 4months or so, while major upgrades happen once a year. So far it has over 80,000 users. TurboCASH is free for you to download and also distribute under the terms of the General Public Licence (GPL). As compared to other accounting software's like Quickbooks and Sage, TurboCASH is…
5
Ledger SMB is an open source ERP software program that gives businesses opportunity to manage their operations, track invoices and payments, inventory and lots more from a single application in a simpler way. the major important of using this program is that; it provides short ramp-up times due to a simple powerful user interface. It easily integrates with other businesses applications through open architecture, It customizability and supporting completion builds the software around your business and not the other way round, and it also opens community of consultants and service providers. There are series of built-in modules which make it…
6
Money Manager Ex is a free open source, cross-platform, and easy to use personal finance software that acts as an excellent tool for providing one with a bird's eye view of their financial worth. Money Manager EX primarily helps to organize one's finances and keeps track of where, when, and how the money goes. The key features offered by Money Manager EX include reminders for recurring bills and deposits, budgeting, and cash flow forecasting, importing data from any CSV format, simple one-click reporting with graphs and pie charts, international language support, and non-proprietary SQLite database with AES encryption. Money Manager…
7
PhreeBook, which is formerly known as PhreeDom, is a modular ERP web application for small businesses that can track inventory, accounting, contracts, check writing, bank account reconciliation, and more. The purpose of this application is to provide the small-business community with a free multi-language end-to-end enterprise management tool. This appliances includes; Base Operating System ( Detrian GNU/Linux 8, Jessie), Building formats, which deploys on bare metal, virtual machines like Openstack, VMWare, VirtualBox, OpenVz, KVM, and in the cloud. It has ISO images, general installable live CD which can be installed anywhere. It has virtual machine images which is used to…
8
xTuple Postbook is an open source ERP program designed for sales, accounting, operations and CRM, all these in a single system. It is a fully featured, fully integrated business management system. It was built to run in the cloud or on a local server and provides the ultimate in power and flexibility for a range of business and industries of any size. It helps organization gets started with xTuple business management software to run the entire business which include; accounting, customer relationship management, manufacturing, inventory purchasing, distribution and delivery, and more. It main features comprises of Accounting, which includes general…
You may like to read: Top Accounting Software, and How to Select the Best Accounting Software for Your Business
What to Choose: Proprietary or Open Source Accounting Software? How about Cloud?
From a buying perspective there are two options based on the source code availability: Open Source Software and Proprietary Software.
Open Source Accounting Software: Open Source Accounting Software is ideal when you have a development team available in your company and when you want to try out the product or build new features and functionality on top of it.
Proprietary Accounting Software: Proprietary Accounting Software is a good choice when you are looking for an established product, when your requirement is for SAAS product or when you need full-fledged support and when open source standards doesn't matter in your line of business.
You may want to review: Top Accounting Software
How about Cloud and On Premise Software?
Based on the installation type there are cloud-based and on-premises software systems, with both the systems having equal share of benefits. The cloud software is hosted and managed and maintained on a remote server. It is also referred to as software as a service (SaaS). On-premises software is normally installed and implemented on your company's premises and which need your own IT team to manage and maintain the on- premises system.
Selection of the installation type depends on the needs of your organization. A small company may find the cloud system more appropriate since the cost of installation is lower as opposed to having on-premises system.
You will find free or limited free versions in both the Open Source Software and Proprietary Software.
We recommend determining how the software fits to your business in terms of features, functionality, and business process with a free trial.