Top 17 Master Data Management Software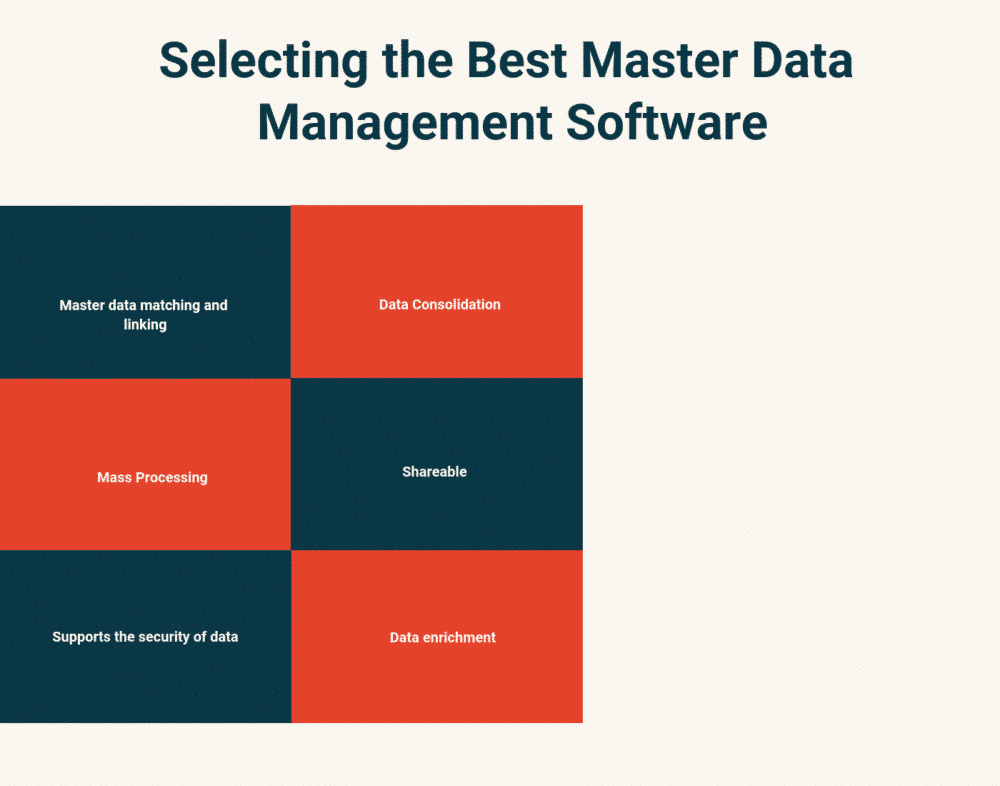 Increasingly, business managers and executives need accurate and timely reports in or near real-time. Any business operations and applications greatly rely on master data such as materials, plants, customers, vendors etc.
The master data helps power every business process from financial reporting to customer records. It enables businesses to make better decisions, increase operational effectiveness, improve customer satisfaction, and achieve higher revenues and profits. Business specialists are empowered with a complete and accurate view of the entire company from a central point of view and thus can make precise and informed decisions. The sales department can identify cross-sell as well as up-sell opportunities with a round or 360-degree view of clients and products, which increases earnings, customer satisfaction, and client retention.
A centralized platform enables the enterprise to ensure total control over the information, including its historical data. It also reduces the risks and cost by providing accurate audit trails and version control. Without a flexible MDM system, however, the business reports are often full of errors and needs to be manually checked. So, to avoid that, companies need to use master data management software.
Master Data Management Software comprises the processes, governance, policies, standards and tools that consistently define and manage the critical data of an organization to provide a single point of reference.
Master Data Management Software can be used to support master data management by removing duplicates, standardizing data and incorporating rules to eliminate incorrect data from entering the system in order to create an authoritative source of master data. Master data management has the objective of providing processes for collecting, aggregating, matching, consolidating, quality-assuring, persisting and distributing such data throughout an organization to ensure consistency and control in the ongoing maintenance and application use of this information.
Master Data Management seeks to ensure that an organization does not use multiple versions of the same master data in different parts of its operations, which can occur in large organizations. Processes commonly seen in master data management include source identification, data collection, data transformation, normalization, rule administration, error detection and correction, data consolidation, data storage, data distribution, data classification, taxonomy services, item master creation, schema mapping, product codification, data enrichment and data governance.
Examples of Master Data Management Software: Ataccama, Profisee, Orchestra Networks, Talend Master Data Management, SAS Master Data Management, Hybris Product Content Management, SAP Master Data Governance, Agility Multichannel, Tibco MDM, Stibo Systems, IBM InfoSphere Master Data Management, Omni-Gen, VisionWare MDM, Product Information Management – Product 360, Oracle Product Hub, Enterworks, Riversand are the examples of best Master Data Management Software.
You may like to read: How to Select the Best Master Data Management Software for Your Business
What are Master Data Management Software
Master Data Management Software is a system that helps integrate all the business applications of the entire organization from different departments and business units into a single file. It helps generate a central point of reference. Business needs to have complete and accurate customer records. Inaccurate and erroneous data could result in unnecessary costs.
Master Data Management Software is vital to ensure there are no errors or inaccuracies in the data accessed by different units in an organization. Master Data Management Software gathers company-wide data from multiple domains and departments, and singles out the core data that administrators have determined is most relevant to the organization. Users then implement the data as they see appropriate, keep records of historical information, and make reliable projections based on findings.
Master data matching and linking: Matching and linking function utilize algorithms that instantly identify duplication of data and helps resolve multiple entries into a one single and accurate record. Master Data Management Software helps eliminate data duplications, feed correct information into all the systems, monitor the integrity of the source of the data and automate some tasks that are otherwise considered resource-demanding.
Data Consolidation: Master Data Management Software enables data consolidation for clients, vendors, and product databases on a flexible and intuitive process with user experience (UI) that is consumer-grade. MDM software has easy-to-use UI that can help visualize all data during a consolidation process such as drag-down, show changes, best record review, and match review. Master Data Management Software creates, maintains, and distributes master data in a centralized source that extends across a variety of different programs in the business. It ensures data consistency anytime, anywhere, standardizes definitions and business rules, enforces validated values and monitor a complete audit trail of changes
Mass Processing: Master Data Management Software mass processing feature perform beneficial mass change processes that allow the master data users to do bulk alterations and modifications in business partners, clients, suppliers, and range of products data. It enables an effective process to execute mass changes for attributes.
Accessibility: Master Data Management Software accessibility feature allows the individuals particularly those with disabilities to use it. It provides client-side and third-party assistive technologies, for example, the JAWS screen reader, to be used in conjunction with the Master Data Management Software solutions.
Shareable: Master Data Management Software enables business rules to be shareable across different use cases for example when doing data importing or approval processes. The controls must be centralized with an ability to be changed once for effect to be applied everywhere. Business rules must also be implemented in the user interface without a need to wait for the backend development. Business rules allow the user to create, apply and manage the entire company's data governance policy by an introduction of fast and accurate data quality and governance strategies, thus minimizing risk.
Supports the security of data: Master Data Management Software allows the use of role-based security policies within a master data management solution. It must help you define the access rights to any data which are applied to restrict actions. It helps to protect sensitive and private data, particularly pertinent financial information. An Master Data Management Software solution can do data attributes encryption with business-defined cryptographic keys so that users will be prompted to provide a password before they can access the attribute values. The feature ensures that the company is not vulnerable and cannot be exploited by unauthorized external parties who try to gain access to the users' data without consent.
Data enrichment: Master Data Management Software enables data enrichment which involves enriching the tools and processes that improve the data quality of the data emanating from different inbound sources. It's a crucial component to help the user achieve a correct 360-degree view of their data. It enables cleansing and streamlining of the data.
Master Data Management Software ensure that the entire organization access accurate and 360-degree view of a company's data from a single centralized location to make the best and informed decisions.
Top Master Data Management Software
Ataccama, Profisee, Orchestra Networks, Talend Master Data Management, SAS Master Data Management, Hybris Product Content Management, SAP Master Data Governance, Agility Multichannel, Tibco MDM, Stibo Systems, IBM InfoSphere Master Data Management, Omni-Gen, VisionWare MDM, Product Information Management – Product 360, Oracle Product Hub, Enterworks, Riversand are the top Top Master Data Management Software.
Top Master Data Management Software
PAT Index™
1
Ataccama
Master Data Center (MDC) is part of the complete Ataccama family of products, providing functionality together with ease of use, broad compatibility, and the ability to customize the solution to meet users specific business needs.MDC is a platform optimized for demanding transactional environments that makes consistent, accurate, and up-to-date data instantly available across a wide range of internal systems and enterprise applications. MDC is fast, reliable, and designed to integrate with user's existing infrastructure. Its advanced architecture and high-performance engine are designed for demanding real-time and near-real-time environments, where large number of records must be handled. It can instantly provide…
Overview
•Based on DQC
•A single window into your data
•Predefined business models and processes
•Advanced architecture
•Support for different MDM styles and levels
•Connectivity
2
Profisee
Profisee Platform is a full featured enterprise master data management solution designed to provide the lowest total cost of ownership of any competitive solution, without sacrificing on functionality across all major components of an MDM platform. The Profisee Platform was designed from the ground up as a multi-domain MDM platform, to model and manage virtually any master data domain or reference data set. With a focus on the business, Profisee provides the first MDM solution that is truly approachable and affordable for business data stewards. The Core Platform delivers the fundamental capabilities needed for every MDM solution. From modeling, data…
Overview
•Track buying patterns across 100 million+ records;
•Master customer records to track CRM patterns across dozens of different source systems;
•Integrate new acquisitions efficiently and with ease;
•Support global ERP rollout, handle all onboarding of new client compliance issues;
•Manage risk, create member risk profiles while making them visible to the right executives in the organization for decision making;
• Increase federal government reimbursements due to more accurate claims reporting; and many more.
3
Orchestra Networks
EBX5 is a way to manage, govern and share the data assets. EBX5 uses a unique model that eliminates the need for long, costly, and endless development projects. EBX5 includes all the enterprise-class capabilities needed for creating data-driven applications: data stewardship, workflow, data quality and data integration, all built right in. EBX5 usees a model-driven approach to design data management applications. Users can configure only the features they need. Model-driven design simplifies change management. Updates do not require coding, just configuration changes.EBX5 provides enterprise-class integration capabilities to connect the data management application to any operational or analytical systems. With EBX5,…
Overview
•Adapt data with inheritance
•Managing data in Salesforce
•Exploring metadata & business terms
•Importing and exporting spreadsheets
•Consolidation with cleansing and matching
•Data Quality dashboards
•Remediation and approval workflows
•Track changes on data
•Updating a data model
4
Talend Master Data Management
Talend Master Data Management (MDM) unifies any amount of data--from customers to products to suppliers and beyond--into an individual, actionable "version of the facts. " As part of the Talend Info Fabric, Talend MDM combines real-time data, applications, and process integration with inlayed data quality and stewardship to share across on-premises, cloud and mobile applications. Plan and drive their MDM journey across multiple domains, lines of businesses, integration scenarios and delivery in the cloud or on-premises. Empower decision producers to create and promote a trusted golden record across internal and exterior sources that have built-in data integration, data quality, stewardship,…
Overview
•Talend Big Data Integration
•Talend Integration Cloud
•Talend Data Integration
•Talend Application Integration
•Talend Master Data Management
•Talend Open Studio
5
SAS Master Data Management
SAS Master Data Management helps you get up and running in a matter of months while working with your existing technology. It's efficiency at its best.Access big data and traditional sources. Gain access to, integrate and publish data to sources that are more like Hadoop (via Apache Hive) and Impala, in addition to many traditional relational database engines. Data quality over the complete data life cycle - Use integrated features for data gain access to, profiling, address verification, data enrichment, transformation, cross-field enterprise matching and business secret monitoring. Create more important relationships - Create and visualize relationships with custom attributes…
Overview
•Fraud & Security Intelligence
•In-Memory Analytics
•Performance Management
•Risk Management
•Solutions for Hadoop
•Supply Chain Intelligence
6
Hybris Product Content Management
Hybris Product Content Management is way to pull together data scattered across the enterprise, enrich it and publish it. hybris PCM provides a collaborative environment for product managers, pricers and marketers to develop and publish rich customer experiences. With all your business and product content in one place, you can provide a seamless omni-channel experience for customers and bring new products to market rapidly and easily.hybris Product Content Management gives users control of all product content from all channels and systems in one place, including products syndicated from multiple suppliers. Also, it allows users' customers to research products on multiple…
Overview
•Build a 360 view
•Be consistent
•Manage multiple catalogs
•Go to market quicker
•Adapt quickly
•Boost marketing
Hybris Product Content Management
7
SAP Master Data Governance
With SAP Master Data Governance software users can consolidate and centrally govern their master data – to ensure data quality and consistency across their organization. They can consolidate master data from any SAP and non-SAP system and create a single best record. Also, they can centrally create and maintain master data across heterogeneous systems in their enterprise. SAP Master Data Governance allows leveraging a verifiable audit trail of when, why, and by whom master data is changed. It automates workflow routing and notification, time-dependent version control, and a full audit trail of changes. Allows using pre-built workflows and user interfaces…
Overview
•Broad application and systems support
•Comprehensive cleansing capabilities
•Centralized governance
•Process-embedded governance
•Built-in data governance best practices
•High performance and scalability
8
Agility Multichannel
Agility is a product management for commerce solution built for speed to market. It streamlines processes, from the manufacturing of products, through the build-out, enrichment and syndication of content to ecommerce and all other channels. Its data Integration and validation tools automate the mechanisms for gathering product information.With Agility, users can rest assured that their product information will retain its integrity as it undergoes those processes. Agility lets users customize and adapt content for each channel and preview it in context, exactly as their customers will see it. Agility integration with the ecommerce systems and creative tools already in use…
Overview
•Multiple versions & languages can be managed through single view & interface
•Automated data integration and validation
•Depth and detail of product information
•Single view for authoring for all channels
•SKU counts and attributes have unlimited capacity for expansion
•Supports multiple ecommerce sites for added brands
•Standardization of processes and workflows
•Automation of validation and production tasks
9
Tibco MDM
Expert Data Management (MDM) is the answer to guaranteeing that the increasing quantity of data about business can fast become the main asset. By eliminating data silos, reaching governance, and managing data quality, one will be able to rely upon it to: Act in response quickly and effectively to customers and partners, Guarantee efficient business processes, avoid mistakes, rework, and the costs. COMPLETE VIEW OF BUSINESS DATA - Absorb data across channels and processes to provide a complete, up-to-date, trusted source of transactions and occasions for building context. CURRENT, SECURE DATA - Post and subscribe to data on demand. Accurate…
Overview
•Application Integration
•Messaging
•Master Data Management
•API Management
•Business Process Management
10
Stibo Systems
Stibo Systems is the global leader in multi-domain Grasp Data Management (MDM) alternatives. Industry leaders rely on Stibo Systems to provide cross-channel consistency by connecting product and customer data, suppliers and other company assets. This permits businesses to make more effective decisions, improve sales and build shareholder value. During the last 30 years, Stibo Systems has helped hundreds of companies to develop a trusted source of operational information. Details derive its unique benefits from Multidomain Master Info Management. Scroll down and explore the advantages you will gain when your data isn't siloed in your organization. Be sure everyone has access…
Overview
•Bill of Material Management
•Document Management
•Filters
•Product Lifecycle Management
•Testing Management
•Version Control
11
IBM InfoSphere Master Data Management
Master Data is common data about products, customers, partners, materials, suppliers, accounts and other important "entities," that is commonly stored and replicated across IT systems.Master Data is the high-value, core information used to support critical processes across the company. It is at the base of every business transaction, application, decision and report.Big data means all data - both internal and external as well as structured and unstructured. To locate critical business challenges like high operational costs, undifferentiated customer service, high risk associated with regulatory compliance, the need to introduce new products quickly, and the inability to cross-sell and up-sell, MDM…
Overview
•Provides high performance and scalability
•Improves data stewardship and governance
•Integrates with other applications and systems
•Simplifies reference data management
•Centralizes stewardship, auditing and security
IBM InfoSphere Master Data Management
12
Omni-Gen
Omni-Gen provides a single platform for generating applications that combine data integration, data quality, and master data management – in a fraction of the time such projects used to require. Omni-Gen is available in three editions: The Integration Edition includes powerful application and data integration capabilities that provide seamless access to any application or data store, to enable rapid creation of integration architectures with the greatest breadth and depth. The Data Quality Edition extends the Integration Edition, ensuring information completeness, validity, consistency, timeliness, and accuracy across all systems, people, and processes with advanced data quality management functionality. The Master Data…
13
VisionWare MDM
Influence MultiVue to create a single view of the customer and realize the following benefits to your business: Make better strategic and operational decisions based on trusted and available customer data, Improve customer proposal by understanding historic connections and communications preferences, Make cross-sell and upsell opportunities via improved selection and segmentation, allow employees and systems to produce seamless cross-channel activities when customer contacts, reduce reputational risk associated with 'knowing your customer', diagnose deceitful activity by understanding the relationships between people, properties, and other associated agencies. Introducing the next era of MultiVue - MultiVue 5 - the MDM platform that redefines…
Overview
•Master Data Management
•CRM Data Integration
•Data Quality
•Data Governance
14
Product Information Management – Product 360
Informatica's Product 360 (PIM) delivers rich product information that closes the sale no matter which channel the customers use. Product 360 enables business users to more efficiently acquire, author, and publish product information.Provides simple web collaboration and portals for retailers, distributors, external data contributors, and internal teams, with robust exception handling and increased failsafe functionality. MDM - Product 360 leverages a unified user experience, built-in data quality engine, built-in Business Process Management, search and metadata, inheriting those from the MDM architecture it's built on. This allows users to start smart and grow fast, making it easy to adapt to both…
Overview
•User-friendly and result-driven
•Automated and trusted data
•Digital asset management
•The one for omnichannel
•Find and convert new customers
•Only end-to-end MDM solution in the market
Product Information Management – Product 360
15
Oracle Product Hub
Oracle Product Hub enables companies to centralize product information from heterogeneous systems, as well as eliminate the challenge of fragmented product data. This solution provides capabilities to match, merge and integrate multiple sources, governance and data quality tools to securely and collaboratively manage data within the hub and integration services to share the content across the company and with business partners. Oracle Product Hub offers solutions that can consolidate, cleanse, and augment this corporate master data, and synchronize it with all applications, business processes, and analytical tools. Oracle Product Hub provides a number of options to meet data quality and…
Overview
•Centralize sell-side and buy-side product catalogs
•Aggregate products and components to serve as an inside product catalog
•Maintain a trusted source of product information
•Workflow-driven process automation
•Exception-based product change processes
•Mass creation, maintenance and approval of items
16
Enterworks
EnterWorks Enable Master Data Management (MDM) provides a framework of technologies and processes with a central repository of reliable, up-to-date master data consolidated across all enterprise applications. Its platform combines main elements about complex data domains, provides tools to improve data quality and prescribes data governance mechanisms for compatible use of that data. Enable was developed from inception to master multiple domains, like about materials, products, suppliers, customers, locations, etc, and the relations between them. Domains can be adapted to meet users business model and preferences, rather than their company being forced to fit a pre-existing notion of the data…
Overview
•Data Governance
•Data Stewardship
•Data Quality
•Multi-Domain
•Flexible Data Model
•Hierarchy Modeling
•Implementation Architectures
17
Riversand
Riversand's robust MDM platform provides the flexibility to manage and govern all master data domains be it Product, Customer, Supplier or Location in a single application and interface. This provides customers with powerful capabilities for data management for any domain and cross-domain data reuse and analytics. Multi-Domain Master Data Management is the critical information about business entities and concepts such as customers, suppliers, employees, patients, products, materials, stores, plants, recipes and so on. Benefits of Riversand's Multi Domain MDM are: single comprehensive solution suffice needs for all the data domains; data quality and data management functionality help business users accomplish…
Overview
•True Multi Domain platform, to manage cross domain relationships and business rules
•Single repository and Single Web Based User Interface
•Supports structured and unstructured data
•Highly scalable, can support any volume and scale of data
•Robust Data Quality features like matching, merging and data quality reporting
•Dynamic Governance features like Adaptive Workflows, Easy Business Rule writing
•Data Integration capabilities to onboard and syndicate data with ease
•Globalization and Internationalization ready
You may like to read: How to Select the Best Master Data Management Software for Your Business