Review
SQL-Ledger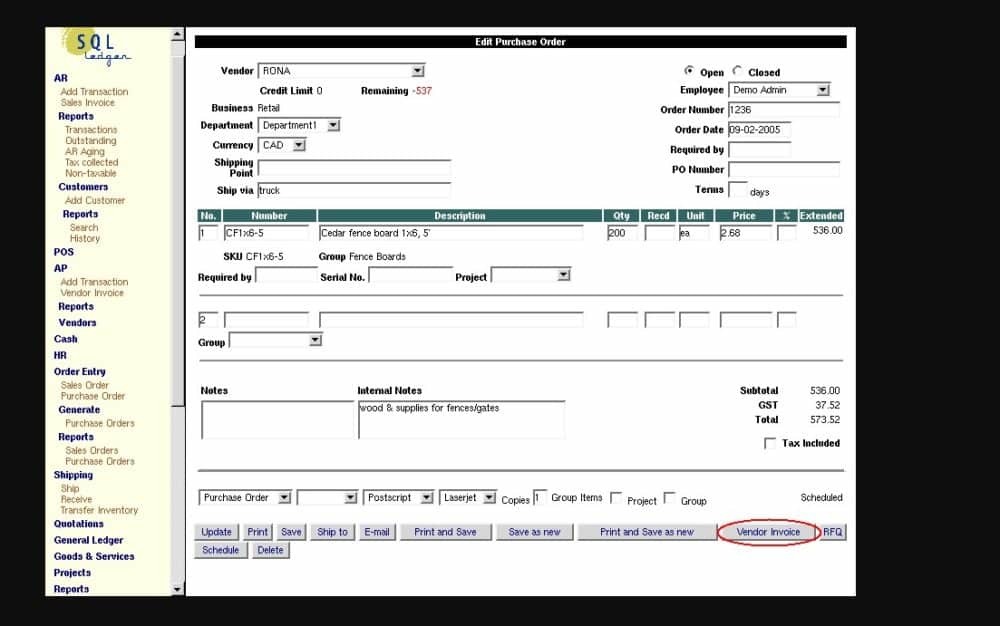 Overview
QL-Ledger is a webbased ERP system which runs on any *NIX, Mac or Windows platform. Accounting data is stored in a SQL database server, for the display any text or GUI browser can be used.
• Accounts Receivable and Payable
• Make Vouchers and General Ledger
• Make Inventory Control and Billing / Invoicing
• Payroll andTime Cards
•POS, Check Printing and make purchase / Sales Orders
• Customizable Taxes
Small (<50 employees), Medium (50 to 1000 Enterprise (>1001 employees)
What is best?
• Audit control and Access control
• Foreign Currency
• Internationalization
• It can be used to Customize Templates
• Used for Customers, • Vendors, Assemblies (BOM, kits)
• Used for Customizing Reports, Administration Module
• It can backup file/email, used for transactions and • Document Control
SQL Ledger is a web based ERP system that runs on any NIX, Mac, or Windows platform. Data is stored in SQL database server so that the displayed of any text or GUI browser can be uses. It is freely available an written in an easy readable perl code.
There is intuitive interface so that the learning curve is kept to a minimum. It support foreign languages and no special programs is required make changes or add a new language. Installation takes only a few minute bit it is easy to do. It has a lot of features which makes it more productive. It has flexible AR entry screen, unlimited numbers of account, customize reports, outstanding AR report and payment received for open invoices. Account is payable and order purchase are easily done by thus software.
Vouchers, general ledger, inventory control, billing, pay roll, check printing customizable taxes, CMS, and foreign currencies which include keeping tracks of exchange rate difference, gains and losses are done automatically.
It features goes beyond Internationalization , access control, administration module in which passwords are protected. Carbon copy preference can be created by simply editing an existing user. There is presence of interface to manage local and remote database.
Chart of accounts can also be created from external files. You can also change themes for each user with style sheet, modify the application without changing the core, build information catalogs, add global customized menus, add new functions and screens globally or per login. It also controls documentation for tracking payments, you can import parents based on document control numbers and lots more.
You may like to read: Top Accounting Software, Top Free and Open Source Accounting Software and How to Select the Best Accounting Software for Your Business