Top 27 Accounting Software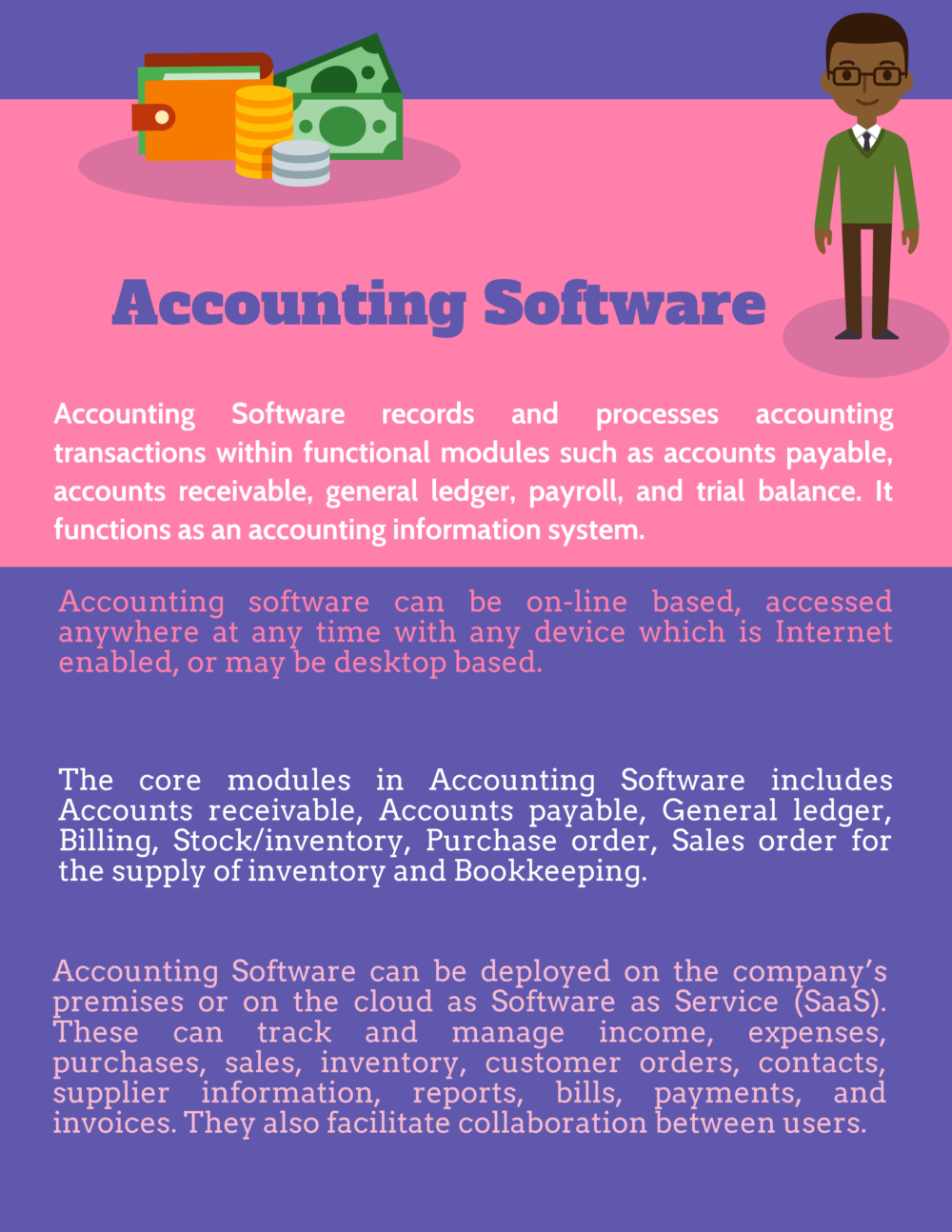 Businesses of all sizes need to manage different types of financial transactions on a daily basis. Some businesses only need to perform simple accounting tasks such as bookkeeping while others have to manage large volumes of financial transactions that are difficult to do using traditional spreadsheets and manual paperwork. Companies that handle huge volumes of financial data needs to find a software application that can manage the data, automate certain tasks, and help accountants and other users do accounting work with ease.
The recommended solution is to utilize accounting software to manage the financial transactions of a company. Companies that use accounting software are able to keep accurate records of their transactions by eliminating human error. The software uses advanced algorithms to perform all the necessary calculations that would otherwise be done manually by accountants. Generally, accounting software increases efficiency by automating financial transactions.
You may like to read: How to Select the Best Accounting Software for Your Business and Top Free and Open Source Accounting Software.
Accounting Software records and processes accounting transactions within functional modules such as accounts payable, accounts receivable, general ledger, payroll, and trial balance. It functions as an accounting information system.
Accounting software can be on-line based, accessed anywhere at any time with any device which is Internet enabled, or may be desktop based. The core modules in Accounting Software includes Accounts receivable—where the company enters money received, Accounts payable—where the company enters its bills and pays money it owes, General ledger—the company's "books", Billing—where the company produces invoices to clients/customers, Stock/inventory—where the company keeps control of its inventory, Purchase order—where the company orders inventory, Sales order—where the company records customer orders for the supply of inventory and Bookkeeping—where the company records collection and payment.
You may like to read: What is Accounting Software? Features, Benefits and Advantages and Top Free and Open Source Accounting Software.
What are the Best Top Accounting Software: QuickBooks, FreshBooks, QuickBooks Self-Employed, Sage Business Cloud Accounting, Sage 50cloud, MYOB Greentree, Tally, Xero, Liberty Accounts, Unit4 Financials, New Views Accounting, Less Accounting, Clear Books, Reckon, Cheqbook, Outright, FreeAgent, Account Edge, ZipBooks, Patriot's Accounting, OneUp, VersAccounts, KashFlow, Profitbooks, RetailMagic, Plooto, Progression SE are some of the best examples of Accounting Software.
What are Accounting Software?
Accounting software is a type of software that helps companies manage and automate their everyday financial transactions. It allows business users to handle bookkeeping, accounting, and business transactions. Accounting Software programs can be deployed on the company's premises or on the cloud as Software as Service (SaaS). These programs can track and manage income, expenses, purchases, sales, inventory, customer orders, contacts, supplier information, reports, bills, payments, and invoices. They also facilitate collaboration between users.
Choosing the right accounting software can be a challenge because there are many accounting programs on the market. Spreadsheets are the simplest and cheapest accounting applications, but they are prone to human error because most of the work is manual. Commercial accounting software programs are the most common types of accounting software. They are configurable applications that can meet the needs of users in specific industries. These applications are relatively expensive and users may need the services of a consultant to set up and maintain. Companies can also use custom-made accounting software with specialized features.
You may like to read: Top Free and Open Source Accounting Software
Some of the benefits include:
Workflow automation saves time
Reduction of errors
Integration with various systems
You may like to read: How to Select the Best Fund Accounting Software for Your Non-profit organization
Top Accounting Software
QuickBooks, FreshBooks, QuickBooks Self-Employed, Sage Business Cloud Accounting, Sage 50cloud, MYOB Greentree, Tally, Xero, Liberty Accounts, Unit4 Financials, New Views Accounting, Less Accounting, Clear Books, Reckon, Cheqbook, Outright, FreeAgent, Account Edge, ZipBooks, Patriot's Accounting, OneUp, VersAccounts, KashFlow, Profitbooks, RetailMagic, Plooto, Progression SE are some of the Top Accounting Software.
1
QuickBooks enables you to quickly design an invoice template to represent your brand, or modify one of pre-installed online invoice templates. It also allows you to send your invoices with a Pay Now link so your customers can make online credit card payments instantly and easily. You can also track when invoices are sent, viewed, and paid. QuickBooks lets you stay in-sync with your bank by automatically downloading, categorizing, and reconciling bank and credit card transactions. QuickBooks helps you track and record expenses making it easy to reference during tax reconciliation and filing. It allows you to take a photo…
2
FreshBooks is a cloud-based accounting application that can be securely accessed from any device, anywhere. FreshBooks Invoicing software provides the tools you need to customize your invoices to reflect your brand. You can change colors, add logos, or even adjust currencies. Again, all your accounting activity is captured in FreshBooks, so you can easily transform an estimate, project or time sheet into an invoice. With FreshBooks, you can use invoice templates for regular clients so you do not have to create a new one every time.FreshBooks lets you accept credit cards so your clients can pay you via multiple online…
3
QuickBooks Self-Employed was built specifically for Schedule C tax clients, so they can stay organized and on top of their business finances all year long. It offers key features such as automatic mileage tracking, receipt capture, and expense categorization. Create professional, personalized invoices that one can send from any device. Track status, send payment reminders and add a Pay Now button to every invoice. QuickBooks Self-Employed is intended for freelancers, contractors, and sole proprietors. Along with the tax readiness, QuickBooks Self-Employed offers tools that help users find and maximize deductions so they can focus on doing what they love. On…
4
Sage One is a simple accounting software for America's small businesses which takes care of invoicing on the road, banking at the office, and cash flow from home and works with PCs, Macs, iOS, and Android. Sage One offers features such as 1-unlimited users, instant automatic backup, record income and expenses, bank reconciliation, accountant access 3, invoicing and purchase invoices, multi-currency invoicing4, unlimited support and automatic updates. Sage One lets users create an estimate in seconds from anywhere and print it or send directly to clients via email, convert estimates into invoices in a single click, personalize the users' logo,…
Sage Business Cloud Accounting
5
Sage 50 is a desktop software with built-in anytime, anywhere cloud access apps, to help you run your business more efficiently. It keeps your business finances on track by delivering built-in accounting best practices. It also helps you stay compliant with taxes and reporting requirements. So, you are able to organize your business and get ready for tax season easily. Sage 50 helps you run your business more efficiently with a time-saving, in-depth solution to manage your accounting, invoicing, cash flow, inventory, taxes, and more. The software seamlessly combines the power and productivity of a trusted desktop solution with secure…
6
MYOB Greentree is a sophisticated, enterprise-level solution which helps businesses to understand, improve and automate what happens at every level of operations to make complexity more manageable. MYOB Greentree provides features such as active workflow, information and document management, approvals & alerts, eApprovals, screen designer, eDocs, inventory, sales & delivery, sales – mobile, purchasing, quality control, supply chain, material requirements planning (MRP), electronic data interchange (EDI), eRequisitions, job cost, advanced job cost, timesheets – mobile. MYOB Greentree also provides Microsoft Project interface, visual planning board, asset management, customer service, contracts & SLA, service – mobile, eService, payroll, HR management, recruitment,…
7
Tally Solutions is a group of business software products subscription that caters to millions of users across industries in around 140 countries by offering business solutions. It's a complete management business solution. It offers three products and services which include, the Tally.ERP 9, which is a complete business management software that enables you to manage all aspects of your business such as accounting, inventory, taxation, payroll and much more. It makes managing your business processes simple so that managing it becomes easy and effective and eventually helps your business grow faster. As your business grows, it adapts to the growth…
8
Xero is business accounting software that is simple, smart, and accessible online, anytime, anywhere, and on any device. It helps you to run your business on the go, get paid faster with online invoicing, and perform reconciliation quickly. Xero invoicing software gives you professional invoice templates that you can add your logo to and also lets you design and customize your own invoices. Xero makes sure you get paid instantly by accepting online payments to be completed online via debit or credit cards, or with PayPal, right from the invoice. Xero features tools to automate the invoicing processes including invoice…
9
Liberty Accounts incorporates time saving features to help with bookkeeping and payroll regimes, as well as imminent mandatory online filing of VAT and PAYE returns. Unlike other accountancy software, Liberty Accounts doesn't require you to buy or install any software. Instead it's designed to deliver a cost effective online accounting software service to UK businesses and not-for profit organisations who recognise the benefits of using online bookkeeping and payroll software to manage their accounting process, through their browser. The software makes it possible for businesses, accountants and bookkeepers to collaborate effortlessly; whilst providing an unmatched level of functionality at a…
10
Unit4 Financials delivers superior efficiency, consistency and accuracy to help your organization thrive amid the Digital Revolution. With business models transforming, new regulations emerging and change coming faster than ever, Unit4 Financials helps you handle the most complex challenges with confidence. The Unit4 financial provides the unified –ledger which provides a single, real-time version of the truth to your organization. Acquire the best of breed financial solution which integrates your current systems for total freedom of choice and ongoing business agility. Most of the enterprise financial system tends to hide your view of the business with: limited reporting capabilities, modular…
11
NewViews adapts to your business so it's always in sync with your accounting requirements. It lets you reorganize your books as your needs change, regardless of size or industry. All historical data is retained when you change your account structure. NewViews lets you create custom report layouts easily, modify your general ledger, and allocate costs to multiple projects/activities/branches, etc. NewViews enables you to perform comprehensive analysis of your accounting data across unlimited dimensions. For example, you can analyze data for any period: yearly, quarterly, monthly, weekly, or daily. You can also compare any period in the past or present, and…
12
Less Accounting is a robust accounting software for business owners which provides a suite of simple accounting workflows, automation helpers and simple reports. Less Accounting offers features such as expenses by project, expenses by income type, expenses by category, reminders of due expenses, profit and loss report, balance sheet, fixed assets, liabilities, wage reports, chart of accounts, receivables reports and payables reports. Less Accounting lets users see who owes them money and bill them, see where they are spending money and record and categorize expenses and then invite their tax professional to Less Accounting to download the information they need.…
13
Clear Books is a simple and intuitive online accounting software which is perfect for small businesses and accountants. It helps you to save time, simplify your bookkeeping and work smarter by managing your accounts in the cloud. So, you and your accountant can access your books anywhere, anytime. Having Clear Books as your accounting software will give your business a boost in identifying areas that are less value for profit and directing those financial resources into a viable, profit generating process. Clear Books will make it easy to manage your businesses financial affairs and keep accurate records. Generally, Clear Books…
14
Reckon is a simple, intuitive and full-featured online accounting software for small and large businesses which provides unlimited payroll, advanced inventory, impressive reporting with over 200+ different kinds and connects to the users' business with their tablet, laptop or desktop. Reckon One for small to mid-size business offers features such as see cash flow in real-time, unlimited bank reconciliation, budgeting, GST & BAS reports, free 24/7 support, multi-layered data security, SSL encryption, automatic backups, share with accountant or bookkeeper. Reckon provides 20+ beautiful reports, invite unlimited team members, free mobile app (iPhone / Android), free, regular feature updates, data stored…
15
Checkbook is considered to be the fastest and also an easy software tool to use for accounting and bookkeeping for the general customers, be it a beginner or a pro. Checkbook accounting software is structured to save time in such a way that it enables you to have a 60-day money guarantee, Automatically Download Transactions, Save time with AccuScore Smart Categorization, Send Invoices and Accept Payments Online, Manage Bills and Print Checks, Add-ons & Integration and other important features. Checkbook power has the following user features; CLEANUP, this includes Bank Reconciliation, Import Key Data from Quickbooks, Mass Recategorizations, Mass Remapping,…
16
Outright automatically syncs with all your business accounts so you can see all your transactions together in one place. It can link to your bank accounts, credit cards, PayPal accounts, eBay, Amazon, or other accounting applications. Outright instantly sorts your income from expenses and categorizes every transaction. It allows you to change a transaction category or create your own. Outright can be integrated with mobile apps that give you online access to Outright .You are abler to track and record your mileage, check your balances, get alerts on big sales, and enter your cash transactions, all on-the-go. Outright lets you…
17
FreeAgent provides great-looking professional invoice templates and lets you customize the invoices with your company logo, or even design you own. It allows you to send invoices to clients through email as PDF, or print and post it. FreeAgent lets your client view their invoices online and make online payments via credit/debit cards, Direct Debit, or PayPal. Your Invoice timeline instantly shows the status of recent invoices and lets you see what's been paid, what's due and overdue. FreeAgent can be setup to automatically send out recurring invoices, late payment reminders, and thank you emails. FreeAgent also lets you invoice…
18
Account Edge is a full-featured powerful small business accounting software for the Mac and Windows desktop which manages the users' bank accounts, balances, and account numbers, and keep track of the users' annual budget. Account Edge offers basic version with features such as banking, sales, general ledger and accept credit cards while Account Edge pro version has features such as banking, sales, general ledger, accept credit cards, payroll and time billing, inventory and purchases and networkable. Account Edge also offers add ons such as process payroll, telephone support, workstation licenses, Account Edge web pay, Account Edge connect, credit card processing,…
19
ZipBooks is a simple, beautiful, and powerful accounting software which makes balancing the users' books and diving into insights simple, fast, and convenient and gives uses daily auto-reconciliation and intuitive, color-coded reports in an instant. ZipBooks offers features such as unlimited recurring invoices with auto-bill, invoicing saved items & inventory, auto-import time & expenses into invoices, advanced bookkeeping & accounting, unlimited bank connections, time tracking, add and collaborate with team members, basic intelligence, smart tagging to track by location, project, and custom labels, secure document sharing, advanced reporting, advanced intelligence, a zipbooks scholar (users' personal bookkeeper) prepares and sends monthly…
20
Patriot software is a simple online accounting software designed for small businesses. It has a simple design so you don't need any special training to run it. It's designed to be used by small business owners as opposed to being used by accountants. Therefore, it's designed specifically for the non-accountant. It's mainly for small business owners who need an accounting solution that they can use with ease. As a small business owner, the Patriot Software will help you keep track of the money flowing in and out of your small business. In addition, you will use it to track the…
21
OneUp is a fast online accounting software for small business owners and accountants which syncs with the users' bank, retrieves their transactions and automates 95% of their accounting with encrypted technology. OneUp offers features such as Customizable template options, Square Register integration, built in email system, Customer Payments screen, 360° VIEW AND NOTIFICATIONS, automatic notifications by email, instantly posts all sales and payments into users' books, retrieve daily bank transactions, upload a CSV file, categorizE bank entries, OneUp's suggestions, cashflow and profit information daily, audit books, export all financial records, updates the status of the order (delivered, paid, returned), multi-location.…
22
VersAccounts is a versatile and easy to use small business cloud ERP solution. VersAccounts is packaged in such a way that it is affordable and transparent. It offers a single integrated view of your overall business at the click of a button. VersAccounts is designed in such a way that your company will be able to manage its multiple business units easily. VersAccounts is mainly designed for small and medium-sized growing businesses. In other words, it deals with customers that can no longer be served by entry-level solutions like QuickBooks and are avoided by the traditional mid-tier ERP providers. Businesses…
23
KashFlow is an accounting software for small businesses and accountants which provides cloud bookkeeping, auto enrolment and payroll solution for businesses, three scalable editions and cloud documents & approvals for small businesses and KashFlow bookkeeping & payroll, brandability, complete control, integration with IRIS and The UK's most complete accountancy suite for accountants. KashFlow for small businesses offers features such as send quotes and invoices, reconcile bank transactions, multi-users, manage and submit vat online, bank feeds, get paid faster with Kashflow payments, free mobile app, access to over 50 reports, customizable dashboard, multi-currency, payroll up to 5 employees and automatic enrolment…
24
Profitbooks is an easy to use accounting software that allows creating professional estimates or GST invoices and tracking outstanding payments due with few clicks. Profitbooks enables receiving online payments by accepting credit/debit cards, net banking, wallets or even EMI payments from the customers. Through this, the payments are deposited directly to the account, and accounting entries are passed automatically. Profitbooks also allows managing income and expenses and allows creating beautiful invoices, tracking expenses, and managing inventory without any accounting knowledge. With Profitbooks, businesses can automate invoices by setting a frequency for future billing. The feature saves a lot of time…
25
RetailMagic is an easy to use and fully integrated POS, inventory, and accounting system for small to medium sized businesses. RetailMagic is an on-premise retail management solution for small and midsize retail and service businesses, such as pet stores, interior designers, giftware stores and more. It provides an integrated RMS solution with built-in functionalities of an inventory, point of sale and accounting solution. RetailMagic records sales and customer buying trends to help identify top-selling products, brands and selling frequency. The inventory management feature keeps track of stock availability and identifies slow / fast moving items in real time. The accounting…
26
Plooto is built specifically for financial controllers in small and medium sized businesses, as well as accountant or bookkeepers with multiple clients. Plooto enables business accountants and bookkeepers to move away from paper cheques, clunky bank platforms and wire transfers by upgrading to Plooto for free. Connect Plooto with your accounting software to auto-load upcoming bills and invoices. Reduce data entry and errors with ready-made payments. Approve payments quickly, easily, and from anywhere with the click of a button. Send the party an email through Plooto to initiate the transfer. Once they enter bank information, payments are sent directly from…
27
Avantage Progression SE is a simple and complete accounting management solution adapted to small-to-medium sized businesses. With Avantage Progression SE, closely follow the profitability of projects by posting income, but also expenses and salaries. Generate CSST conformity attestations including the summary of eligible salaries and CSST contributions by contribution rate (for each year and each project). At the end of each period (closing inventory), automate the calculation of the cost of goods sold and the posting of the various values associated with the stocks in the appropriate items. Prepare payment requests, have them approved by the stakeholders concerned, and convert…
Is Free Accounting Software Worthwhile?
Accounting Software has many features and can do a lot to help your business to succeed by tracking book keeping, but it can be expensive. There are plenty of free Accounting Software available. There are two categories of Accounting Software based on licensed model: Open Source Accounting Software and Proprietary Accounting Software.
Based on Installation type, there are On Premise Accounting Software and Cloud based Accounting Software and selection of the installation type depends on your business and organization requirements.
You can find limited free versions and full-fledged free trials in both the licensing models.
You may like to read: How to Select the Best Accounting Software for Your Business, Top Free and Open Source Accounting Software
You could try Free Open Source Accounting Software if you have a development team available in your company and time available to set it up and running. As these are mostly community supported, the support available also depends on the usage basis of the product.
You could try a limited version of Proprietary Accounting Software to check how it fits to your business before making a big investment. These software comes with limitations and you need to buy the features using the up-selling vendors offers to make it useful. A free limited version from a proprietary product company will make it easier to upgrade in the long run and also help you determine if that company's solution is what you want.
There are also many drawbacks to Free Limited version of Proprietary Accounting Software. These limited version do not have nearly as many features available in a fully functional paid version, and there are limits such as number of features and functionality, modules, storage limits, number of reports, limited data integration options, and also on the number of users you can have. The free versions also have limited support options.
Based on your functionality requirements and business fit, you can always choose a free trial and experience the system with your data before buying and migrating to a full-fledged solution.
Is there a one size fits all Accounting Software: Unfortunately there are no one size fits all solution as each of the products has its own core strengths in functionality, industry focus, integration capability and core features.
We recommend determining how the software fits to your business in terms of features, functionality, and business process with a free trial.