How to Select the Best Fund Accounting Software for Your Non-profit organization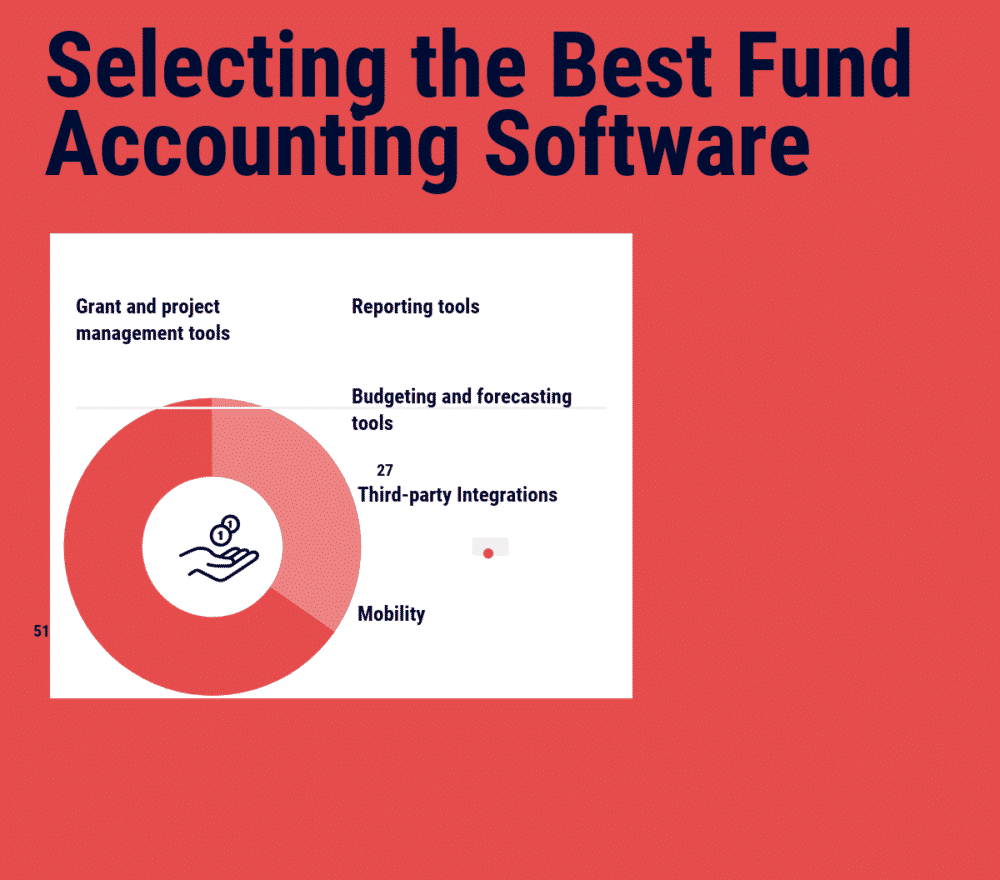 In financial management, whether you're a small or an established nonprofit organization, commercial enterprise or government agency, it is expected that you can prove accountability through financial statements and reports. However, there exist several differences between financial management for nonprofits and that of organizations in the commercial sector in certain aspects.
For instance, the main focus of commercial enterprises is to maximize profits and shareholder value. However, this is not the case with not-for-profit organizations because they target not to increase shareholder value, but rather to deliver products and services that empower the society, and this on a regular basis. Moreover, nonprofits lack the financial power that commercial enterprises are afforded because they rely on resource providers who are not getting any direct benefits from such engagements.
Additionally, unlike for-profit organizations, an accountant is a nonprofit organization will be required to produce comprehensive financial reports entailing the sources of acquired funds, in what ways the funds were put to use, and what the organization has in its coffers, all aimed at maintaining transparency in the operations of such an organization. This is where fund accounting software comes about.
You may like to read: Top Fund Accounting Software
Before outlining the features and benefits of fund accounting software it is important to first define what it is.
What are Fund Accounting Software?
Fund Accounting Software is a system for recording resources whose use may be limited by donors, granting agencies, governing boards, or other individuals or entities or by law.
The term fund accounting is not limited to nonprofits but has also been applied in other segments such as portfolio and securities accounting to refer to the process of accounting for a portfolio of investments such as securities, commodities and/or real estate held in an investment fund such as a mutual fund.
The main purpose of fund accounting software is to help keep track of donated funds and grants, and how they are utilized. Such a system targets to promote accountability and stewardship for these donated resources. When a nonprofit organization uses such a solution, it is guaranteed to experience improvements in terms of transparency, accountability, and efficiency in its spending.
When using this type of software, fund management usually consists of a set of self-balancing accounts designed for a specific project, grant or donation. Fund balances or net assets are declared in financial statements as unrestricted (can be spent for any purposes by the organization), temporarily restricted and permanently restricted based on organizational metrics or on restrictions introduced by donors.
You may like to read: Top Free and Open Source Accounting Software
For fund accounting solution to be effective enough, it should be designed in a way that meets the needs of nonprofits, government entities, and other social organization. Highlighted next are several features that need to be included in the software.
Grant and project management tools: Nonprofits rely on multiple funding sources and each new grant comes with added complexity. To manage this, nonprofits need proper tools that can easily capture data and automate calculations. It should also let you assign tasks and create schedules to ensure deadlines are met.
Reporting tools: Organizations rely on financial reports for responsible financial management. Good fund accounting software usually contains a number of built-in reports, chart and graph templates, which you can use to generate and customize both simple and comprehensive reports.
Budgeting and forecasting tools: Most fund management software provide budgeting and forecasting tools that can help to manage funds, to improve compliance and to avoid the risk of human error. With such a feature, organizations can monitor operations and project the future based on current funds, expenses, grants, and so on.
Third-party Integrations: Effective fund accounting software supports integrations to your existing solutions or third-party applications. This is an important feature as it lets you streamline your processes while promoting collaboration among teams.
Mobility: Good fund accounting software should let you update or review accounting ledgers on the go. It should enable certain documents and functionalities, if not all, to be accessed remotely on mobile, tablet, or on PC.
You may like to read: Top Accounting Software
What are the Benefits of Fund Accounting Software?
By using fund accounting software to manage, monitor and account for funds received in form of donations, grants, and so on, nonprofit organizations can gain the following benefits.
Customizable to specific organizational objectives: The terminology and tools within the fund accounting software are solely geared towards nonprofit organizations, unlike the more general accounting system. This makes it easier to fit the solution to specific organizational needs, objectives or plans.
Easier tracking of funding sources: It allows you to track funding sources based on donors, projects, departments, and so on. Since information is tracked in this way, reports can be pulled and viewed and data can be easily understood.
Easy allocation and management of funds: Fund accounting software also provides an audit trail to ensure that all funds have been spent for their intended purposes. With such a solution, it easy for organizations to direct funds toward organizational projects as well as specific projects that are the target of various donors.
Provision of a single database: There are many accounting systems require that you input information several times in different databases but a fund accounting solution can allow you to store and manage all your data in a single database. This can save organizations considerable time and costs needed to maintain multiple databases.
Helps in budgeting and forecasting: Fund accounting software also provides budgeting and forecasting tools that help organizations to manage funds easily and even make budget projections. It also allows organizations to compare their actual expenditure against the original or revised versions of the budget.
Customized reporting: The customizable reporting tools in fund accounting software enable you to edit and save reports that are tailored to organizational needs.
You may like to read: Top Fund Accounting Software
How to Select the Best Fund Accounting Software for Your Non-profit organization?
There are a variety of considerations when selecting fund accounting software for your organization. It is likely that you will receive varied information in the process and you can easily lose sight of the software's intended purpose and overlook other key features. Here are a number of key factors you should consider before purchasing a particular fund accounting software:
Cost: Though not extremely important, cost is something an organization can put into consideration. Some fund solutions can be low priced but costly when it comes to support and maintenance. Additionally, there are other costs that may be incurred including training of staff and consultations. It is essential that you choose software that will be beneficial in the long run rather than settling on cheaper versions to save money because they might be costly in the future.
Functionality: Prior to purchasing fund accounting software, it is important you ask yourself questions such as how big is the organization, how complex are your operations, and what the organization might need in the future. Once you have answers to these questions, you can check them against the features and functionalities availed by the solution. Make sure that the functionalities can satisfy organizational needs to avoid paying for features that provide no value to the organization.
Reporting: Organizations need to also consider whether the software's multifaceted reporting capabilities will benefit the organization. They need to also make sure that reports can be cover a range of dates or fiscal years, and can take the format being used for current reports. They should also check to see whether the solution supports custom reports.
Scalability: Good fund accounting software should be scalable. There is no point in implementing a solution that will have to be stripped down as the organization grows bigger because most of its functions are no longer needed or not compatible with other external applications. The perfect solution should complement your current processes and support upgrades and multiple users.
Audit trail: Audit trails make transparency easier by allowing auditors to trail financial data from the general ledger. A good fund accounting solution should provide for easy access to documents, computer files, and other records that show how transactions are handled by an organization.
Integrations: You should also opt for a solution that is compatible with third-party applications such as online payment systems, CRM, among others. The best solution should enable data integration and migration to and from other existing systems.
Security features: Security is something that organizations have to consider in selecting fund accounting software.They need to determine whether the solution contains security modules, whether it will be hosted on premises or on cloud and the security protocols involved, and whether it can limit access to certain features or according to a particular role. Failure to do so is a recipe for disaster as it can compromise financial data, donors' contact information, etc.
You may like to read: Top Fund Accounting Software
Nonprofit organizations, charities and various government entities can benefit from the use fund accounting software because it places emphasis on accountability and not profitability. As such, organizations should purpose to implement a versatile and affordable fund accounting solution that not only includes financial management tools but also the functionality that can help grow and engage your funding sources.
Here are the trending and the top rated Top Fund Accounting Software for you to consider in your selection process:
Top Fund Accounting Software
PAT Index™
You may like to read: Top Fund Accounting Software