Review
Clearview InFocus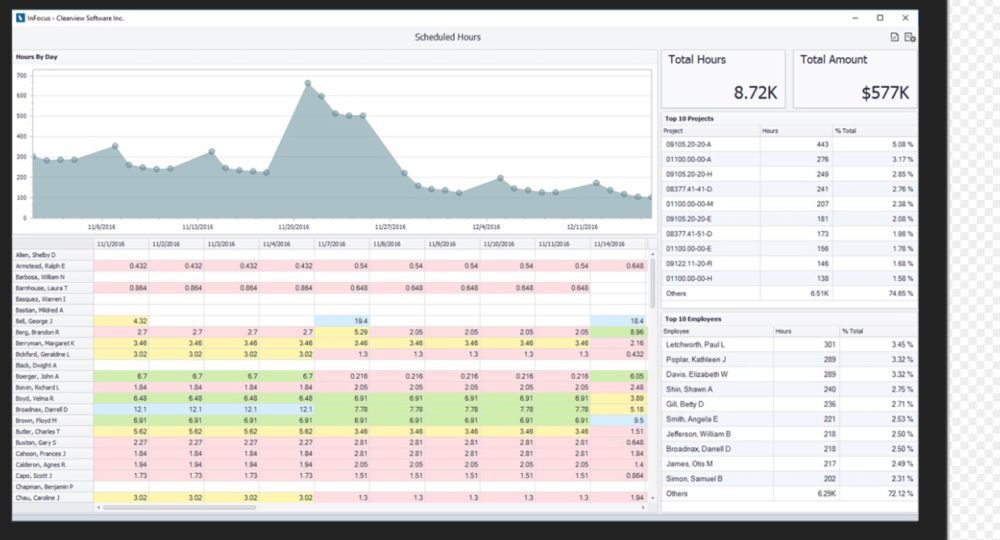 Overview
InFocus, focuses on Project Management, Accounting, Time & Expense Entry, and Billing for Professional Services
ERP Software,ERP Software SMB, ERP Software Cloud
• Accounting/AR
• Marketing & Sales
• Multicurrency
• Project planning
• Resource allocations
• BI Dashboards
• Enterprise reporting
• Time & Expense
• InFocus Marketplace
• Billing
• InFocus Cloud - $24/user billed monthly.
• InFocus on Premises - $450/user (one-time fee)
Small (<50 employees), Medium (50 to 1000 Enterprise (>1001 employees)
What is best?
• Accounting/AR
• Marketing & Sales
• Multicurrency
• Project planning
• Resource allocations
• BI Dashboards
• Enterprise reporting
InFocus by Clearview Software is a cloud based ERP solution for Architects and Engineers. InFocus Analytics Dashboards bring business intelligence closer by letting you visualize your firm's most vital information. It allows you to visually drill-down and pivot data, compare performance of PICs or PMs across all their projects, and know which projects are most profitable and which are losing money.
InFocus comes with hundreds of reports that are built in Microsoft's Report Definition Language (RDL) but that can be configured to meet your needs. With InFocus ReportBuilder, you can design your own reports easily and quickly. It allows data import and conversion from accurately convert data from your legacy system like Deltek Vision, FMS, Advantage, BST, and QuickBooks or any other system.
InFocus is available as on-cloud, or on-premises hosted on your own hardware. InFocus project management & planning platform, Project Central, integrates all financial, project, and resource planning data, in one place. It allows you to view project metrics, and manage project budget and resources. You can achieve more control of a project through InFocus Interactive Grant Control. It simplifies work allocation and allows you to manage schedules easily using the drag-and-drop Outlook-style calendar.
The calendar can be switched between daily, weekly and monthly views you can drill down on the schedule to the assigned projects. Project plans also can be dynamically altered even in the midst of an active project. InFocus supports multi-currency handling meaning every journal entry, invoice, and budget can be specified in your currency of choice. InFocus helps you capture time and expenses when and where they happen, on any of your devices, and at any place worldwide. InFocus features multi-level approval process, from executive level, manager level, up to the employee level. Time and expense entries can be accepted or rejected and a log is kept when and by whom the sheet was approved.
You may like to read: Top ERP Software, Free, Open Source ERP Software, Top ERP Software for SMB, Top Cloud ERP Software, ERP Software for Large Business.