How to Select the Best ERP Software for Your Small Medium Business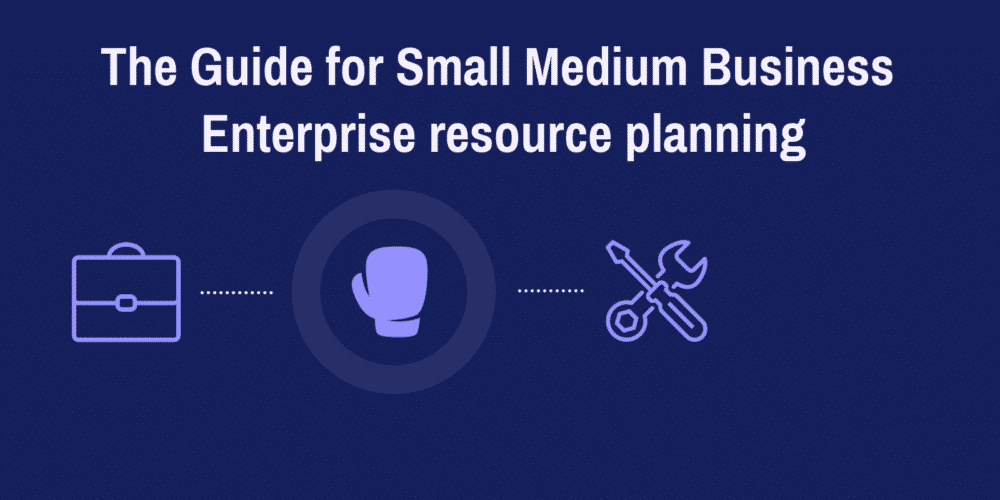 Enterprise resource planning (ERP) software is an important automated solution that businesses can use to manage production, order processing and inventory. ERP software also monitors the allocation and use of resources from a comprehensive database management system with built-in analytics. Supporting applications enable businesses to track information across departments.
Some of the most common functions include product and purchase planning, manufacturing and delivery planning, inventory management, shipping, payment, supply chain management, and customer relationship management (CRM). With ERP software, data and information are developed and automatically stored in one location.
Through this system, small businesses can eliminate the need for storing multiple copies of data such as spreadsheets, databases, and order forms. This makes it easier for personnel to access and update pertinent information with the click of a button. The automation also reduces the need for manual tasks which helps speed up critical processes such as order management. Easy retrieval of data and information will also expedite planning and decision making.
What are Enterprise Resource Planning (ERP) Software?
Enterprise Resource Planning (ERP) is an information system that manages, through integration, all aspects of a business including production, planning, purchasing, manufacturing, sales, distribution, accounting, and customer service.
Small business use ERP software for several reasons. The main reason for the solution is to improve communication across departments and optimize business processes by providing users with easy visibility of all operations. Another reason why businesses use ERP software is it enables the integration of the business' financial information.
Small businesses also like the software for its ability to integrate customer order information. This allows departments to, at a glance, get an overview of the status of pending orders and take necessary steps to ensure timely delivery to customers. Standardization of a business' manufacturing processes can significantly reduce time delays. The implementation of ERP software can help small businesses manage these processes and streamline operations. Businesses also use ERP software to reduce inventory and overhead costs.
Additionally, ERP software is useful for businesses that wish to standardize their human resources data. Integration of data across the enterprise ensures that you have greater visibility in all areas of your business, from daily operations to a strategic decision level. Insight into production, inventory and financial data makes it easy to identify opportunities for cost savings and efficiency improvements.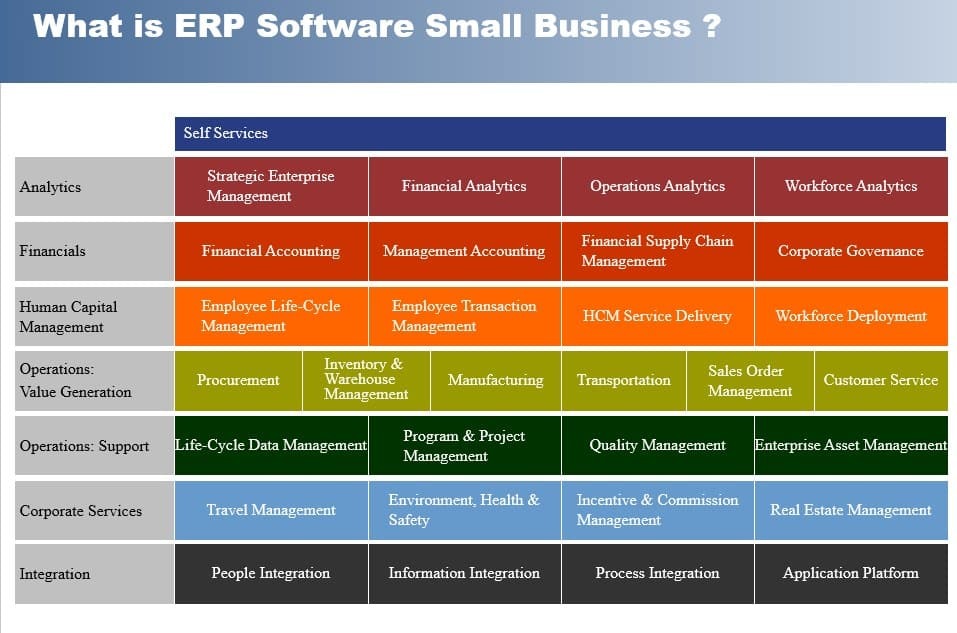 Identifying Which Type of Enterprise Resource Planning (ERP) Software is right for your Small Business
Industry-Specific: This type can be tailored to suit the needs of specific Industry such Retail, Automotive ; however mostly large businesses use this type to respond to more complex needs.
Web-Based: This type, also referred to as cloud-based, is hosted by a vendor or open-source and offers business remote access from anywhere or any device. Web-based software is less complex to setup and install which makes this solution suitable for small businesses.
Small Business: This type is particularly attractive to smaller businesses to help with order management and human resources management. This type can also include manufacturing component and has limited ERP functions, making it the most affordable resource planning solution.
Depending on company`s needs, business requirements and future goals, there are several types of Enterprise Resource Planning (ERP) Software available based on licensing model:
Open Source Enterprise Resource Planning (ERP) Small Business : These are Open Source Software where the source code is available.
Free Proprietary Enterprise Resource Planning (ERP) Small Business : These are limited versions of a fully functional propriety Enterprise Resource Planning (ERP) Software.
Proprietary Enterprise Resource Planning (ERP) Small Business : Full paid version of Enterprise Resource Planning (ERP) Software which is available either in cloud or standalone client server architecture.
You may like to read: Top ERP Software, Free, Open Source ERP Software, Top ERP Software for SMB, Top Cloud ERP Software, ERP Software for Large Business.
What are the Essential Features of ERP Software for Small Business?
ERP Software for Small Business provides features such as Accounting, Business Intelligence, CRM, Human Resources, Inventory Management, Manufacturing, Supply Chain Management, Integration, and Analytics and Reporting. ERP system brings together all the activities of the organization, since the processes "crosses" more functional areas, in to an integrated into a single system. ERP system, using a single database and a common software infrastructure provide a better understanding and updated information, to allows managers to make better decisions on the entire chain of supply chain, operations and logistics.
Accounting: Helps small businesses simplify their financial reporting and effectively manage the allocation of resources.
Business Intelligence: Enables businesses to analyze and report pertinent data to help with decision making.
CRM: Helps businesses increase customer satisfaction and revenue by managing interactions with leads, customers, and clients, tracks departmental operations.
Human Resources: Enables businesses to administer traditional HR activities and new strategic initiatives with greater speed and accuracy.
Inventory Management: Helps small businesses track information on product supply, with the sole purpose of maintaining adequate stock to avoid unnecessary spending.
Manufacturing: Enables businesses to forecast and budget effectively for resources for the production process and may include modules that focus on bill of materials (BOM) as well as management of the product life cycle.
Supply Chain Management: Tracks goods as they move through the supply chain and includes applications such as supply chain planning, supplier management, and warehouse management.
Integration: Integrates well with a business' existing applications such as CRM, inventory management and accounting software to create one robust platform.
Analytics and Reporting: Provides businesses with comprehensive and accurate reports across all departments which facilitate proper data analysis and decision making.
What are the Benefits of ERP Software for Small Business?
Operational efficiency: Enables businesses to effectively plan, manage expenses, keep customers happy, makes sales more efficient, and control ordering of inventory.
Transparency: Enables small businesses to share and access information across departments, which eliminates the need for re-entering data and increases productivity.
Cycle time:Tracks the cycle time of a product, which can help small businesses identify delays and find strategies for improvement.
Best practice recommendations: Responds to the needs of businesses within a specific industry, by offering advice and best practices.
Analytics and Reporting: Provides accurate and timely reports from a central database which improves planning and management of resources and customers
Improved responsiveness to customers: Helps small businesses to quickly respond to customers' queries, orders, feedback, etc. through the integration of a CRM solution
Sales Management: Helps businesses analyze and manage sales and enables businesses to track the progress of sales targets.
Quality control (QC) and quality assurance (QA):Helps businesses conduct QC and QA testing to ensure product safety and reliability.
Order Management:Enables small businesses to identify the reasons for sales order returns and identify strategies to address the issues.
Trends: Helps small business assess customer behavior patterns and predict future trends.
What are the Latest trends in ERP Software for Small Business?

Software as a service (SaaS): There has been an increased interest in web-based ERP software since this type is cost-effective and easier to implement than on-premise options. SaaS operates through a Web browser which eliminates the need for full-time IT employees to monitor and maintain servers and equipment.
Mobile app option:ERP software providers are developing mobile interfaces that will enable users to get a real-time view of business operations with remote access from their smart phones and other mobile devices.
Social media integration:Many ERP software providers are adding social media applications in their packages. Internal applications are being created to improve employee interaction along with integrations between ERP solutions and external social media platforms.
Is a Free ERP Software for SMB Worthwhile?
Enterprise Resource Planning (ERP) Software has many features and can do a lot to help your business to succeed by making it efficient, but it can be expensive. There are plenty of free Enterprise Resource Planning (ERP) Software available. There are two category of Free Enterprise Resource Planning (ERP) Software Software : Free Open Source Enterprise Resource Planning (ERP) Software and Limited version of a Proprietary Enterprise Resource Planning (ERP) Software.
Free Open Source Enterprise Resource Planning (ERP) Software is a good choice, when you have a development team available in your company and when you want to try out the product or build new features and functionality on top of it. You need to spend time to set it up and running.
The limited version of a Proprietary Enterprise Resource Planning (ERP) Software is a good way to see if it will be useful to your business before making a big investment but these software comes with limitations.  A free limited version from a proprietary product company will make it easier to upgrade in the long run and also help you determine if that company's solution is what you want.
There are also drawbacks to Free Limited version of a Proprietary Enterprise Resource Planning (ERP) Software . These limited version do not have nearly as many features available in a fully functional paid version, and there are limits such as number of features and functionality, modules,  storage limits, number of reports, limited data integration options, and also on the number of users you can have. The free versions also have limited support options.
 How to choose the right ERP Software for Small Medium Business?
More small businesses are implementing ERP software to improve overall performance. On-premise and client/server options are costly and were traditionally purchased by larger organizations. However, the introduction of cloud-hosted options makes ERP software solutions more attractive to small businesses. In choosing ERP software, small businesses should also consider Cost, Integrations, Scalability, Customization, Mobile capability, and Usability.
Cost: Businesses should compare the types of subscription plans available, maintenance costs, and costs associated with customizations.
Integrations: Small businesses usually have several stand-alone applications that assist with daily operations. These businesses should look for software that can easily integrate with existing solutions to create one single platform.
Scalability: As a small business expands, the needs increase. Having software that has the capability to cope and perform well with this growth is essential for any small business' overall performance.
Customization: ERP software should be flexible enough to be customized to meet the unique existing needs of a small business and to adapt to future changes.
Mobile capability: Being able to thrive in this digital world requires small businesses to adapt their operations to match the changing needs of stakeholders. Small businesses should, therefore, seek an ERP software solution that is mobile friendly, enabling users to access information from any mobile device.
Usability: Small businesses would be interested in implementing software that requires very little training and is simple for both back-end and front-end users to navigate. This reduces the amount of time spent on understanding and appreciating the system and shifts the focus to more strategic operations.
Top ERP Software Small Business
Top ERP Software SMB
PAT Index™
Top ERP Software Cloud
Top ERP Software Cloud
PAT Index™
You may like to read: Top ERP Software, Free, Open Source ERP Software, Top ERP Software for SMB, Top Cloud ERP Software, ERP Software for Large Business.