Review
Hitachi ID Suite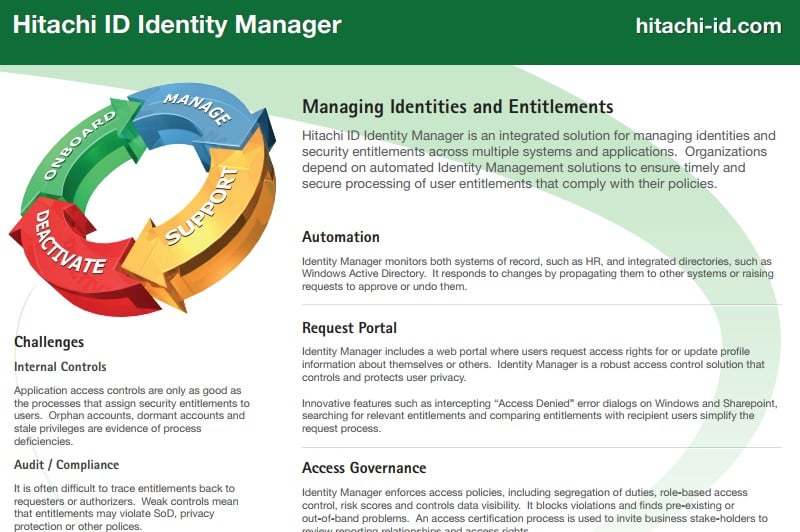 Overview
The Hitachi ID Suite is an integrated solution for identity administration and access governance. It streamlines and secures the management of identities, security entitlements and credentials across systems and applications, on-premises and in the cloud.
Identity and Access Management Platforms
• Hitachi ID identity manager
• Hitachi ID password manager
• Hitachi ID privileged access manager
• Hitachi ID mobile access
• Suite 10.2
• Suite 10.6
• Download evaluation
Small (<50 employees), Medium (50 to 1000 Enterprise (>1001 employees)
Hitachi ID Suite is an identity management provider that is integrated for access governance. The main objective of Hitachi ID Suite is security of credentials, entitlements across applications and systems and managing identity. Hitachi ID Suite enables organizations meet regulatory and audit requirements, strengthen their controls, reduce IT operating cost and improve the whole IT service. Hitachi ID Suite comes with the identity manager which is an important tool in identity management. The Hitachi ID identity manager enables managing of identities, attributes, groups, accounts, security entitlements and roles by the identity managers. The Hitachi identity manager ensures that there is easy access for the users the provisions given to them are required for the business needs. The feature also revokes access that is no longer needed. The Hitachi ID identity manager has request portal, access certification, analytics, access certification and automation from SOR tools. Hitachi ID Suite enables managers or administrators manage smart cards, tokens, passwords, security questions and certificates. This is achieved through the Hitachi ID password manager. This feature is an integrated solution that manages credentials across the applications and entire system. The feature facilitates password or pin reset, self-service, pre-boot unlocking, assisted service and federated access. Hitachi ID Suite also enables administrators have control access to passwords, embedded accounts and services. This is achieved through the privileged access manager. This feature eliminates shared password and static to privileged accounts. The administrators are granted privileges to randomize passwords, launch admin logins, authorize policies, session monitoring and strong authentication.
Hitachi ID Suite