Top 36 Premium, Free & Open Source Event Management Software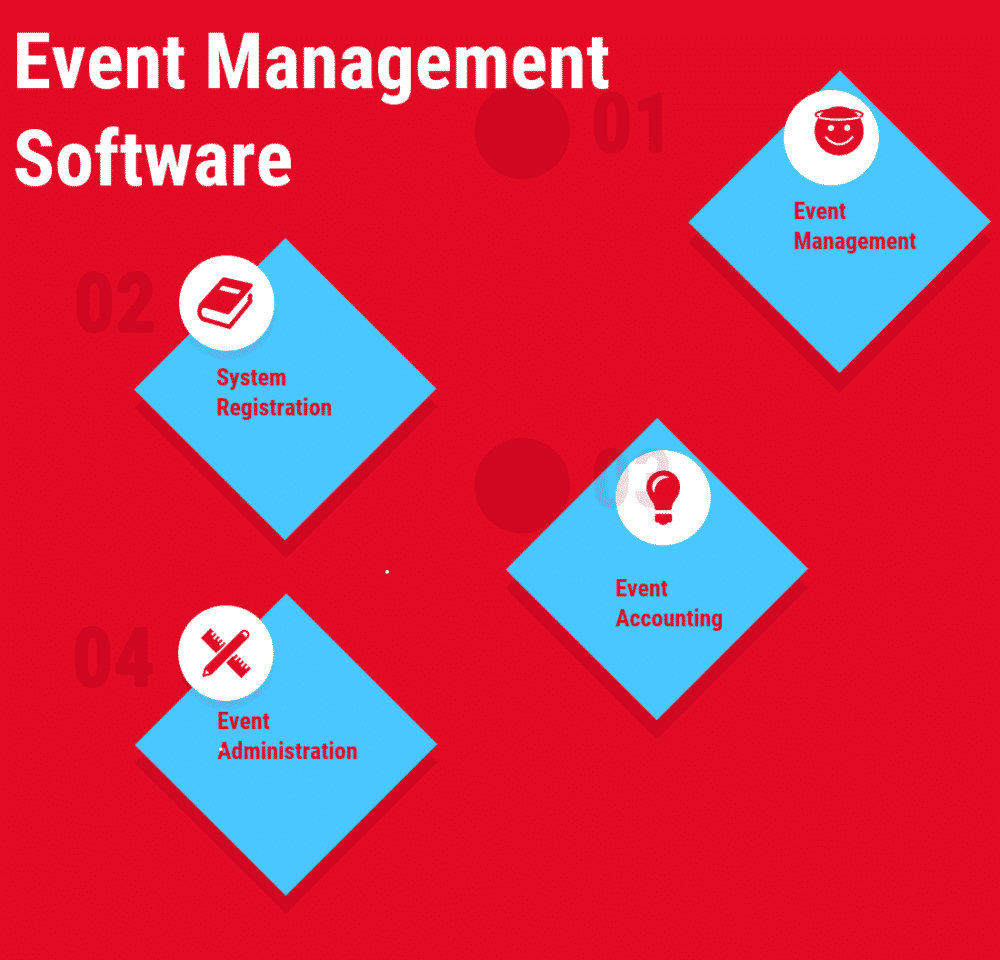 Event Management Software assists the event planners to plan, register, check-in, market, analyze and report on events. Through this software, planners can drive success in all aspects of their events. The software can be used in all types of business but works best in B2B and B2C events. The production of reports doesn't have any additional cost making the system a cost-effective. The success of all events is measured in numbers.
The accounting reports produced by the system are very important since they can be used to determine the status of registration, cancellation, successful and payments of all attendee. It very important for every system to generate reports. When designing the event management software, you should ensure it able to generate reports.
Event management software refers to a set of business solutions that cover different aspects of solutions from organizing an event, planning to post-event stages. It is also a solution that assists those organizing events in driving its success.
Event Management Software helps in the project management to the creation and development of large scale events such as festivals, conferences, ceremonies, formal parties, concerts, or conventions. The process of planning and coordinating the can include budgeting, scheduling, site selection, acquiring necessary permits, coordinating transportation and parking, arranging for speakers or entertainers, arranging decor, event security, catering, coordinating with third party vendors, and emergency plans.
What are the Top Open source Event Management Software: Open Source Event Manager, Odoo Events, Open Conference Systems, ConfTool, OpenConferenceWare are some of the Top Event Management Software Open Source.
What are the Top Free Event Management Software: Evite, RSVPify, Eventleaf, Seating Arrangement, 123ContactForm are some of the Top Event Management Software Free.
What are the Top Event Management Software: Evite, Eventbrite, Bizzabo, TicketSpice, Planning Pod, EventPro Software, Cvent, GEVME, etouches, Dryfta, Gather, GoExpo, Attendee Interactive, Regpack, evolero, Attendease, RegOnline, Lanyon Events, EventHQ, Artegis, Eventinterface, Tix, eMeetingsOnline, Certain Event Automation, Eventgrid, Certain are some of the top Top Event Management Software.
You may like to read: How to Select the Best Event Management Software for Your Business
What are Event Management Software
Event Management Software provides features for Event schedule planning, Customized event website creation, Online registration and delegate management including online payment, Venue selection, Procurement, sourcing and RFPs, Content management including abstract and/or paper management, reviewing, programme development and publishing, Exhibition management including floor planning, booking and billing, On-site operations including registration, badges and networking and Audience response solutions, live slide sharing and second screen tools as live polls, question and answers.
Event management Software integrates all of the tools that an event organizer need in one platform. It also makes work easier and secure. It saves time which is needed for manual processing because it has good solutions which automate most processes.
You may like to read: How to Select the Best Event Management Software for Your Business
Top Event Management Software
Evite, Eventbrite, Bizzabo, TicketSpice, Planning Pod, EventPro Software, Cvent, GEVME, etouches, Dryfta, Gather, GoExpo, Attendee Interactive, Regpack, evolero, Attendease, RegOnline, Lanyon Events, EventHQ, Artegis, Eventinterface, Tix, eMeetingsOnline, Certain Event Automation, Eventgrid, Certainare some of the top Top Event Management Software .
1
Evite does more than simplifies your party planning process for any type of gathering be it a barbecue, wedding, graduation or any other party and keeps you sane and organized. You can quickly get people invited and get RSVPs for guests in addition to keeping all information related to the event centralized. Evite is a simple solution that assists you manage your events with large numbers of guests in a for.al or informal manner. Offering you creativity and customizable features that get your event on the right track. Evite provides you with the ability to customize and make invitations personal…
2
Eventbrite is a simple but effective online platform which can be used to streamline planning of events and expand an event's audience reach through its amazing features such as customizable online page, mobile ticketing, real-time charts, custom email invitations, built-in social promotion, and on-site sales tracking. Eventbrite is handy for hosting seminars, festivals, charity events, concerts, conferences, rallies, and parties. Eventbrite is totally free for free events irrespective of the audience size, however, you'll pay a small fee when you collect payments, but you can pass on the payment to the attendees. With Eventbrite, you can design your event page,…
3
Bizzabo sets off to make professional events more successful, impactful and rewarding through helping users make the event experience easier and more engaging for everyone- organizers, attendees, sponsors, and exhibitors alike. Bizzabo also brings together cutting edge technology, innovative spirit and events background to lead the meetings industry to new frontiers. Moreover, Bizzabo helps organizers create successful events by empowering them to build amazing websites, sell tickets, grow communities, go mobile and maximize event experiences - using a beautiful, user friendly platform. Bizzabo helps to manage event(s) from start to finish with the all-in-one event planning software which helps organizers…
4
TicketSpice is web-based ticketing and event management software. Key features include ticket options, convenience fees, price setting, event analytics, inventory tracking, accepting offline payments and branding control . TicketSpice offers features such as creating customizable ticketing pages by dragging and dropping fields and elements. The product also offers mobile ticketing options that enable users to purchase tickets on mobile phones, get ticket barcodes on mobiles and scan tickets through the solution's iOS App . TicketSpice can generate real-time insights on the organizations' ticketing results through detailed dashboards and reports that can be exported into Excel. It also enables users to…
5
Planning Pod is a versatile event planning and management software with extensive tools and features which can be used on any device. Planning Pod can be used by an individual or organizations to make on the go handling of all activities related to hosting and organizing an event. Planning Pod can be used for organizing seminars, meetings, conferences, weddings, parties, charity events, etc. Major features of Planning Pod include task management, vendor and venue management, itineraries and schedules, file and image sharing, attendee/guest lists, and contracts and e-signatures. Planning Pod is used by over 24000 people from different organizations and…
6
EventPro isn't a venue booking system with a fiddly little catering add-on or an event management system with an afterthought venue booking component. EventPro has been built from the ground up to be a single system where the Venue Booking, Event Management and Catering Management components are all seamlessly integrated so they can easily stand alone or be used all-in-one and anything in between. Designed for and adaptable to any type of venue booking requirements, EventPro allows you to manage the booking process from the first enquiry (even online enquiries) to emailing the final thank you letter, and everything in…
7
Cvent is a comprehensive platform for your events and a leader in event management, online event registration, venue sourcing, and mobile event app technology - with over 166,000+ active system users. Cvent modernizes the traditional processes associated with event management. With integrated platform, planners can more efficiently find venues, plan events, engage attendees, measure the impact of their events, and much more. No matter the industry, Cvent has experience in helping organizations of all shapes and sizes to better plan, manage, market, and analyze their events and meetings. Whether dealing with alumni events, continuing education conferences, or recruiting fairs, Cvent's…
8
GEVME is an enterprise cloud-based event management and event marketing platform. GEVME provides a suite of tools for organizers and marketers that make their day-to-day event management work easy, hassle-free and even enjoyable, drive attendance and engagement to their events. and make their attendees' experience exciting and engaging. Organizing an event without a plan would be similar to shooting blindly into the dark and hoping to hit your target. GEVME provides user-friendliness, creative workflows and a delightful UX should not be the exclusivity of consumer apps only. That's why we put a great deal of focus on design, UX and simplicity…
9
Etouches is a cloud based and cloud event management software which provides success oriented platform allowing Corporations, Associations, PCOs, Agencies, Education Institutions and any event organizer to manage all aspects of an event. It is a success oriented, cloud-based platform delivering innovative technology solutions to streamline event management and enhance ROI. From the powerful registration to the venue sourcing tool, Etouches event management software is designed to deliver every aspect of the event cycle: marketing, logistics, budget, mobile, networking, and more to enhance productivity and augment user and attendee experiences. Etouches offers global presence with operations and offices spanning North…
10
Dryfta is the all-inclusive event management platform for event organizers. Dryfta engages attendees, collects data and measures in-depth ROI to achieve event success. From beginning to the end, Dryfta stays with users at every step towards event success. Dryfta makes event management simple. Dryfta also is a beautifully designed all-in-one event management platform for universities & non-profits. It is users complete event platform in cloud. Users may get Dryfta to build event registration website, sell tickets online, collect abstract submissions & assign them to reviewers for review, send email campaigns, create event schedule, accept donations, design badges & participation certificates,…
11
Gather is the leading event management software for restaurants and venues. Gather enables hospitality companies of all sizes to manage and grow successful event businesses. That's why national brands, hospitality groups, and single-location venues & restaurants alike use Gather to power their events. From private-equity backed growth concepts to James Beard award-winning restaurants, Gather is trusted to serve as the anchor between management, events teams, and their customers. Thanks to options like instant lead alerts, e-signatures, online payments, synced calendars and automatic exporting, everything users need from client acquisition to day-of execution is at the users' fingertips. In addition, from…
12
GoExpo (Event Management Software) has a user-friendly interface that increases the level of communication between the organizer and the exhibitors and attendees. GoExpo is special; offering the most comprehensive software product for floor plan management with booth sales, exhibitor and attendee registration, session and user schedule building, e-newsletters, exhibitor invitations, matchmaking, hosted buyer programming, sponsorship sales, and integrated multi-currency financials all in one easy-to-use package. GoExpo's uniquely designed Dashboard is personalized for each user (both Attendee and Exhibitor) and is unlike any event management software on the market today! All this is backed by a highly-trained Account Manager to enhance…
13
Attendee Interactive speaks event planners' language. Attendee Interactive's Ai Evolution platform provides an end to end content planning technology for associations and companies producing conferences and events. Ai-Evolution's ability to engage key users, whether they are abstract submitters, committee planning members, speakers or attendees and throughout the planning and execution process allows clients to efficiently maximize the creation and implementation lifecycle. The intuitive administrative dashboard gives clients the cutting-edge tools they need to oversee and manage all phases of content planning and delivery. The demands of the planning process and new technology makes it essential that companies providing these services…
14
Regpack is the leading, fastest growing event management software trusted by 5,000+ organizations worldwide, such as the NFL and Goodwill. Regpack allows to control the full lifecycle of event, from registration to attendance, payment, and reporting, all while saving money. Regpack is an online registration, payment, and user management system that enables organizations to register applicants quickly and effectively. Regpack's technology enables individualized registration packages, while seamlessly integrating online payments and providing a sophisticated yet intuitive user management platform. The partners see higher conversion rates of users completing their application and making their payments on-time, so you can focus on…
15
Evolero creates better event websites to better manage all events - from ticketing to community and conferences. With Evolero, users can drive registration and engagement by tapping into the power of social; users through workshops can now highlight the speakers and create a content hub for the workshops; users has the innovation to inspire the community to engage and share events, themes and ideas; and users through non-profit will enable cross-events content and networking for the members. Evolero is crafted for both stand-alone events and recurring events. Per event, Evolero provides beautiful event websites which are optimized for networking, comprehensive…
16
Attendease is an all-in-one event management solution that enables the delivery of extraordinary corporate events. From single, large annual events to a defined portfolio of hundreds of events of all types annually, the Attendease platform is part of the marketing cloud that drives efficiency for user's marketing teams, repositions events as core to user's digital strategy, and creates ROI for user's business . Attendease provides flexible event management software that will serve as a foundation throughout your entire event lifecycle, amplify your event awareness, interact with attendees and promote events with integrated marketing tools and personalize the experience and create…
17
Lanyon provides easy-to-use and affordable event management software that's perfect for small businesses. Specifically, Lanyon offers comprehensive meetings and event management to fit all organization's needs and also offers the leading mobile event app to help users better engage with attendees before, during and after the event. At lanyon, products are arranged into two smart cloud solutions. The first solution is the Lanyon smart events cloud® is the only comprehensive, cloud-based solution that provides software for event marketing, strategic meetings management and corporate travel — providing organizations of all sizes with a complete, 360-degree view of their meetings, events and…
18
Lanyon's software is a smarter solution for managing meetings, events and travel. Lanyon's software supports a range of clients including corporations, hotels, associations, tradeshows, convention and visitor bureaus (CVBs), and intermediaries in the meetings, events and travel space. Lanyon's software supports Easy-to-use, affordable event management software that's perfect for your small businesses. Lanyon's software has Comprehensive Meetings and Event Management to fit all Organization's Needs. Lanyon's software also supports the leading mobile event app that helps you to engage with attendees before, during and after your event. RegOnline's customizable themes and templates give you everything you need to give attendees…
19
EventHQ handles complex booking flows and smoothly converting more prospects into attendees. Customers can even book two or more events at the same time - an everyday thing for online retailers but completely unique in event registration. Users may connect EventHQ to user's favorite pieces of software. EventHQ is just one of many pieces of software users use day to day. Users can automatically send data to other databases. Unlike other event registration systems, EventHQ can automatically send booking data to existing databases in real-time. Users no longer need to regularly export data as a CSV file, then import it…
20
Artegis let you to manage all your events on one single cloud-based platform. Personlized login details will give role-based access to Regis. In the role of an event administrator organizers can select from a wide range of Regis features regarding the event they are planning. Whatever the event: product launch, seminar, exhibition, scientific conference, gala dinner, incentive or VIP event from set-up to managing of data the online event management system; Regis is with users every step of the way. Regis is tailored to meet user's specific needs with the range of features on the online event, registration and abstract…
21
Eventinterface is a full-featured and cost-effective platform that allows meeting and conference planners to manage and engage attendees while providing measurable return on investment for organizers and participants. We remain passionate about bringing people together, successful conferences and happy attendees. Eventinterface supports easy-to-use event builder to create beautiful and responsive microsites for your conferences and events. Eventinterface incorporates video, graphics and content that engages prospect attendees and encourages registration. Eventinterface designs and distributes invitations, conference promotions and content using full-featured email-marketing module. Eventinterface tracks engagement and targets campaigns for optimal success. Eventinterface creates engaging conference programs, distributes content, connects attendees…
22
Tix is a cloud-based online ticketing software that allows organization and event management companies to sell show tickets to the customers. It enables customers to book tickets through box-office setups i.e. tickets sold from walk-up counters and direct sales channels, through online setup which includes tickets sold through mobile devices and kiosks, and through Tix's call centers. Tix offers features such as easy integration with credit card payment gateways and several e-commerce gateways such as Authorize.net, Cybersource, and PayPal; ticket printing that includes offering e-tickets and pre-printed tickets, as well as thermal ticket printing options. Seat selection lets users choose…
23
eMeetingsOnline delivers event registration, housing management, and collaboration tools built on the SharePoint platform integrated with Office 365.Event managers have relied on eMeetingsOnline for meetings from all-city conferences to high-end corporate sales events. eMeetingsOnline has been used to process many millions of attendee, vendor, and speaker registrations.eMeetingsOnline has been used to create unforgettable attendee experiences for 17 years.ConferenceVUE is a comprehensive team collaboration platform with an integrated Event Registration system. ConferenceVUE has native integration with Microsoft Office 365 (O365) so you have access to the tools you already use like Excel and Outlook directly from ConferenceVUE. eMeetingsOnline has been used to…
24
Certain is an event automation which is beyond event management software for data‑driven marketers and event professionals. The power users need to convert more attendees into customers so Certain gives users everything users need to plan events, engage attendees, and achieve sales and marketing results. Event management becomes more efficient and are personalized to each attendee with Certain. Certain makes rich buying signals and attendee insights flow directly into users omni-channel marketing campaigns. With Certain, users can increase revenue all with very little extra work. Users can capture valuable attendee insights and buying signals. Users will never lose sight of…
25
Eventgrids brings you the most convenient and accessible way to get yourself registered and buy tickets online for your most awaited concerts, festivals, tours or to attend most informative seminars or conferences. The management of events is just a click away; event managers and marketers won't have to take the hustle and bustle for organization of massive events. It provides the complete set of components needed for the administration, ticketing and marketing. Desigining of customized event pages matching with brand logo, colours, personalized URLs, images and more has become achievable with Eventgrid. Tickets can be defined as free, paid or…
26
Certain provides the leading enterprise event automation solution that helps both data-driven marketers and event professionals to bring events into cross-channel marketing campaigns; use rich attendee insights to improve sales & marketing results; and deliver credible event ROI. Certain eases this task by providing Event Automation which is the classification of technology that greatly encourages various companies to automate, manage their events, allocate marketing activities, which could increment sales, marketing leads and revenue, consequently boosting up business performance. How Certain raises a business's performance is amalgamation of different factors, which includes, coordinating with marketing automation and CRM systems and Certain…
Top Event Management Software Free
1
OSEM is an event management engine that provides free software conferences. It works in three simple steps; paper submission, marketing and analytics. OSEM helps the event to be a majestic success through its distinct process which includes, building splash pages which informs the visitors about when, how and where the specific event is going to occur additionally this page provides the information about the tickets categorized into supporter or professional, preparation of event schedule for example the exact date and timings in a comprehensive manner. Develop session pages which conveys knowledge about workshop's date, duration, room, conference, language and track,…
2
Odoo Events provides you with a platform where you can create on-site and online events as well as be able to organize, publish, promote and sell. With an all in one management platform you are capable of managing any types or scale of events from conferences, webinars, festivals, classes, charity, exhibitions and many more, with all aspects of an event planners job from event organization and ticket sales to visibility and promotion taken care of by Odoo Events platform. Odoo Events allows you to organize calendars and manage your speakers and all your other content at ease. With a user…
3
Open Conference Systems provide you with a solution to manage and publish scholarly conferences online. Designed to reduce time and energy put in clerical and managerial tasks associated with managing a conference, you can now be able to have a streamlined workflow and focus on other matters and multitask. Open Conference Systems also gives you an improved system of record keeping and efficiency of editorial processes. You can easily improve the scholarly and public quality conference publishing through a variety of innovations, from policy making ti improved indexing, courtesy of Open Conference Systems. From setting up of conference websites to…
4
Conftool provides you with a complete set of tools to properly organize and set your conference on a professional basis. Conftool has a 3 step set-up process ranging from basic settings, submission and reviewing module to the participant registration and management module. Conftool provides you with two versions as per your requirements, these are VSIS Conftool and Conftool Pro. VSIS Conftool standard version is designed for facilitating your smaller events with up to 150 participants. It is open source and available under different licences. VSIS Conftool is geared towards academic organizers of small, non-commercial events, and features basic functions as…
5
OpenConferenceWare provides you with the capabilities to support conference like events. Being a customizable and general purpose platform, OpenConferenceWare provides you with multiple solutions such as proposals, sessions, schedules, tracks, and so much more. Under an open source license you, you are able to get empowered into being more organized and participative in more events that support free sharing of information and open society. Rails engine facilitates the distribution of OpenConferenceWare and this allows for added functionality, providing you with additional parts of your events website. It is quite simple to install and use OpenConferenceWare, with the installation step by…
OpenConferenceWare

What are Event Management Software?

Event Management Software provides features for Event schedule planning, Customized event website creation, Online registration and delegate management including online payment, Venue selection, Procurement, sourcing and RFPs, Content management.

What are the Top Event Management Software?

Evite, Eventbrite, Bizzabo, TicketSpice, Planning Pod, EventPro Software, Cvent, GEVME, etouches, Dryfta, Gather, GoExpo, Attendee Interactive, Regpack, evolero, Attendease, RegOnline, Lanyon Events, EventHQ, Artegis, Eventinterface, Tix, eMeetingsOnline, Certain Event Automation, Eventgrid, Certain are some of the top Top Event Management Software.

What are the Top Free Event Management Software?

Evite, RSVPify, Eventleaf, Seating Arrangement, 123ContactForm are some of the Top Event Management Software Free.

What are the Top Open source Event Management Software?

Open Source Event Manager, Odoo Events, Open Conference Systems, ConfTool, OpenConferenceWare are some of the Top Event Management Software Open Source.