49 Free, Top and Open Source E-Commerce Software (Digital Commerce Platforms)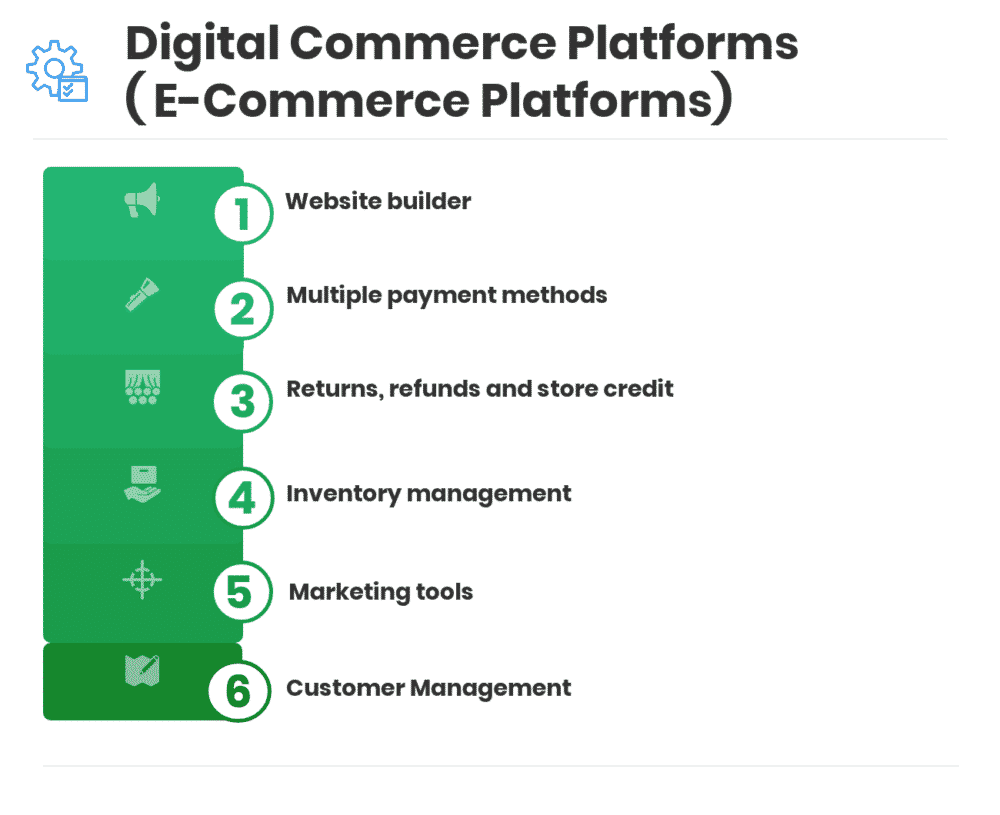 Digital Commerce Platforms (E-Commerce Platforms) provides infrastructure for selling products and services through internet and mobile.
Digital Commerce Platforms provides tools for marketing activities that support the transactions of products and services, development of content, analytics, promotion, pricing, customer acquisition and retention, and customer experience.
Digital Commerce Platforms is a fully integrated suite of cloud-based applications that support the customer with a connected, seamless brand experience across all available selling channels, while enabling you to unify information and application silos to streamline retail management.
Digital Commerce Platforms (E-Commerce Platforms) for Web stores, local stores, mobile shopping, call centers, social media interactions, and any combination of these to provide a consistent source of product, customer, and transaction data to drive sales and profitability.
Example of Free and Open Source E-Commerce Platforms (Digital Commerce Platforms): Apache OFBiz, Shopizer, CubeCart, Broadleaf Commerce, dashCommerce, HotWax Systems, TomatoCart, Avetti Commerce, OpenCart, BigFish, Magento Community Edition, JadaSite, LiteCommerce, Zeus Cart, VirtueMart, Spree Commerce, WooCommerce, Drupal Commerce, SoftSlate Commerce, nopCommerce, PrestaShop, osCommerce, Zen Cart, Ubercart, Nexternal, Interchange are some of the Top Free and Open Source Digital Commerce Platforms (E-Commerce Platforms).
Example of E-Commerce Platforms (Digital Commerce Platforms): Salesforce Commerce Cloud, SAP Hybris, FastSpring, Shopify, Avangate, CloudCraze, Octashop, Oracle Commerce Platform, IBM Watson Commerce, VTEX, Ecwid, Commerce Guys, Blomming, Paddle, eComchain, BigCommerce, Shopify Plus, Storbie, Big Cartel, Miva, Oracle Commerce, 3dcart, Nexternal eCommerce, Sellfy, Volusion are some of the Top Digital Commerce Platforms ( E-Commerce Platforms).
You may like to read: How to Select the Best E-Commerce Software for Your Business
What are E-Commerce Platforms (Digital Commerce Platforms)
Digital Commerce Platform is a comprehensive e-commerce platform that gives business insight to engage customers in a singular commerce platform that unifies channels and interactions.
Digital Commerce Platform helps businesses to manage and maximize Selling Opportunities across Multiple Channels. Digital Commerce Platform is a type of e-commerce used by an organization that delivers and sells products online. Digital Commerce Platform is a software application that allows online businesses to manage their website, sales, and operations.
E-commerce is simply defined as the practice of making transactions over the internet to make a profit. E-commerce platforms, on the other hand, are software that facilitate these transactions. They help merchants to build storefronts that help them provide their goods and services either locally or internationally. Businesses that are conducted on such software gain a more competitive customer front compared to those reluctant to adapt to the technology, as they can market their goods quite possibly all over the whole.
This contributes a significant boost in the number of sales and consequently, profits made. E-commerce platforms are characterized according to what the merchants are selling and what parties are involved in the transactions. Regarding the latter, some merchants simply operate online stores for physical goods such as electronics, apparel, and jewelry. These often offer shipping and delivery services, and the process is as simple as picking an item, putting it in a virtual cart then checking out by making payments usually by use of credit cards and wire transfers. Others offer their professional services, such as doctors, lawyers, and tutors. These merchants typically bill hourly.
You may like to read: How to Select the Best E-Commerce Software for Your Business
There are also sellers of digital products such as e-books, software, graphics and other intangible products. Based on the type of merchants involved, there are B2C, B2B, C2B, C2C, G2B, B2G and G2C platforms. B2C means transactions that include the sale of goods and or services by businesses to consumers. This and B2B (business to business) operations are the most common. The others involve consumers to businesses (including most crowdsourcing drives), consumer to consumer (usually buying and selling of used or second-hand goods), government to businesses (for instance, online remittance of taxes or license renewals), businesses to governments, consumers to governments and also governments to consumers.
E-commerce platforms have features that may distinguish them from similar online platforms. They run on a single software that unifies and integrates various functions such as sales, purchases, customer care, marketing, finance accounting, all on a cloud-based platform. They also provide a wide view (to both buyers and sellers) of important aspects that influence buying and selling decisions such as customer preference, cost, quality, and standards. For instance, a potential consumer can examine the product by looking at the listed specifications, while the seller can gauge the highest point of sale and profitability.
The platforms exhibit use of artificial intelligence in assessing customer needs by use of cookies technology. There are various factors to be considered when choosing a viable platform. These will, however, largely depend on your intended purpose for the platform. A seller will need to consider the platform's ability to integrate core business tools such as location, email marketing tools, shipping and delivery trackers, plugins and customer reward systems. A buyer, on the other hand, may have to be keen on the overall ease of use, reputation, availability and wide variety of goods or services, and the payment means. Cybersecurity should also be a concern to minimize the risk of hacking and theft.
You may like to read: How to Select the Best E-Commerce Software for Your Business
Free and Open Source E-Commerce Platforms (Digital Commerce Platforms)
Apache OFBiz, Shopizer, CubeCart, Broadleaf Commerce, dashCommerce, HotWax Systems, TomatoCart, Avetti Commerce, OpenCart, BigFish, Magento Community Edition, JadaSite, LiteCommerce, Zeus Cart, VirtueMart, Spree Commerce, WooCommerce, Drupal Commerce, SoftSlate Commerce, nopCommerce, PrestaShop, osCommerce, Zen Cart, Ubercart, Nexternal, Interchange are some of the Top Free and Open Source Digital Commerce Platforms ( E-Commerce Platforms).
You may like to read: How to Select the Best E-Commerce Software for Your Business
Top Free and Open Source Digital Commerce Platforms
PAT Index™
1
Apache OFBiz
Apache OFBiz is an open source product that is purposefully designed for the automation of enterprise processes that includes framework components and business applications for ERP (Enterprise Resource Planning), CRM (Customer Relationship Management), E-Business / E-Commerce, SCM (Supply Chain Management), MRP (Manufacturing Resource Planning), MMS/EAM (Maintenance Management System/Enterprise Asset Management). The Apache OFBiz project is part of The Apache Software Foundation and it is licensed under the Apache License Version 2.0. The initials OFBiz stand for "Open For Business." Apache OFBiz provides a foundation and starting point for reliable, secure and scalable enterprise solutions. Companies can use it out-of-the-box, customize…
Overview
•Faster
•Secure
•Diverse
•Integrated
2
Shopizer
Shopizer is an open source sales management software, which is licensed under LGPL V2 license. Shopizer provides e-commerce functionalities such as product catalogue, content management, shopping cart, order fulfillment, payment management, shipping management and so forth. The software can be used out of the box as a well-functioning and complete ready to use web application to host as the user's web store. Other than that, it can also be used as a java, restful application and API kit to build the user's custom e-commerce store. Even though it is built heavily on Java tools, Shopizer does not require any Java…
Overview
•Product catalogue
•Shopping cart
•Order fulfillment
•Content management
•Customer care
•Payment management
•Shipping management
3
CubeCart
CubeCart remains as an ideal and powerful free ecommerce solution enabling that enables thousands of merchants globally to sell digital or physical products online. CubeCart is an open source solution and open source and it is available to businesses for free. The system is trusted by tens of thousands of merchants and developers across the world, from all types of industries and at different levels of operation. The platform is proud to have a strong track record for security. Additionally, it is easy to set up and intuitive to use. The software is actively developed, supported and always innovating leaving…
Overview
•Technical Support
•Unlimited Customers
•Unlimited Orders
•Unlimited Products
•Unlimited Categories
•Sales Reporting with Spreadsheet Export
•Statistics
4
Broadleaf Commerce
Breadleaf is an ecommerce enterprise platform that is trusted by some of the biggest brands in eCommerce, Broadleaf surpasses the industry standard by matching robust website management capabilities with a streamlined codebase for effortless expansion and customization. Serving both B2B and B2C markets across numerous verticals, the system is outfitted with sophisticated marketing and order lifecycle management capabilities. Whether a business manages multiple sites, multiple sub-sites, a vendor marketplace, or a single stand-alone site, Broadleaf has you covered. Manage multi-tenant, multi-site, multi-currency, and multi-channel capabilities through one system. It is ideal for managing multiple brands, franchises, marketplace vendor models, and…
Overview
•Multi Store
•Multi Tenant
•Multi Currency
•Multi Language
•Upsell/Cross Sell
•Advanced Promotions
•Full CMS
•Order Management
•Web Services
•ERP Integration
•Java Source Code
5
dashCommerce
DashCommerce is a flexible and robust ASP that is designed to meet the varying needs of emerging businesses so that they can have a competitive advantage. This open Source e-commerce application allows businesses to set up and manage their online stores in a manner that is efficient and profitable. In addition, the app is an ideal tool for use by companies from different industries and at different levels. This feature gives an opportunity for smaller businesses to grow as they take advantage of the opportunities that online commerce provides to businesses. Moreover, the platform is not limited by geographical difference…
Overview
•Secure
•Recognized by PayPal
•Worldwide acceptance
•Simple to use
6
HotWax Systems
HotWax Commerce was built to solve enterprises' web commerce challenges. The result is an agile solution that can be implemented for less than the licensing fees alone of comparable platforms. With this platform, there is no more lost inventory. No more unexpected backorders. With the HotWax Commerce Platform, there's finally a platform that can keep up with your evolving business. With customer-friendly licensing options and blazing-fast implementation, upgrading a business's system just makes sense. What is more interesting is that the upgrade does not cost a business a fortune. A new platform is just the beginning. When a business chooses…
Overview
•Full-featured e-commerce
•Accounting and reporting
•User-friendly content management
•Unified inventory management
•Omni-channel order management
•Powerful fulfillment capabilities
7
TomatoCart
TomatoCart is a new kind of open source shopping cart solution, branched from osCommerce 3 as a separate project. It uses ExtJS as its underlying framework. It has completely rewritten osCommerce 3 administration site on the mere basis of the qWikiOffice project, which is basically a web desktop implementation of the ExtJS RIA framework. It includes many high-performance and customizable UI widgets to simplify work with web applications. Web desktop application simulates user experience of the official desktop Operating System. It offers features and applications much similar in their functionality and navigational aspects as to those of a PC environment.…
Overview
•Multi-lingual and Multi-currency support
•Separate web mail
•Accessibility per role
•Unlimited product categories with images associated
•Reviews and Ratings Management
•Search Box with Auto Search suggested Terms
•Four kinds of products supported
•Separate price and stock management based on attribute combination
•Product image zoom and light box to display large image
•Support unlimited customer groups
•Add and edit customers in admin panel
•Support order discount for each customer group
8
Avetti Commerce
Avetti Commerce has a deep feature set that supports both multistore B2C and B2B ecommerce. Irrespective of the size of a business, the platform's omnichannel and multi country / language capability can allows users to roll out globally. In addition, it also supports other types of stores such as reward points, allowance, employee, and optionally punch out catalogs.100% of the source code is included with the platform's SaaS and licensed editions and via its documentation in training teams can extend the software.It offers users high performance single or multi store/ country/ language B2C Ecommerce that is fully automated and integrated…
Overview
•Integrated
•Faster
•Secure
•Supports B2B ecommerce
•Supports B2C ecommerce
9
OpenCart
OpenCart is one of the best free and open-source eCommerce platform. It provides everything needed to create, scale and run a business. It's easy to use and powerful store management program that can manage multiple online stores from a single back-end. As soon as OpenCart store is installed, it is ready to take orders. All that needs to be done is to have it installed then the next thing to follow is a template should be selected from the many free or low-cost template sites. Next is the product descriptions and photos.A few settings should then be clicked and then…
Overview
• Multi-store that manages multiple stores from one admin interface where set products appear on different stores.
• Options, attributes where products come in different options and then OpenCart offers a solution on adding extra important product variables.
• Back-up and restore that allows setting up of a business's own back-ups and restoration.
• Affiliates which has an inbuilt affiliate system that promotes specific products and get paid for this. It sets the different percentages and also offers different payment options like cheque, Paypal and bank transfer.
10
BigFish
BigFish leverages the power of the Open for Business (OFBiz) open source project. OFBiz it is the foundation for thousands of eCommerce and ERP solutions. BigFish basically extends, enhances and simplifies OFBiz. It successfully delivers solutions for companies of all sizes, such as from Fortune 1000 companies to smaller start-ups. BigFish has a lot of solutions that generate revenue. Once the platform is implemented, BigFish continues to work with its clients after its full launch. It also offers assistance in a wide number of areas, such as feature enhancements, styling changes, expanded product line, quicker deliveries, promotional and coupon offerings…
Overview
•Production ready
•Fast time to market, 35 - 90 day implementation
•Fixed cost
•Managed risk
•Lowers barrier to entry to a robust environment
•Integrated and scalable
•Supports multi channel operations and cross channel shoppers
•Facilitates dramatic business process improvement
•Provides a platform for best in class
•Lower total cost of ownership (TCO)
•Rapid return on investment (ROI)
11
Magento Community Edition
Magento is a flexible, Open Source Commerce Platform that is designed for and aimed at developers and small businesses. With this platform, users have no reason to keep worrying about monitoring their servers, upgrades and security because the platform takes care of everything. Users can now deploy faster, with a managed service and cloud hosting that is optimized for the Magento platform. It lets developers and smaller businesses to focus on their business. By hosting their store in the cloud, businesses can ensure their content is delivered fast, and their site is optimized at all times, no matter where their…
Overview
•Faster
•Better
•Reliable
•Less Hassle
12
JadaSite
JadaSite conveniently hosts a single web site out of the box with the flexibility options of defining multi-site, multi-language and multi-currency all by fully inspecting standard configuration. JadaSite allows users to create multiple sites in one single installation without much special skills needed for the task. There are multiple sites users can setup and have access to as defined in the installation. The sites are not connected to one another. They all have their there own configuration and hence, no information is shared across sites. JadaSite lets users create one or more sub-sites too. Users can view a sub-site as…
Overview
•Multi-lingual
•Multi-currency
•Multi-stores
•Inventory tracking
•Flexible tax and shipping calculation
•Coupon support
•Full order life cycle
•Extensive security features
13
LiteCommerce
LiteCommerce is an object-oriented MVC software using Flexy template engine. LiteCommerce allows its users to easily setup a web store having Flyout Categories add-on module, which lets users control the visual presentation of their categories structure. It allows them to select from several layout schemes available in different color variations as well as create their own templates. Flyout Categories enhances the navigation system by introducing several new styles of categories menu; it also makes browsing categories convenient for its wide range of customers. The module enables them to use four major menu styles: a horizontal menu, tree-style menu (Explorer), menu…
Overview
•Free open-source e-commerce solution (OSL 3.0)
•Can work like a Drupal 7 module and as a stand-alone web application
•Pre-built Ecommerce CMS package installing both LiteCommerce and Drupal
•Clean and smooth user interface with AJAX enhancements
•Quick and easy one-page checkout
•Highly customizable modular architecture with the automatic upgrade function
•Code optimized for high performance
14
Zeus Cart
Zeuscart is focused on Small & medium scale store operators and designed to meet their needs including the inventory management, category management, attribute driven product catalog, SEO friendly URLs, in-built CMS, Gift Cards, Discounts, Taxation, Tier-Price, Integrated payment gateways, Newsletter, E-Mail templates, etc. Zeuscart is a complete feature rich ecommerce software and is great for beginners and experts alike.ZeusCart provides eCommerce, online shopping cart, online business, estore, eBusiness and eRetail consulting services for beginners, intermediate and well-launched Internet store operators or online merchants, worldwide. ZeusCart eCommerce Market Strategy Consulting Services includes: eCommerce Strategy Planning; SEO Strategies for eCommerce;Online Marketing;Email Campaigns;Testing…
Overview
•Developed in MVC pattern (using AJDF Standard)
•Simple to Use – Easy to Customize – Super Easy to Administer
•Responsive Design – Powered by Twitter Bootstrap
•Complete Cart System – Support Physical / Digital Products
•Attribute Driven Category
•Marketing Friendly
•SEO Friendly
•Best-in-Class Presentation
•Enhanced Browse & Search
•Informative Product Detail Page
•Simplified Check out system
•Tax & Currency Options
•Shipping Cost Calculations
•Multiple Payment Options
15
VirtueMart
VirtueMart is an Open Source E-Commerce solution (a Component or Plug-in) for the Joomla! Content Management System. It can be run as a Shopping Cart, or in Catalog mode. It must be used together with the Content Management System Joomla! Joomla! and VirtueMart are written in PHP and made for easy use in a PHP / MySQL environment. Users can easily use a complete Shopping Cart Solution within their own dynamic Website, together with many other Plug-Ins, called Components and Modules, like FAQ,Forums, Galleries Guestbooks, etc. VirtueMart offers an extensive list of features as standard to enable shop owners to…
Overview
•Extend VirtueMart shop by adding Plugins, Components, Templates and Modules.
•Based on Joomla MVC framework
•Implementation of Joomla Plugins for: payment, shipment, coupons, calculation rules, custom product fields, etc.
•Nested categories
•With meta tags for seo
•With description and media
•With meta tags for seo
•Short and long description
•Dimensions (weight, size)
•Multiple media
•Variants, attributes
•Unlimited child products and derivated levels
•Product pattern
•Related products
•Reviews and ratings
16
Spree Commerce
Spree is a fully functional and complete open source e-commerce solution for Ruby on Rails. Spree is one of the largest open source software projects in the world, fully equipped with the most robust, refined and ultra-responsive technologies that make lengthy business tasks much simpler with the integration of use. The Spree storefront comes fully equipped with a complete set of features and it is built on common standards, so the customers do not have to compromise speed in the name of efficiency, market or innovation. The modular platform allows customers to easily configure, supplement or replace any functionality they…
Overview
•Modular architecture
•Flexible and Responsive Site Design
•Customization Options
•Product Configuration
•Customer Subscriptions
•Comprehensive API
•Robust Open Source Community
•Training and Support
17
WooCommerce
WooCommerce is an open-source, customizable eCommerce platform that goes beyond the confines of traditional eCommerce solutions. It's built on WordPress. It allows businesses to sell anything, either physical things or even digital. It's for selling products and services, making them affordable and accessible. With WooCommerce one gets to keep 100% control over all data, support for mobile devices and scalability for sites. It's an easy to use solution that is powerful. Even for a non-tech savvy entrepreneur it simplifies eCommerce. It's built as a free WordPress plugin, people can set up an eCommerce store in minutes and start selling. WooCommerce…
Overview
• Create an online store in minutes inside WordPress.
• Sell either physical and digital products to customers worldwide.
• Create, edit, and manage products and orders from the dashboard.
• Receive email notifications in case of low inventory, out-of-stock products, etc.
• Easily configure settings for products, tax, shipping, transactional emails, and customers' accounts.
• Self-hosted platform that allows you to keep and protect your data no matter what.
18
Drupal Commerce
Drupal Commerce is open source solution, which facilitates lower costs, higher quality, greater innovation, faster speed, and the excellent security record of Drupal. It is a revolutionary program that integrates commerce, content, and community to create engaging Web experiences that bring e-retailers more traffic to drive more results. With Drupal Commerce, online retailers have a simple yet powerful platform and the flexibility to integrate a rich commerce experience anywhere within their environment. Also, the platform provides the much-needed structure businesses need to do eCommerce without any assumptions about how their businesses are done. Drupal Commerce is the only commerce platform…
Overview
•Mobile-ready
•Fully integrated
•Flexible
•Connects socially
•Continuously innovating
•Adaptable
•Community-driven
19
SoftSlate Commerce
SoftSlate Commerce is a full-featured, high-performance, open-source Java shopping cart that powers dozens of ecommerce websites. SoftSlate Commerce is designed to be easily extended and customized. It offers full custom development options and support services. Customers have the option to quickly search for their products as well as browse through the store's category section itself. Descriptions, discounting, pricing, inventory levels of the products are among some of the features that appear. Administrators get to define attributes and options for each product. Discounting, pricing, separate images, and even separate inventory levels and discounting can be attached to each product/attribute/option combination. It…
Overview
•Revamped Administrator
•Settings Reorganized
•"Overview" Screens
•"Quick Add" Forms
•Order Management Features
•Viewing Incomplete Orders
•Cloning Products
•Sales Reports
•Integrated Contact Us Form
•Google Analytics Integration
•Ordering Products within Categories, Attributes within Products
•SKU Imports and Exports
•Drop Shipper Features
•Authorize.net Direct Post Method (DPM) Integration
•Shipping Discounts
•FedEx Shipping Integration
20
nopCommerce
nopCommerce is an open source and free ecommerce software that universally fits to every merchant's requirements. nopCommerce provides an excellent platform for powering both the small and corporate business sites across the globe. nopCommerce is transparent and combines the best features of commercial and open source software. The critical features offered by nopCommerce include; payment methods, tax features, shipping features, multi-vendor, multi-store, mobile commerce, customer service, SEO, and product features. The multi store and multi-vendor support offered by nopCommerce enables you to easily operate a multi-vendor marketplace and re-sell items that are supplied by other vendors. The multi-store feature provides…
Overview
• Mobile commerce
• Multi-store
• Multi-vendor
• Product features
• SEO
• Checkout
• Marketing
• Payment methods
• Shipping features
• Tax features
• Customer service
21
PrestaShop
PrestaShop is a free e-commerce software published under the Open Software License (OSL). With support for the MySQL database management system, its language is written in the PHP programming language. It is an open-source organization. PrestaShop generates great and fast revenues as per user's needs and keeping the time factor in focus. It leverages the size and international scope of its open-source community. PrestaShop has established two main sources of revenue: PrestaShop Addons, a marketplace through which merchants purchase custom addons and themes for their stores. This software also comes fully equipped with strategic partnerships with e-commerce industry leaders such…
Overview
•Unlimited products
•Unlimited categories and subcategories
•Unlimited attributes (sizes, colors, etc.)
•Unlimited features (style, season, trend)
•Unlimited combinations
•Unlimited product images
•Product images for each product combination
•Add product textures and custom colors
•List product dimensions
•Choose product conditions (new, refurbished)
•Product references (EAN-13, JAN, UPC)
•Display unit prices on products
•Customize product fields
•Catalog mode (same features, without checkout)
•Download expiration by date or duration Sell MP3s, software, photos, music, files
22
osCommerce
OsCommerce, short for "open source Commerce," is an e-commerce and online store-management software program. Any web server that has PHP and MySQL installed in it can make use of this software. It is available as free software under the GNU General Public License. One of the versions of this software program, osCommerce Online Merchant v2.3, is a complete self-hosted online store solution and it contains both a catalog frontend and an administration tool backend which can be easily installed and configured through a web-based installation procedure. There are currently two releases of OsCommerce. Versions 2.3, which is stable; and 3.0,…
Overview
•Compatible with all PHP 4 versions
•All features enabled by default for a complete out-of-the-box solution
•Object oriented backend (3.0)
•Completely multilingual with English, German, and Spanish provided by default
•Template structure implementation to: allow layout changes to be adaptive, easy, and quickly to make (3.0) allow easy •Integration into an existing site (3.0)
•Support for dynamic images
•Dynamic product attributes relationship
•HTML based product descriptions
•Automated display of specials
•Control if out of stock products can still be shown and are available for purchase
•Customers can subscribe to products to receive related emails/newsletters
23
Zen Cart
Zen Cart is Free Open Source shopping cart software.It is licensed under GPL2, meaning users are free to modify the source code in whatever ways their application requires. Zen Cart can be installed and set-up by anyone with the most basic web site building and computer skills. Works on the popular combination of PHP and MySQL technologies. With many popular payment gateways built-in, users can start accepting payment immediately. Moreover, if they need to integrate a custom module, there are hundreds of community-contributed payment modules to select from, or from which to build their own. Easily keeps the products/catalog updated…
Overview
•Freely Customizable
•Easily Integrate with your Payment Gateway
•Works with any hosting company
•Use own domain name
•Ready immediately
24
Ubercart
Ubercart is an open source e-commerce solution fully integrated with the open source content management system Drupal. This is a combination for building a community around a product, selling access to premium content, offering paid file downloads, and more, while maintaining a seamless connection to users. Ubercart leverages the advantages of Drupal's major core and contributed systems, providing users with shopping cart functionality that integrates with other parts of company or community website. Developers can add to or alter Ubercart features to accommodate virtually any e-commerce need. This means they will never have to change the source code to add…
Overview
•Configurable product catalog
•Flexible product creation system
•Flexible product attributes system
•Single page checkout
•Automatic account generation (anonymous checkout)
•Simple order processing
•Simple order creation and editing
•Integrated payment system
•Activity logging
•XML import/export
25
Nexternal
Nexternal saves its users from having to make predesigned store templates; its design engineers work with user's existing website to keep their branding and experience steady. If the homepage uses responsive design, Nexternal is built such that it configures the store accordingly. The shopping experience this software creates for its customers is flawless (for both PC and mobile shoppers). Its advanced customer segmentation capability allows users to control product pricing, product visibility, discounts, and billing options all via customer type actions. Built-in customer relationship management tools are also present. In a short amount of time, Nexternal captures credit card payments,…
Overview
•Beautifully Branded, Custom Designed Stores
•Flexible & Familiar B2B Ordering
•Process Orders Fast. Really Fast
•Advanced Amazon
•Marketplace Integration
•Connect to Customers with Marketing Tools Galore
•Real-Time Visibility
•Powerful API has 10 XML Tools
26
Interchange
Interchange is an open source ecommerce system and application server/component application, written in the Perl programming language. Interchange is one of the most powerful tools available to automate database and enable an organization's website or build online applications. At its core, Interchange is a flexible and high-performance application server that handles state and session management, authentication, click trails, filtering, URL encoding, security policy, and much more.Interchange is well suited for a variety of purposes, and has been set up to perform sales, order processing, content management, customer service, reporting and analysis, personalization, traditional retail sales, digital goods delivery, B2B parts…
Overview
•Secure
•Works across many platforms
•Standby support
•Effective
•Customizable
Top E-Commerce Platforms (Digital Commerce Platforms)
Salesforce Commerce Cloud, SAP Hybris, FastSpring, Shopify, Avangate, CloudCraze, Octashop, Oracle Commerce Platform, IBM Watson Commerce, VTEX, Ecwid, Commerce Guys, Blomming, Paddle, eComchain, BigCommerce, Shopify Plus, Storbie, Big Cartel, Miva, Oracle Commerce, 3dcart, Nexternal eCommerce, Sellfy, Volusion are some of the Top Digital Commerce Platforms ( E-Commerce Platforms).
You may like to read: How to Select the Best E-Commerce Software for Your Business
Top Digital Commerce Platforms ( E-Commerce Platforms)
PAT Index™
1
Salesforce Commerce Cloud
The Salesforce Commerce Cloud unifies the customer experience and streamlines commerce operations from purchase to post-sale service. The capabilities within Commerce Cloud are organized into several functional categories — experience, intelligence and operations. Experience capabilities enable users to orchestrate content, pricing, products and promotions to engage customers. Operations capabilities help to extend core functions across all channels, connecting order fulfillment and back-office functions. Intelligence capabilities enhance users' ability to be data-driven with business insights and customer personalization. These capabilities empower commerce across all channels — web, mobile, kiosk, call center, store and others — and from shopping to fulfillment to…
Overview
•Speed and Agility
•Continuous Innovation
•Scalable, Secure and Reliable
•Superior Growth, Superior Economics
•eCommerce
•Publish and Syndicate Relevant Content
•Connect Consumers to Products
•Manage product-level inventory availability
•Channel Management
•Central Customer Management
2
SAP Hybris
SAP Hybris delivers digital transformation: customer data management, context-driven marketing tools and unified commerce processes for all your channels.SAP Hybris Commerce solution helps you target and engage with your customers better, wherever they are. As the world of commerce continues to change, give your customers a consistent and meaningful experience - across every channel, every time.SAP Hybris Marketing combines superior customer insight with a highly agile and scalable platform. Reach your customers at all points of their journey, and boost loyalty by responding to real-time data to deliver the best possible customer experience.SAP Hybris Billing helps you monetize your digital…
Overview
•Powerful API / integration capability (clean product framework allows for easy integration with plugin-ins for added functionality / customization)
•Commerce Accelerator solution speeds up time-to-market but also sacrifices certain levels of customization
•Advanced mobile commerce setup and optimization
•Elite, data management tools, allow you to tailor product listings to certain customer segments, centralize data in one place, and
•Offers on-site and online software training
3
FastSpring
FastSpring is the leading eCommerce service for the general software industry and specifically for Mac software publishers. FastSpring is a complete e-commerce solution for payments and subscriptions. FastSpring provides excellent tools for revenue growth, global purchases, and information management - all done with leading-edge security, seamlessly integrated + customizable user interfaces, and award winning customer service. Its an eCommerce platform that enables purchases & subscriptions across web, mobile, and in-app experiences. It facilitates global payments with a localized experience, remain secure and compliant by outsourcing all of a company's back-office operations to us, and get back to focusing on what…
Overview
•Flexible
•Perfect for businesses of any size
•Allows product fulfillment options
•Supports subscriptions and recurring billing
•Customizable
8.9% Per Transaction
(Minimum order fee $.75)
5.9% + $.95 Per Transaction
4
Shopify
Shopify is a point of sale software that is use to manage business. It is easy to use and has a seamless workflow that enables you to add products by simply tapping and adding to cart. Its inventory is synced and is automatically updated in real-time whether sales have been made online, in store or via phone. Shopify also syncs all the orders automatically regardless of where they have been placed and helps to manage orders from your computer. You can monitor transaction history and print receipts from anywhere and anytime. Shopify allows for tracking cash in your till easily…
Overview
• Unlimited bandwidth, product inventory and customer data
• Full customizable website, online store and blog
• Sell on new channels like pinterest and amazon
• Accept credit cards instantly with shopify payments
• Shopify shipping and discounted rates
5
Avangate
Avangate is a global eCommerce platform that maximizes your sales of software, SaaS and digital solutions.Avangate powers modern Digital Commerce, solving the complexity of online commerce, subscription billing, and global payments for Software, SaaS and Online Services companies. Avangate makes it easy for digital businesses to expand their market reach. Merchant services spanning global shopper support, risk, fraud and tax, through financial reconciliation make it possible to instantly conduct commerce in over 180 countries and navigate the complexities of global business across multiple jurisdictions. Thru automation, self-service controls, easily configurable workflows and masses of global charge and forex options, Avangate…
Overview
•eCommerce Manager
•Subscription Billing
•Channel Manager
•Affiliate Network
•Global Payments
•Commerce Cloud
•Marketing Tools
•Latest Product Releases
Growth Edition - 3.99% + 0.79€
Standard Edition - 4.9% + 1.95€ or 8% + 1.96€
Enterprise Edition - Custom Pricing
6
CloudCraze
CloudCraze is ecommerce software that provides a robust B2B commerce technology built entirely on Salesforce. CloudCraze provides an excellent platform for launching new product lines and entering new markets quickly. CloudCraze uses real-time data to address every client interaction across marketing, service, sales, and commerce. CloudCraze is data driven and dynamic enabling you to predict, understand, and shape the behaviour of your customers. CloudCraze provides an excellent platform for empowering your business to meet new demands by providing robust features. These features include; management of orders, management of subscription and offers, management of catalog, guided selling, advanced promotions and pricing,…
Overview
• Order management
• Offer and subscription management
• Catalog management
• Guided selling
• Advanced pricing and promotions
• Internationalization and localization
• Experience management
• Administration
7
Octashop
Octashop has been providing a platform for online businesses and retailer to conduct their operations smoothly. The software provides technology support to retailer and online businesses. The software is backed by a team of experts that deliver the best possible technology solution. The software has an experience for more than 10 years in delivering technology based solutions to e-retailers and online business men. The company keep in mind the requirements and needs of clients to deliver the best solution. Customization abilities enable clients to have the best -fit-version for their businesses. The software can work on different types of businesses…
Overview
Provide technology solution to e-retailers
Support all business category
Allow access to inventory data
Possess customization features
Deliver24x7 support
Provide a global platform for e-retailers.
8
Oracle Commerce Platform
Oracle Commerce Platform provides a proven, scalable, modern platform, business-user control, and omnichannel support. It empowers marketers and merchants to manage omnichannel experiences, personalization, search and navigation, promotions, content, and more. Oracle Commerce Platform enables the rapid launch of sites for new brands, markets, and even single-purpose campaigns. It easily expands internationally to target new geographies and segments more effectively. Oracle Commerce Platform includes B2B and B2C modules to better support different business and selling models.With Oracle Commerce Platform, users can process data and deliver dynamic experiences at unparalleled scale and efficiently expand to multichannel, multibrand, multilanguage, multisite, and multicurrency…
Overview
Scale and Performance
Data Anywhere Architecture
Unified Multisite Architecture
Adaptive Personalization Engine
Best-in-Class Search and Guided Navigation
Advanced Segments and Targeted Content
Search Engine Optimization
Reporting and Big Data Analytics
9
IBM Watson Commerce
IBM Watson Commerce is ecommerce software that is enabled with AI to ensure you have everything you require to face digital disruption. IBM Watson Commerce uses a modern architecture that enables you to innovate and spend less time on managing your business platform. IBM Watson Commerce provides you with cloud ready solutions that give you the power of handling the environment of your online business. IBM Watson Commerce enables you to provide your customers with omnichannel commerce experiences by improving the execution of your strategy in every interaction with your customers. With IBM Watson Commerce, your customers have an excellent…
Overview
• Omnichannel commerce
• Order management and fulfillment
• Customer insights
• Digital experiences
• Struggle detection
• Intelligent sequencing
• Anomaly detection
• Order management
• Cognitive tagging
10
VTEX
VTEX is ecommerce software that manages multiple online stores and designed with capabilities of providing full commerce comprehensive solutions. VTEX provides an excellent platform for developing multiple stores and customizing each store with their own category, banners, product pages, landing, and hot sites. VTEX uses a CMS layer that supports JavaScript code, CSS, and HTML to enable you provide adaptability to your customers with responsive designs on mobile devices. VTEX provides faceted searches that enable your clients locate products easily by using a friendly search URL that boosts the search engine optimization of your website. The critical features provided by…
Overview
• Store front
• Marketing
• Merchandising
• Smartcheckout
• Omnichannel
• Order manager
• Logistics
• Infrastructure and WEB API
• Enterprise – Contact for pricing
• Corporate – Contact for pricing
• Business – Contact for pricing
• Plus – Contact for pricing
11
Ecwid
Ecwid is an e-commerce platform that helps to easily create a bold, easy to use online store and start selling anywhere online or in-person. Ecwid is a revolutionary shopping cart that seamlessly combines with your existing website. It can be added to your page on interpersonal media networks, such as Facebook or Tumblr. Though it's packed with high-value features, Ecwid is FREE OF CHARGE! You'll pay no create charges with no transaction fees, rendering it a no-cost, high-return solution for today's e-commerce businesses. It couldn't be simpler-just enter a few lines of code to any page of your website or profile, and your online store immediately appears.…
Overview
•Responsive storefronts
•Point-of-sale functionality
•Language detection
•Free plan
•$15 per month - the 'Ecwid Venture' plan
•$35 per month - the 'Ecwid Business' plan $99 per month - the 'Ecwid Unlimited' plan
12
Commerce Guys
Commerce Guys are the creators of and experts in Drupal Commerce, the eCommerce solution that capitalizes on the virtues and power of Drupal, the premier open-source content management system. We focus our knowledge and expertise on providing online merchants with the powerful, responsive, innovative eCommerce solutions they need to thrive. The technical team and experts of commerce guys takes care of all. Modern businesses are not only about selling. It goes beyond this. Businesses now have to think about how to target customers, how to satisfy them, how to reach potential market etc. The commerceguys provide all sort of technical…
Overview
Help business grow and flourish
Provide consultation, commerce assurance, architectural design, code audit and custom feature development
Help online retailers attract more traffic
Provide rich website experience
Manage project throughout lifecycle stages
13
Blomming
Blomming affords a simple, low-priced way for individuals and small or midsize corporations to perform this with nearly no technical competencies or upfront investment. It brings a unique set of social-focused abilities to merchants trying to promote through those websites. The simplicity of blogs made publishing low-priced for everybody. But the same did now not happen for selling matters. Use Blomming to promote anywhere you want: on your blog, your organization's website, your selected social network, on cellular. And with our first Social Association, you could even get publicity using allowing our community of 'Blommers' to promote your products on…
Overview
Sell on your Facebook Page
Sell on your Blog, Website or just Anywhere
Sell more with the Blomming Community or just create your own
Sell on the Blomming Marketplace
Buy on Blomming
Starter - 9.99 € /month
Basic - 19.99 € /month
Premium - 24.99€/month
14
Paddle
Paddle is an ecommerce software that provides a better way to sell software, manage checkouts, subscriptions, licenses, promotions, and analytics. Paddle provides three simple solutions which are unify, grow, and optimize. The unify solution provides every detail that you require for selling software by using their intuitive and single integration dashboard. The grow solution provides no limits in growing your software business. The grow solution enables you to decide promotions, pricing, and the customer experience. The optimize solution provides you with an excellent platform for increasing customer rate conversion, customizing the customer experience, and testing everything required for running your…
Overview
• Seamless checkout experience
• Delegate taxes and VAT
• Convert more customers with coupons
• Simplify licensing
• Take in-app and cross-platform payments
• Support any billing model
• Give customers a taste with trials
• Grow order value with bundles and up-sells
• Prevent fraud
• Control your checkout experience
• Grow your conversion rate worldwide
• Customize everything
• From 5% + $0.50 per sale
• Contact us for scaled pricing
15
eComchain
eComchain is ecommerce software designed to connect distributors and manufacturers with end consumers by using its B2B2C techniques. eComchain provides complete ecommerce solutions that provide dedicated real time support. eComchain provides more than 100 templates that enable you to give your store a customized feel and look. eComchain also provides an excellent platform for simplifying management of site by providing integrations and pre-built templates to multiple 3rd party services. eComchain is also multi-tenant to enable you meet the requirements of the supply chain as well as utilization of multiple enterprises levels and multiple sites. The critical features provided by eComchain…
Overview
• Site builder
• Store admin
• Templates
• B2B2C model
• Artificial intelligence
• Info sheet
• Inventory and pricing
• Basic – Ideal for start-ups
• Silver- I crease online orders
• Gold - Advanced online features
• Enterprise – Integrated with ORACLE, sap and other ERP platforms
16
BigCommerce
BigCommerce is ecommerce software that enables you to manage shipping and payments, customize your online store site, and list your products on Facebook, Ebay, and Amazon. BigCommerce provides you with powerful features that are more helpful than a website builder. BigCommerce also provides you with tools that enable you to streamline your online business. The key features offered by BigCommerce include; accepting of payments, designing of stores, shipping and fulfilling orders, converting visitors to customers, and integration with apps. The design store feature provides you with fast ecommerce templates that enable you to showcase your products and brand. The templates…
Overview
• Design your store
• Accept payments
• Integrate with Apps
• Ship & Fulfil orders
• Convert visitors
• Standard - $29.95/mo
• Plus - $79.95/mo
• Pro - $249.95/mo
• Enterprise – Contact Us
17
Shopify Plus
Shopify Plus is enterprise ecommerce software that provides you with a multi-channel platform with high scalability to allow you to grow your business. Shopify Plus enables you to add, manage, and update our products without use of codes. Shopify Plus provides you with an excellent platform for launching new sales channels across social platforms, mobile, and marketplaces. Shopify Plus enables you to take your business to a global level by providing you with storefronts in multiple currencies and languages as well as allowing you to easily set up wholesale for the high-volume buyers. The key features offered by Shopify Plus…
Overview
• Online store
• Multi-channel
• Ecommerce automation
• Campaigns and flash sales
• Sell globally
• Wholesale
• Pip-ups
• B2B ecommerce
18
Storbie
Storbie is ecommerce software that is NZ owned and operated and offers local support and local currency to make ecommerce easy. Storbie is also super mobile friendly as it is built with full responsive design, its images are optimised for mobile, and does not require coding. Storbie provides an excellent platform for creating an online store that is more connected and one that features in marketplaces. The critical features offered by Storbie include; marketing and social media, enhancing your presence on Google, mobile friendly, management of orders, designing your online shop, inventory and product, analytics, a shopping cart, and wholesale…
Overview
• Mobile friendly
• Design your shop
• Be found in Google
• Marketing and social media
• Product and Inventory
• Shopping cart
• Order management
• Analytics
• Wholesales and B2B
• Classic - $35 +GST/mo
• Professional - $75 +GST/mo
• Premium - $123 +GST/mo
• Charity - $25 +GST/mo
• Enterprise – Contact Us
19
Big Cartel
Big Cartel is an ecommerce software designed to make it easy for makers and artists to build their unique stores, sell their work, and run their creative business. Big Carter provides simple resources and tools that enable creative people to build unique online stores, sell and manage their work, and delight their customers. Big Cartel provides an excellent platform for easy customization of colours, images, fonts, and themes. Big Cartel also provides codes that enable your store to have a complete custom appearance by tweaking the CSS, JavaScript, and HTML directly. The critical features offered by Big Cartel include; management…
Overview
• Order management
• Checkout
• Real-time dashboard
• Discount codes
• Custom domains
• Inventory tracking
• SEO
• Sell in-person
• Five images per product
• Google analytics
• Full code customization
• Free – 5 products
• 25 products - $9/mo
• 100 products - $19/mo
• 300 products – 29/mo
20
Miva
Miva is a revolutionary Ecommerce solution that is streamlined and fully integrated. Miva provides you with a single source Ecommerce solution that deals with every aspect of your Ecommerce infrastructure. Miva enables you to host to your management interface and Ecommerce web store in SaaS-based environment. Miva provides you with a team of consultants who provide you with a platform for implementing your Ecommerce strategy. Miva provides a platform architecture that is unparalleled, flexible, secure, fast, and integrated. By being unparalleled, it enables Miva to support all facets of your Ecommerce operations in a PA-DSS software. The platform architecture is…
Overview
• Platform architecture
• Design and build
• Display products
• Configure catalog
• Optimize search rankings
• Engage buyers
• Run promotions
• Convert sales
• Manage orders
• Process returns
• Monitor inventory
• Support customers
• Synchronize channels
• Streamline operations
• Automate workflows
• Analyze performance
• Starter - $79.95 per month
• Business - $249.95 per month
• Professional - $749.95 per month
• Enterprise - $1495 per month
21
Oracle Commerce
Oracle Commerce is ecommerce software that enables you to innovate and expand to new geographies and touchpoints as the market changes. Oracle Commerce enables you to deliver optimized and personalized experiences to your shoppers. Oracle Commerce includes B2C and B2B modules that enable you to support multiple selling models and businesses. Oracle Commerce provides you with a scalable and modern platform that enables you to instantly launch your sites for new markets, brands as well as for single purpose campaigns. Oracle Commerce also enables you to manage omnichannel experiences, content, and promotions. The key features offered by Oracle Commerce include;…
Overview
• Scale and performance
• Data anywhere architecture
• Unified multisite architecture
• Adaptive personalization engine
• Best-in-class search and guided navigation
• Advanced segments and targeted content
• Search engine optimization
• Reporting and big data analytics
22
3dcart
3dcart is ecommerce software that provides you with everything you require to build your online store, which starts from choice of payments to real-time shopping. 3dcart also enables you to increase sales and visitors. 3dcart uses four simple steps to help you start you online store. The steps include launching of a mobile ready online store, marketing your store within one platform, optimizing your search engines, and managing orders, customers, and products. The critical features offered by3dcart include; a shopping cart, design of store, management of orders, management of products, secure hosting, SEO and marketing, customer support, and mobile ecommerce.…
Overview
• Shopping cart
• Store design
• Manage orders
• Marketing and SEO
• Customer support
• Mobile ecommerce
• Startup Plan - $19/mo
• Basic - $29/mo
• Plus - $79/mo
• Pro - $229/mo
• Enterprise – Contact Us
23
Nexternal eCommerce
Nexternal ecommerce is an ecommerce software based on the cloud that provides merchants with customized experience. Nexternal ecommerce provides you with an excellent platform for integrating and adding tools to your ecommerce platform that suits the requirements of your business. Nexternal ecommerce enables online businesses to deliver unique services that most retailers and merchants wants. Nexternal ecommerce uses B2C and B2B transactions from the same system to enable you have full control over visibility of products, pricing of products, billing options, and discounts. Nexternal ecommerce enables you to provide your users with customized, beautiful, and personalized design stores that is…
Overview
• Customer report
• Order management
• States management
• Batch order processing
• DropShip module
• Vendor management
• Social media integration
• Social commerce promotions with tipping points
• Profit reports
24
Sellfy
Sellfy is an e-commerce platform that offers tools for digital content creators to sell their goods online. On the Sellfy platform, users can either open a Sellfy-based storefront or embed e-commerce tools on their site, or both. Sellfy is intended for digital product sales exclusively. Over 300,000 creators all over the globe - writers, designers, filmmakers, music producers, and others - already use Sellfy service to sell their digital products. Create subscription products and charge your customers on a daily, monthly or yearly basis. Sellfy stores have a clean and beautiful look that's easy to customize for anyone. Use PayPal…
Overview
• Shopping cart: Earn more by allowing customers to purchase multiple items at once
• Email marketing: Send product updates to existing customers and collect newsletter subscribers
• Use discount codes and product upsells to engage with customers and increase sales
• Tracking pixels: Add Facebook and Twitter ad pixels to create ads for the store and track their performance
• Powerful analytics: See which products have been sold the most and where the buyers came from
• Facebook Live Chat: Add Facebook Chat widget and talk to customers directly
• Pro - $29 / month
• Pro plus - $99 / month
25
Volusion
Volusion is a fully hosted, all-in-one shopping cart software that's designed to help users build, manage and grow a successful online business. Volusion's all-in-one e-commerce solution makes it easy to start selling online. From calculators for small business loans, PayPal fees, and profit margins, to terms of service generator, Volusion offers free e-commerce website tools. With eye-catching product pages, an intuitive order system, comprehensive payment processing and more, Volusion makes it easy to start selling. Ship savvy: with Volusion users can specify shipping types, require a signature, offer special discounts, provide flat options and set overall shipping rates. Create custom…
Overview
• Vendor Codes: Create custom codes for vendors that make managing stock simple and efficient
• Admin Social Management
• Tax Rate Calculator
• Barcode Generator
• Product Display Customization: Give shoppers the info they want with reviews, social sharing, availability notifications, and a Recent History feature
• Search Functionality: Help customers locate items quickly and easily
• Personal - $29 / month
• Professional - $79 / month
• Business - $299 / month
You may like to read: How to Select the Best E-Commerce Software for Your Business