Review
CubeCart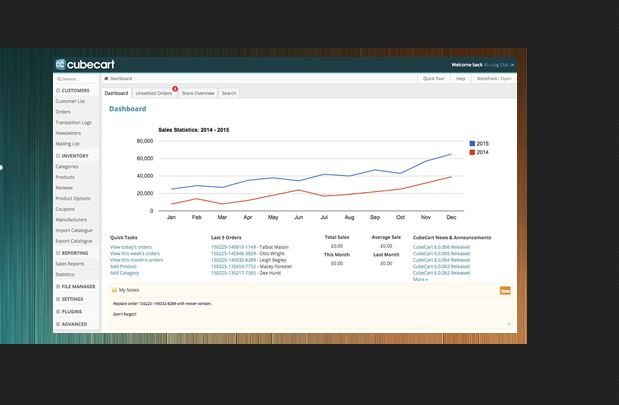 Overview
CubeCart is a powerful free ecommerce solution enabling thousands of merchants globally to sell digital or physical products online
Open-Source Digital Commerce Platform
•Technical Support
•Unlimited Customers
•Unlimited Orders
•Unlimited Products
•Unlimited Categories
•Sales Reporting with Spreadsheet Export
•Statistics
Small (<50 employees), Medium (50 to 1000 Enterprise (>1001 employees)
What is best?
•Technical Support
•Unlimited Customers
•Unlimited Orders
•Unlimited Products
•Unlimited Categories
CubeCart remains as an ideal and powerful free ecommerce solution enabling that enables thousands of merchants globally to sell digital or physical products online. CubeCart is an open source solution and open source and it is available to businesses for free.
The system is trusted by tens of thousands of merchants and developers across the world, from all types of industries and at different levels of operation. The platform is proud to have a strong track record for security. Additionally, it is easy to set up and intuitive to use.
The software is actively developed, supported and always innovating leaving users with an open check to grow and increase their scope of operation and efficiency. The solution is backed by a profitable UK registered company which has been established over ten years. CubeCart is also easy to extend and upgrade without having to redo code changes every time. Admirably, the solution is backed by a thriving forum community where users can interact, share their experiences, get answers to their questions, and even answer fellow user's queries.
This provision is instrumental in ensure that business users are able to have a feel of how other businesses are benefitting from the platform. CubeCart is supported by very experienced support staff who is always pleased to help. This kind of support is designed to ensure that users never stagnate in case they face any technical challenge along the way. This is one of the marks that set the software apart from its equivalents in the market.
You may like to read: How to Select the Best E-Commerce Software for Your Business and Free, Top and Open Source E-Commerce Software (Digital Commerce Platforms)