Tidemark Planning and Analytics for Energy Makes Generating Answers in Real-Time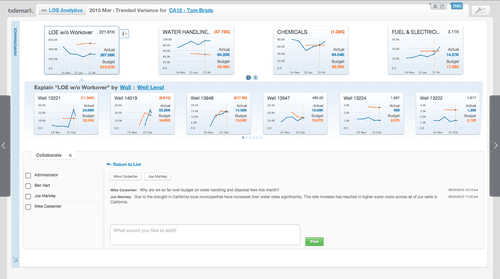 Tidemark, maker of modern cloud business planning and enterprise analytics apps, introduced new packaged processes designed to help energy companies of all varieties manage performance across all parts of the business - from headquarters, throughout the supply chain, and into the field - in real-time.
With fluctuations several times a day in site conditions, weather, logistics, gas prices, operating costs and financial capital, clean and renewable energy, along with oil and gas companies are moving away from the rigid systems of the past, turning to modern applications that can turn complex data sets into actionable insights that employees at all levels can understand and rely on to drive better outcomes.
"Fore EPM to travel beyond the world of finance and into lines of business, it is critical that it provide easily accessibility, engage all kinds of users and help them contribute meaningfully to organizational goals from their perspective. Achieving those objectives requires having product design in front of technology," said Surya Mukherjee, Senior Analyst, Ovum Research. "Tidemark uses its cloud only model to further user engagement, offering multiple ways to consume, collaborate, and turn content into actionable insights."
Built on its modern cloud, unbound by rigid constraints from cubes, Tidemark leverages the power of the SPARK computation services, enabling both financial and operational users to find answers to virtually any question and act on them in the context of financial and operational performance. Designed with guidance and input from Tidemark's portfolio of energy customers, the new packaged processes include pre-configured, industry-specific measurements that look at emission rates, unit-level and process-level optimization, LOS (lease operating statement), LOE (lease operating expense, BOE (barrels of oil equivalent) metrics and more. With no customization needed, energy companies who turn to Tidemark can get up and running live within 90 days so they can equip managers and field workers alike to immediately understand the financial implications of every operational decision.
With the new Tidemark Planning and Analytics for Energy, executives, managers and foremen can:
Input or adjust information into Tidemark from virtually any device and instantly see the impact it will have on current and future financial and operational metrics in the field. Leverage predictive modeling and forecasting to see where to hire and retain, what skills to improve, and how wage and merit changes impact business performance. Generate a solid audit trail no matter what action is taken or on which device. Bring more supervisors and foremen into the FP&A process with a self-service environment and empower quick time-to-action on P&L statements and clarifications. Easily and pro-actively review budgets to understand where money is being allocated and whether or not it aligns with goals. Adjust, Model and Predict budgets as external factors change and Manage and analyze payroll expenses and budgets.
ENGIE Group is a multinational corporation and an expert operator in the three key sectors of electricity, natural gas and energy services. The global company relies on Tidemark to capture large amounts of data from multiple levels throughout its organization -- from operations, finance, human resources, marketing, and sales -- into one environment, automatically structuring the information into context for the 152,900 employees on 5 continents and 70 countries for the no.1 independent power producer in the world. Regardless of location, all employees now operate under the same set of numbers, collaborating across different business units as they make decisions that drive the performance of their customers and their own organization.
The use of Tidemark is also transforming planning and forecasting at oil and gas supplier, Laredo Petroleum, which operates over 1,000 wells on more than 150,000 acres in the Permian Basin of West Texas. Before implementing Tidemark, Laredo Petroleum supervisors and foremen had to wait up to two weeks to learn how much revenue a particular rig was producing or whether it made financial sense to continue or stop drilling on a site. Today, managers and field personnel alike can access Tidemark's modern-cloud, mobile-first platform to get answers to those questions immediately, enabling them to save expenses by taking the right actions sooner.