Top 32 Free and Premium Web Scraping Software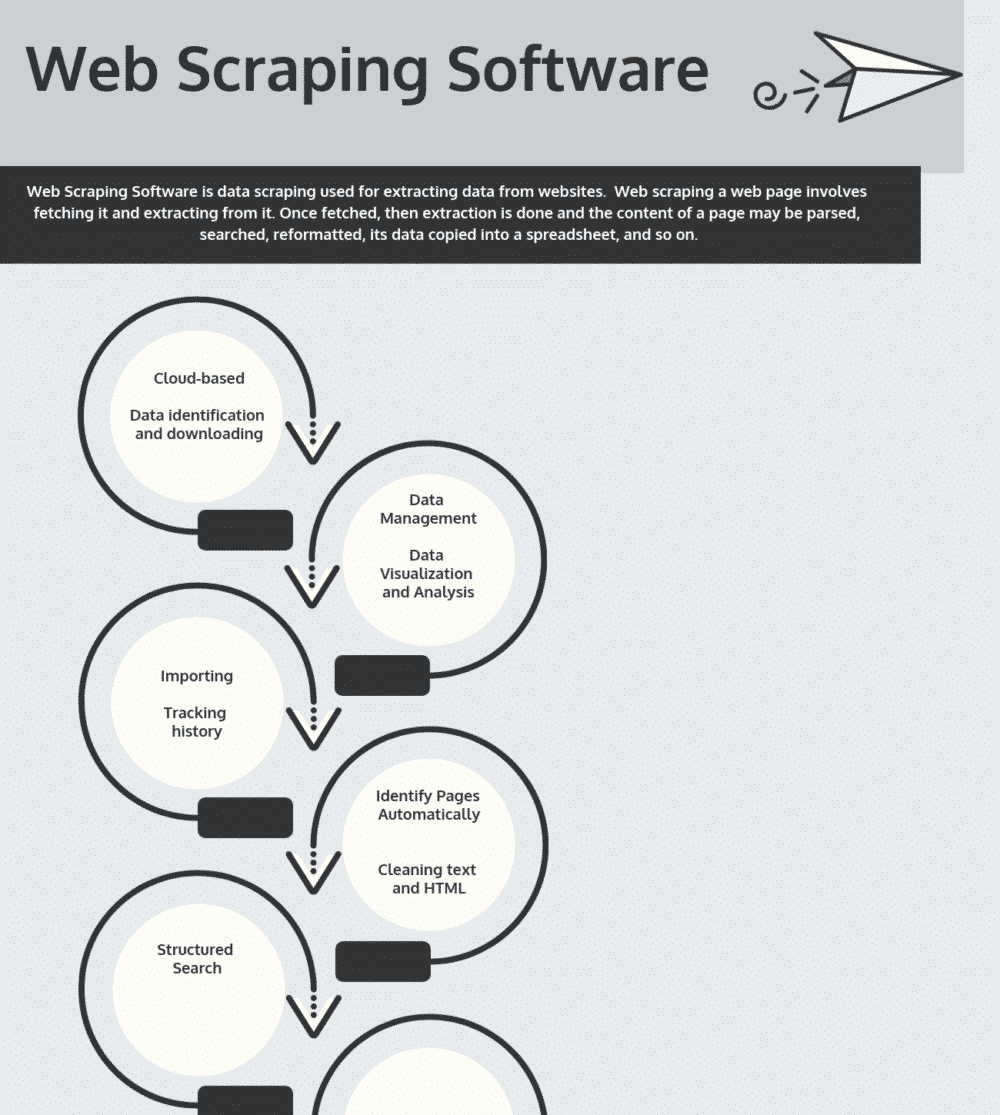 With the ever-changing business trends, accurate information is essential in assisting the business owners and executives in decision-making processes.  Collecting data, therefore, becomes a necessary aspect of any business. Data can be readily available on different websites, but searching through such information to get the required data can be quite a daunting task. Companies need to harvest data from various sources to enable them to close specific gaps that exist in the organization. For companies to generate leads, they need to search the email addresses of the key people that influence decision making in the various organization. Competitors can extract data from websites to make product and price comparisons. Companies also collect and analyze product reviews to enable them to keep an eye on their competitors' reputation. Website creators also need to research for keywords and relevant information to write and post useful information on their websites. Research companies need to extract massive amounts of data from various sites to make sense of it. Such tasks can be carried out more effectively with web scraping software.
Web Scraping Software is data scraping used for extracting data from websites.  Web scraping a web page involves fetching it and extracting from it. Once fetched, then extraction is done and the content of a page may be parsed, searched, reformatted, its data copied into a spreadsheet, and so on. Web scraping is used for contact scraping, and as a component of applications used for web indexing, web mining and data mining, online price change monitoring and price comparison, product review scraping, gathering real estate listings, and weather data monitoring.Web Scraping is also known as web harvesting or web data extraction. Web Scraping Software automatically recognize the data structure of a page or provide a recording interface that removes the necessity to manually write web-scraping code, or some scripting functions that can be used to extract and transform content, and database interfaces that can store the scraped data in local databases.
Top Web Scraping Software : Mozenda, Automation Anywhere, Visual Scraper, WebHarvy, Content Grabber, Fminer, Import.io, Visual Web Ripper, Webhose.io, Scrapinghub Platform, Helium Scraper, Data Scraping Studio, Web Scraper, Trapit, ScrapingExpert, Ficstar, QL2, AMI EI, QuickCode, WebSundew, Grepsr, BCL, Connotate Cloud are some of the top web scarping software.
Top Free Web Scraping Software : Pattern, Scrapy, Octoparse, Frontera, TheWebMiner, IEPY, GNU Wget, Portia, DEiXTo are some of the top free web scraping software.
What are Web Scraping Software?
Web scraping software using a bot or web crawler access the World Wide Web directly using the Hypertext Transfer Protocol, or through a web browser and extract the specific data from the web, into a central local database or spreadsheet, for later retrieval or analysis.
Web Scraping software can automatically extracts and harvests data, texts, URLs, videos and images from the websites using a bot, web crawler, web browser or a hypertext transfer protocol. It involves copying information or collecting specific data from various sites and converting the unstructured data into a spreadsheet or a central local database for later analysis and retrieval.
Cloud-based: Web scraping software is web-based, and thus the user can extract data from anywhere and at any time.
Data identification and downloading: Web scraping software helps the user extract text, URLs, images, videos, files, and PDF content from various web pages and transforms them into a structured format.
Data Management: Web scraping software enables the user structure, organize and prepare the data files for later publishing. The user can export the files directly into, CSV, XML, or JSON and has the option to filter the data using an API.
Data Visualization and Analysis: Web scraping software helps the user collect and publish their web data to their preferred database or Bl tool. It also helps create insights and business intelligence since it allows the user to extract raw data and structure it into more valuable information for further analytics.
Importing: Some web scraping software allows the user to import web data into an excel spreadsheet using web query.
Tracking history: Web scraping software capture historical versions of the data from the archives while crawling a site.
Identify Pages Automatically: Web scraping software helps Analyze API to automatically identify and fetch all products files, articles, discussions, images or videos while crawling any website.
Cleaning text and HTML: Web scraping software enables the user to get articles, product descriptions, discussion threads, and image captions in pure text and sanitized HTML. The Product API can automatically return detailed product information including all prices, product Identification numbers, full and brand specifications tables.
Structured Search: The user can search content that is structured from any crawl using search API and return only the results that are matching. All crawls can be searched instantly and allow the user to slice and dice their data by examining the structured fields. The user can sort data by date of the article, filter product by price, and search across different custom fields.
Top Web Scraping Software
Mozenda, Automation Anywhere, Visual Scraper, WebHarvy, Content Grabber, Fminer, Import.io, Visual Web Ripper, Webhose.io, Scrapinghub Platform, Helium Scraper, Data Scraping Studio, Web Scraper, Trapit, ScrapingExpert, Ficstar, QL2, AMI EI, QuickCode, WebSundew, Grepsr, BCL, Connotate Cloud are some of the top web scarping software.
Top Web Scraping Software
PAT Index™
1
Mozenda
Mozenda helps companies collect and organize web data in the most efficient and cost effective way possible. Its cloud-based architecture enables rapid deployment, ease of use, and scalability. If a company needs to collect data from the web, Mozenda is the best way to do it. It is quick to implement, and can be deployed at the business unit level in minutes without IT involvement. A simple point and click interface helps users build projects and export results quickly—on demand or on a schedule. It is easy to integrate, users can publish results in CSV, TSV, XML or JSON format…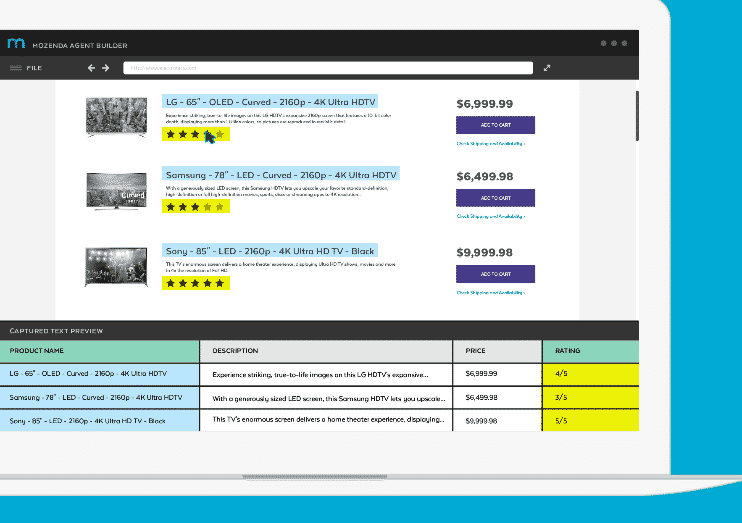 2
Automation Anywhere
Automation Anywhere Enterprise comprises of a group of experts focused on providing a complete end-to-end cognitive and flexible Robotic Process Automation tools to easily build bots to digital functioning bots, powerful enough to automate tasks of any complexity, but at the same time is user-friendly.Automation Anywhere Enterprise is the only RPA platform designed for the modern enterprise that is capable of creating software robots to automate any process end-to-end. Advance with cognitive bots with learning ability for semi-structured processes that need expert decision-making, and transforming analytics that will promote operations.Automation Anywhere Enterprise offers three types of bots, each bot working…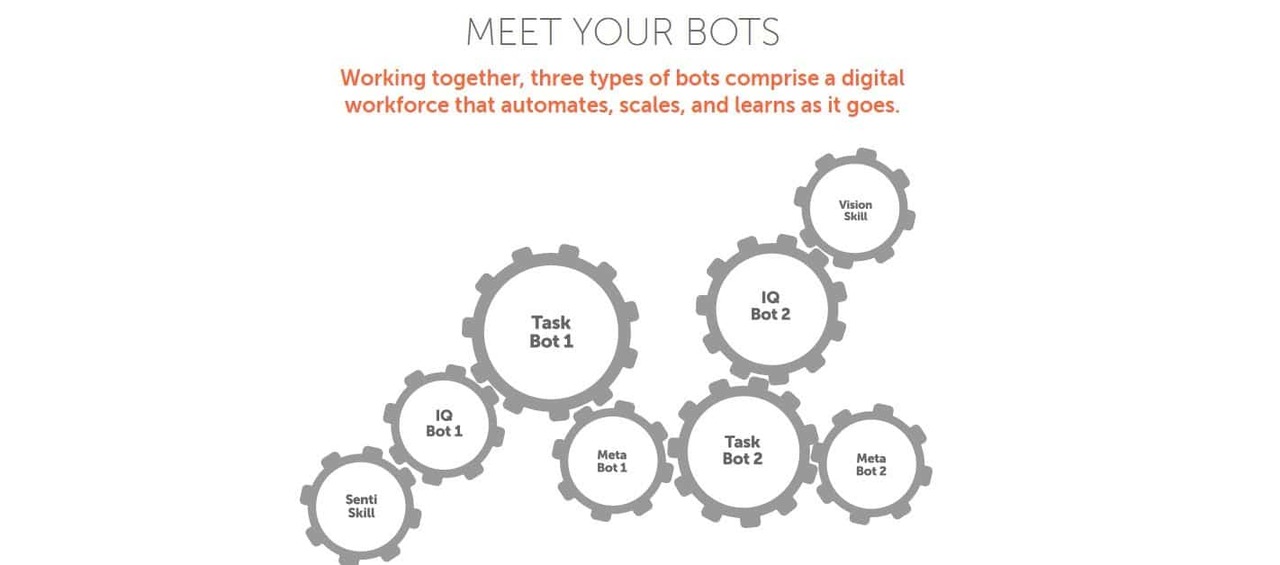 3
Visual Scraper
Visual scraper provides the Windows application used to build your data extraction project. It requires no or little programming language skills to be implemented. Visual scraper gives you the power of interface with a Point & Click feature that allows you to scrape data by just a few clicks. Visual scraper also gives you the power of simplicity that lets you configure data extraction using your set preferences called projects or agents. If you click on any text of the page, you may see a popup window that you can use to allow you to train your agent to do…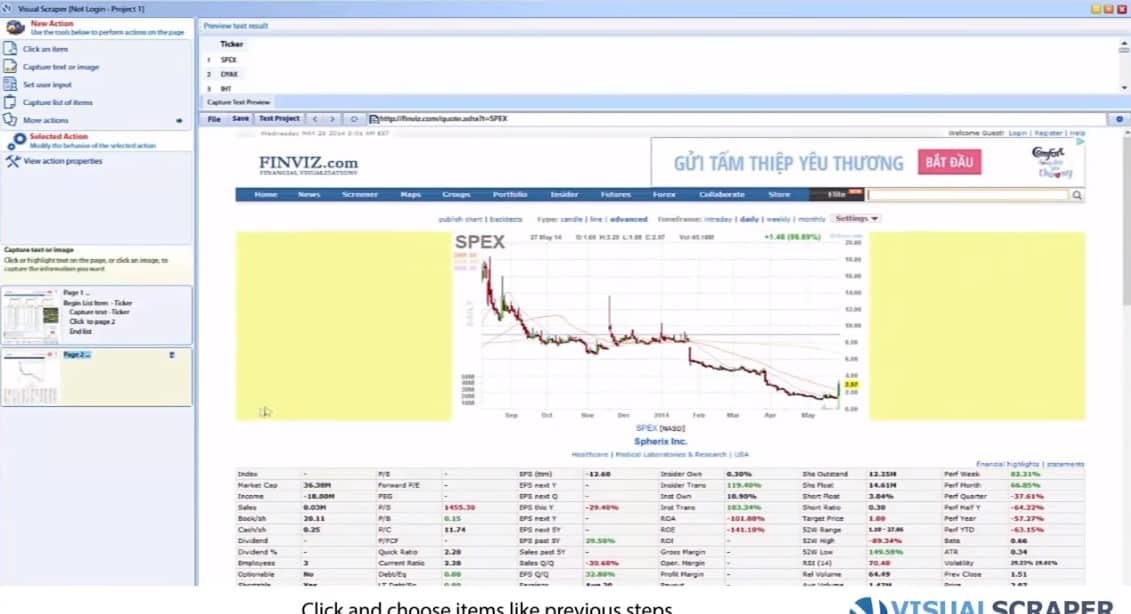 4
WebHarvy
WebHarvey is a visual scraper which automatically scrapes texts, URLs, and images from websites and saves the extracted data in different formats. It scrapes data from websites within minutes, and it is easy to use because it contains a built in scheduler and proxy support which allows it to scrape anonymously hence avoiding blocking from servers. The inbuilt browser allows the user to scrape data without codes hence access and scrape data from multiple pages. The scraper allows for categorical scraping allowing the user to access links which lead to listings of the same data within a website. Its ability…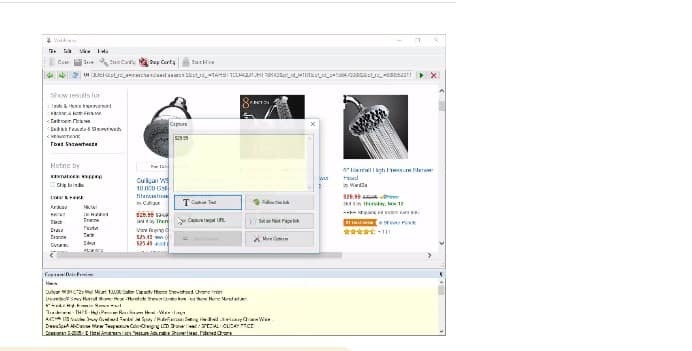 5
Content Grabber
Content Grabber is used for web scraping and web automation. Content grabber agent editor has a typical point and click user interface with added capability of automatically detecting and configuring commands. It automatically creates content lists, handles pagination and web forms, and can download or upload files. It can extract content from almost any website and save it as structured data in a format of your choice, including Excel reports, XML, CSV and most databases. Content Grabber offers advanced performance and stability that features optimized web browsers and a fine-tuned scraping process. Content Grabber has a range of browsers to…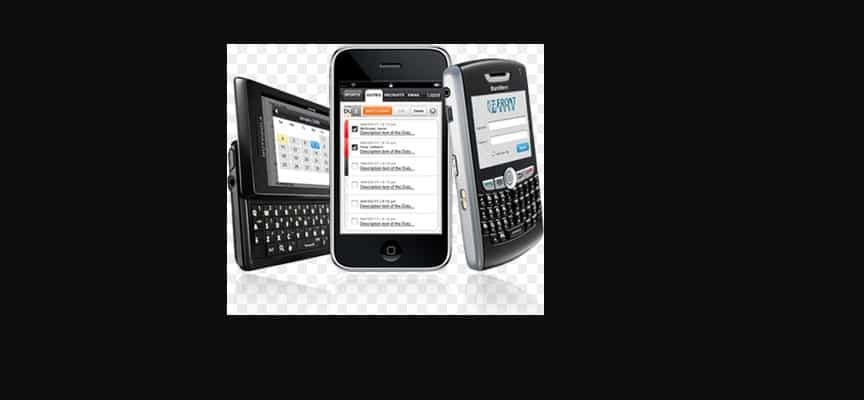 6
Fminer
Fminer is powerful software built to carry out quite a number of instructions such as web scraping, web harvesting, web data extraction, web crawling, web macro and screen scraping. The software supports windows and Mac os x.Using Fminer translates to automatic success, as it features an intuitive design tool that is very simple and easy to use. Coupled with top-notch features gives it a radiating positive result. FMiner's powerful visual design tool captures every step and models a process map that interacts with the target site pages to capture the information you've identified. Fminer comes loaded with powerful visual design…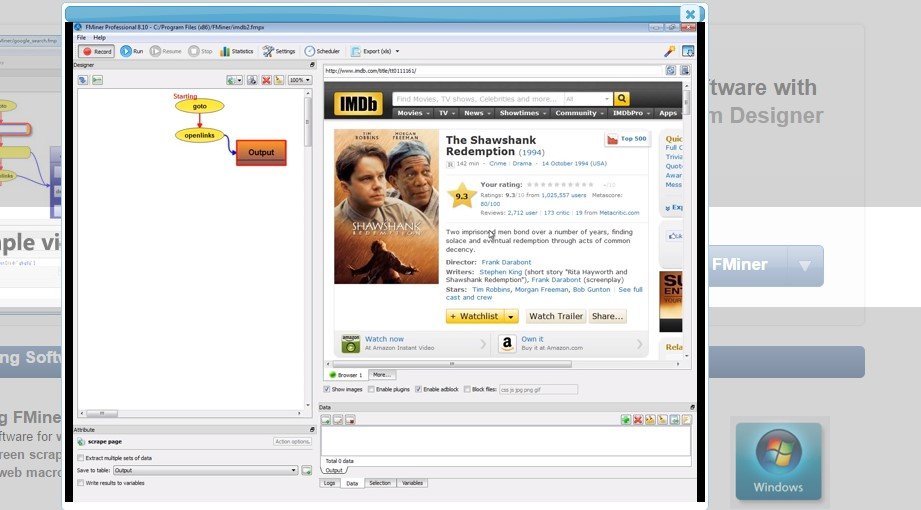 7
Import.io
Import.io is an acclaimed web extraction expert, an extra simple web scraping tool. With import.io data extraction is a hassle free endeavor, all it requires is just to type in the URL and the sophisticated system will turn the web pages into data. Import.io is the perfect solution to extract web data for price monitoring and to be used for determining the market's expectations to determine what is the best laudable solution, in other words, import.io is the answer to generating quality leads. Import.io allows the opportunity to effect credible research. This is made possible by extracting data from 1000…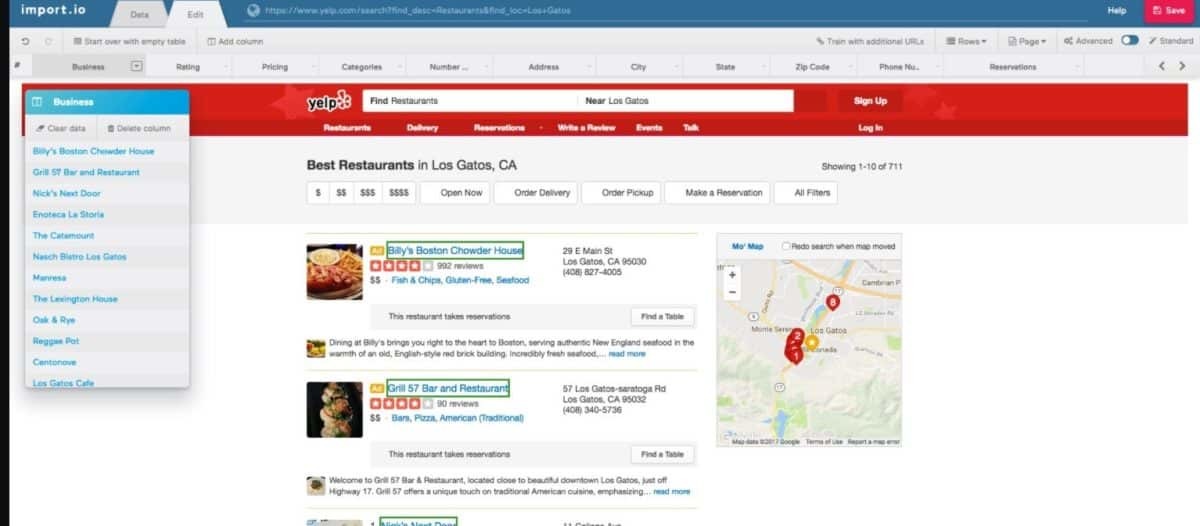 8
Visual Web Ripper
Visual Web Ripper is an advanced webpage scraper which allows the user to easily extract data from a website. With the help of the Visual Web Ripper users will be able to extract any data that is interesting such as product catalogs, classifieds and financial web sites. This product gets the data from the desired website and places it in a user friendly and structured database, spreadsheet, CSV file or XML. Where most other web page scrapers would fail, the Visual Web Ripper will succeed as it can process AJAX enabled websites and submit forms for all possible input values.…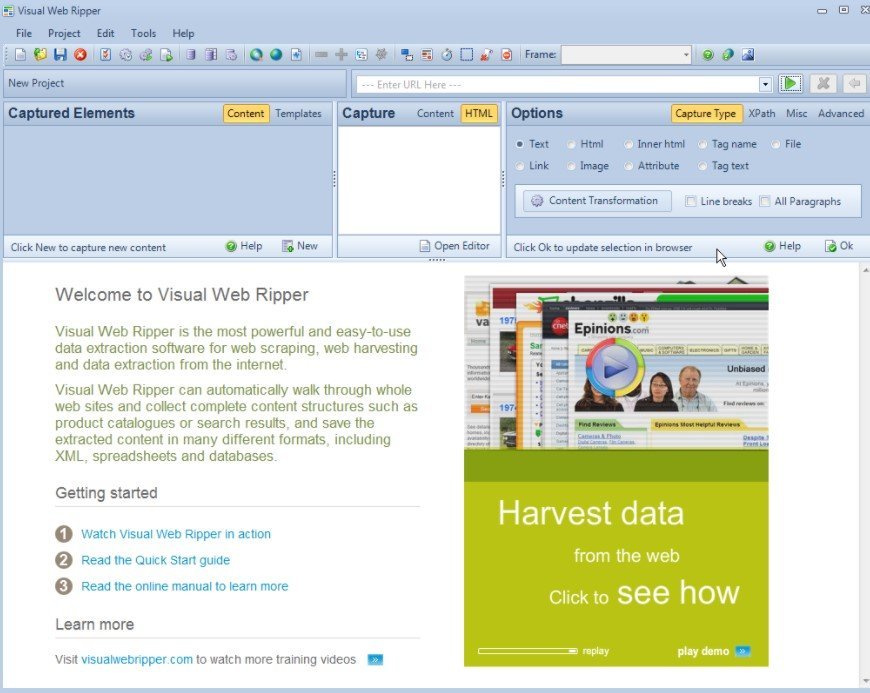 9
Webhose.io
Webhose.io provides on-demand access to structured web data that anyone can consume. Webhose.io empower you to build, launch, and scale big data operations - whether you're a budding entrepreneur working out of the garage, a researcher in the science lab, or an executive at the helm of a Fortune 500 company. Start for free by sampling the Webhose.io API, and then consume the same web data that powers global media analytics and research companies. Webhose.io structure, store, and index millions of web pages per day in vertical data pools (e.g. news, blogs, and online discussions).Get data from a wide variety…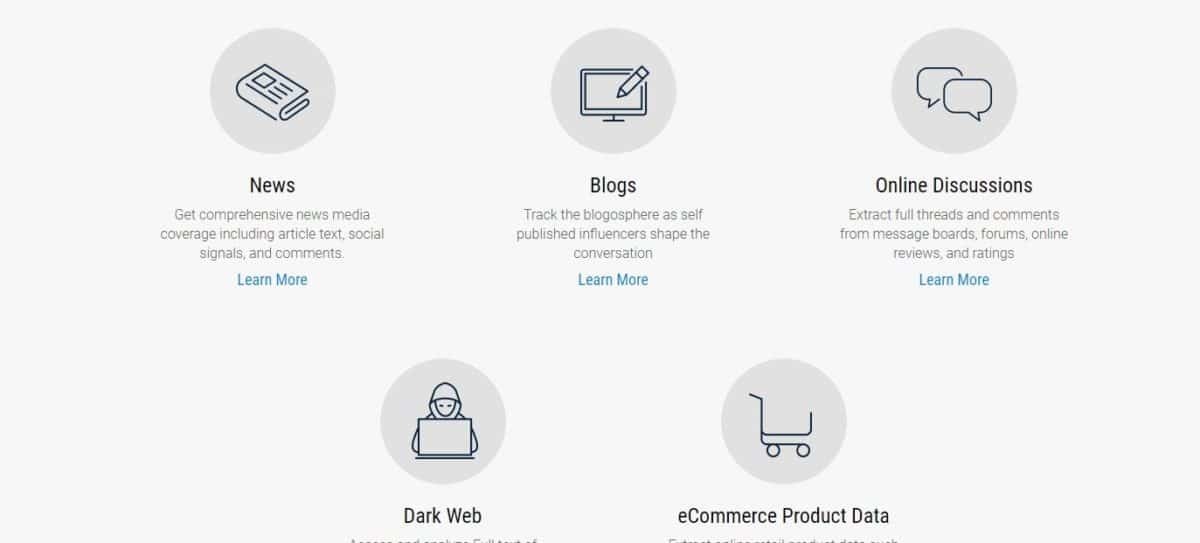 10
Scrapinghub Platform
ScrapingHub Platform is a leading service known for building, deploying and running web crawlers, providing up-to-date data along the way. Collated data are displayed in an amazing stylized interface where they can be reviewed with ease. ScrapingHub platform provides an open source platform called Portia a program designed for Scraping websites. It requires zero programming knowledge; templates are created by clicking on elements on the page you would like to scrape, and Portia will handle the rest. It will create an automated spider that will scrape similar pages from the website. There are quite a number of spiders crawling thousands…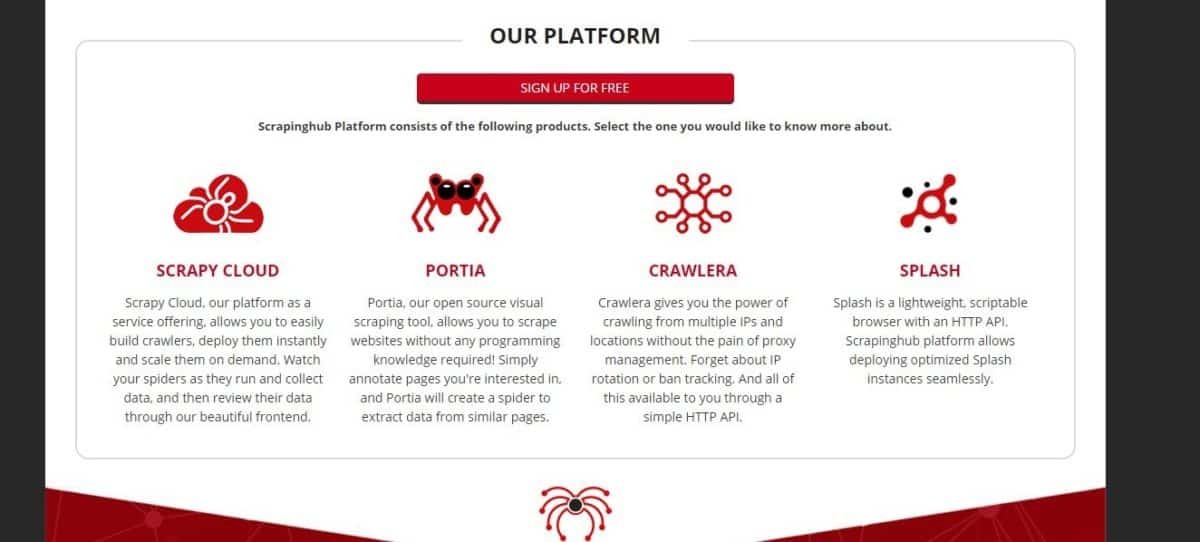 11
Helium Scraper
Helium scraper is a professional web scraper with an intuitive interface that is quite flexible and easy to navigate. As a result of the vast options, users have the luxury to determine how or what a scale they'd choose to scrape the web. Results can be viewed, extracted and tabularized. The point and click feature is its unique selling point; data extraction tasks can be managed more quickly and with very minimal stress. Helium provides its users the option to choose what and what not to extract with just a few clicks. The activate selection mode makes it possible to…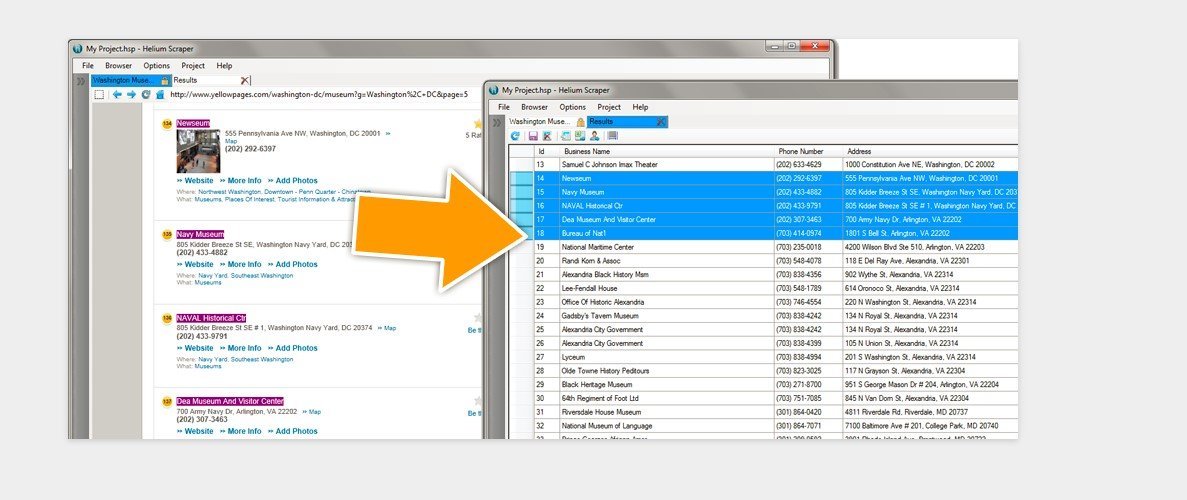 12
Data Scraping Studio
Data scraping studio is stand-alone desktop software for super-fast web extraction. It is configured to be implemented easily using point-and-click chrome extension designed to create web scraping agent quickly using CSS selectors. It enables you to extract text, html, or images with one click and deliver instant result preview. The current page output can also be downloaded in popular file format such as JSON, CSV, or TSV. Data scraping studio architecture is designed to simultaneously extract as many websites as you want to meet you data expectations. This means you can create separate agents for all your targeted sites and…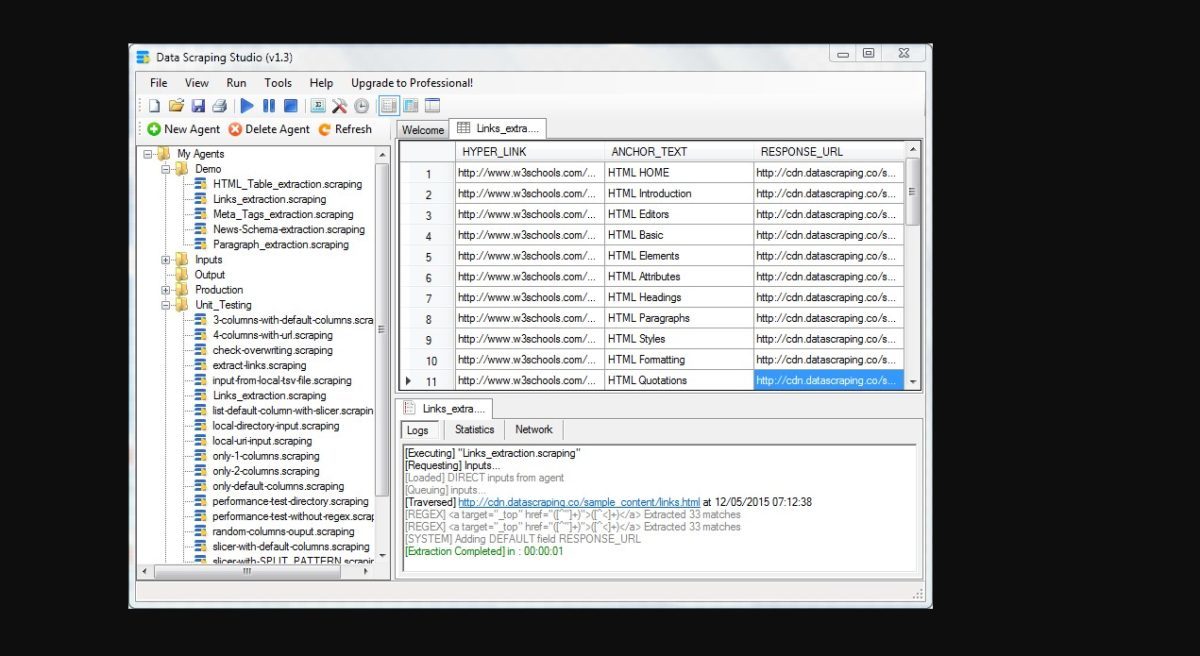 13
Web Scraper
Web scraper is a data extraction tool designed for web pages. Web scraper company offers two options for the extension; the Google Chrome extension and cloud based extension. Web scraper builds sitemaps and navigates a site to extract needed files, images, tables, texts, and links depending on the need. The web scraper extension is free and essential for extraction of data using sitemaps and exports scraped data as CSV. The cloud web scraper extension extracts large amounts of data and runs multiple scrapings at the same time. The company's cloud service only requires one to create an account and purchase…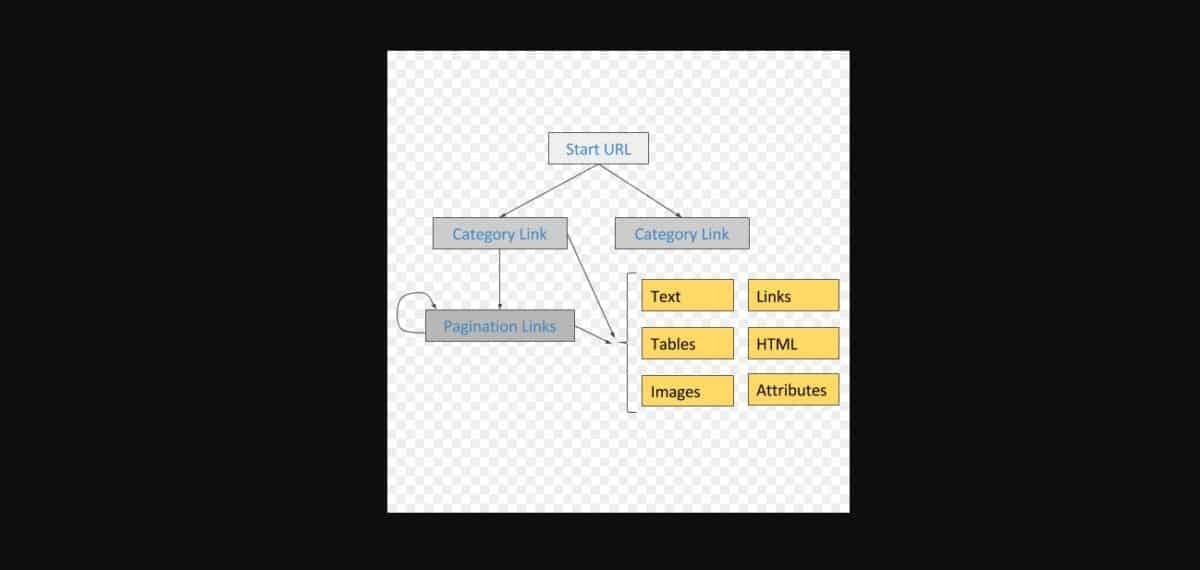 14
Trapit
Trapit increases sales revenue and brand reach by making it ridiculously easy for executives, salespeople, and other employees to engage in social selling and employee advocacy. Buyers are in control of the sales process. Help them along their path. Educate and engage customers at every stage of their journey. Users will also be able to organize their company's social content. Use Trapit's artificial intelligence to find news, insights, trends, and analysis that employees want to share and customers want to consume. Trapit makes it ridiculously easy for the sales reps, executives, and other employees to use social regardless of their…

15
ScrapingExpert
ScrapingExpert is a Web Data Extraction tool for scraping data from the web vis-à-vis Prospects, Price, Competition, and Vendors for advancing your business. It helps you to know more about your target audience, for sales and marketing; your competitors and their products, for knowledge of market share; your competitor's product prices, for pricing policy; and available dealers, for raw material supply. Major features are website support; one screen dashboard, for ease in control and operations; search option; proxy management option, to avoid IP blocking; configuration of credentials on specific websites; feature to set delay in crawling, to imitate human-like activity…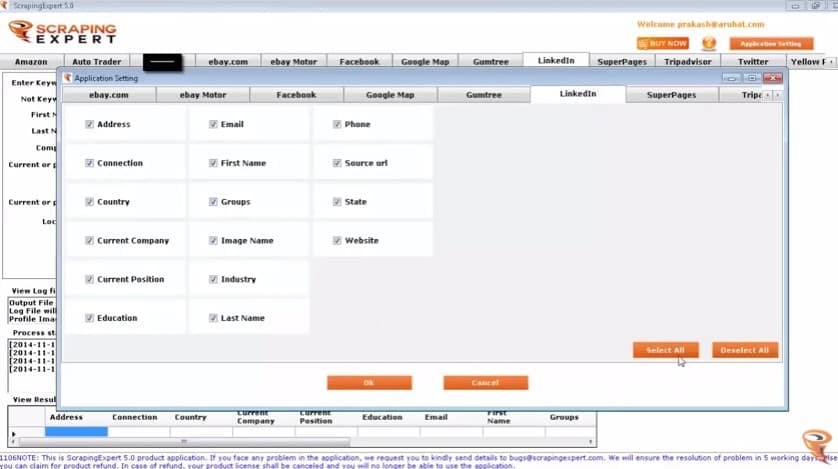 16
Ficstar
Fiscar is a powerful data extraction technology designed for business in large scale data collection to enable competitive price intelligence, and as well as provide the opportunity to make wiser steps, building and implementing effective strategies. The extraction technology digs deep into the furthest depth of web. Fiscar is the absolute solution to when it comes to data collection custom fit for individual business. Apart from being safe and reliable, Fiscar integrates perfectly into any database.The collection of data that and is compiled results can be saved into any suitable format. Based on the fact that it can dig beneath…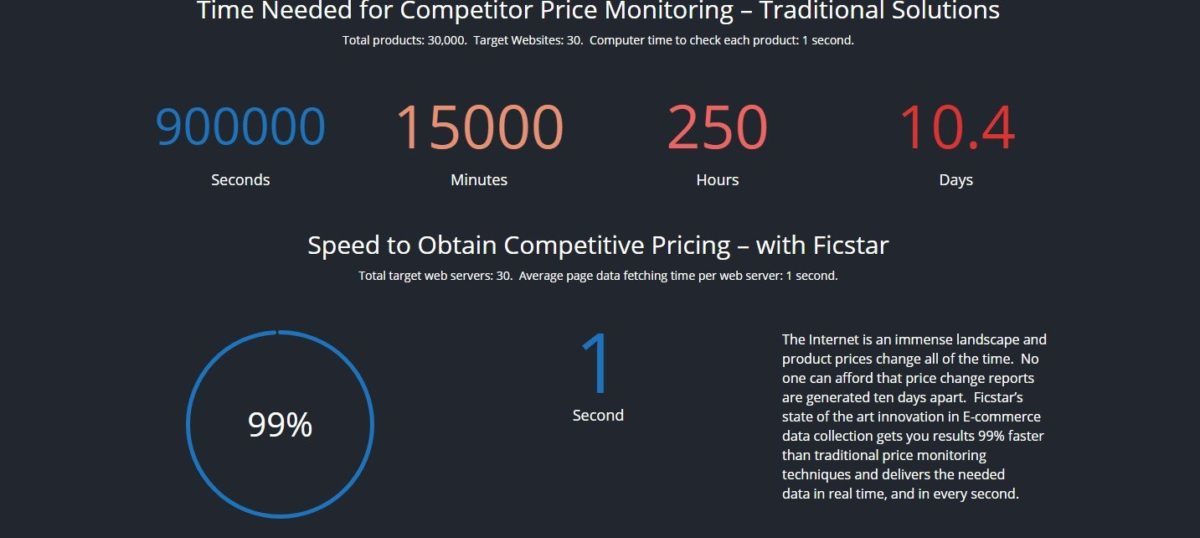 17
QL2
QL2 helps the user manage the complexity of optimizing as well as daily pricing and revenue to make the user's job easier. It has been delivering market intelligence to users since 2001. Using QL2 gives your business the edge and advantage as it uses real-time search technology which helps companies make sense of millions of queries that occur on a daily basis. This tool will deliver a comprehensive and up to date view of the user's market and target audience. QL2 helps make sense of broad information across multiple platforms but it can also access deeper and more intense research…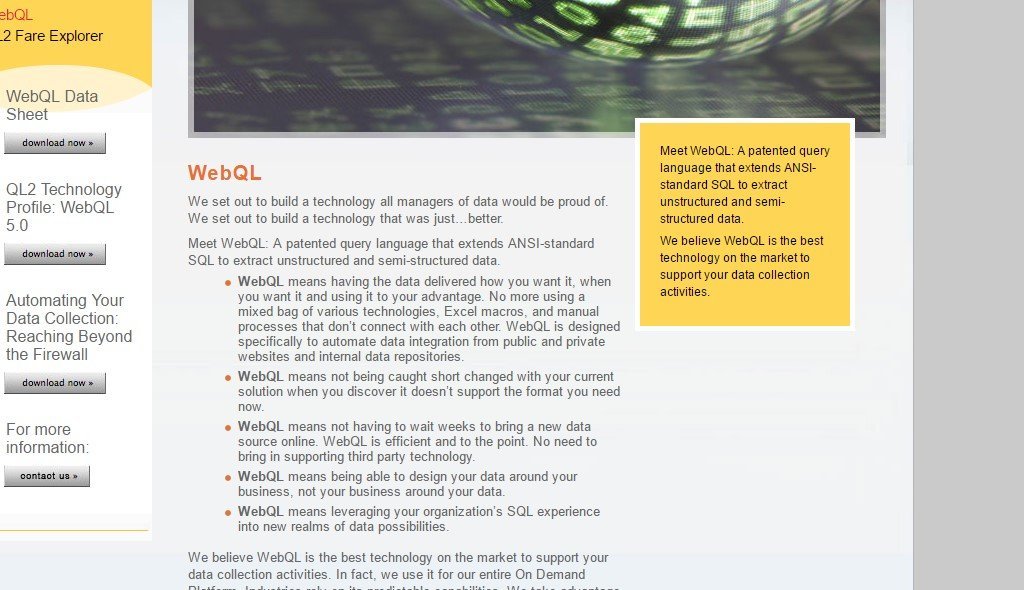 18
AMI EI
AMI Enterprise Intelligence collects and analyzes data from across the entire web to create a detailed insight and perceptible intelligence regarding a specified business, its markets, competitors, and customers. AMI Enterprise Intelligence is known for delivering specifically accurate analyses; provide a concise laid out comparison on how well a business is faring compared to others on the same field. With AMI Enterprise Intelligence, External, Internal, Premium, Public, and Social Media sources are fully integrated into the system and are easily accessible upon request. All Sources are centralized into one big easy to comprehend section. Information gathered from diverse sources can…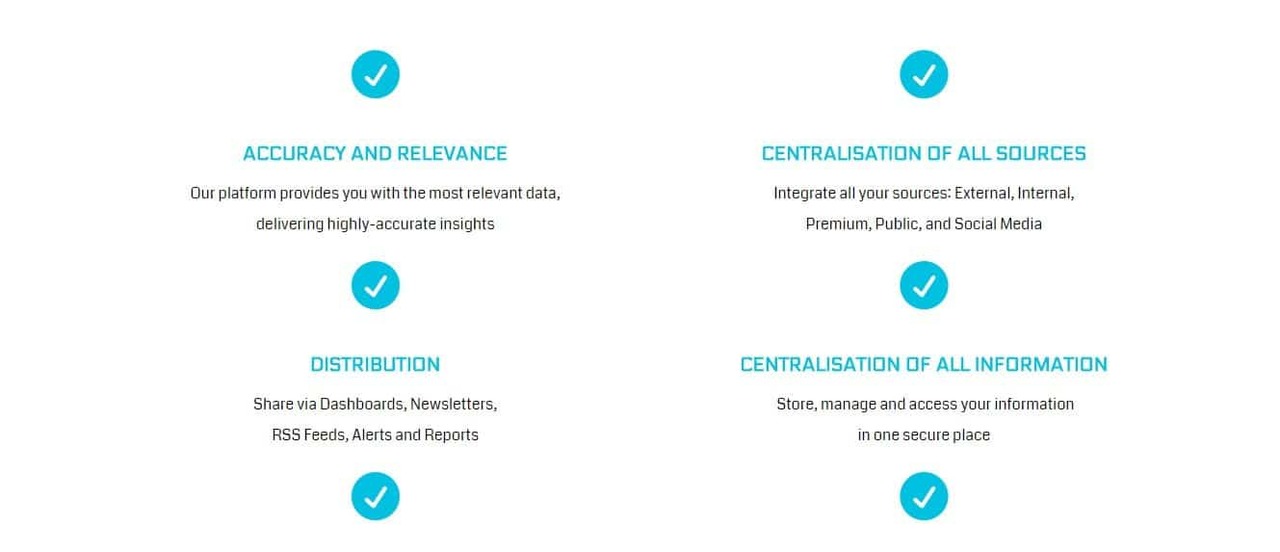 19
QuickCode
Solve data problems and boost coding skills with QuickCode. QuickCode is a Python and R data analysis environment, ideal for economists, statisticians and data managers who are new to coding. It offers its users an easier way of coding without the need of extensive knowledge in order to start. QuickCode provides its users with social coding and learning without having to install software. Be able to procure all the open source libraries and tools as one bundle. Users will be able to work with their operational data more efficiently and be able to avoid longer time for the process. With…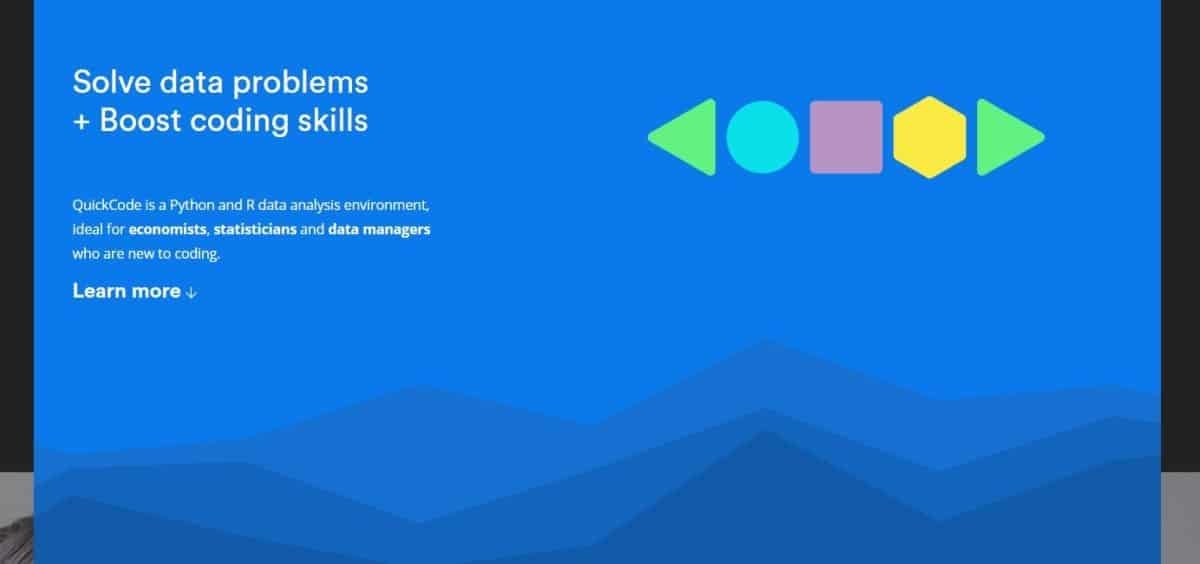 20
WebSundew
WebSundew provides a complete web scraping and data extraction suite which is helps users to extract information from the web sites with higher profits and faster than ever. It features capturing the Web Data with high Accuracy, Productivity and Speed. WebSundew Services were designed for the users who are too busy to deal with the soft and for the organizations which do not have a complex IT infrastructure of their own. Its extraction services staff can set up a data extraction agent whom users can run on their computer or have WebSundew extract data from the given web site. WebSundew…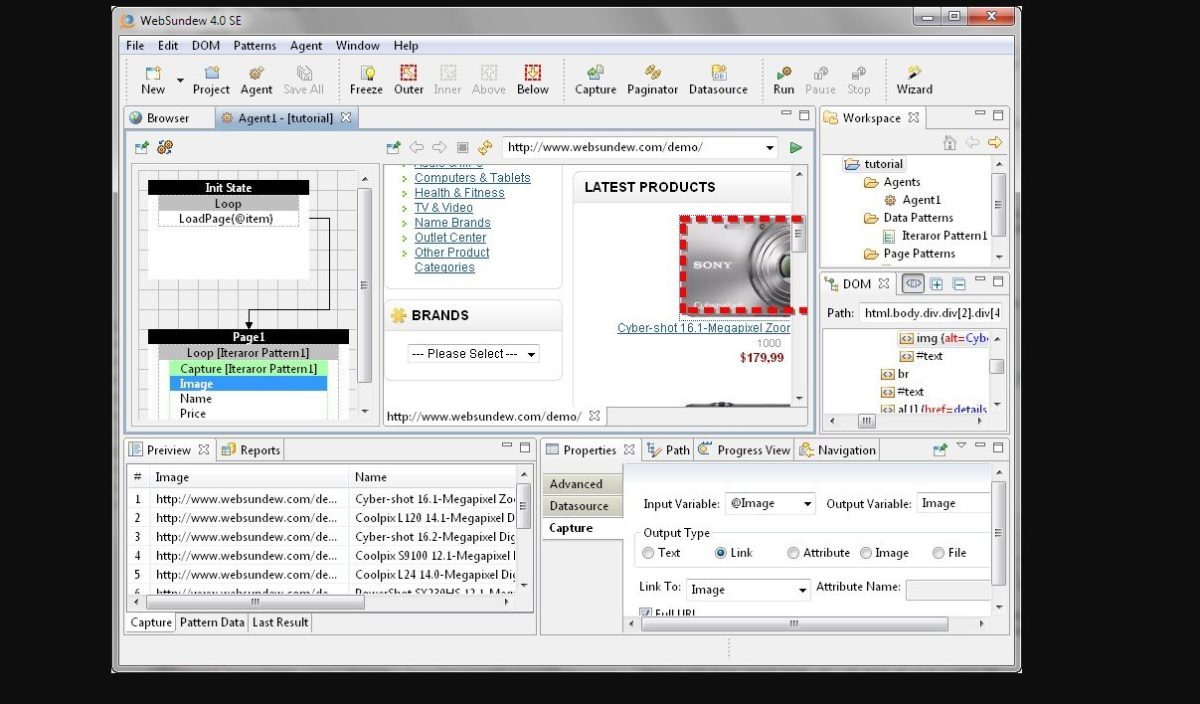 21
Grepsr
Grepsr is an online data extraction platform that helps business owners to easily obtain useful information on the web. This information could be for lead generation, price monitoring, market and competitive research, and content aggregation. GREPSR is user-friendly and requires virtually no prior knowledge on scraping software by the user. GREPSR provides easy-to-fill online forms for users to best fit their data requirements, and users can schedule crawls on a calendar, as well as query data sets using a single line of code. Major features on GREPSR include unlimited bandwidth, one-time extraction, deep and incremental crawl, API and custom integration,…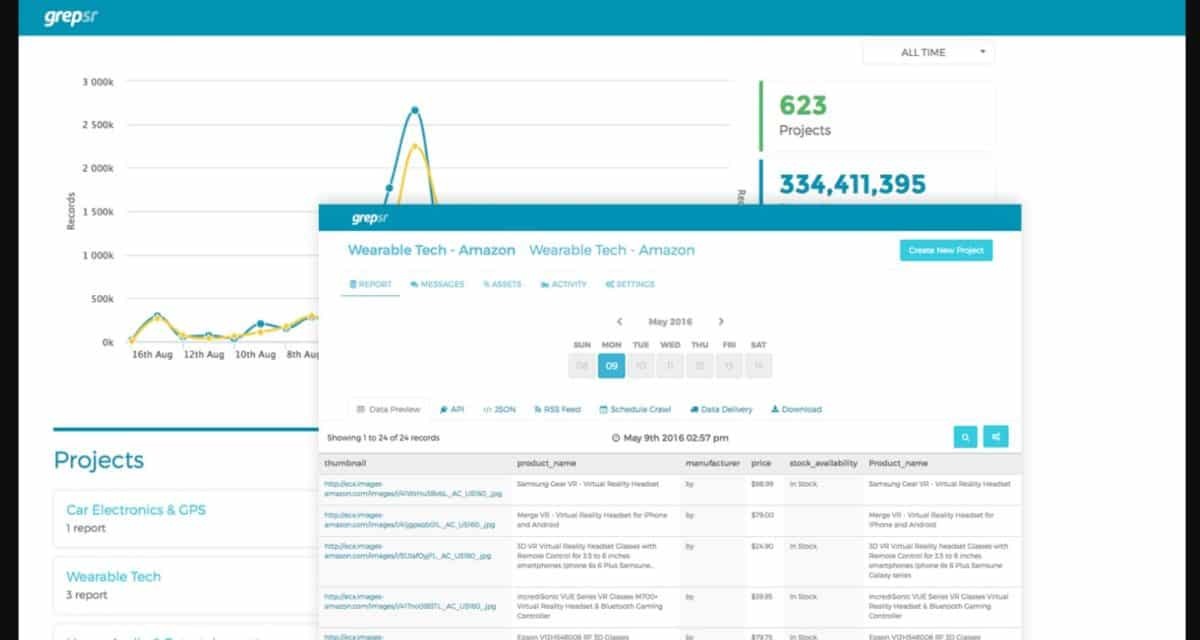 22
BCL
BCL is a rare kind of data extraction software development aimed at entirely reducing the work hours and costs needed to process information and at the same time enhancing the overall time required for time-sensitive workflow. BCL Technology will help any company get positively revamped earnings per share (EPS), or net income. Improving bottom lines is every company's dream and this technology as the tendency of accomplishing this. BCL Technologies provides data extraction and information workflow solutions like never before. This is as a result of its vast knowledge utilizing dealing with document analyses, pattern recognition, and also in data…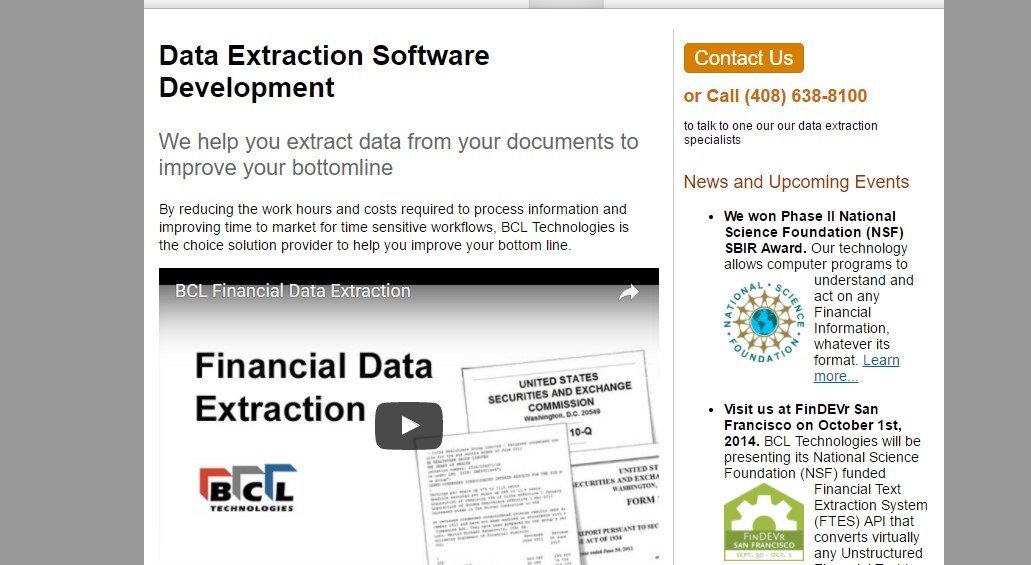 23
Connotate Cloud
Connotate's data scraping tools are easy to implement and users don't need any coding skills. Connotate's advanced machine-learning algorithms and unique web data scraping software is able to extract sites that use JavaScript and Ajax automatically. It is also language-agnostic meaning it can extract content from sites in any language. Connotate' data scraping tools analyzes content for changes and gives alerts for any changes. Connotate has powerful data manipulation capabilities using a point-and-click interface that can normalize content across multiple websites and also link content automatically to its associated metadata. Data extraction software uses advanced pattern recognition techniques to assess…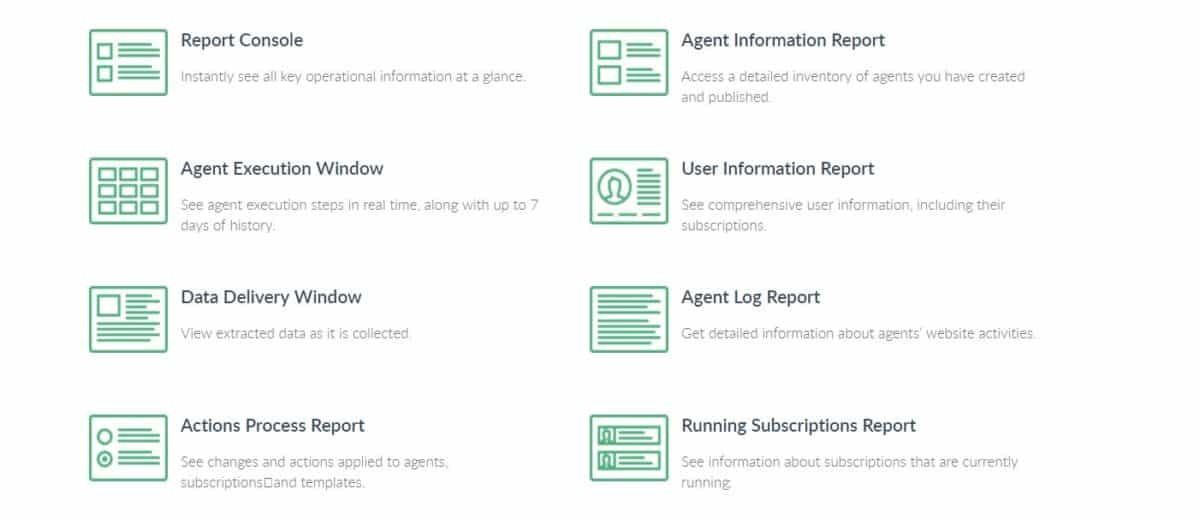 Top Free Web Scraping Software
Pattern, Scrapy, Octoparse, Frontera, TheWebMiner, IEPY, GNU Wget, Portia, DEiXTo are some of the top free web scraping software.
Web Scraping Software Free
PAT Index™
1
Pattern
Pattern is a web mining module for the Python programming language. It has tools for data mining (Google, Twitter and Wikipedia API, a web crawler, a HTML DOM parser), natural language processing (part-of-speech taggers, n-gram search, sentiment analysis, WordNet), machine learning (vector space model, clustering, SVM), network analysis and visualization. The pattern.web module is a web toolkit that contains API's (Google, Gmail, Bing, Twitter, Facebook, Wikipedia, Wiktionary, DBPedia, Flickr, ...), a robust HTML DOM parser and a web crawler. The pattern.en module is a natural language processing (NLP) toolkit for English. Because language is ambiguous (e.g., I can ↔ a…
2
Scrapy
Scrapy is an open source and collaborative framework for extracting the data that users need from websites done in a fast, simple, yet extensible way. Scrapy is an application framework for crawling web sites and extracting structured data which can be used for a wide range of useful applications, like data mining, information processing or historical archival. Even though Scrapy was originally designed for web scraping, it can also be used to extract data using APIs (such as Amazon Associates Web Services) or as a general purpose web crawler. Scrapy is supported under Python 2.7 and Python 3.3+. Python 2.6…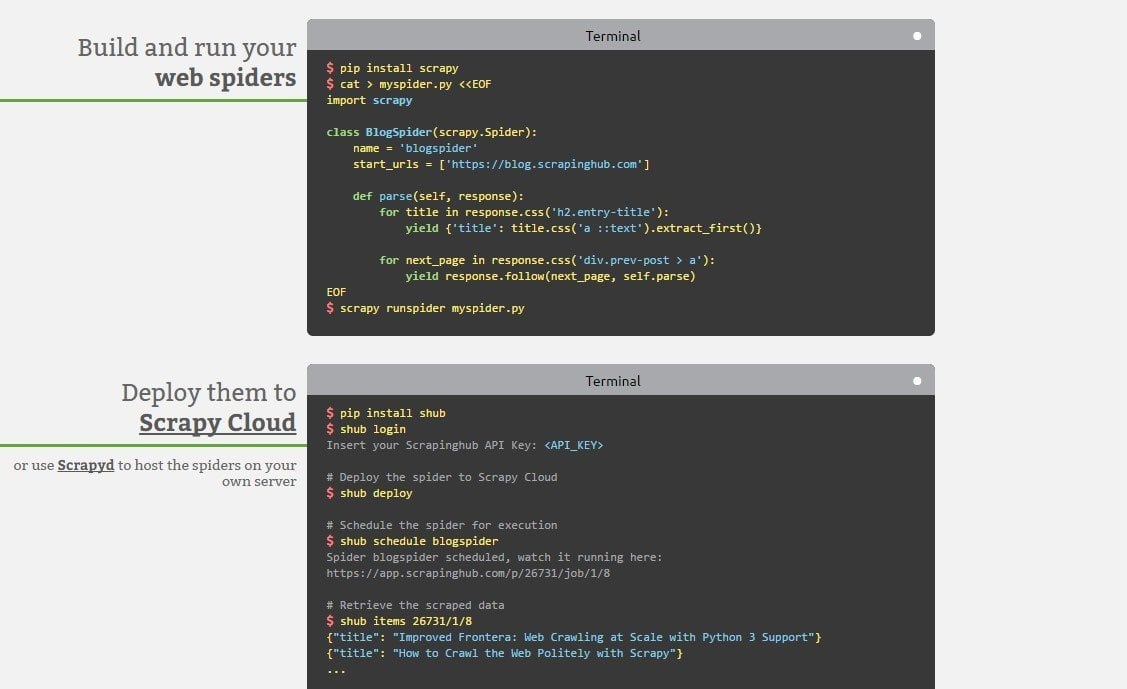 3
Octoparse
Octoparse is the number one Automated Web Scraping Software. Octoparse is a cloud-based web scraper that helps the user easily extract any web data without coding. Octoparse is a new modern visual web data extraction software. It provides users a point-&-click UI to develop extraction patterns, so that scrapers can apply these patterns to structured websites. Both experienced and inexperienced users find it easy to use Octoparse to bulk extract information from websites – for most of scraping tasks no coding needed! Octoparse, being a Windows application, is designed to harvest data from both static and dynamic websites (including those…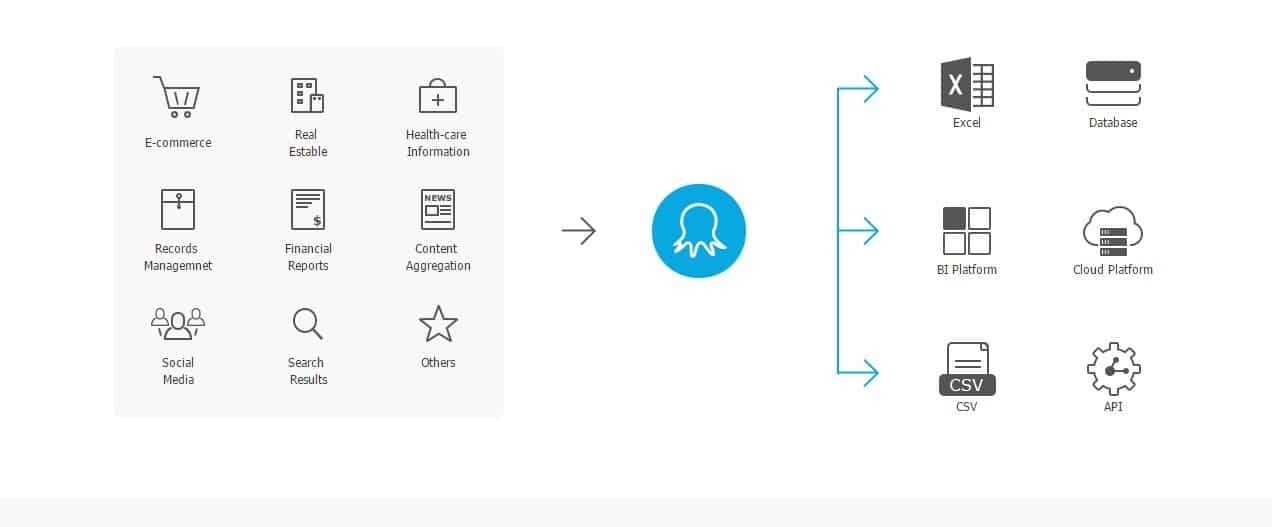 4
Frontera
Frontera is an effective code hosting platform for version control and collaboration. It is a web crawling framework consisting of crawl frontier, and distribution/scaling primitives, allowing to build a large scale online web crawler. Frontera takes care of the logic and policies to follow during the crawl. It stores and prioritises links extracted by the crawler to decide which pages to visit next, and capable of doing it in distributed manner. The frontier is initialized with a list of start URLs, that are called the seeds. Once the frontier is initialized the crawler asks it what pages should be visited…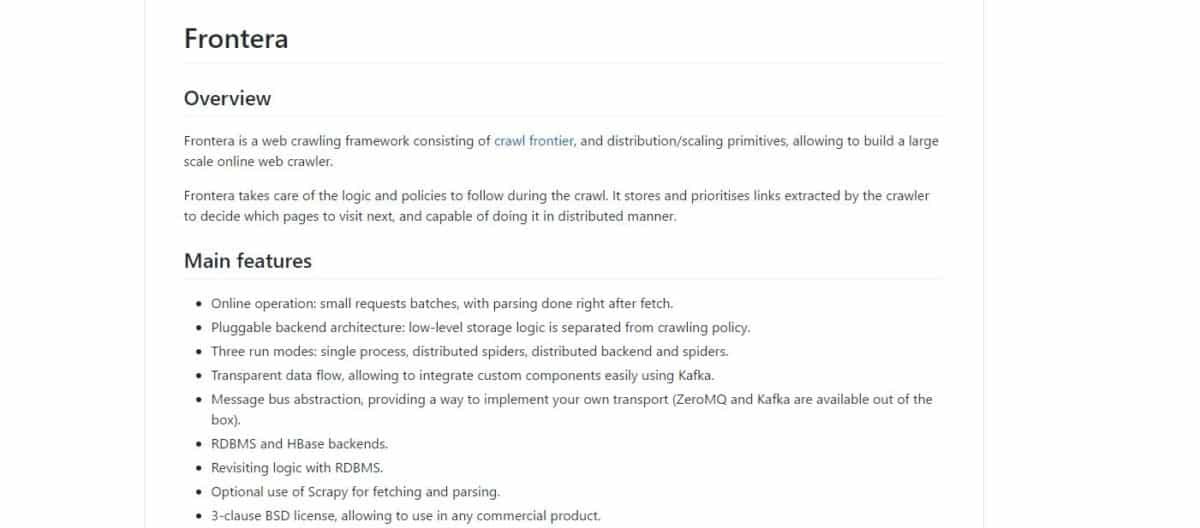 5
TheWebMiner
The WebMiner filter is an essential tool for executing well-structured exertion to compiling information regarding a business's target market, a vital part of a business strategy done to determine what works best for a commodity. To keep one's business afloat and in maintaining competitiveness over fellow contenders the WebMiner filter is the key to success in this aspect. Webminer focuses on using the advanced algorithm to determine the best effective method of identifying, harvesting and retaining customers for a niche business. The software serves as a means of identifying the best possible way of arousing the interests of others as…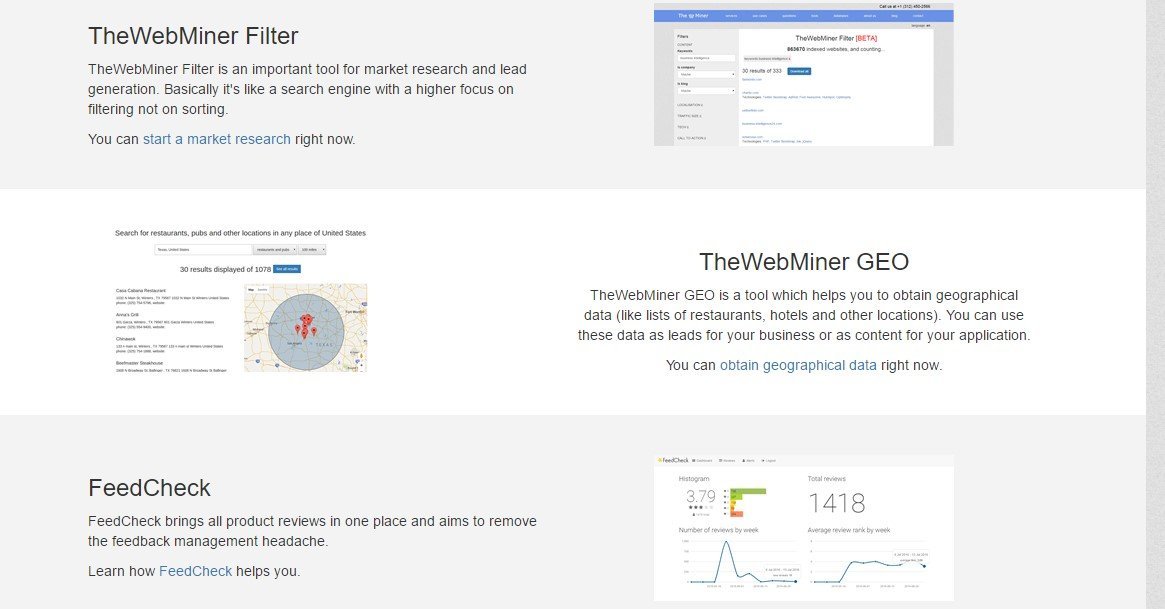 6
IEPY
IEPY is an open source tool for Information Extraction focused on Relation Extraction. IEPY has a corpus annotation tool with a web-based UI, an active learning relation extraction tool pre-configured with convenient defaults and a rule based relation extraction tool for cases where the documents are semi-structured or high precision is required. To give an example of Relation Extraction, if the user is trying to find a birth date in: "John von Neumann (December 28, 1903 – February 8, 1957) was a Hungarian and American pure and applied mathematician, physicist, inventor and polymath." Then IEPY's task is to identify "John…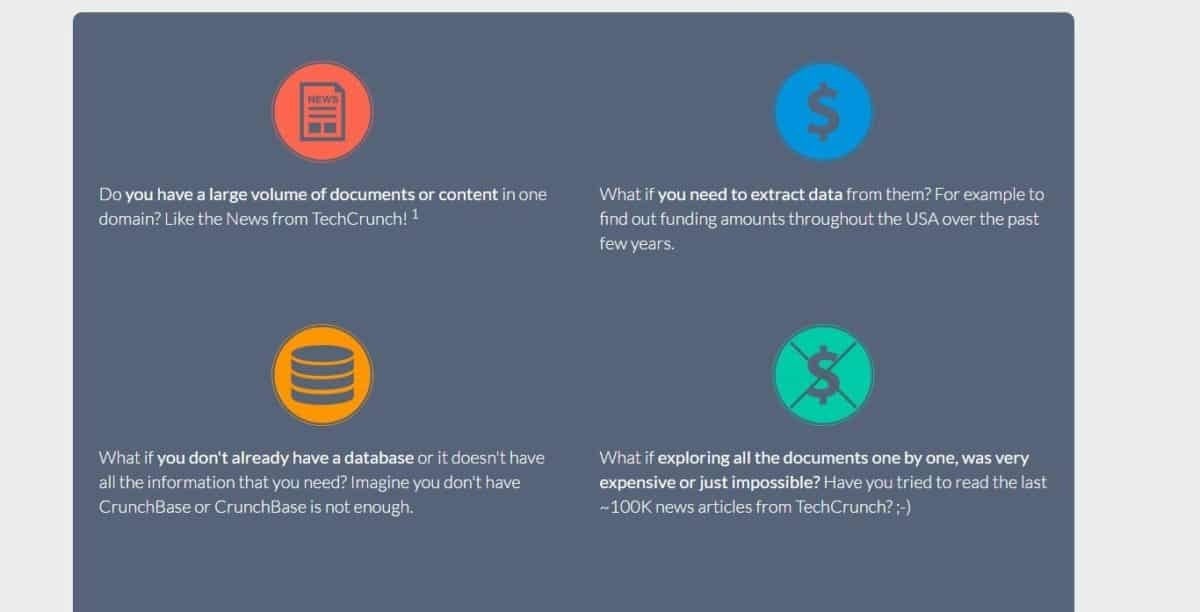 7
GNU Wget
GNU Wget is a free software package for retrieving files using HTTP, HTTPS and FTP, the most widely-used Internet protocols. It is a non-interactive commandline tool, so it may easily be called from scripts, cron jobs, terminals without X-Windows support. The recursive retrieval of HTML pages, as well as FTP sites is supported -- the user can use Wget to make mirrors of archives and home pages, or traverse the web like a WWW robot (Wget understands /robots.txt). Wget works exceedingly well on slow or unstable connections, keeping getting the document until it is fully retrieved. This allows freedom of…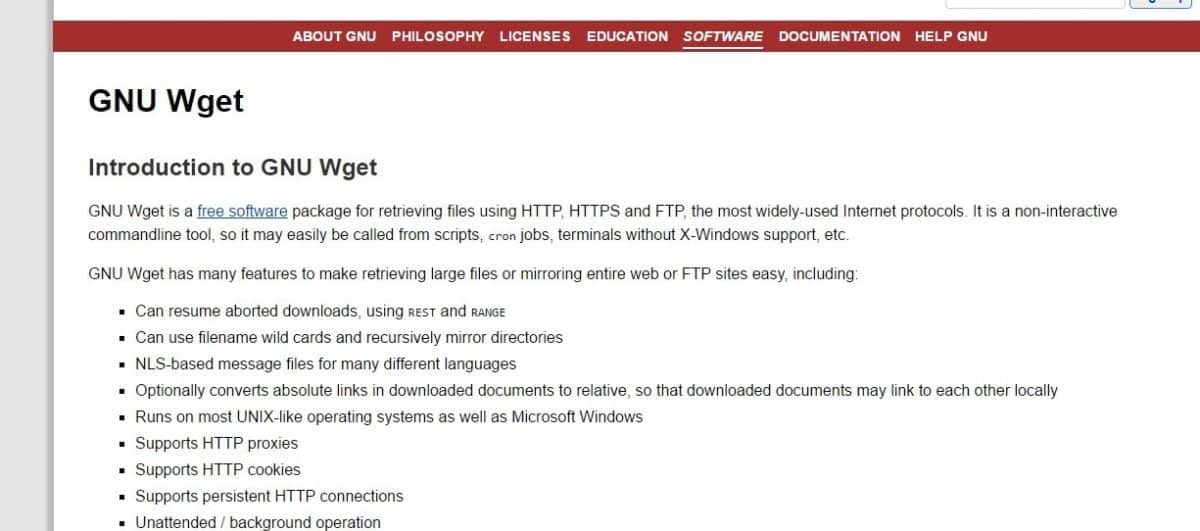 8
Portia
Portia is a tool that allows the user to visually scrape websites without any programming knowledge required. With Portia the user can annotate a web page to identify the data that needs to be extracted, and Portia will understand based on these annotations how to scrape data from similar pages. Web scraping involves coding and programming crawlers. If the user is a non-coder person, Portia can help extract web contents easily. This Scrapinghub's tool lets the user use point&click UI interface to annotate (select) web content for its further scrape and store of it. I'll go deeper inside Portia later…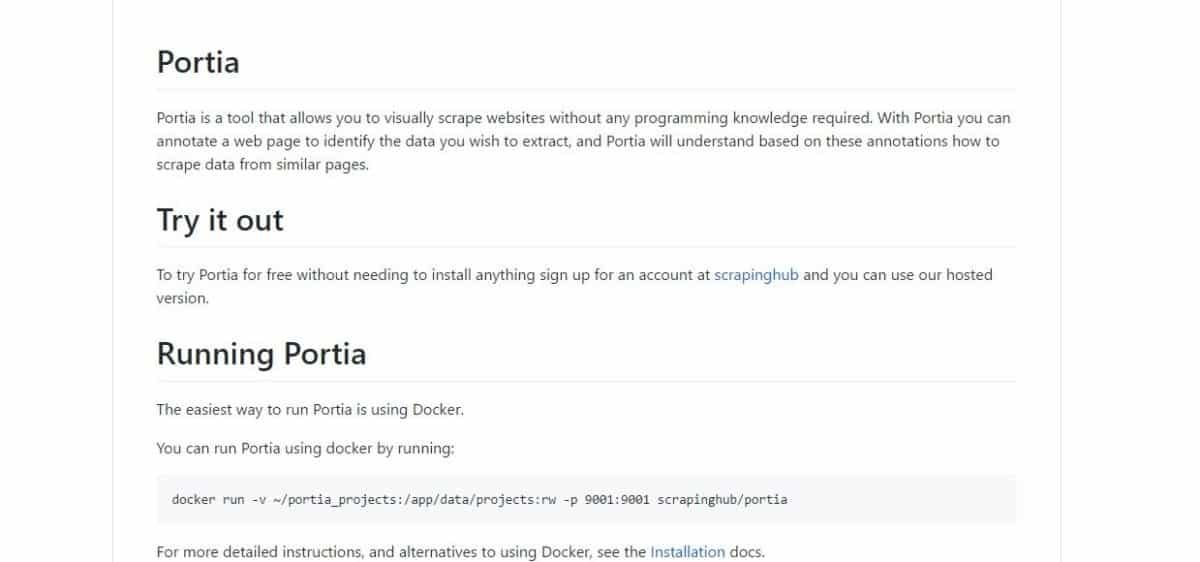 9
DEiXTo
DEiXTo is a powerful web data extraction tool that is based on the W3C Document Object Model (DOM). It allows users to create highly accurate extraction rules that describe what pieces of data to scrape from a website. DEiXTo consists of three separate components to help users. GUI DEiXTo is an MS Windows application implementing a friendly graphical user interface that is used to manage extraction rules (build, test, fine-tune, save and modify). This is all that a user needs for small scale extraction tasks. DEiXToBot is a Perl module implementing a flexible and efficient Mechanize agent capable of extracting…