Review
BCL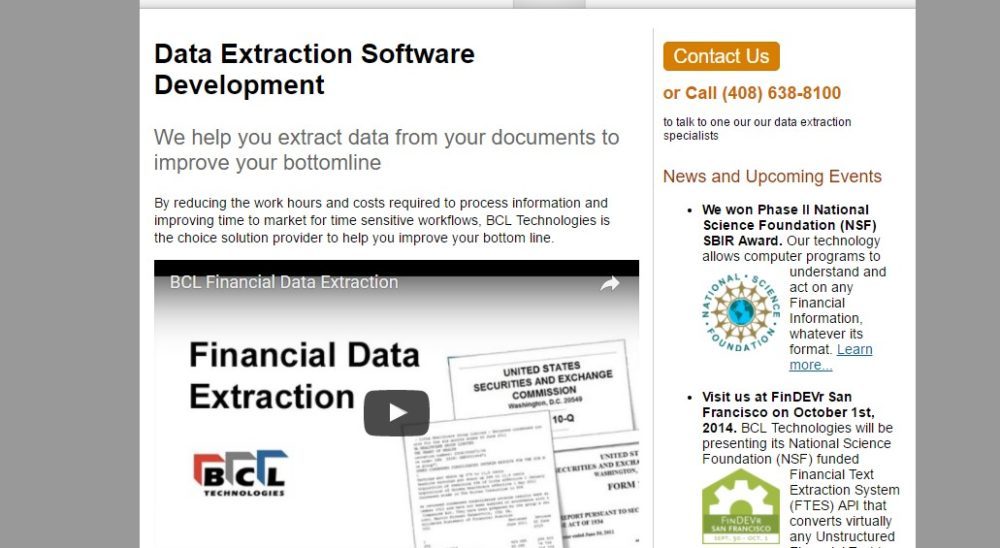 Overview
BCL offers state of the art data extraction and information workflow solutions. BCL leverage our expertise in document analysis, pattern recognition, and data mining to solve some of the most critical needs in a wide range of industries
PDF conversion
PDF creation
Data Mining
Small (<50 employees), Medium (50 to 1000 Enterprise (>1001 employees)
BCL is a rare kind of data extraction software development aimed at entirely reducing the work hours and costs needed to process information and at the same time enhancing the overall time required for time-sensitive workflow. BCL Technology will help any company get positively revamped earnings per share (EPS), or net income. Improving bottom lines is every company's dream and this technology as the tendency of accomplishing this.
BCL Technologies provides data extraction and information workflow solutions like never before. This is as a result of its vast knowledge utilizing dealing with document analyses, pattern recognition, and also in data mining to solve solutions regardless of how critical or simple it may be, and it's been done on several times in various industries.
With BCL working on data extraction task is very fast, delivering sensitive and critical information from contents n real time. it is able to do this by organizing the extraction process, tagging and content transformation operations. Over the past couple of years BCL has been able to prove its strength in data mining and as such, thousands of companies and organizations from across the globe have used this technology; including conglomerates.
Because of BCL's ability to create and implement effective solutions that will improve the processes which play vital part of the company. BCL is the perfect answer to creating PDF, manipulating PDF, extracting data from PDFs. BCL can also convert from PDF to other suitable formats thanks to its conversion technology. In reality, BCL will manage and solve any PDF processing problems a company will encounter.