Review
WebHarvy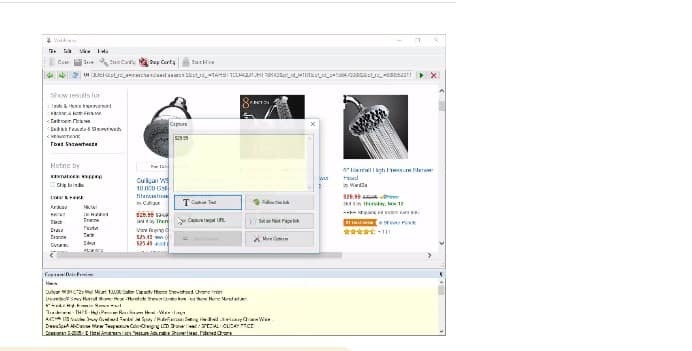 Overview
WebHarvy can automatically scrape Text, Images, URLs & Emails from websites, and save the scraped content in various formats.
•Point and Click Interface
•Auto Pattern Detection
•Export data to file/database
•Scrape from Multiple Pages
•Keyword based Scraping
•Proxy Servers / VPN
•Category Scraping
•Regular Expressions
•Run JavaScript
•Download Images
•Automate browser interaction
•Technical Support
•WebHarvy 2 User License USD 160.00
•WebHarvy Single User License USD 99.00
•WebHarvy 3 User License USD 210.00
•WebHarvy 4 User License USD 240.00
•WebHarvy Site License
•Unlimited Users USD 499.00
Small (<50 employees), Medium (50 to 1000 Enterprise (>1001 employees)
What is best?
•Point and Click Interface
•Auto Pattern Detection
•Export data to file/database
•Scrape from Multiple Pages
•Keyword based Scraping
•Proxy Servers / VPN
•Category Scraping
WebHarvey is a visual scraper which automatically scrapes texts, URLs, and images from websites and saves the extracted data in different formats. It scrapes data from websites within minutes, and it is easy to use because it contains a built in scheduler and proxy support which allows it to scrape anonymously hence avoiding blocking from servers.
The inbuilt browser allows the user to scrape data without codes hence access and scrape data from multiple pages. The scraper allows for categorical scraping allowing the user to access links which lead to listings of the same data within a website. Its ability to run JavaScript in the browser before extracting data helps in the interaction with other page elements or allows JavaScript functions already in use in the target page.
The automated browser is easily configured to input texts to a field, click links, scroll page, and select options. After purchase, the user is allowed to receive updates and free support from the company for one year after purchase. WebHarvey's blog contains additional information on how to scrape images from sites such as Pinterest and hidden sites, how to install and update web Harvey, how to fix any arising problems and how to scrape data from cloud, facebook, twitter,eBay and other sites.
Web Harvey ensures that the user learns to use the product before purchase through an interactive tour that explains in detail on how to use the product. The users of this tool enjoy free fixing of bugs as long the product is in use.