Review
TheWebMiner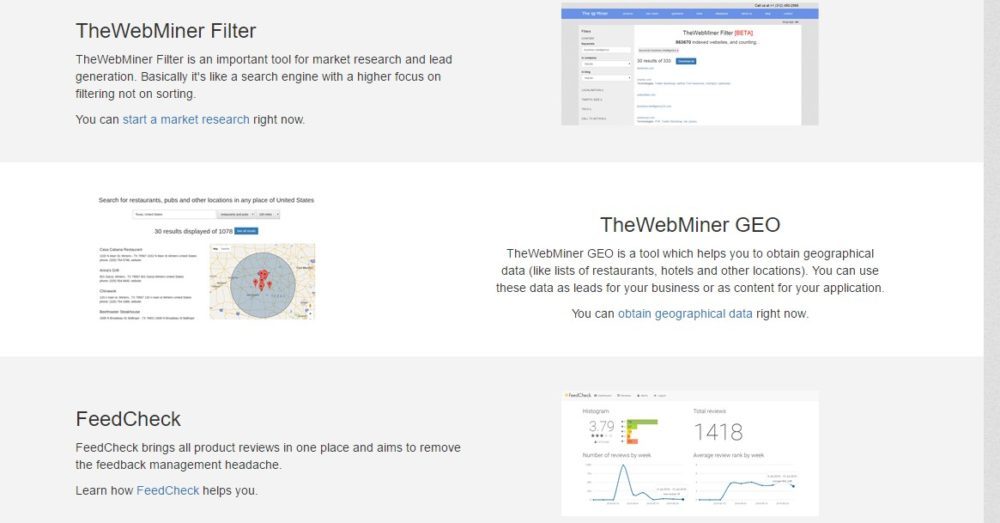 Overview
TheWebMiner Filter is an important tool for market research and lead generation. Basically it's like a search engine with a higher focus on filtering not on sorting.
Search filtering
Sitemap generator
Market research
Data collection.
Small (<50 employees), Medium (50 to 1000 Enterprise (>1001 employees)
The WebMiner filter is an essential tool for executing well-structured exertion to compiling information regarding a business's target market, a vital part of a business strategy done to determine what works best for a commodity.
To keep one's business afloat and in maintaining competitiveness over fellow contenders the WebMiner filter is the key to success in this aspect. Webminer focuses on using the advanced algorithm to determine the best effective method of identifying, harvesting and retaining customers for a niche business.
The software serves as a means of identifying the best possible way of arousing the interests of others as well as peak people's expectation for the sole purpose of developing steep sales pipelines. WebMiner filter is a lot like a regular search engine, but distinct in the sense that it focuses less on sorting and more on filtering out what it's required to produce.
The WebMiner GEO is a tool equipped with the capacity to obtain geographical data on specific locations. It can locate specific lists of places with very similar objective and target audiences; like a list of restaurants, shopping malls, and other locations. The information provided by this tool can be used to deduce potential sales contact for a particular service or product. Or it could serve as content for the application.
The feedcheck is another incredible software from the WebMiner team. It is poised on reducing the reviewer stress and time. The feedcheck brings all reviews on a product across the entire web sphere into one single file. Completely eradicating the tiresome feedback management system.Pizzafinder, as the name implies, is a tool used to find a pizza in the menu page on any food delivery site. And of course the free sitemap generator, with just a click.XML files are generated for any website.