Review
Webhose.io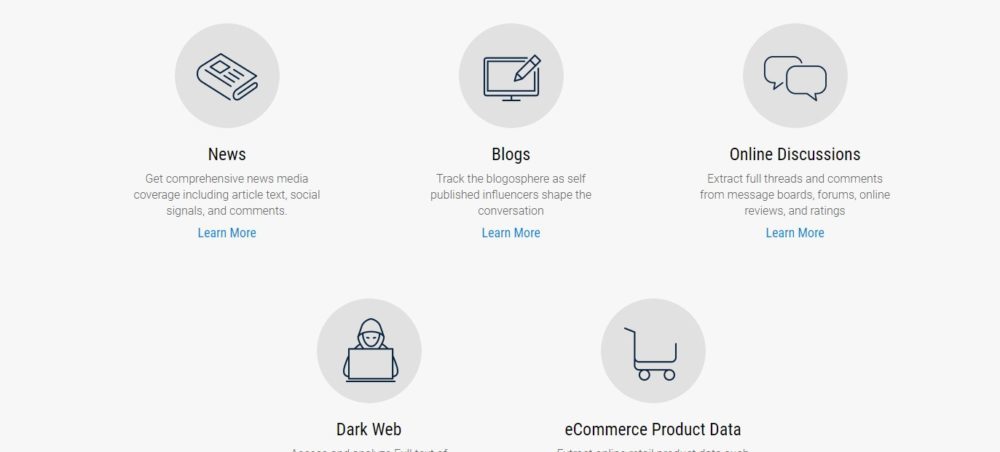 Overview
Discover features of the Webhose.io Platform and how we provide direct access to live & structured data from millions of sources.
Multiple formats
Structured results
Historical data
Wide coverage
Variety of sources
80 languages
Quick integration
Affordable
The free plan has no monthly fee and you get 1000 requests at no cost per month. Contact for pricing.
Small (<50 employees), Medium (50 to 1000 Enterprise (>1001 employees)
Webhose.io provides on-demand access to structured web data that anyone can consume. Webhose.io empower you to build, launch, and scale big data operations - whether you're a budding entrepreneur working out of the garage, a researcher in the science lab, or an executive at the helm of a Fortune 500 company.
Start for free by sampling the Webhose.io API, and then consume the same web data that powers global media analytics and research companies. Webhose.io structure, store, and index millions of web pages per day in vertical data pools (e.g. news, blogs, and online discussions).Get data from a wide variety of sources around the world with Webhose.io. With this tool, users will have direct access to over a million sources with just a click. These sources include message boards, blogs, comments, reviews and more!
By buying this tool, all of this data will be at the tip of the user's finger tips. Webhose.io works across multiple different platforms which allows it to sort through lots of different data to provide for specific needs. This data streaming service allows the user to use valuable resources and money elsewhere as it eradicates time-consuming coding and scraping, saving the user and the user's employers time.
Webhose.io has great performance levels so that the user does not have to wait around for maintenance or manual labour delays. This will save time and money. The user can also choose a pricing package that suits the business's needs. The chosen data can also be delivered in multiple different formats. It can be in XML, JSON, RSS or Excel. The choice is the users! The pricing on this tool will fit anyone's budget and it is very user friendly which makes it widely accessible to everybody.
With Webhose.io the user can access the data that is needed for a business in a short amount of time, while saving money. This product is extremely reliable and will change the way the user looks at and uses data. Webhose.io is also available in 80 different languages making it available for everyone, wherever the user is from. It can also access both historical and current data!