Smartlogic Semaphore a Web-based Content Intelligence Platform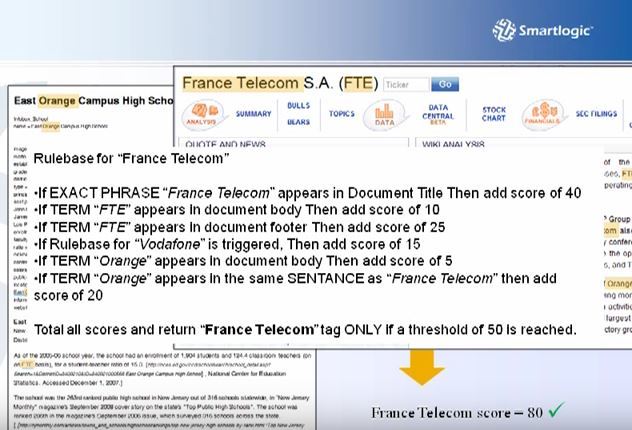 Smartlogic Semaphore a Web-based Content Intelligence Platform : Semaphore 4 platform combines the power of semantic web technology with Smartlogic's powerful auto classification and fact extraction to result in a rich sematic experience without the hassle and complexity. Semaphore 4's Ontology Manager is browser based for simple collaboration. Models can be accessed anytime, from anywhere and model building can be decentralized. Task-based workflow make the process of improving and managing models simple and straightforward. Semaphore 4 Classification Server enhances our industry-leading classification capabilities with improved natural language processing, superior entity and fact extraction and the ability to discover relationships between facts and entities within content.
Semaphore 4 provides a web-based ontology management interface, Ontology mapping and linked open data, Native Semantic Web support, Task centric models to drive workflow & life-cycle management and Fine-grained classification and fact extraction with relationship discovery.The Semaphore 4 platform has simplified and improved the delivery process that allows you to harmonize your data, drive workflows, secure sensitive content, improve search and retrieval, and archive, migrate and monetize your information; maintaining the solid functionality you've come to expect with an even greater benefit than is possible today.
Matthieu Jonglez, CTO with Smartlogic says, "This product redesign provides a new level of innovation that allows models to scale beyond current capacity and facilitates the ease of incorporating open linked data and industry standard models. Our goal is to continue to provide modern, scalable solutions to continuously changing business environments and acknowledge the changing roles and responsibilities of information scientists within a new governance model."