Review
Import.io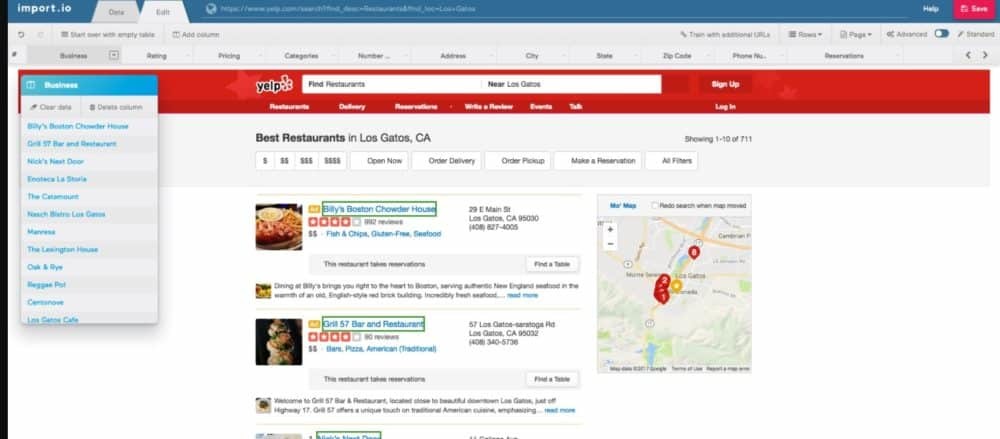 Overview
Import.io is easy to use web extraction that puts the world's data in your hands.
Cloud based
Flexible scheduling
No coding required
Public APIs
Automated data extraction
The pricing list comes in three categories: essential, professional; and Enterprise which costs $249, $399 and $799 respectively.
Small (<50 employees), Medium (50 to 1000 Enterprise (>1001 employees)
Import.io is an acclaimed web extraction expert, an extra simple web scraping tool. With import.io data extraction is a hassle free endeavor, all it requires is just to type in the URL and the sophisticated system will turn the web pages into data. Import.io is the perfect solution to extract web data for price monitoring and to be used for determining the market's expectations to determine what is the best laudable solution, in other words, import.io is the answer to generating quality leads. Import.io allows the opportunity to effect credible research.
This is made possible by extracting data from 1000 websites all at once, and matching it with available contents to effect a rigid research, be it a market research or even an academic research. Import.io will handle the task seamlessly.
With Import.io App development is a lot easier. It extracts data from the web for app development. The program uses artificially intelligent and highly developed machine with learning algorithms, it attempts to extract data in line with a user's preferred the very first time, and if it fails to accomplish this, the point and clicks feature on the interface, will definitely return the desired results.
With the authenticated extraction option of Import.io patronizers can get data that is only available after logging into a website. The appropriate credentials are provided and the system will handle the rest. Complex data can be extracted easily with import.io, to enhance data analyses for different businesses requires export.io enabling clients and partners to achieve world-class performance.