Review
Data Scraping Studio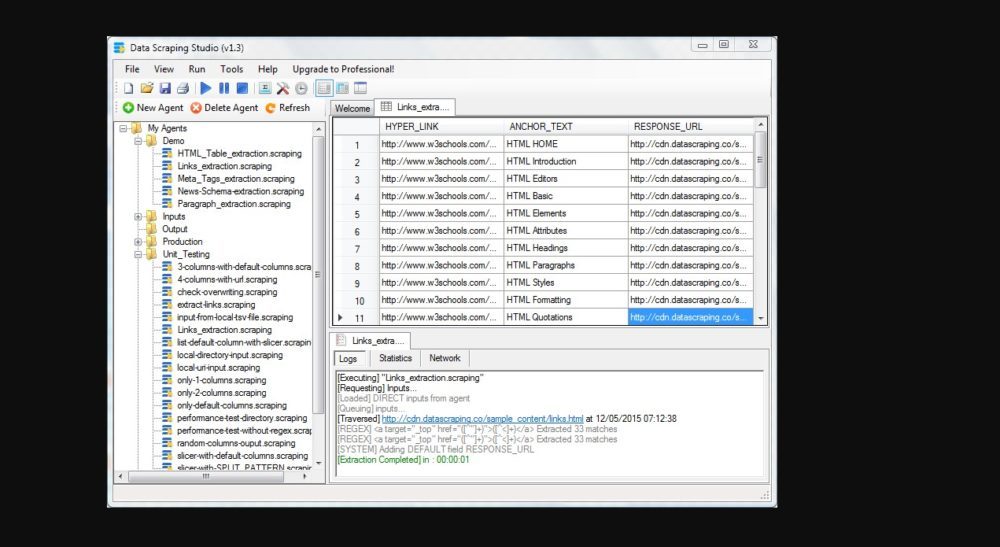 Overview
Data Scraping Studio is a lightning, fast and self-service data extraction software for windows designed to easily extract data from websites using CSS selector or REGEX in few minutes.
• Point-and-click Interface
• Data Export
• Batch crawling
• Simultaneous crawling
• Anonymous Web Scraping
• Multiple data formats
• Starter – $29/month
• Basic – $49/month
• Professional – $99/month
• Enterprise – Quote-based
Small (<50 employees), Medium (50 to 1000 Enterprise (>1001 employees)
What is best?
• Point-and-click Interface
• Data Export
• Batch crawling
• Simultaneous crawling
• Anonymous Web Scraping
Data scraping studio is stand-alone desktop software for super-fast web extraction. It is configured to be implemented easily using point-and-click chrome extension designed to create web scraping agent quickly using CSS selectors. It enables you to extract text, html, or images with one click and deliver instant result preview. The current page output can also be downloaded in popular file format such as JSON, CSV, or TSV.
Data scraping studio architecture is designed to simultaneously extract as many websites as you want to meet you data expectations. This means you can create separate agents for all your targeted sites and run them concurrently. Data scraping studio supports multiple input options for batch crawling. You can enter URL lists manually and the web scraping agent can traverse each URL to extract the requested data.
It can also browse the input file from your local drive that holds input URLs and the application will read the URLs from the file and crawl those pages. Data scrapping studio Tallows you to use two techniques to automatically export data in supported formats. "Post to server" option allows you to configure your webhook URL and let Data Scraping Studio post the scraped data to your server using HTTP POST method when the extraction job completes.
The other option; "save to local drive" lets the application to write the scraped data to a file in your local drive in real-time as extractor is scraping website. Data Scraping Studio lets you scrape data from websites anonymously with the help of configurable rotating HTTP proxy server. The application uses the "Proxy rotator" check box to randomly pick a proxy configuration to use when data scrapping websites. Dynamic input features give you full control of proxy handling as you get a specific proxy directly from your input file and set the proxy while scraping.