Review
Octoparse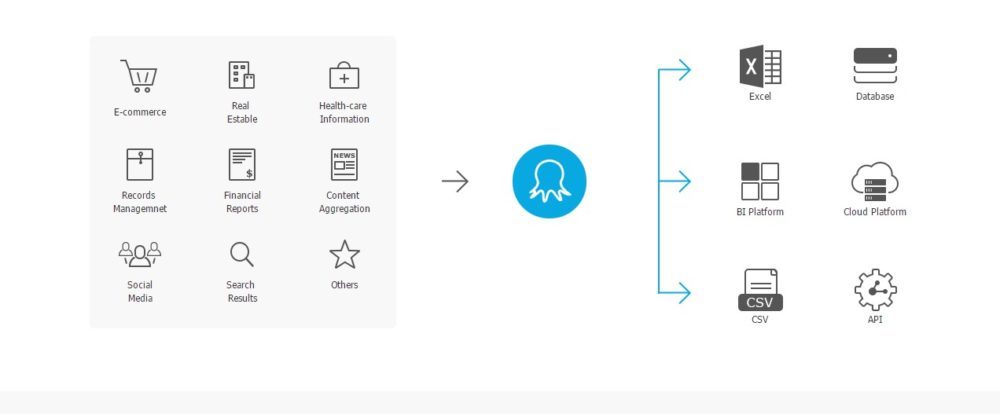 Overview
Octoparse is a cloud-based web crawler that helps you easily extract any web data without coding in real time.
Point-and-click interface
Deals with 98% websites
Extracts web data precisely
Cloud service
Extract data in any format
Free version available. Contact for further pricing details.
Small (<50 employees), Medium (50 to 1000 Enterprise (>1001 employees)
Octoparse is the number one Automated Web Scraping Software. Octoparse is a cloud-based web scraper that helps the user easily extract any web data without coding. Octoparse is a new modern visual web data extraction software. It provides users a point-&-click UI to develop extraction patterns, so that scrapers can apply these patterns to structured websites.
Both experienced and inexperienced users find it easy to use Octoparse to bulk extract information from websites – for most of scraping tasks no coding needed! Octoparse, being a Windows application, is designed to harvest data from both static and dynamic websites (including those whose web pages that use ajax).
The software simulates human operation to interact with web pages. To make data extraction easier, Octoparse features filling out forms, entering a search term into the text box, etc. You can run your extraction project either on your own local machine (Local Extraction) or in the cloud (Cloud Extraction). Octoparse's cloud service, being available only in paid editions though, works well for harvesting large amounts of data to meet large-scale extraction needs.
There are various export formats of your choice like CSV, Excel formats, HTML, TXT, and database (MySQL, SQL Server, and Oracle). Octoparse provides a visual operation pane, which is very user friendly and straightforward while sometimes laggy. Octoparse simulates human web browsing behavior like opening a web page, logging into an account, entering a text, pointing-and-clicking the web element, etc. Just click the information on the website in the built-in browser and perform the extraction.
You will be able to extract structured data that you need. Octoparse makes web scraping even easier for any user!