Review
Visual Web Ripper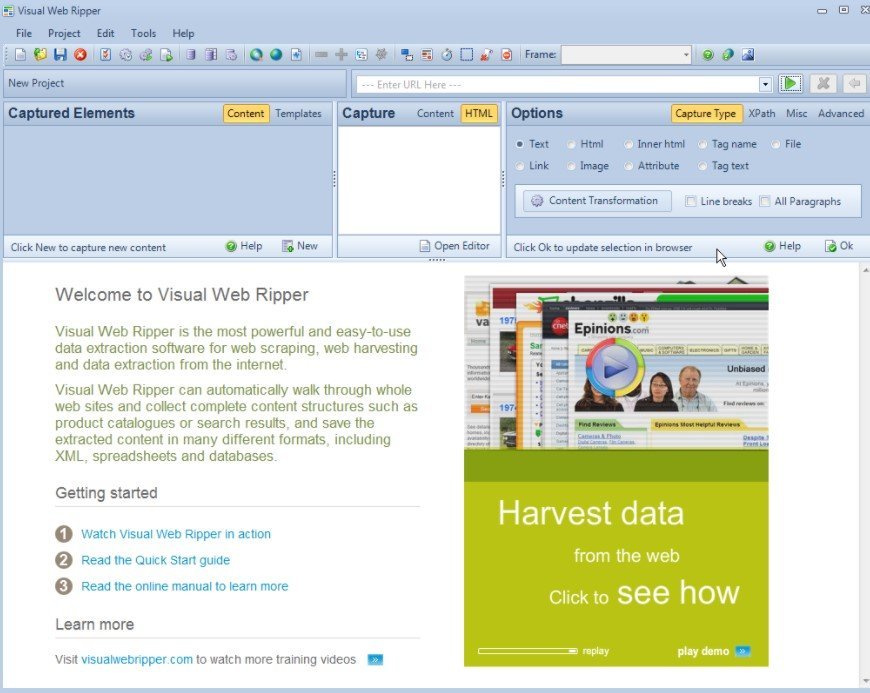 Overview
Visual Web Ripper is a powerful web page scraper used to easily extract website data, such as product catalogs, classifieds, financial web sites or any other web site that contains information you may be interested in.
Extracts complete data structures
User friendly
Recognises all possible input values
Uses email notifications and logging
Command-line processing
Saves data to CSV, Excel, XML and Databases
Comprehensive API
15 day free trial. Single user deal is $349. Contact for pricing.
Small (<50 employees), Medium (50 to 1000 Enterprise (>1001 employees)
Visual Web Ripper is an advanced webpage scraper which allows the user to easily extract data from a website. With the help of the Visual Web Ripper users will be able to extract any data that is interesting such as product catalogs, classifieds and financial web sites. This product gets the data from the desired website and places it in a user friendly and structured database, spreadsheet, CSV file or XML.
Where most other web page scrapers would fail, the Visual Web Ripper will succeed as it can process AJAX enabled websites and submit forms for all possible input values. This web page ripper runs as a Windows service and so it processes data a lot faster than other programmes and extracts data according to a schedule so that the user's information is always up to date! For example, the user could choose to extract the recent currency rates in order to have databases that have up to date currency rates.
Also, if the user already has a product catalog but needs more information such as vendor descriptions or product reviews, the user can use the Visual Web Ripper to get information for each individual product on the database. The Visual Web Ripper is also extremely attractive visually and is simply designed to make it easier for anyone to use!
To get the specific, desired data, the user just has to click on the content elements that the user wants to extract and set up a schedule so that it is continuously updating. This product is far better than other products of its kind, even compared to more expensive web page scrapers, as it can extract data from websites where other tools would fail and do it quickly and efficiently due to the Visual Designer.