Review
Ficstar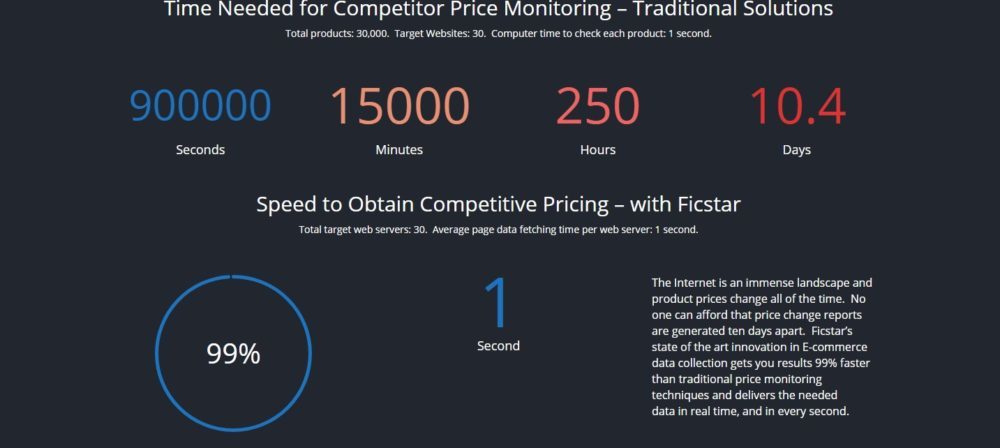 Overview
Ficstar's powerful data mining technology digs beyond the surface web to the deep web. Ficstar provides a complete solution with data custom fit for your business, on time, in real time, and integrated perfectly into your existing database.
Supports any format
High Quality result
Competitive pricing
Social Media Monitoring
Location Intelligence
Web Data Aggregation
Small (<50 employees), Medium (50 to 1000 Enterprise (>1001 employees)
Fiscar is a powerful data extraction technology designed for business in large scale data collection to enable competitive price intelligence, and as well as provide the opportunity to make wiser steps, building and implementing effective strategies.
The extraction technology digs deep into the furthest depth of web. Fiscar is the absolute solution to when it comes to data collection custom fit for individual business. Apart from being safe and reliable, Fiscar integrates perfectly into any database.The collection of data that and is compiled results can be saved into any suitable format. Based on the fact that it can dig beneath the walls of web surfaces. Fiscar doesn't return unverifiable and sub-standard results, all results from fiscar are verified to ensure top quality collation in real time.
Fiscar offers security via encrypted SSL content with a fully powered highly functional premium cloud, safety is guaranteed. Fiscar is simple, with less supervision and overseeing is required from the collection of data to the integrated delivery are all automated.
Continuous data scraping of web pages on a large scale at an unprecedented efficiency Is only possible with Fiscar web pages with challenging scripts which regular software find insurmountable to crawl to get embedded contents, Fiscar will effectively crawl it without any hassle. Matched and compared data from across multiple sources on the web are stored and displayed in formats customized based on a user's preferences. Analyzing, storing and displaying the delivery of data is streamlined and fully automated providing a chance to stay ahead of the pack.