Review
QL2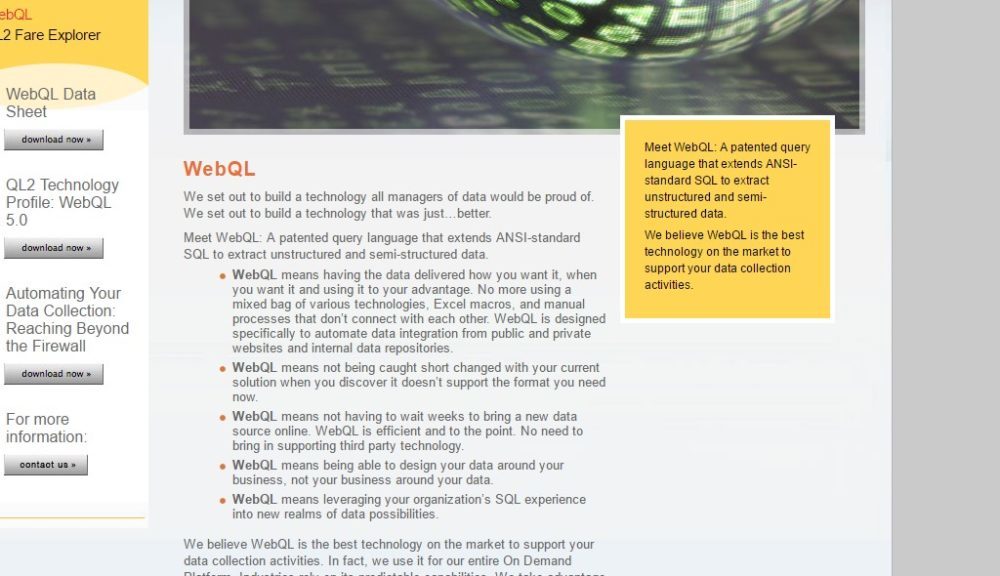 Overview
QL2 delivers real-time competitive advantage through real time search, making sense of millions of queries daily to deliver the most current and comprehensive picture of your market.
High quality data
Real time search
Deep and broad data
Perfect for air travel, auto, cruise, retail and hospitality sectors
Delivers market intelligence
Small (<50 employees), Medium (50 to 1000 Enterprise (>1001 employees)
QL2 helps the user manage the complexity of optimizing as well as daily pricing and revenue to make the user's job easier. It has been delivering market intelligence to users since 2001. Using QL2 gives your business the edge and advantage as it uses real-time search technology which helps companies make sense of millions of queries that occur on a daily basis.
This tool will deliver a comprehensive and up to date view of the user's market and target audience. QL2 helps make sense of broad information across multiple platforms but it can also access deeper and more intense research for the user from fewer sources. It can do this all at the same time which makes it the perfect tool that caters for everyone's needs. QL2 gives users access to very high quality data and is also extremely affordable making it the perfect tool for any business. QL2 provides three different products and services to suits the user's specific needs.
QL2 On Demand is a patented search engine that provides real-time competitive pricing and product data for travel, retail, energy and other price sensitive industries. On the other hand, the WebQL is a patented query language that extends ANSI-standard SQL to extract unstructured and semi-structured data.
WebQL is the best technology on the market to support your data collection activities. Lastly there is the QL2 Fare Explorer which is a customizable self-service analytics tool that provides fast and powerful insights into raw data collected by QL2's unique airline data asset. These tools all help users asses the desired target market and improves businesses.