Review
AMI EI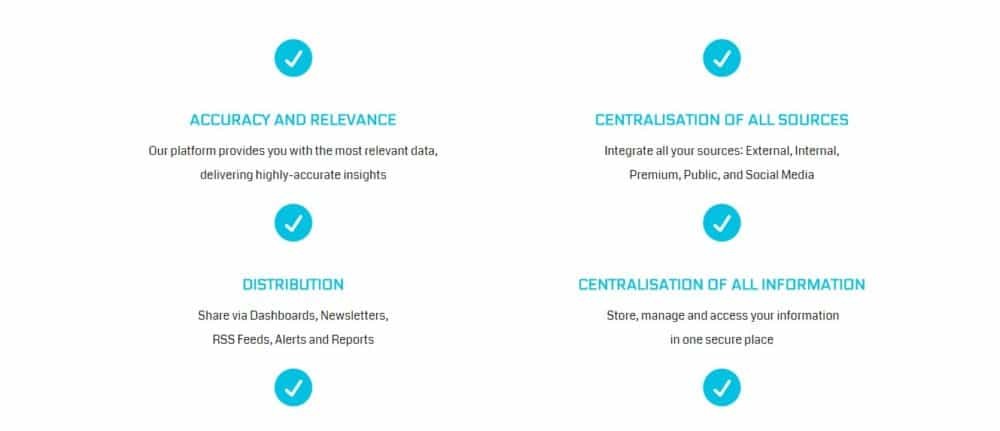 Overview
AMI EI collects and analyses data from across the web to create insight and intelligence about your markets, competitors and customers.
Custom Design
Competitive, customer and Market Intelligence.
Delivered vis Cloud or site servers.
Compliance with copyright
Accuracy and relevance
Centralisation of sources and distribution
Small (<50 employees), Medium (50 to 1000 Enterprise (>1001 employees)
AMI Enterprise Intelligence collects and analyzes data from across the entire web to create a detailed insight and perceptible intelligence regarding a specified business, its markets, competitors, and customers.
AMI Enterprise Intelligence is known for delivering specifically accurate analyses; provide a concise laid out comparison on how well a business is faring compared to others on the same field. With AMI Enterprise Intelligence, External, Internal, Premium, Public, and Social Media sources are fully integrated into the system and are easily accessible upon request. All Sources are centralized into one big easy to comprehend section. Information gathered from diverse sources can be stored, managed and accessed in one secure place.
A feat that is almost impossible to achieve, even with modern day technology. AMI Enterprise Intelligence creates room for the sharing of analyzed data through the various reputable medium via Dashboards, Newsletters, RSS Feeds, Alerts and Reports. AMI has equally developed strong ties with HIS, Bloomberg, and a host of other publishers, so that the publishers 'premium contents can be shared back and forth with AMI EI Clients.
In the aspect of security, AMI Enterprise Intelligence boasts of clients from all over the world who utilizes the software for the sole purpose of data security, confidentiality, and trust. AMI Enterprise Intelligence software ensures every user stays compliant with copyright. What users are allowed to accomplish, can be restricted to one's own limitations and standards, to avoid infringement on copyright policies.