Review
iWelcome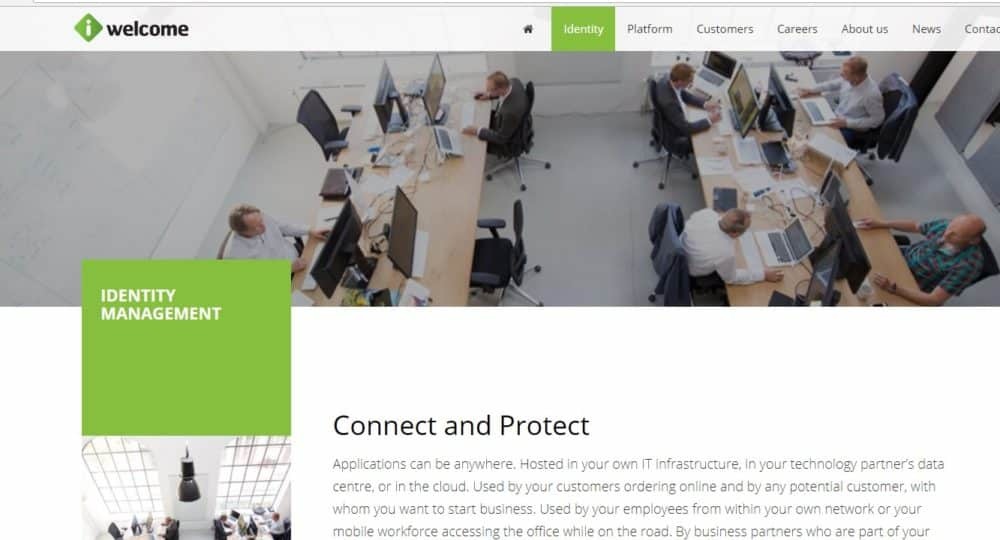 Overview
iWelcome provides Identity & Access Management as-a-Service (IDaaS). With iWelcome's cloud platform, organisations manage the identity lifecycle, the profiles and the access rights of their consumers, employees & business partners in a user friendly and secure manner.
Identity and Access Management Platforms
• Provisioning
• Smart Authentication
• SSO Single Sign-On
• Federation
• Delegated administration
• Access governance
• Identity intelligence
• Multi branding
• Self service
• Service desk
• Reporting and analytics
• API's
• Cloud directory
Small (<50 employees), Medium (50 to 1000 Enterprise (>1001 employees)
What is best?
• Smart Authentication
• SSO Single Sign-On
• Federation
• Delegated administration
• Access governance
• Identity intelligence
iWelcome is an identity and access management as a service (IDaaS) platform that enables organizations to manage their identity lifecycle, profiles and access rights of their employees, consumers and business partners in a secure and user friendly manner. iWelcome is designed in a way that facilitates complexity, privacy and security and scalability requirements of large and medium government and enterprise organizations. iWelcome provides the ultimate platform to securely connect and protect identities and data. This enables applications to be accessed anywhere within your IT infrastructure, in cloud or your technology partner's data centre. The IDaaS platform enables online ordering by your customers or any potential customer you wish to start business with. Employees in your organization are also able to access the office while on the road through the IDaaS platform. iWelcome identity and access management (IDaaS) as a service is also available for enterprises. The IDaaS is available as a complete set or suite that is available from the cloud and is able to solve all cases in an enterprise. iWelcome's IDaaS platform enables easy access of rights to your internal employees and also offers a platform for profile information for millions of users and facing applications for your users. iWelcome provides provisioning capabilities. The provisioning capabilities automate provisioning and deprovisioning of group and group memberships and user accounts. Through provisioning and deprovisioning, iWelcome facilitates a complete user life cycle. iWelcome also provides full support for the most major cloud applications and enterprises. This comes with integration for on premise identity management systems and custom connectors tools.
iWelcome