32 Free & Top Digital Asset Management Software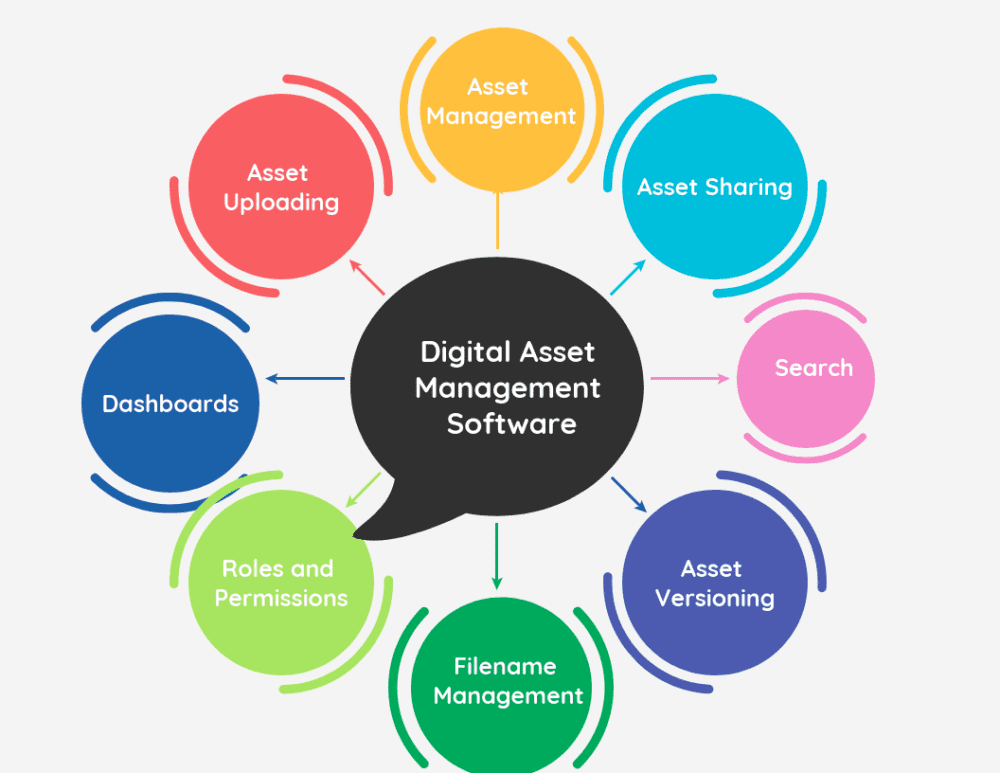 Digital Asset Management Software enables the ingestion, annotation, cataloguing, storage, retrieval and distribution of digital assets. Digital asset management software (DAM) is most typically used to centrally manage a broad variety of content, including images, video, audio objects, and other digital content types.
This includes downloading, renaming, backing up, rating, grouping, archiving, optimizing, maintaining, thinning, and exporting files and the content is used to support Web, digital commerce, and digital marketing initiatives. Digital asset management systems can be classified as Brand asset management systems, Library asset management systems, Production asset management systems and Cloud-based digital asset management systems.
Digital asset management helps you get more value from creative assets like images and videos by making them easy to organize, access and distribute. DAM enables creative workflow automation, archival and backups, and usage tracking.
Examples of Digital Asset Management Software: MediaValet, WebDAM, Nuxeo, Asset Bank, Canto, Brandfolder, Bynder, Adam Software, Libris, OpenText MediaBin, Pixelboxx, EMC Documentum Digital Asset Management, CELUM, NetXposure, MediaBeacon, Smartimage, Chuckwalla, MerlinOne, Widen Collective, Wiredrive, Daminion, Oracle WebCenter Content, Wedia, Adgistics, IntelligenceBank DAM, CONTENTdm, Fordela, North Plains, Swivle are some of the Top Digital Asset Management Software.
Examples of Free Digital Asset Management Software: Google Photos, Apple iCloud Photos,XnView MP,darktable are some of the Top Best Free Digital Asset Management Software.
You may like to read: How to Select the Best Digital Asset Management Software for Your Business
What are Digital Asset Management Software?
Digital Asset Management Software provides functionalities for management tasks and decisions surrounding the ingestion, annotation, cataloguing, storage, retrieval and distribution of digital assets. Digital Asset Management also refers to downloading, renaming, backing up, rating, grouping, archiving, optimizing, maintaining, thinning, and exporting files or other binary data.
Digital Asset Management systems include Brand asset management systems, Library asset management systems, Production asset management systems and Cloud-based digital asset management systems.
What are Digital Asset Management Software Examples?
Digital Asset Management Software serve as the centralized, secure and accessible repository to manage digital media, branding and video. DAM solutions help people find, share and use digital media assets to deliver beautiful experiences. This is achieved with workflows and features for creative production, collaboration, publishing and distribution of assets and to use your digital assets to drive value for the organization.
Hyatt uses Adobe Experience Manager to store all its photos and other marketing content in one place, and then use it to uniquely show off each beautiful property.
Tabasco uses Webdam for localizing content and maintaining global brand standards and for protecting brand equity by providing approved assets at scale.
Furman University is able to use Canto to categorize assets in folders and albums, include descriptions on individual assets, link similar assets and include the same asset across multiple albums.
You may like to read: How to Select the Best Digital Asset Management Software for Your Business
How to Select a Digital Asset Management Software
The objective of Digital Asset Management Software is to manage digital media, branding and video to store in a central place. The selection of Digital Asset Management Software depends on understanding, assessing and prioritizing your requirements, shortlisting the vendors based on your requirements, products features and functionality, industry experience and prior implementation experience.
You will have to closely assess the products capabilities of shortlisted vendors with your user cases with demos, which finally leads to selection of an effective, Digital Asset Management Software which suits to your business requirements.
Here are some tips for Selecting an effective Digital Asset Management Software.
Top Digital Asset Management Software
MediaValet, WebDAM, Nuxeo, Asset Bank, Canto, Brandfolder, Bynder, Adam Software, Libris, OpenText MediaBin, Pixelboxx, EMC Documentum Digital Asset Management, CELUM, NetXposure, MediaBeacon, Smartimage, Chuckwalla, MerlinOne, Widen Collective, Wiredrive, Daminion, Oracle WebCenter Content, Wedia, Adgistics, IntelligenceBank DAM, CONTENTdm, Fordela, North Plains, Swivle are some of the top digital asset management software.
You may like to read: How to Select the Best Digital Asset Management Software for Your Business
Top Digital Asset Management Software
PAT Index™
1
MediaValet
MediaValet is a leader in cloud-based digital asset management that helps marketing and creative teams easily manage, collaborate on and distribute their digital assets and content, improving productivity and increasing ROI on their marketing investments. With unlimited users, support and training, teams worldwide can access the content they need, whenever and wherever they need it. With MediaValet, organizations can centralize their marketing material, videos, digital content and other media in a single, central library. Within the platform, users can effectively upload, browse, preview, share and download their assets. MediaValet offers full support and previews over 200 file types, including photos,…
Overview
•Access Controls/Permissions
•Unlimited Users
•Unlimited Support
•Asset Categorization
•Asset Library
•Asset Sharing
•Customizable Branding
•Metadata Management
•Reporting/Analytics
•Search/Filter
•Version Control
•Workflow Management
Starting at $6,000 a year. Unlimited users & user groups, unlimited 24/7 support & training included.
2
WebDAM
WebDAM cloud-based platform powers the visual content that drives impactful brand experiences and allows brand-building activities to scale across the enterprise and consumer touchpoints. WebDAM is the leading cloud-based Digital Asset Management Company that delivers industry best Digital Asset Management solutions for all types of business. It is a software- based platform that accelerates the business strategies and marketing knowledge for all large and small companies.. It delivers and connects some visual contents that drive powerful brand experiences. This platform gives a self-service solution to the various companies and enables the employees of the large organizations to find some property…
Overview
Use visual contents
User-friendly management
Secure-sharing process
Enhanced search options using plain language
Seamless integrations for adobe tools
Dropbox and Wordpress.
Free trial available, contact for pricing.
3
Nuxeo
The Nuxeo Platform supports the most demanding content-focused applications with outstanding enterprise scale and processing speed that outperforms existing systems by an order of magnitude. Nuxeo is a hyper- scale digital asset management system that gives highly customizable and open source content management platform for business applications in the large organizations across a wide range of markets. Using open source model, the developers of this platform creates many flexible content management systems like document management, case management, and Digital asset management. Document management system is a rich content management system and with this system, customers can smoothly arrange or design…
Overview
Use rich and flexible content model
Facet the content model evolving digital system to manage the contents
Use comprehensive testing tools
Configurable platform services
Security at every level
Starts from $47000.00 per year, open-source and subscription model, and free trial contact for pricing.
4
Asset Bank
Asset Bank offers its users all the digital asset management features that a company needs with a range of configuration options. Uploading files with Asset Bank is made easy whether starting from scratch or migrating from an existing system. Asset Bank allows users to upload any file type, either one at a time, or in bulk, creating previews automatically. Some of the supported files are jpg, gif, bmp, png, raw for images, wmv, mpg, mpg4, mov for videos and pdf, doc, docx (Microsoft Word), xls, xlsx (Microsoft Excel), ppt, pptx (Microsoft PowerPoint), zip for documents.Asset Bank will automatically generate a…
Overview
Unlimited Users
LDAP Integration
Organizational Units
Multiple Lightboxes
Powerful Download Options
Customize
CMS Integration
Standard £295/mo
Enterprise £485/mo
Enterprise Unlimited £795/mo
5
Canto
Canto's offerings include its flagship enterprise DAM technology, Cumulus, which allows customers to efficiently secure, repurpose and distribute brand assets, and its SaaS solution Flight to facilitate basic digital asset management and collaboration for teams. Cumulus Portals allow users to create asset collections and easily add or delete assets from the collection. In addition, users can send out links for convenient third-party viewing of their collections, making use of password protection and link expiration features, if desired. For Adobe InDesign users, Cumulus adds the capability to apply metadata templates to files and check files into Cumulus in seconds without leaving InDesign.…
Overview
Cumulus Portals
Cumulus iOS Mobile App
Powerful RESTful API
Powerful Search
Workflow Automation
Media Delivery Cloud
Version Control
Work with Adobe
6
Brandfolder
Brandfolder is the world's most powerfully simple digital asset management platform for storing, sharing, and showcasing assets. It improves organization, ensure consistency, and create a stronger brand experience. Users can upload multiple files at once to take the stress out of asset organization. The folder's structures and hierarchies are automatically uploaded into searchable tags, so users can quickly find them later. Brandfolder features integrations with leading cloud-storage providers like Box, Dropbox, and Drive, which makes it easy to transfer company assets to Brandfolder.Brandfolder supports every file type such as design files, like Ps, In, and Ai; document files like PPT,…
Overview
Tagging and Pinned Search
Share Publicly
Multiple Integrations
Ease of Management
Asset Resizing and Conversion
7
Bynder
Bynder gets teams on the same page for real-time collaborative edits and approvals, easy file sharing and storage, auto-formatting for channels and file types, and provides one central hub for all company materials and messaging. Bynder provides a centralized storage for all media files, enjoy anytime, anywhere access to all of company's digital media via one centralized portal, Bynder's digital asset management (DAM) module empowers the company's management of content files and is essential to anyone looking to create a more efficient workflow.Users can find the right file fast, narrow search in seconds and enjoy full flexibility when combining different…
Overview
Digital Asset Management
Brand Identity Guidelines
Creative Project Management
Centralized Storage
Security Access Control
Customizable
Essential $450 /mo
Team $1250 /mo
Corporate $2250 /mo
8
Adam Software
Adam Software Smart Content Hub is a suite of enterprise-class Digital Asset Management (DAM) and Product Content Supervision (PCM) applications. This unlined integration of DAM and PCM permits one to create, manage and spread marketing material, active customers, at every touch point in a product's lifecycle. The Hub's versatility and pluggability help you answer many of today's advertising challenges. Available both in cloud or on-premise, this file- and the channel-agnostic content platform is international for enterprises of all sizes. This content-driving lack of center goes beyond technology. It brings a new way of thinking about manage customer experiences. Deliver visually…
Overview
Provide Innovative Experiences
Increase Marketing Agility
Synchronize Customer Journeys
Go Global
Integrate and Connect
Analyze Content Performance
9
Libris
Libris is a visual asset management that helps business save time, money and possible problems later on. Users can centralize their assets by moving all of company's images and video from disparate sources into a single, cloud-based archive. Libris automatically extracts keyword, description, and licensing metadata for the business. Libris also adds thousands of assets the same day that the users start using their software and have third parties upload their deliverables directly into Libris. Use keywords or search to quickly find the right asset.In order to collaborate efficiently, users can use custom roles within Libris to provide the appropriate…
Overview
Cloud Based Platform
IPTC Standard Metadata
Single Sign On
Desktop and Mobile Uploader
Unlimited Contributors & Invited Users
No Bandwidth, Upload or Download Limits
Basic $3999/year
Professional $6999/year
Enterprise Custom
10
OpenText MediaBin
OpenText MediaBin deliver higher-impact marketing communications and a superior customer experience by effectively managing, reusing, distributing, and publishing thousands of customer-facing digital assets. Support all business users, including external lovers, with a tailored role and permission-based, self-service gain access to. Understand and analyze abundant media assets by automatically tagging, categorizing, and cross-referencing them. Centrally store, take care of, and access your digital content and automatically make required file formats and sizes. OpenText MediaBin support all enterprise users, including external partners, with tailored role and permission-based, self-service access.Understand and analyze rich media assets by automatically tagging, categorizing, and cross-referencing them and…
Overview
OPENTEXT MEDIABIN PORTAL CLIENT
VIDEO, AUDIO, AND FACIAL RECOGNITION
SINGLE SOURCE OF TRUTH
RICH MEDIA WORKFLOW
TARGETED ASSET DISTRIBUTION
COMPLIANCE AND LICENSE MANAGEMENT
11
Pixelboxx
Pixelboxx is a leading provider of Digital Asset Management system and offers a web based solution to the companies that enables overall business management system and media specific output. Pixelboxx is a service provider that increases productivity and speed of the media workflows. This platform provides Digital Asset Management and web-based Solutions for industrial businesses, publishers, retailers and service providers to expand their business processes. Pixelboxx DAM can organize media assets, multimedia contents, and digital file formats and protects the confidential information. It also improves the efficiency of the business process regarding the publishing of documents, videos and image files.…
Overview
Search media data, text, images, and files using plain languages and with a couple of clicks
Image and file editing
Media-independent data storage
Interface and integration
Security at every level
Standard for SMEs and industries.
Contact pixelboxx for straightforward pricing.
12
EMC Documentum Digital Asset Management
EMC Documentum Digital Asset Management is a streamlined digital asset marketing access and management tool provided by Dell Technologies. The software is geared towards assisting clients to make the most out of their digital assets. It does this by transforming and analyzing rich media content either automatically or manually, protecting the brand, reducing costs, enhancing marketing access & management and capturing & extending intellectual property rights associated with digital assets. The software is offered in two forms EMC Documentum Connector for InDesign and EMC Documentum Content Transformation Services. EMC Documentum Connector for InDesign allows users to benefit from Documentum without…
Overview
Powerful transformations
Streamlined access
Property rights extension
EMC Documentum Digital Asset Management
13
CELUM
CELUM is a software developer that specialises in Enterprise Digital Asset Management (DAM) and Marketing Content Management Systems. Its platform enables users to store, organize and find content easily while also allowing this content to be shared across multiple platforms like print, web and social media. It also keeps the content protected and only avails it to authorized users. The software offers solutions to the manufacturing, retail & e-commerce, sports & special brands, luxury & multi-brands, media & entertainment, fast moving consumer goods, pharmaceutical, healthcare & medical, non-profit, education, heritage, financial services, and automotive industries. CELUM software runs in the…
Overview
Easy uploads and search
Creative workflow
Measure success
Manage any file type
Deliver to other systems
Control access
Free demo
Contact for pricing
14
NetXposure
NetX is a simple, helpful and flexible software solution provider in Digital Asset Management system and empowers content producers, graphic designers, global marketers. NetX offers an in-house hosting opportunity to the organizations as well as provides cloud-based digital asset management solutions that create easy and flexible workflows to the industries. It can also minimize the time and cost of content production and increases ROI from media assets. NetX provides an awesome platform to the customers where they can search any information using searching tools and this operation can be available in any devices like mobile, tablets, computers, etc. It helps…
Overview
Use intuitive user interface
Extensible framework for modern applications e-commerce, CMS, ERP
Powerful editing
Advanced search engine and faceted navigation for access information
Public saved searches for updating contents regularly
Asset request systems
Cloud/SaaS solution
Easily share insights.
Free trial available, free premium contact for pricing.
15
MediaBeacon
MediaBeacon provides Digital Asset Management & Marketing Asset Management to brands. Its areas of specialization include the Food & Beverage, Consumer Packaged Goods, Retail & Apparel, Media & Entertainment, Public, Pharmaceuticals and Banking Sectors. The company provides two main packages: Enterprise Digital Asset Management and Enterprise File Sync and Share Solution. Digital Asset Management (MediaBeacon R3volution) enables users to find, repurpose and deliver assets across all digital channels. The system has a browser-based interface that allows assets to be manipulated on any device. Assets are automatically converted to the right format for the intended purpose, quickly downloaded with a single…
Overview
Faster Speed to Market
Measure Campaign Performance & ROI
Ensure License Compliance
Integrate Systems and Data
Free demo
Contact for pricing
16
Smartimage
Smartimage is the simple way to centralize and share your brand. Use Smartimage to collect files from anyone, anywhere, organize your files and apply tags for easy searching and filtering. Then share and control who can access your files. Use Smartimage for your logos, photographs, graphics, videos, presentations and more. Then view your analytics to see what's being viewed, shared, and downloaded.Access company files in the cloud from anywhere, at anytime, globally with Smartimage. Customize account for a consistent brand experience and be able to share links or password protected collections of files. Smartimage is a simple, instant on tool,…
Overview
Unlimited Sharing
Password Protection
Custom Embed URLs
Unlimited Integrations
Unlimited Administrators
Basic $ 69 /mo
Team $ 299 /mo
Multi-brand $ 699 /mo
17
Chuckwalla
Chuckwalla is a Digital Asset Management (DAM) developer. Its product is a Digital Asset Lifecycle Management system that allows users to control and automate complex workflows, spanning constituents across departments, buildings, organizations and geographies. It allows parallel approval processes, re-routing back to previous workflow steps, or calls other applications to append information or check for updated metadata. Chuckwalla v7 Digital Asset Lifecycle Management comes in two editions: Cloud and Standard. The Cloud Edition is delivered via Software-as-a-Service (SaaS). It is designed for organizations of any size that have limited or unavailable internal IT infrastructure and resources. The Standard Edition is…
Overview
Extensive File Format Support
Full Text Indexing
Metadata and Searching
Organization and Security
Ingestion, Trans-coding and Distribution
18
MerlinOne
The Merlin Digital Asset Management system gives you immediate access to all of your valuable assets no matter how large a digital collection you have. MerlinOne systems are working 7×24 helping customers like Pfizer, Harvard University, Habitat for Humanity, and the White House store, retrieve and protect large collections with confidence that all of their digital assets are accessible and secure. Merlinone delivers the Digital asset management software to large news organizations, media, and other govt. corporations to increase their speed and productivity by providing the innovative technologies. It's a great software, that helps to con nect with top-rated customers…
Overview
Use speed-to-text searching
Adobe integration
Collaboration and distribution of contents
Easily export assets directly into social media accounts
Security at every level.
Its SaaS solutions typically starts at $1300/month. Free trial, contact Marlin for pricing.
19
Widen Collective
Widen Collective's cloud-based DAM solution goes beyond a basic media library to publish and distribute assets in more ways to more people – across websites, email marketing, social media and more – and bring a comprehensive, campaign approach to the company's marketing and messaging. Widen Collective's range of tools provide more choices to manage workflows, connect data, and help everyday systems work together. Use the powerful intelligence of the Widen Collective to monitor and control the company's brand like never before. Make visual assets more discoverable and make marketing decisions based on data.Widen Collective brings together all images, videos and…
Overview
Video and Image Management
Secure Cloud Hosting and CDN with AWS
Roles and Permissions Access Controls
Asset and Site-Wide Insights
Asset Archiving and Preservation
Lifecycle and Rights Management
20
Wiredrive
Wiredrive is media management and collaboration from creation to distribution. This enables user's creative process by finding exactly what they're looking for using robust search and filtering. Wiredrive drives effective decision-making with easy review and approval and easily build and share custom, branded presentations. With Wiredrive, users will be able to manage their work fast; simply bulk-tag files using the company's taxonomy, search, filter and preview instantly whichever it is that are needed and create presentations in seconds. No need for any special skills from the users since Wiredrive has built its platform easy to operate and manage as well.…
Overview
Unlimited Collaborators
Design Themes Included
Unlimited Integrations
Premium Support
Unlimited Users
Premium Support
Team $399/mo
Workforce $799/mo
Enterprise Custom
21
Daminion
Daminion is the trusted multi-user digital asset management software of more than 500 companies because it makes ALL digital assets EASILY searchable by anyone in the organization. Daminion's easy-to-use, but nonetheless powerful, search capabilities include: Quick Search, Filter Content by Tags in combination with AND/OR operators, Advanced Search and Saved Searches. Daminion's easy copyright tagging helps its users to control the use of images and other content. This means less time for doing searches and more time for managing projects for the company. Multiple tags can be assigned to a single file without taking up additional space on hard drive.…
Overview
Access from multiple computers
2 or More Users
Unlimited Imported Files
Broad Format Support
Import from Other Programs
Easy Asset Cataloging
Instant Access to Any Assets
Team $25/user
Pro $199 US
Home $99-149 US
22
Oracle WebCenter Content
Oracle Web center Content provides a simple and effective content management platform that helps organizations to control their structured and unstructured contents and allows the companies to manage their entire lifecycle of the contents. It enables the organizations to deliver different contents to the business users through mobile devices, computers, and business applications in the proper format to manage their business strategies and to fit the needs of business users. This platform delivers world's top hardware and software solutions for the businesses to reduce cost and complexity of software infrastructure. This platform includes document management system that easily captures, shares…
Overview
Use effective distribution of digital and paper based contents or documents
End-to-end management
Transaction businesses
Managing digital assets to keep records of information
Scale to the needs
Share insights.
Pricing levels are listed by edition with associated cost and features. Contact oracle for pricing.
23
Wedia
Wedia brings creation, customization, and distribution capabilities to all three major content channels: web, print and mobile. Wedia helps global companies engage in more profitable dialogues with local or segmented customers and prospects by empowering individuals at the point of impact, making globally distributed marketers, salespeople, stores and branches more agile by moving the design, production, editing and distribution of valuable marketing assets to the point of impact while also ensure message consistency across three channels. The Wedia, cross-marketing resource management platform is a simple SaaS solution that accelerates the digital transformation of marketing. It's a cloud-based and modular software…
Overview
Use indexing and advanced searches
Advanced distribution of contents
Use data-driven decision tools for scoring performance
Simplification at every level
Dashboards with click
Easily share and manage digital assets.
From $600 per user, per month contact Wedia for pricing information.
24
Adgistics
Adgistics Digital Advantage Management educates and shows through interactive guides best practices how the brand assets should be used, bettering efficiency and protecting brand equity.The system is a highly secure solution for our clients which provides in-house teams, agencies and other brand partners with controlled access to all brand assets. The Digital Asset Management systems can be optionally enhanced with configurable and scalable additions such as an Activity Task Management system or a Creative Review solution. The system is a highly secure solution for his or her clients which provides in-house teams, agencies and other brand partners with manipulated usage…
Overview
SCOPING
ASSET PREP
TEMPLATE SERVICES
PROFESSIONAL SERVICES
BRAND PEOPLE
25
IntelligenceBank DAM
IntelligenceBank DAM software helps companies manage and collaborate on all their images, video and artwork internally and with customers & agencies. IntelligenceBank Brand Hub software will bring the company's brand guidelines to life, and helps its users track projects with workflow and calendars. With IntelligenceBank's Digital Asset Management, users will be able to upload up to 2GB per file, individually or in bulk, keep track of versions, preview media online, add to lightbox collections or add comments. Watermarks protect company files and users can view assets as a list, as images or in a carousel slideshow.Streamline the creative approval process…
Overview
Advanced Search, Global Filters & Metadata
Lightbox Collections
iPad and Mobile Friendly
Private Cloud & Self Hosted Options
Desktop Uploader
Web-to-Print Creative Templates (POA)
Digital Asset Management for All $9/user/month
Brand Hubs $19/user/month
26
CONTENTdm
CONTENTdm allows the company to easily build and showcase their digital collections on their personalized website, making them more discoverable to people around the world. CONTENTdm also secures and monitors the master files in a cloud-based preservation archive so they remain safe for the future. With its integrated tools, users can quickly create a branded look and feel for the company library's digital collections website. CONTENTdm makes it easy to customize the site, whether or not users have programming skills.CONTENTdm supports personal project space and shared projects, and a centralized queue allows for final review or editing by a collection…
Overview
Create and Organize Collections
Quickly Add Items and Metadata
Manage Complex Media Types
Support Long-term Data Management
Optimize Search and View
Enhanced Security
27
Fordela
Fordela is a software developer that provides a Cloud Media Platform for Studios, Post Production and Distributors. Its users are able to replace DVDs with watermarked HD screeners streamed to mobile devices or computers. This way, the users not only cut their distribution costs but also control the viewership of their content through the use of passwords. Fordela's white label VoD platform allows its users to rent or sell videos with custom pricing and rental windows direct from their own websites. It therefore facilitates the setting of prices and viewing windows for content while providing shopping cart and credit card…
Overview
Reduce costs with online screeners
Sell direct to your customers
Flexible, scalable video transcoding
Manage approvals and reviews
Cloud Digital Asset Management
Business Package: $249 per month for 100GB storage, 200GB bandwidth and unlimited users
Professional Package: $499 per month for 225GB storage, 375GB bandwidth and unlimited users
Premium Package: $999 per month for 500GB storage, 1TB bandwidth and unlimited users
Premium Package has a 14 day trial period
28
North Plains
Northplains provides digital asset management solutions to some of the world's top brands. North Plains platform for developing web applications and dynamic web-based customer experiences from bespoke websites to applications. Brand management software integration enables marketers to be both agile and in control of multiple campaigns, across multiple geographies and with the active engagement and involvement of multiple internal and external teams. Northplains is regarded as the World's leading platform that helps the businesses by managing different brands and products and visual media contents. This platform includes global professionals who can help the large organizations by providing accurate management solutions…
Overview
Use collaborative workspaces
Omni-channel distribution
Metadata management
ROI policy
Security at every step.
One-time license, subscription model, Free trial contact Northplains for pricing.
29
Swivle
Swivle enables brands, marketers, creative agencies and publishers to increase quality, reduce costs, shorten time-to-market and develop new revenue streams and to realize the full potential of their content. Swivle is the most intuitive Digital Asset Management solution in the cloud. The perfect place for creative teams to organize, share and distribute their content. Find the right files within seconds with Swivle's powerful variety of sorting options and search filters. Share a link from Swivle and forget about other file-sharing services or emailing big attachments. Swivle's Brand Portal is so much more than just a repository of all corporate digital…
Overview
• Visual and intuitive file management
• Automated versioning: Revert files to any previous version
• Instant search: Find files in seconds thanks to a comprehensive metadata search
• Image Recognition: Use AI to add meta tags to files automatically
• Handy previews: Get a preview of files — either a thumbnail or a full preview
• User permissions: Define who is able to upload, view, edit or just download files
• Essential - $170 / month
•Team - $340 / month
• Organization - $910 / month
You may like to read: How to Select the Best Digital Asset Management Software for Your Business
Best Free Digital Asset Management Software
Google Photos, Apple iCloud Photos,XnView MP,darktable are some of the best free digital asset management software.
1.Google Photos
Google Photos is a photo gallery from Google, made for the way you take photos today. The photos and videos will be automatically backed up and organized. Access them from any device and photos.google.com and photos that are safely backed up can be removed from your devices storage in just a tap and provide intuitive and powerful editing tools to enhance your photos and bring them to life. Adjust lighting, contrast, color, and vignette, or pick from 14 innovative photo filters to make your pictures look great in one tap.
2.Apple iCloud Photos
iCloud Photo Library gives you access to your entire Mac photo and video library from all your devices. If you shoot a snapshot, slo-mo, or selfie on your iPhone, it's automatically added to iCloud Photo Library as well — so it appears on your Mac, your iOS devices, Apple TV, iCloud.com, and your PC. And since your collection is organized the same way across your Apple devices, navigating your library always feels familiar.
3.XnView MP
XnView MP is the enhanced version of XnView Classic. It is a powerful cross-platform media browser, viewer and converter. Compatible with more than 500 formats. XnView MP supports more than 500 image formats (including Multipage and animated still formats APNG, TIFF, GIF, ICO, etc..) and export to about 70 different file formats. XnView MP comes with an easy to use yet powerful batch conversion module.
4.darktable
darktable is an open source photography workflow application and raw developer. A virtual lighttable and darkroom for photographers. It manages your digital negatives in a database, lets you view them through a zoomable lighttable and enables you to develop raw images and enhance them.
You may like to read: How to Select the Best Digital Asset Management Software for Your Business