Review
Bitium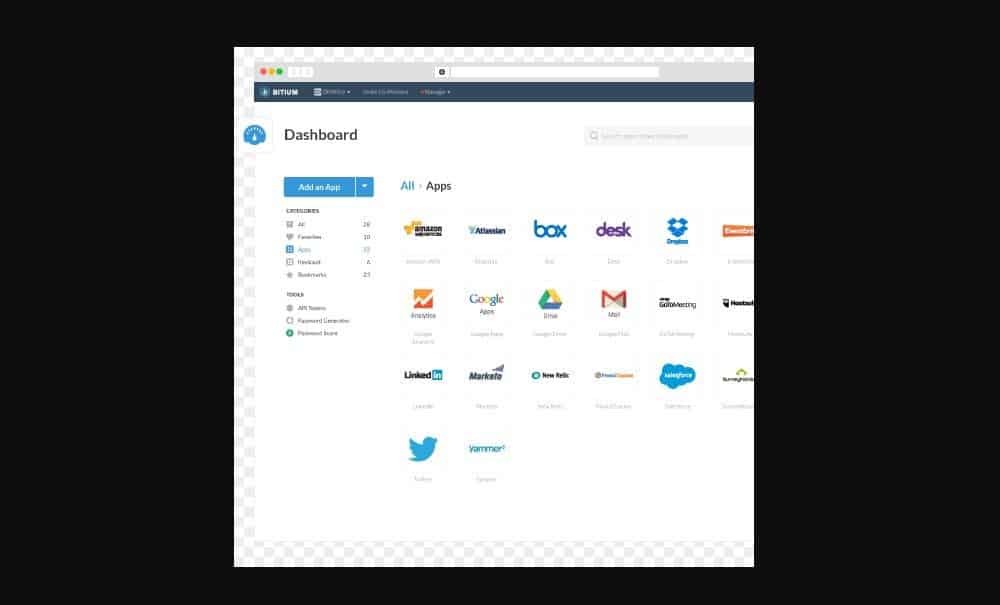 Overview
Bitium is a cloud-based identity platform that includes single sign-on, credential management, and analytics for midmarket and enterprise companies. Bitium's flexible, easy-to-use solution allows IT to operate more efficiently and enables CIOs to be the agent of change inside their organization
Identity and Access Management Platforms
•Federation & Single Sign-On
•Credential Management
•App Management
•Directory Integration
•Secure Access
•User Provisioning & Deprovisioning
•Reporting & Compliance
• Business $3
• Business plus $5
• Unlimited $8
Small (<50 employees), Medium (50 to 1000 Enterprise (>1001 employees)
What is best?
•Federation & Single Sign-On
•Credential Management
•App Management
•Directory Integration
•Secure Access
Bitium is an online tool which provides a holistic approach to identity management for the midmarket and enterprise organizations. Bitium provides security in such a way that it is visible to all apps and users thus providing organizations with the intelligence required to increase the security levels in an organization, it also offers flexibility in the changes incurred in various directory infrastructure, new apps and an increasing user base which delivers better agility. Bitium is also easy to use and also easy to adopt and by this, it rather reduces cost and IT burden while increasing efficiency. The way many companies or organizations do their day to day business is changing nowadays, businesses face many challenges like identifying the most beneficial apps and services, the need to securely manage, identify and access cloud based applications in environments that are fast paced, vulnerable to changes and also highly mobile. The fastest and most appropriate solution to this kind of challenges is unleashing the full potential of cloud computing, Bitium technology provides flexibility in such a way that Bitium is able to manage 10 apps or 1000 and can be quickly modified for a wide range of customers, extend access rights to cloud based apps to their colleagues without sharing passwords, pay for what you may need or adapt to any need. Bitium is also easy to use in your business, central dashboard, for transparency and also easy for employees to use. Bitium also provides you with enough security since it contains assurance reports, centralized credentials and SAML integration.
Bitium