Top 18 Web Content Management Systems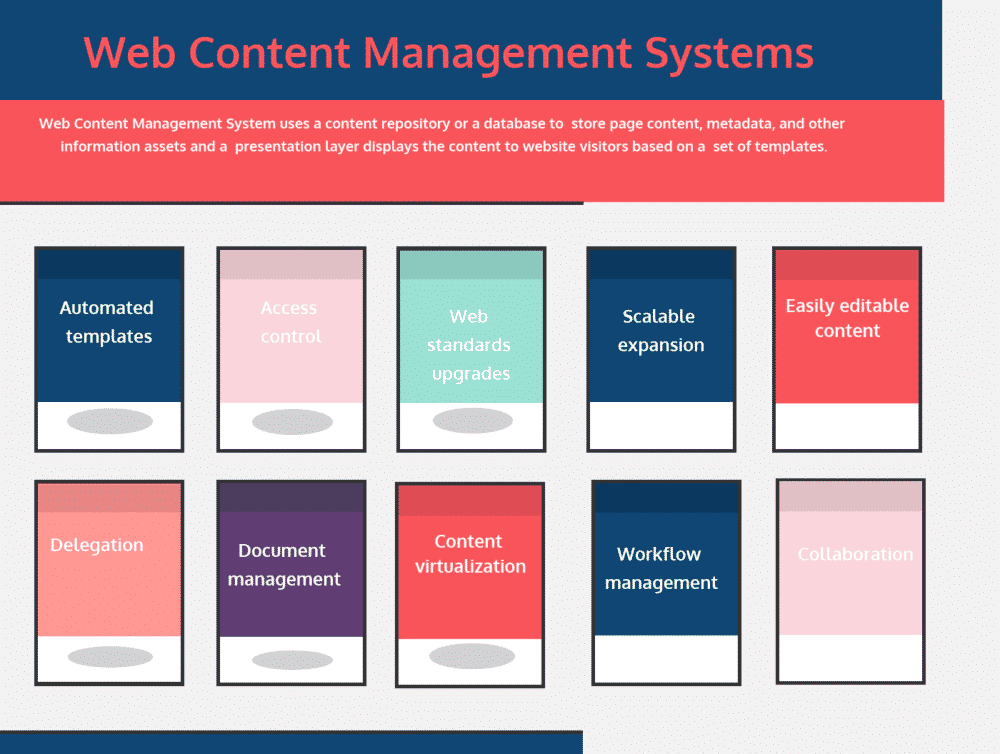 Every business needs to create a strong web presence to reach a broader range of clients as well as to gain a competitive advantage over their competitors. Website creation usually involves programming or use of markup language to create and manage the web content. Business owners need to continually create new content and ensure that it is SEO optimized to generate organic leads and to rank their web pages in the first position of the search engines like Google. They need to create relevant content with all the appropriate images, interlink the web content and include the corresponding call to action buttons in the specific areas of their content. They need to manage and edit the content with ease when it is necessary. Websites need to provide the ability for multiple website administrators to do authoring, collaboration and to manage the documents and output. A web content management system thus comes in handy to help with such tasks.
Web Content Management System provides features for website authoring, collaboration, and administration tools that are designed to allow users to create and manage website content with relative ease. Product features include publishing Web pages, content creation, authoring, repositories, library services, check-in, check-out, version control and security.
Top Web Content Management Systems : Adobe Experience Manager, WordPress.com, Drupal, Telerik, Kajona, Sitecore, Epi CMS, Pimcore, IBM Web Content Manager, Acquia Platform, CoreMedia, CrownPeak Technology, OpenText TeamSite, Oracle WebCenter Sites, Squiz, SDL Web, e-Spirit, eZ Systems, GX Software are some of the Top Web Content Management Systems.
What are Web Content Management Systems?
Web Content Management System uses a content repository or a database to store page content, metadata, and other information assets and a presentation layer displays the content to website visitors based on a set of templates. Web Content Management System is used to control the dynamic collection of web material, including HTML documents, images, and other forms of media Web Content Management System facilitates document control, auditing, editing, and timeline management.
Web content management software is an application that helps web administrators manage content in their websites. It assists users with little know -how about programming or markup languages to create and control web content by providing them with the administration, website authoring, and collaboration solutions. Web content management systems provide the basis for collaboration since it allows for the users with the capacity to manage the web output and documents. It helps the users manage their website content, and offers them the ability to control their web content timeline, audit and edit documents and gives different authors the ability to edit and participate in the management of the web content. The web content systems have a database or a content repository to provide storage for the page content, meta tags, meta descriptions among other information assets that are needed. A website content system also helps control the collection of web resources such as images, HTML documents, infographics among different kinds of media. The administration is mainly done via browser-based interfaces, though a few systems may require the use of a fat client.
Automated templates: Provides the users with standard models and preset templates which they can apply to both new and existing content to centrally change the appearance of all their content. These templates are usually the HTML and XML.
Access control: Tools will support some user groups, which regulate the way registered users of the group interact with the site. It is possible to restrict a webpage on the website to one or more users. It means that any unauthorized user will be denied access if they are not logged on or still if they are logged on and but they are non- members of the group a page is restricted to.
Web standards upgrades: Can automatically receives upgrade updates regularly to ensure the system keep up with the current web changes. These updates will include all the new feature sets available.
Scalable expansion: Features that allow them to expand a single implementation across several domains subject to the settings of the server.
Easily editable content: Provides editing tools that allow for the creation and editing of content by non-technical users. These tools are the WYSIWYG tools. It is easier to manipulate and edit the content, once it is separated from the visual presentation site.
Delegation: Allow for various user teams to possess limited privileges over given content on the website by spreading out the responsibility of content management.
Document management: Offer a means to manage the life cycle of a document collaboratively from initial creation time, revisions, publication, archiving, to document destruction.
Content virtualization: Application may offer each user a means of letting them work within a virtual copy of the whole website, document set, and code base. It enables the users to view changes made to multiple interdependent resources in context before its submission.
Workflow management: Allow workflow management which is the process of creating subsequent cycles of parallel tasks that need to be accomplished. It enables one or several content creators to submit a post, but the blog post remains pending or unpublished until the chief copy editor checks and approves it.
Collaboration: Can act as a platform for collaboration and allows multiple users to retrieve and work on the web content. The edits or changes made can be tracked and authorized for publication or can be ignored by reverting to old versions. Some have advanced features that allow multiple users to proofread, or comment to a web page simultaneously in a collaboration session.
Content syndication: Help in distribution of content through a generation of RSS and Atom data feeds to the other systems. They can also send an e-mail to users when there are updates.
Versioning: Web content management tools can implement version control. The users are thus able to check pages in and out . The authorized proofreaders and editing team can retrieve the previous versions of work and then work from a selected point. Versioning is beneficial for users of web content that needs to keep changing and requires constant updating, but there is a need to begin from or to reference a previous version.
Top Web Content Management Systems
Adobe Experience Manager, WordPress.com, Drupal, Telerik, Kajona, Sitecore, Epi CMS, Pimcore, IBM Web Content Manager, Acquia Platform, CoreMedia, CrownPeak Technology, OpenText TeamSite, Oracle WebCenter Sites, Squiz, SDL Web, e-Spirit, eZ Systems, GX Software are some of the Top Web Content Management Systems.
Top Web Content Management Systems
PAT Index™
1
Adobe Experience Manager
Adobe Experience Manager is a comprehensive content management solution for building websites, mobile apps, and forms. Adobe Experience Manager provides it easy to manage your marketing content and assets and comprehensive content management solution for building websites, mobile apps, and varieties. Adobe Experience Manager make it easy to take care of marketing content and property and deliver digital activities over the duration of customer that build brand dedication and drive demand. It deliver and manage activities that are responsive, relevant, and social, place the customer at the center of every interaction, easily control images, videos, and other assets across every…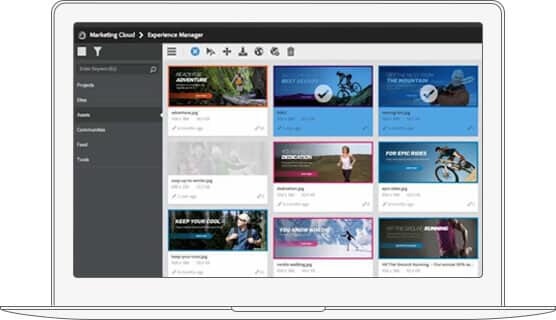 2
WordPress.com
WordPress is a web software platform that creates and manages beautiful websites, blogs and apps for professionals, businesses and content marketers and features hundreds of high- quality themes. WordPress creates an outstanding, beautiful, and elegant website for business, event, personal brand, and portfolio. It's a powerful publishing platform where millions of people and bloggers can publish their personal and professional contents and personalize these contents by adding powerful widgets and changing the background of blogs to engage with millions of fans and friends. It's a unique platform that can access thousands of blogs, poems, contents, and journals published daily on…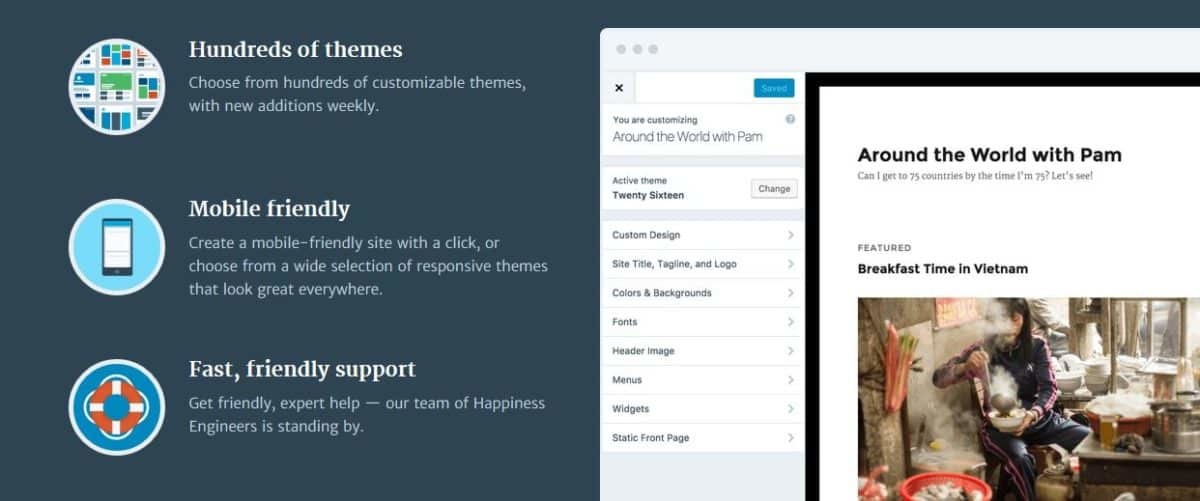 3
Drupal
Drupal is content management software. It's used to make many of the websites and applications you use every day. Drupal has great standard features, like easy content authoring, reliable performance, and excellent security. But what sets it apart is its flexibility; modularity is one of its core principles. Its tools help you build the versatile, structured content that dynamic web experiences need. Drupal is the #1 platform for web content management among global enterprises, governments, higher education institutions, and NGOs. Flexible and highly scalable, Drupal publishes a single web site or shares content in multiple languages across many devices. Technology…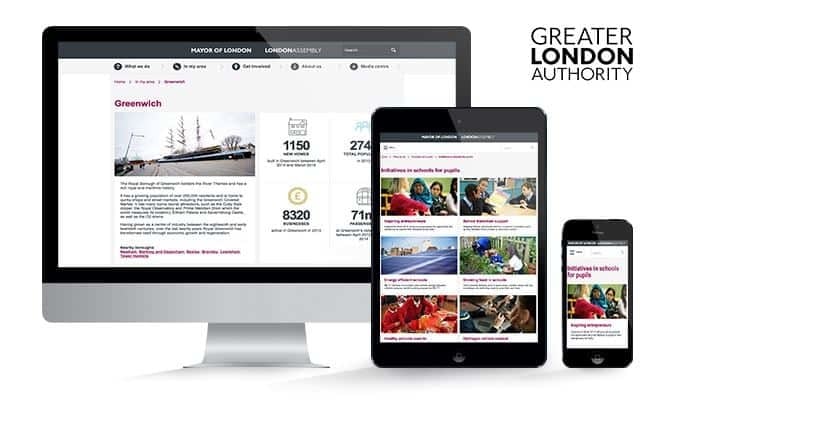 4
Telerik
Telerik is the software developer behind the Progress Sitefinity content management and marketing analytics platform. It gives developers and IT teams the tools they need to support enterprise-level digital marketing, optimizing the customer journey by delivering seamless personalized experiences across different technologies and devices. Sitefinity offers users Web Content Management and Digital Experience Cloud. Its Web Content Management feature makes use of user-friendly interfaces that allow content to be created by dragging and dropping widgets onto a page. Furthermore, with Sitefinity's Inline Editing feature users can create and edit content right on the page. The platform's multisite management makes it…

5
Kajona
Kajona is a content management framework released under an open source license. By default the framework is bundled as a web content management framework with a comprehensive set of modules and features, providing a strict separation of layout and content. Kajona is split into two main subsystems: The backend, used to administrate and maintain the website and the portal, rendering all contents created and maintained by the backend. The content and the portal are glued by templates, controlling the behavior and the layout of your template. The framework to build and manage websites in no time. Install the system within…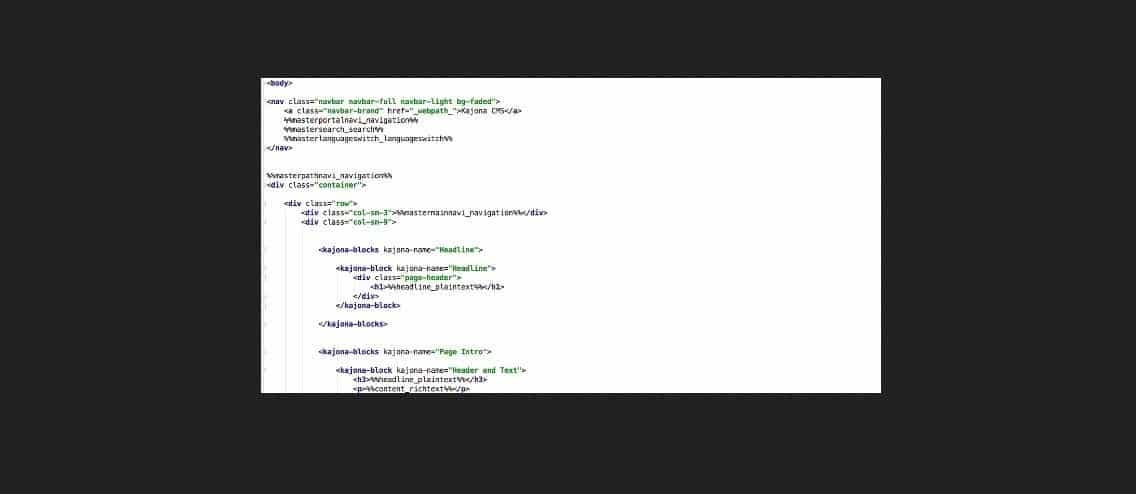 6
Sitecore
Sitecore is the global leader in experience management software that enables context marketing. The Sitecore Experience Platform manages content, supplies contextual intelligence, and automates communications, at scale. It empowers marketers to deliver content in context of how customers have engaged with their brand, across every channel, in real time. The web content management (WCM) system was built from the ground up as an integrated platform to support global, multilingual content at scale and provide the flexibility that enterprises demand. Sitecore is a Web Content Management solution developer that enables organizations to market in context of customer interactions. The Sitecore platform…

7
Epi CMS
Episerver connects digital commerce and digital marketing to help organizations create unique digital experiences for their customers, with measurable business results. The Episerver Digital Experience Cloud combines content, commerce, multi-channel marketing and predictive analytics in a single platform to work full-circle for businesses online – from intelligent optimization and lead-generation through to conversion and repeat business – with unprecedented ease-of-use. Epi CMS is a content management system for managing content of a omnichannels as well as media channels. Epi CMS provide powerful tools to automatically optimize and personalize the digital experience. It is very difficult to offer consistent service on…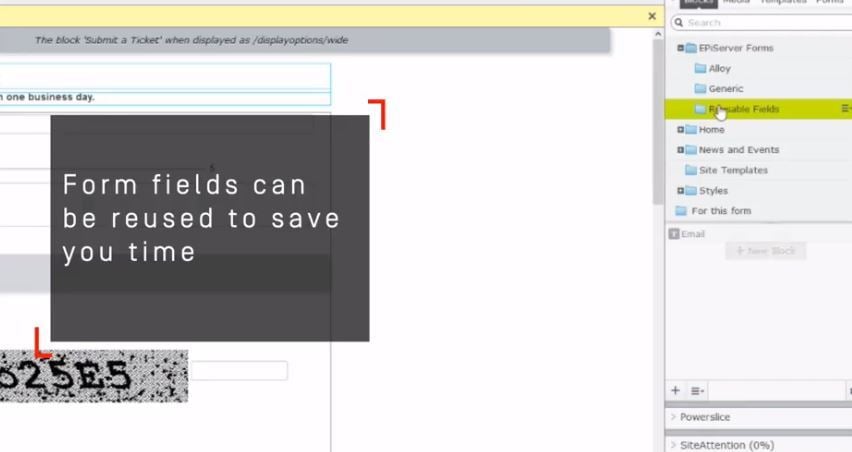 8
Pimcore
Pimcore is an open source web-based software platform that enables the user to easily manage data and other user experiences. Pimcore is considered to have two major objectives. It has the pimcore data manager which holds and consolidates any type and amount of digital information for multi-channel-publishing purposes - solving enterprise data issues such as scattered data, quality, and time-to-market. It also has the pimcore experience manager that presents data in an exciting way and combines advanced content management with eCommerce functionalities. Pimcore is the only platform that combines PIM/MDM, CMS, DAM and eCommerce functionalities out-of-the-box. With a boosted time-to-market,…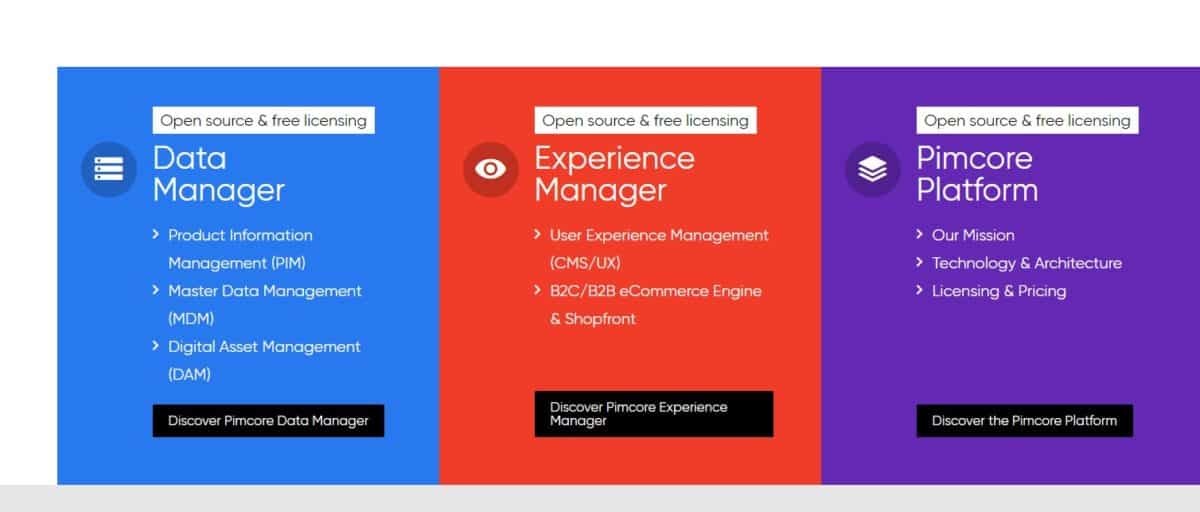 9
IBM Web Content Manager
IBM Web Content Manager is a flexible and user friendly web content management system .IBM web content is use to manage large, dynamic collection of web content materials like text, images, audio/video, files and other HTML content materials. IBM Web Content Manager pioneers in providing simple user interface, simplified content authoring, re-usable workflow and native support to personalization .To start working on IBM Web Content Manager first create content library from the portal administration after that create a workflow , To create a workflow first create workflow action these workflows are used to take action such as publish content as…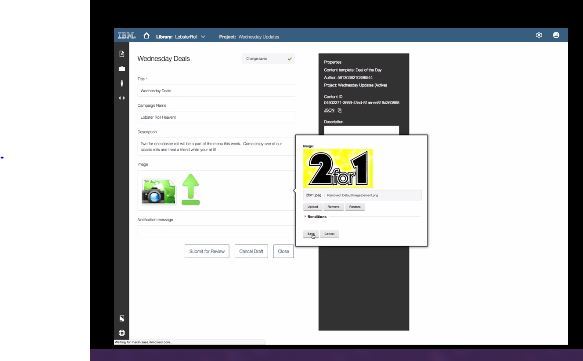 10
Acquia Platform
Acquia Platform offers a secure platform-as-a-service cloud environment for the Drupal web content management system, advanced multi-site management, powerful developer tools, and software-as-a-service capabilities for personalization, content syndication, and more. The Acquia Platform components are built with an API-first approach to make it easy to tailor the solution to your organization's specific needs and environment. Acquia platform is the leading cloud-based, digital experience management solution. Acquia drives the effectiveness of digital strategy one customer at a time. It offers personalized and contextually optimized experiences on any touch point at unlimited scale. Acquia helps in building smarter, faster and to move…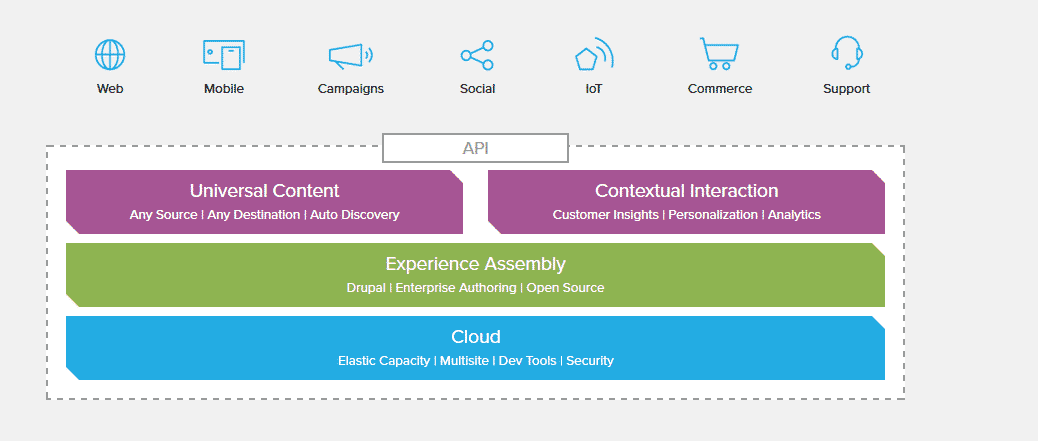 11
CoreMedia
CoreMedia is a leading digital experience (DX) company that has been powering the online strategy of organizations across varied industries for more than two decades. CoreMedia partner with customers to connect them with their audiences wherever they are by seamlessly integrating digital, e-Commerce and social media assets, accelerating time to market, and increasing the productivity of business users. The solutions also help transform e-Commerce stores by infusing visually compelling and immersive content into the online customer experience, resulting in increased engagement, sales, and loyalty. CoreMedia delivers smart content and digital asset management solutions that combine content, commerce, and context to…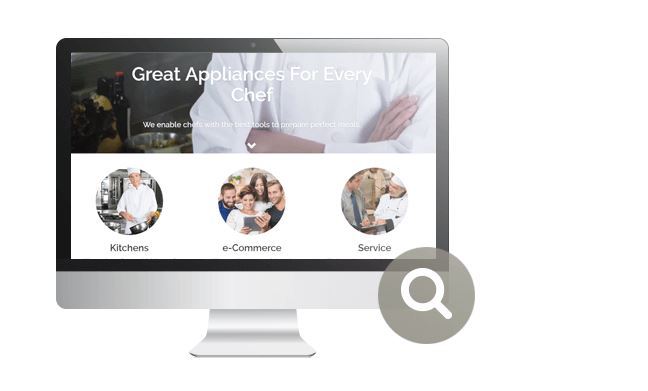 12
CrownPeak Technology
Crownpeak Technology is the only cloud-first Digital Experience Management (DXM) platform with built-in Digital Quality management. Performing digital experiences is difficult and complicated but Crownpeak Technology gives built-in digital experience with rapid deployment of high quality digital experience management. Crownpeak Technology provide a kind of content management system which works fine on all media devices such as mobile, tablets, laptops and smart TVs. Crownpeak technology gives digital experienced management which is upgraded version technology of content management system and helps in offering best experience to customers. Crownpeak technology offers content management, personalization, testing & targeting, enterprise-grade search and web hosting,…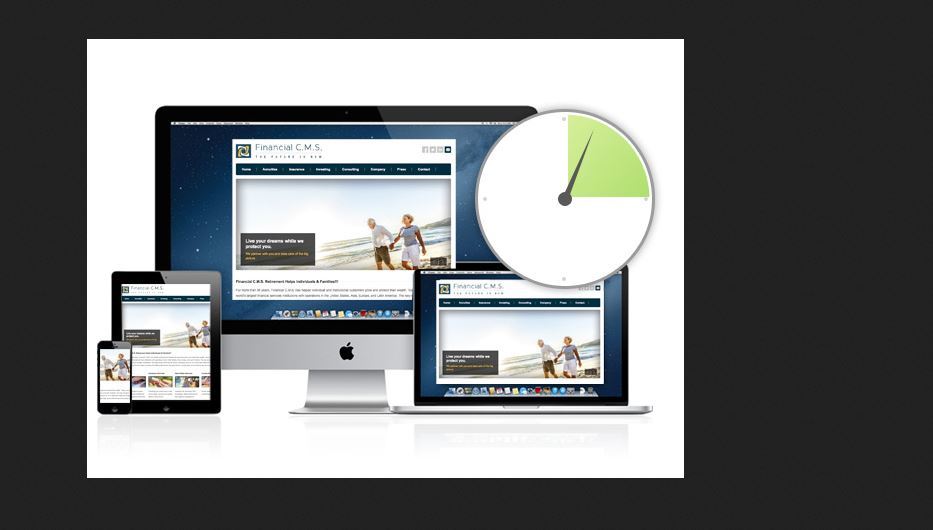 13
OpenText TeamSite
OpenText TeamSite is a modern platform for web content management of digital experience management. Opentext TeamSite helps users to control omnichannels campaigns from one place. OpenText TeamSite provide very easy to handle user interface to handle content on omnichannnels such as websites, mobile platforms, email, social, commerce, portals. Various functionality can be targeted from one place that is user interface where manage rich media, design websites and mobile applications, and publish content. OpenText TeamSite reduces the IT team usage by giving easily handling such drag and drop assets, reuse page templates and components, and automatically scale content for mobile devices…

14
Oracle WebCenter Sites
Oracle WebCenter Sites enables marketers and business users to easily create and manage contextually relevant social and interactive online experiences across multiple channels on a global scale to drive sales and loyalty. Its interfaces allow drag-and-drop content authoring and layout capabilities designed for the non-technical user. They also allow administrators to manage their web presence while remaining seamlessly connected to each other. The software features a targeting functionality that focuses on specific customer segments with relevant recommendations and promotions. It also enables marketers to create and manage targeted campaigns with simple interfaces. Moreover, Oracle WebCenter Sites features granular analytics for…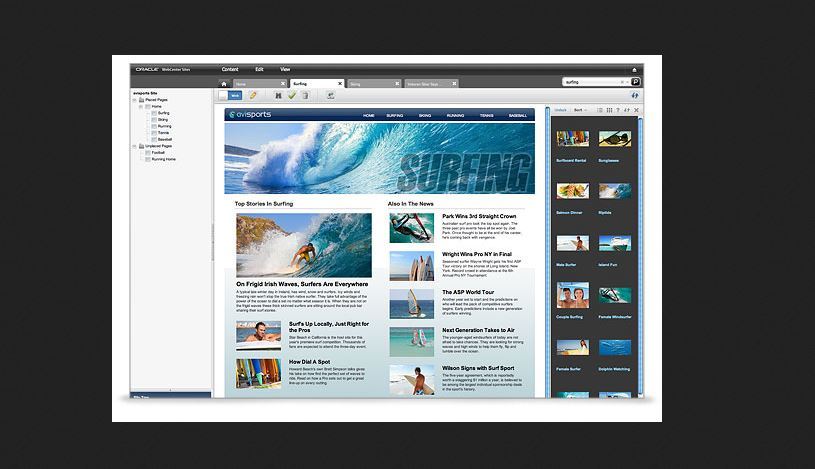 15
Squiz
Squiz is a software developer that enables its users to build amazing customer experiences with CMS, CRM, Marketing Automation, Search and Innovation technology. One of its key products is Squiz Matrix, an enterprise-class CMS. Matrix's content editing interface allows copying and pasting from Word or Google Docs as well as drag-and-drop. The CMS also comes with inbuilt integration to Google Analytics and editors can always get up to date stats and reports to understand how visitors interact with their pages. Traffic, content, audience, and goal report data is directly visible on the editing screen of any page. Matrix can integrate…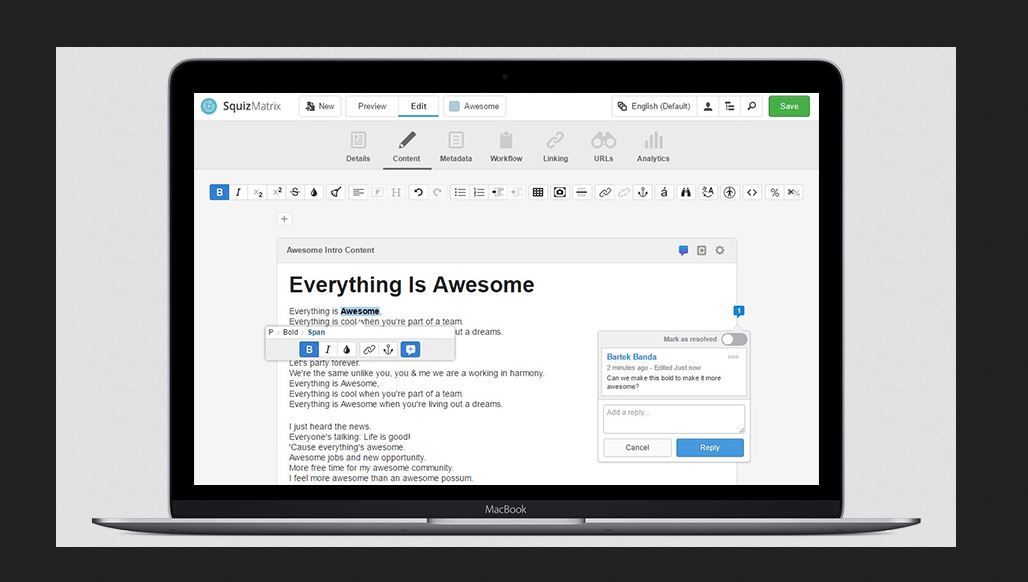 16
SDL Web
SDL Web 8 (formerly Tridion) is a leading Web Content Management solution that enables businesses to handle the complexity of maintaining web and digital experiences for an unlimited amount of global websites with its unparalleled BluePrinting technology. It gives marketing users the tools to author, collaborate and publish web content and assets within a centralized platform that is administered by IT resources. The software enables administrators and marketers to directly view and edit content within the context of a device, before publishing. They can also quickly and easily test, optimize and personalize content across mobile devices and tablets without duplicating…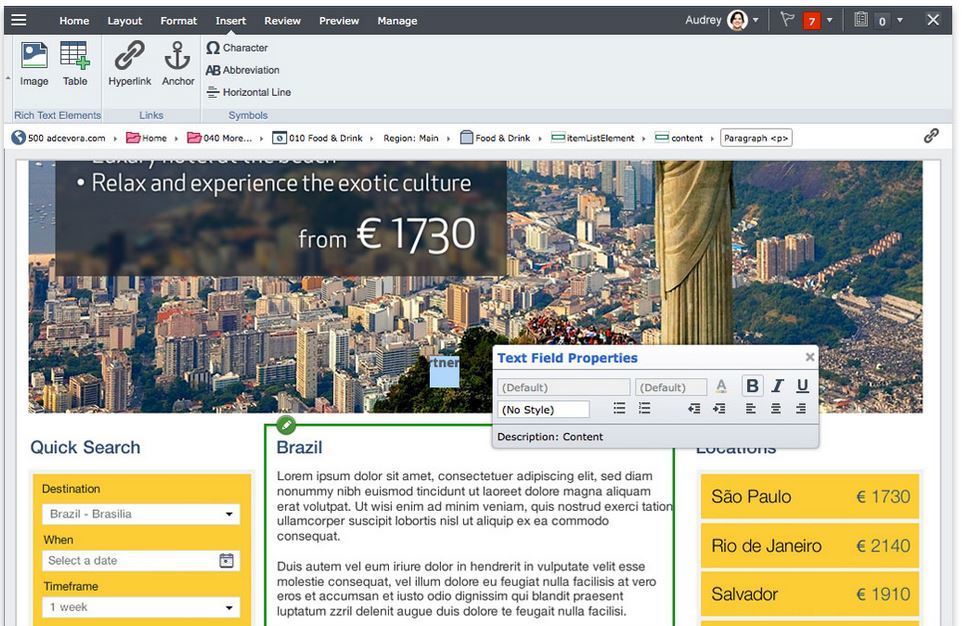 17
e-Spirit
e-Spirit is a content management system for those companies who needs best solutions for their product marketing. Communicate customers with the targeted content for better experience and sale. E-Spirit not only give facility to develop content around websites but also gives facility to work around mobile apps, smart TVs etc. e-Spirit gives digital marketing service which is use to keep track of customer's activities such as clicking, browsing, recent webpage visits etc. e-Spirit Creates content-rich online stores for better customer experience, sales and marketing. e-Spirit gives access to a dashboard which is easy to understand and use to maintain content…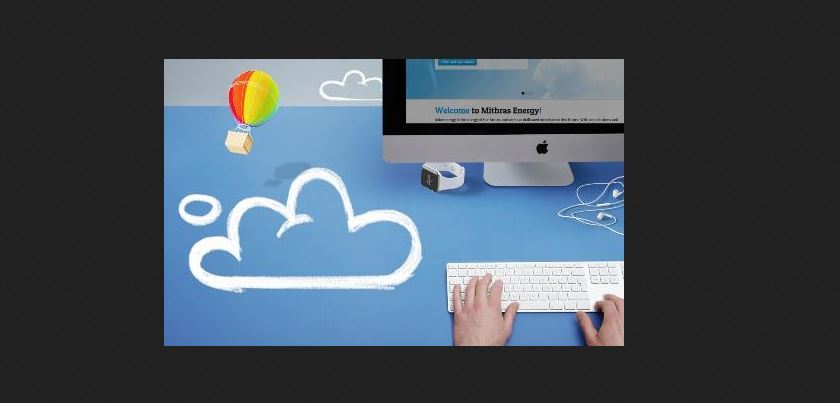 18
eZ Systems
eZ Systems is a global content management platform provider that is dedicated to helping businesses maximize the value of their content and deliver digital experiences that foster growth. Our software eZ Platform and eZ Enterprise helps developers, editors and marketers create content-rich websites and web applications—from brand sites, e-commerce and native apps to intranets, web portals and the Internet of Things. eZ Systems is a smart content management system for creating customer experience. eZ systems technology gives such a kind of tools to maintain long lasting customer relationship across media channels such as websites, mobile, social media etc. If an…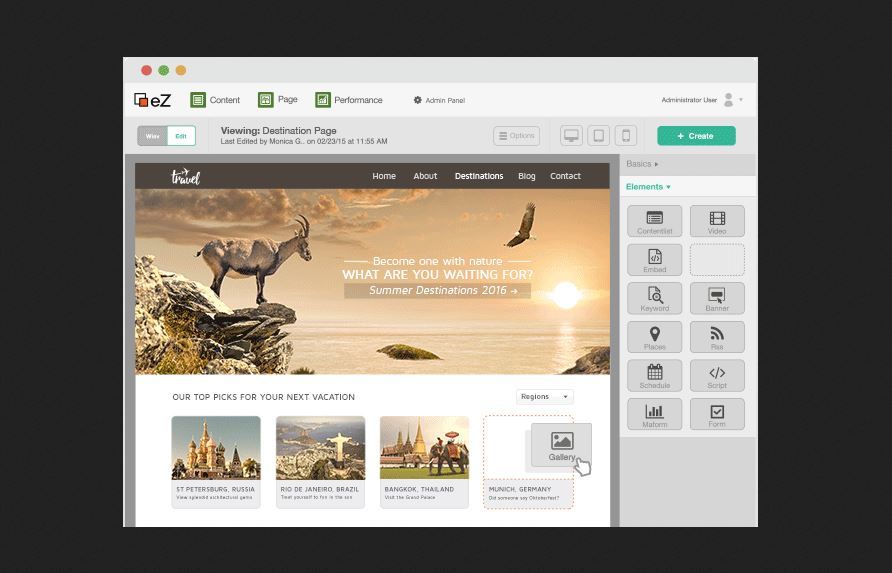 19
GX Software
GX software is a solution to increase sales and marketing. GX software gives insight of customers such as social media tracking, web tracking and so on. GX software improve customers experience by insight of customers. GX software simply provide answers to customers questions on time and giving optimize solution,these all things wins customers heart and loyalty .By giving good services to existing customers makes them talk around with others and this helps an organization to connect with new customers. GX software sends notifications about different product to those customers who are suitable for that product so there will be 100…