Review
Squiz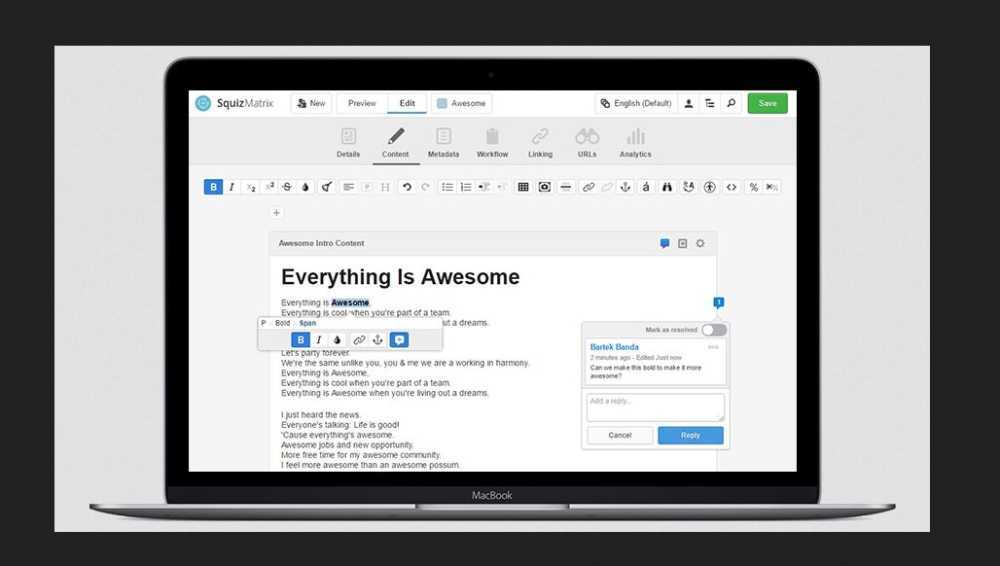 Overview
Matrix is a web technology platform that's made to help you kick your business goals. With out-of-the-box personalisation capability, real-time segmentation and super-easy content editing, Matrix will empower you to get back to doing what you do best.
Web Content Management Systems
Content editing made easy
Create effective online forms
Personalization that's simple yet powerful
Analyze and test
Share, like, love. Get social.
Workflow that works
Integrate
Align sales and marketing
Empower sales teams
Transform customer experiences
Free SugarCRM Trial
Contact for pricing
Small (<50 employees), Medium (50 to 1000 Enterprise (>1001 employees)
Squiz is a software developer that enables its users to build amazing customer experiences with CMS, CRM, Marketing Automation, Search and Innovation technology. One of its key products is Squiz Matrix, an enterprise-class CMS. Matrix's content editing interface allows copying and pasting from Word or Google Docs as well as drag-and-drop. The CMS also comes with inbuilt integration to Google Analytics and editors can always get up to date stats and reports to understand how visitors interact with their pages. Traffic, content, audience, and goal report data is directly visible on the editing screen of any page. Matrix can integrate with any popular social media platform including Facebook, Google, Twitter, YouTube etc. allowing users to post, share, and tweet directly to social media platforms when new pages and events are published on their sites. This negates the need for usernames and passwords since users can easily create, register, and login to Matrix using their social media accounts. Another notable Squiz solution is SugarCRM, a product that is designed to close the loop on sales, marketing and customer service efforts. The CRM can plug into a user's CMS, Search and Marketing Automation platforms to help them build a single-view of the customer. This data can be used to gain real insight into what customers and prospects want and how it can be delivered to give them a better experience. Real-time intelligence gives users the inside information on contacts' latest activity across all channels in addition to providing them with early indicators and change analysis. Tasks such as deal change alerts, lead routing and assigning opportunities can also be automated.