Review
eZ Systems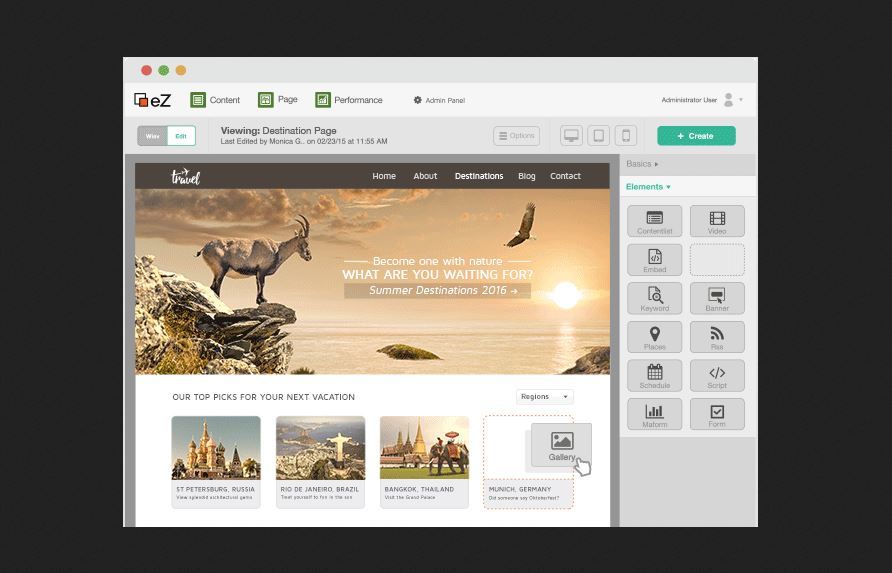 Overview
eZ Systems provide developers, editors and marketers with an open content management system for creating customer experiences and the tools to build long-lasting relationships with your users throughout the customer journey - no matter the platform, channel or device.
Web Content Management Systems
Easy content management dashboard.
Provide API for integration.
Mainly focuses on content management.
Uses PHP(+5.3) features to simplify the code.
Robust storage engines.
Small (<50 employees), Medium (50 to 1000 Enterprise (>1001 employees)
eZ Systems is a global content management platform provider that is dedicated to helping businesses maximize the value of their content and deliver digital experiences that foster growth. Our software eZ Platform and eZ Enterprise helps developers, editors and marketers create content-rich websites and web applications—from brand sites, e-commerce and native apps to intranets, web portals and the Internet of Things. eZ Systems is a smart content management system for creating customer experience. eZ systems technology gives such a kind of tools to maintain long lasting customer relationship across media channels such as websites, mobile, social media etc. If an organization needs simple website and there is already a smart developer team then do not refer eZ systems technology but if an organization needs to build a complex website then refer eZ Systems technology. eZ systems provide an easy understandable dashboard where one can manage content of website and the best advantage of using eZ systems technology is that it offers API integration so that these API can be use in any media platform such as website, mobile app, tablet app, smart TVs etc. eZ systems has a ability to manage content from a single point such as customizing content in various languages for better customer experience. eZ systems is the best secured content management system because it gives full security not only for payment gateways but it also gives security to content on the web to maintain product reputation. eZ Systems offers Software-as-a-Service (SaaS) solutions for personalization, real-time analytics and marketing automation. Not looking for a new CMS? eZ's Cloud Services are also available as stand-alone solutions. eZ Systems has ability to give dynamic experience such as images, videos etc to customer every time they visit on website, mobile app, tablet app etc.