Eyefreight Mobile App for Enhanced Transportation Management Optimization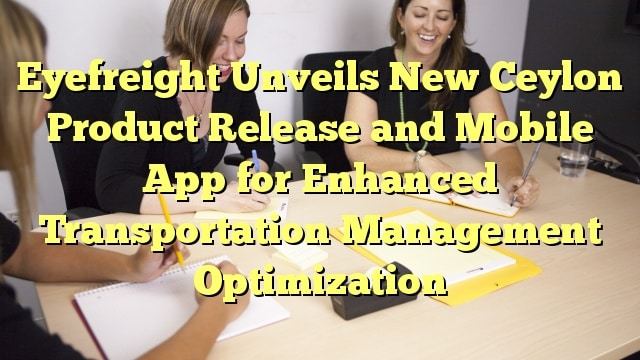 Eyefreight announced a new product release known as Ceylon incorporating updated functionality for its Software-as-a-Service (SaaS) solution, including enhanced support for transportation planning and reporting, along with the availability of Eyefreight's customizable mobile application, Eyefreight Mobile.
With the Ceylon product release, Eyefreight offers new and improved functionality, including Increased collaboration on shipment planning – Allows updates to be made to shipments by third parties, decreasing the dependency on the original shipper.
Quick-start spot carrier functionality – Enables planners to create new shipments without all the required data integrations, allowing shipments to be submitted for new carriers with greater efficiency.
Real-time GPS integration and map visualization – Eyefreight can read location data sent from GPS equipment on the Eyefreight mobile app and display shipment locations instantly on a driver's map, allowing the shipper to mitigate delivery risks by knowing carrier locations at key points of the transport.
Enhanced reporting capabilities with MicroStrategy – Leveraging integrated business intelligence support from MicroStrategy, any end user can now extract data using drag and drop functionality to create and deliver key performance indicator (KPI) management reports with greater ease and efficiency.
With Eyefreight Mobile, shippers and carriers receive an up-to-the-minute, 360-degree view of supply chain operations. Regardless of location, all supply chain parties have instant access to TMS data at their fingertips and can exchange information in real time. Eyefreight Mobile empowers users to improve customer service with real-time communication between shipping partners, including the ability to view products in transit, send event alerts and upload images, track packages by GPS, plan routes via Google maps, sign for receipt, and upload proof of delivery.
"The ever-changing global landscape of transportation and logistics can create challenges to effective communications; Eyefreight Ceylon and Eyefreight Mobile directly address these issues by providing advanced visibility, optimization and collaboration features supported by real-time data," said Ken Fleming, CEO of Eyefreight. "With our nimble product releases, Eyefreight continues to keep clients ahead of the competition with more enhancements to improve performance and reduce costs across the board."