Review
GX Software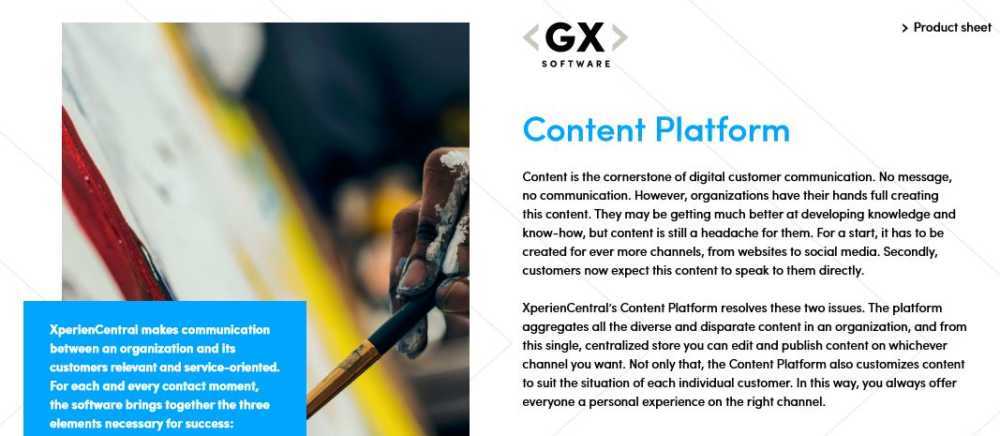 Overview
XperienCentral's Insights Platform brings together a wide variety of customer data, so you can engage everyone in a personalized conversation.
Web Content Management Systems
Develop personalized corporate websites.
Launch short-term campaign sites to.
Create a secure environment .
Improve offline customer service by call centers.
pricing starting from US$ 1,250 per month. Request for demo by making appointment.
Small (<50 employees), Medium (50 to 1000 Enterprise (>1001 employees)
GX software is a solution to increase sales and marketing. GX software gives insight of customers such as social media tracking, web tracking and so on. GX software improve customers experience by insight of customers. GX software simply provide answers to customers questions on time and giving optimize solution,these all things wins customers heart and loyalty .By giving good services to existing customers makes them talk around with others and this helps an organization to connect with new customers. GX software sends notifications about different product to those customers who are suitable for that product so there will be 100 % chance of purchase. Now how GX software maintain customer interaction, customer insight and customer content management. GX software simply shows a dashboard where one can review customer insight by setting data accordingly on dashboard. GX software provides corporate websites, campaign sites, secure environment for customer to store personal details, web forms that are user friendly and improve offline customer experience by feeding call center insights. With GX software deliver best experience for customers across online channels such as websites, social media, mobile etc.
XperienCentral Content Platform, manages all content centrally, you can deliver any message to whichever channel you want. As a result, your customers are always reachable. Above all, the delivered content is always directed at your customer's profile. In this way you always offer your customers the most relevant message in the right channel.The platform aggregates all the diverse and disparate content in an organization, and from this single, centralized store you can edit and publish content on whichever channel you want. Not only that, the Content Platform also customizes content to suit the situation of each individual customer.