Review
WordPress.com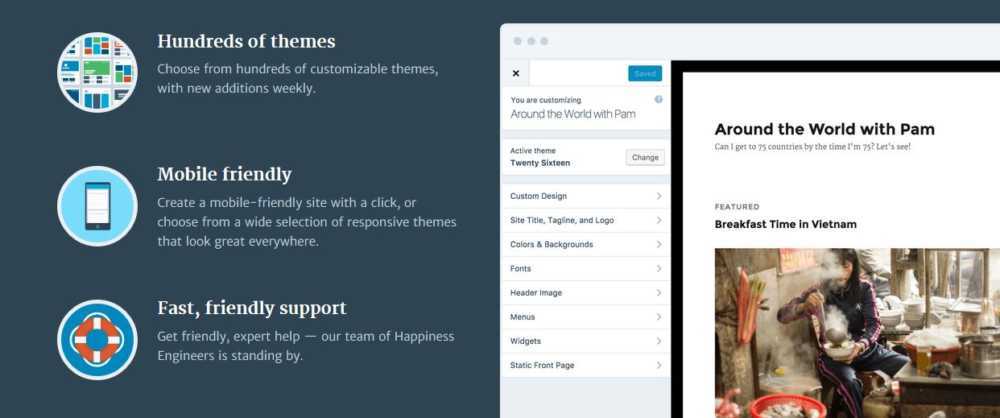 Overview
Wordpress editor is fast, intuitive, and saves your work every few seconds, so you never miss a word and drag-and-drop images into posts and pages.
Web Content Management Systems
Use responsive design system
Easy to publish
Search on Google, Yahoo with plain language
Auto upgradation and supports
Use customization of themes
Search Engine Optimization
Use multiple tools.
Free, premium pricing and need wordpress pricing table to buid a pricing.
Small (<50 employees), Medium (50 to 1000 Enterprise (>1001 employees)
WordPress is a web software platform that creates and manages beautiful websites, blogs and apps for professionals, businesses and content marketers and features hundreds of high- quality themes.
WordPress creates an outstanding, beautiful, and elegant website for business, event, personal brand, and portfolio. It's a powerful publishing platform where millions of people and bloggers can publish their personal and professional contents and personalize these contents by adding powerful widgets and changing the background of blogs to engage with millions of fans and friends.
It's a unique platform that can access thousands of blogs, poems, contents, and journals published daily on the website and people can select their favorite blogs with amazing topics from this platform. With this platform, people can communicate with the authors to explore their new ideas and make and share their own contents to this website. WordPress has all the essential tools and features that help to make beautiful and powerful websites with the perfect configuration to start publishing contents in seconds.
This platform makes the SEO friendly website, and every site is available on different searchers like Google, Bing, and Yahoo. This platform gives best support and premium plans to the bloggers and professionals who use this platform for publishing their blogs and contents. So, people can write, edit or anything from anywhere through this website and make a connection with writers, artists and content creators in all over the world.
So, it's an open source online publishing platform that powers more than 26%of the web and creates many more blogs and makes a website in seconds without any technical knowledge. If anyone wants to build their online presence and searching a platform through which they can extend their knowledge and writing capabilities, they can choose this platform to reveal their knowledge and to make a bright future.