Review
Simeio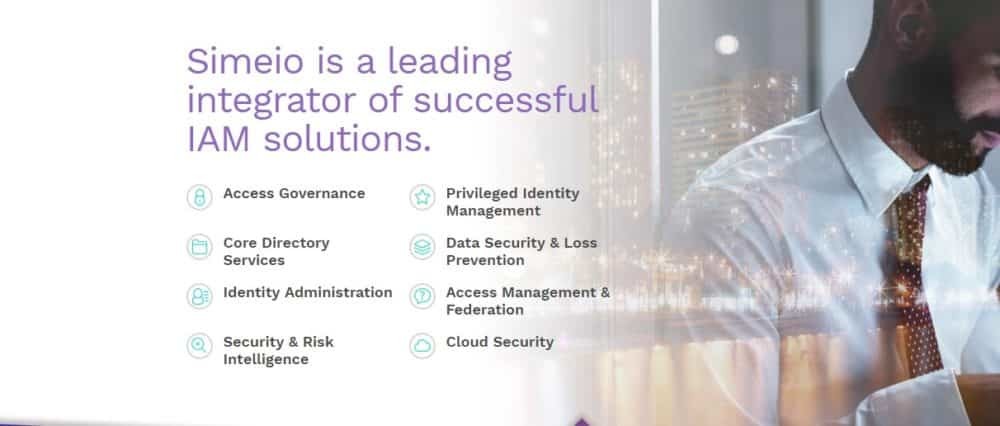 Overview
Simeio is a complete Identity and Access Management (IAM) solution provider that engages securely with anyone, anywhere, anytime, with an unparalleled "service first" philosophy.
Identity and Access Management Platforms
• Access governance
• Access management and federation
• Cloud security
• Core Directory services
• Data security and loss prevention
• Identity administration
• Privileged identity management
• Security and risk intelligence
Small (<50 employees), Medium (50 to 1000 Enterprise (>1001 employees)
Simeio offers access management and identity solutions that enables secure adjustment at anytime, by anyone and from anywhere. Simeio helps businesses manage identities of customers, partners and employees in a secure, reliable and simple way and keep out strangers from your business. Simeio also solve failed IAM implementations by providing a single, unified IAM interface. The identity and access management solutions are customized to meet your needs. In the access governance platform, Simeio simply function by letting in only those who belong and keeping out those who don't belong. The access governance offers the governance, risk and compliance solutions that are automated to comply and protect against outsider and insider threats by using identity proofing, role management, segregation of duties enforcement, password management and access certifications. Simeio also provides the access management and federation feature that comes with a single sign-on with multiple benefits. The access management and federation feature identifies what is accessed by anyone and the reason behind. Simeio's cloud security is automated and facilitates easy access for your employees and hard or impossible access for hackers. The core directory services available store, share and scale information for billion of users accessing data from your company. The data security and loss prevention feature ensures that any big data in your company will not include massive risks. This is important for long term technology strategy and business for your company. People with high access in your company will be monitored and protected through the privileged identity management feature. Simeio also offers risk intelligence and security that can be used in any location. This is made possible through the security and risk intelligence feature.
Simeio