What is Predictive Analytics ?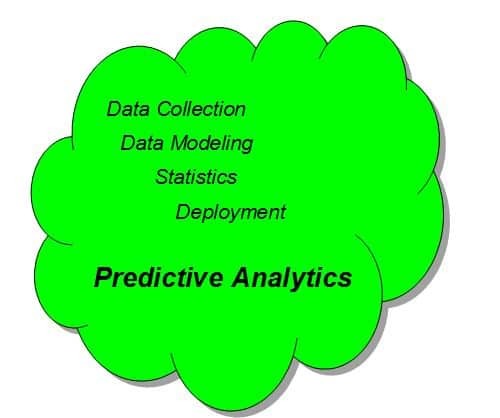 What is Predictive Analytics? Predictive analytics is the branch of the advanced analytics which is used to make predictions about unknown future events. Predictive analytics uses many techniques from data mining, statistics, modeling, machine learning, and artificial intelligence to analyze current data to make predictions about future.
It uses a number of data mining, predictive modeling and analytical techniques to bring together the management, information technology, and modeling business process to make predictions about future. The patterns found in historical and transactional data can be used to identify risks and opportunities for future.
Predictive analytics models capture relationships among many factors to assess risk with a particular set of conditions to assign a score, or weightage. By successfully applying predictive analytics the businesses can effectively interpret big data for their benefit.
The data mining and text analytics along with statistics, allows the business users to create predictive intelligence by uncovering patterns and relationships in both the structured and unstructured data. The data which can be used readily for analysis are structured data, examples like age, gender, marital status, income, sales. Unstructured data are textual data in call center notes, social media content, or other type of open text which need to be extracted from the text, along with the sentiment, and then used in the model building process.
Predictive analytics allows organizations to become proactive, forward looking, anticipating outcomes and behaviors based upon the data and not on a hunch or assumptions. Prescriptive analytics, goes further and suggest actions to benefit from the prediction and also provide decision options to benefit from the predictions and its implications.
Predictive Analytics Process
1.Define Project:
Define the project outcomes, deliverables, scoping of the effort, business objectives, identify the data sets which are going to be used.
2.Data Collection:
Data Mining for predictive analytics prepares data from multiple sources for analysis. This provides a complete view of the customer interactions.
3. Data Analysis:
Data Analysis is the process of inspecting, cleaning, transforming, and modeling data with the objective of discovering useful information, arriving at conclusions.
4.Statistics:
Statistical Analysis enables to validate the assumptions, hypotheses and test them with using standard statistical models.
5.Modeling:
Predictive Modeling provides the ability to automatically create accurate predictive models about future. There are also options to choose the best solution with multi model evaluation.
6.Deployment:
Predictive Model Deployment provides the option to deploy the analytical results in to the every day decision making process to get results, reports and output by automating the decisions based on the modeling.
7.Model Monitoring:
Models are managed and monitored to review the model performance to ensure that it is providing the results expected.
Prescriptive Analytics
Prescriptive Analytics automatically automate complex decisions and trade offs to make predictions and then proactively update recommendations based on changing events to take advantage of the prediction.
Sisense for Cloud Data Teams
Sisense for Cloud Data Teams formerly Periscope Data is an end-to-end BI and analytics solution that lets you quickly connect your data, then analyze, visualize and share insights. Periscope Data can securely connect and join data from any source, creating a single source of truth for your organization. Perform BI reporting and advanced analytics operations all from one integrated platform. Communicate insights more effectively by selecting from Periscope Data's wide range of visualization options (including standard charts, statistical plots, maps and more) and instantly share real-time insights via direct linking, email or Slack.With Periscope Data you can also incorporate Natural Language Processing into your data analysis.
Free Sisense for Cloud Data Teams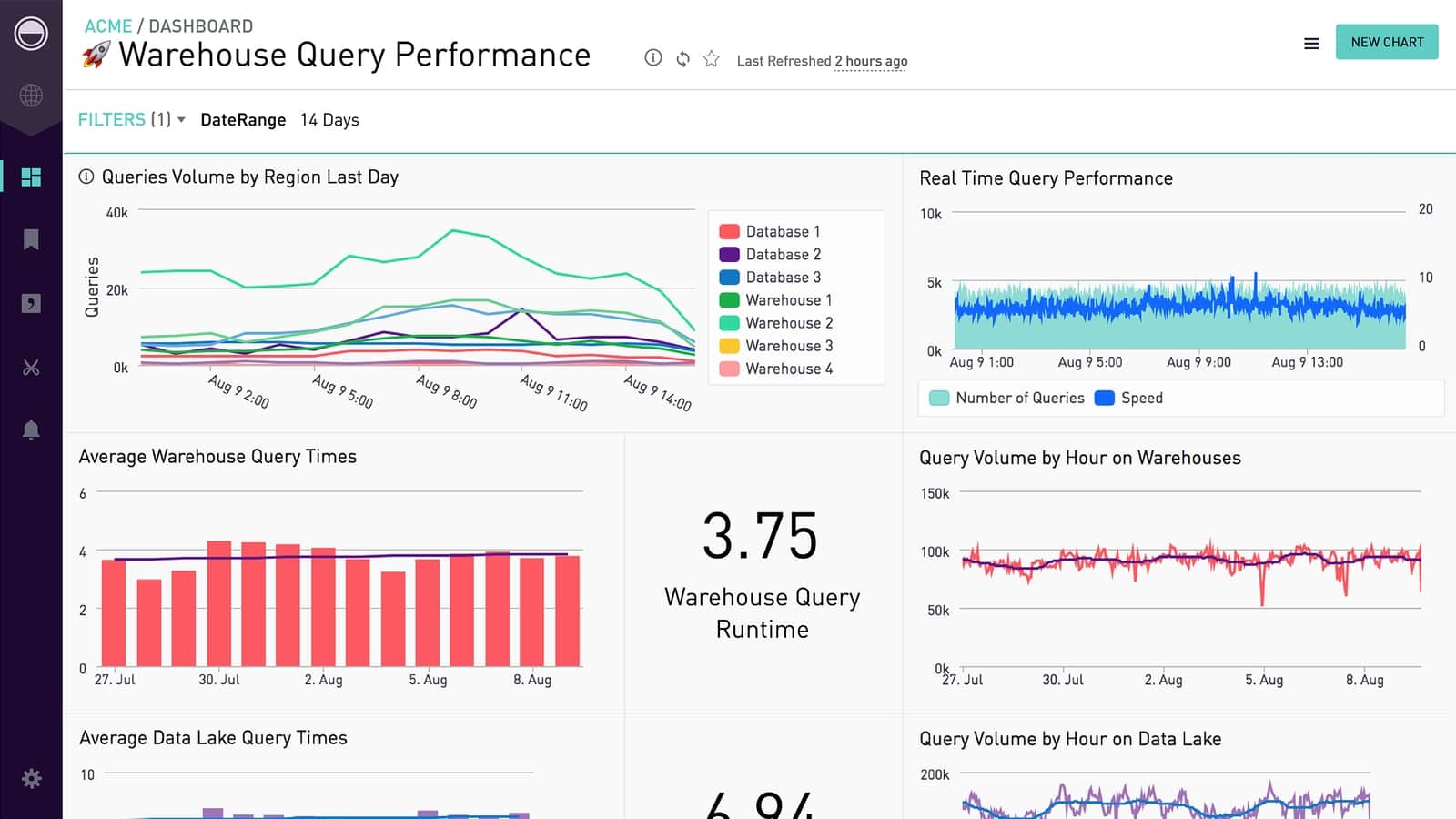 Applications of Predictive Analytics
1. Customer relationship management (CRM)
Predictive analysis applications are used to achieve CRM objectives such as marketing campaigns, sales, and customer services. Analytical customer relationship management can be applied throughout the customers life cycle, right from acquisition, relationship growth, retention, and win back.
2. Health Care
Predictive analysis applications in health care can determine the patients who are at the risk of developing certain conditions such as diabetes, asthma and other lifetime illnesses. The clinical decision support systems incorporate predictive analytics to support medical decision making at the point of care.
3. Collection Analytics
Predictive analytics applications optimize the allocation of collection resources by identifying the effective collection agencies, contact strategies, legal actions to increase the recovery and also reducing the collection costs.
4. Cross Sell
Predictive analytics applications analyze customers spending, usage and other behavior, leading to efficient cross sales, or selling additional products to current customers for an organization that offers multiple products
5. Fraud detection
Predictive analytics applications can find inaccurate credit applications, fraudulent transactions both done offline and online, identity thefts and false insurance claims.
6. Risk management
Predictive analytics applications predicts the best portfolio to maximize return in capital asset pricing model and probabilistic risk assessment to yield accurate forecasts.
7.Direct Marketing
Predictive analytics can also help to identify the most effective combination of product versions, marketing material, communication channels and timing that should be used to target a given consumer.
8.Underwriting
Predictive analytics can help underwrite the quantities by predicting the chances of illness, default, bankruptcy. Predictive analytics can streamline the process of customer acquisition by predicting the future risk behavior of a customer using application level data.
Industry Applications
Predictive analytics is used in insurance, banking, marketing, financial services, telecommunications, retail, travel, healthcare, pharmaceuticals, oil and gas and other industries.
1.Predictive Analytics Software
RapidMiner Studio, KNIME Analytics Platform, SAP Predictive Analytics, IBM Predictive Analytics, Dataiku DSS, SAS Predictive Analytics, Microsoft R, Microsoft Azure Machine Learning, Oracle Data Mining ODM, Google Cloud Prediction API, Angoss Predictive Analytics, Anaconda, DataRobot, Minitab, STATISTICA, TIBCO Spotfire, H2O.ai, AdvancedMiner, GMDH Shell, Alteryx Analytics, HP Haven Predictive Analytics, GoodData, ABM, Analytic Solver, Actian Analytics Platform, Information Builders WebFOCUS Platform, GraphLab Create, Lavastorm Analytics Engine, Portrait Predictive Analytics, Alpine Chorus, Predixion Insight, Grapheur, FICO Model Central, MATLAB, Viscovery Software Suite, DMWay, Mathematica, TIMi Suite, Rapid Insight Veera, CMSR Data Miner Suite, Emcien, Feature Labs, Salford Systems SPM, DataRPM, RapidMiner Server, Vanguard Business Analytics Suite, Skytree, QIWare are the top predictive analytics software .
Click on the button below for a review of the top predictive analytics proprietary software solutions.
Top Predictive Analytics proprietary Software
Predictive Analytics Software
PAT Index™
Orange Data mining, R Software Environment, Weka Data Mining, Microsoft R, Anaconda, H2O.ai, HP Haven Predictive Analytics, Apache Mahout, Apache Spark, GNU Octave, RapidMiner Starter Edition, GraphLab Create, Lavastorm Analytics Engine, Scikit-learn, SciPy, KNIME Analytics Platform Community, LIBLINEAR, Actian Vector Express, DMWay, TANAGRA, NumPy, Dataiku DSS Community, PredictionIO, and Vowpal Wabbit are the Top Free Predictive Analytics Software. 
Predictive Analytics Freeware Software
Free Predictive Analytics Software
PAT Index™
2.Predictive Analytics Software API
Google Cloud Prediction API, Microsoft Azure Machine Learning, BigML, Dataiku, RapidMiner, Anaconda, KNIME, Lattice Engines, GraphLab Create, Blue Yonder Platform, AgilOne Predictive Marketing Cloud, indico, LinkedIn Sales Navigator, Versium Predictive Scores, Swift, Apigee, Intuitics, Zementis, Predixion Insight, Datumbox, H2O.ai, Logical Glue, Ersatz, Yottamine, InsideView, SalesForceIQ, Lumiata, PredicSis, Zilliant, Prelert are some of the top Predictive Analytics Software API.
Predictive Analytics Software API
Predictive Analytics Software API
PAT Index™
3.Predictive Analytics Programs
DePaul University, Northwestern University, Lally School of Management, University of Cincinnati, Louisiana State University, North Carolina State University, Catholic University of America, Central Connecticut State University, Columbia University, George Washington University, Michigan State University, New York University, Bentley University, Carnegie Mellon University, Dublin City University, Drexel University, University of Maryland, University of Tennessee, University of Connecticut, Fordham University, University of San Francisco, University of Texas, Cornell University, Georgia Institute of Technology, Harrisburg University of Science and Technology, Brandeis University, Oklahoma State University and University of Miami are some of the top data science and predictive analytics programs.
Top Predictive Analytics Programs
You may also like to review the online business analytics programs list:
Online Business Analytics Programs
4.Predictive Lead Scoring Platforms
Lattice Engines, Fliptop, 6sense, Infer, Leadspace, Mintigo, Salesfusion, Versium, Wise, InsideSales, Lead Liaison, SalesPredict, Custora , Televerde, Futurelytics, Fiserv, Angoss KnowledgeSCORE, KXEN, Predixion, EverString are some of the companies who offer predictive lead scoring platforms in no particular order.
Predictive Lead Scoring Platforms
Predictive Lead Scoring Software
PAT Index™
5.Predictive Pricing Solutions
Blue Yonder Platform, PROS, Model N, Zilliant, PriceGrid, Upstream Commerce, Prisync, ECOPA Prezzu, Pricefy are some of the Top Predictive Pricing Platforms.
Predictive Pricing Platforms
PAT Index™
6.Customer Churn, Renew, Upsell, Cross Sell Software Tools
RapidMiner, Marketo, Preact, Google Prediction API, Lattice Engines, Angoss, PROS Sales Optimizer, Fliptop , Alteryx Analytics, Alpine Chorus, 6sense, Gainsight, GraphLab Create, Predixion Insight, KNIME, Bluenose, Actian, RelateIQ, Zilliant, SalesPredict, Infer, AgilOne, Adobe Recommendations are some of the top customer churn, renew, upsell, cross sell software tools.
Customer Churn, Renew, Upsell, Cross Sell Software Tools
Customer Churn, Renew, Upsell, Cross Sell Software Tools
PAT Index™
More Information on Predictive Analysis Process
For more information of predictive analytics process, please review the overview of  each components in the predictive analytics process: data collection (data mining), data analysis, statistical analysis, predictive modeling and predictive model deployment.