Top 24 Predictive Analytics Free Software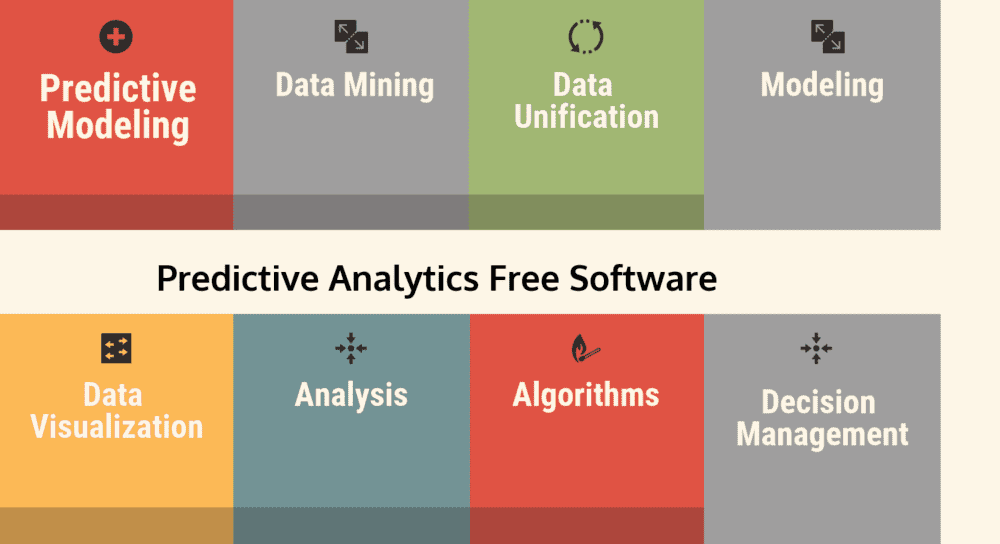 Organizations need to analyze vast amounts of historical data to get insights that help them make informed decisions and predict future events. Historical patterns and information can help different industries predict the likelihood of future occurrences. In the financial sector, the financial institutions need to analyze vast amounts of data to detect and measure fraud, increase cross-sell/upsell opportunities and measure credit risk. In the oil, gas and utility sector, the industry players need to predict equipment failures and future resource needs. Retailers need information to determine which products to stock, offers that are most appropriate to customers and the effectiveness of different promotional events. Manufacturers need to identify factors that can lead to reduced quality and failures in production, service resources and distribution as well as optimize parts. Health insurance also needs to analyze vast amounts of data to predict claims fraud and to identify clients most at risk to help them find the best interventions. Governments also need to analyze trends and behavior patterns to improve service and performance. How then can these industries collect and examine growing volumes and types of data? They need Predictive Analytics Software.
Top Predictive Analytics Free Software : Orange Data mining, R Software Environment, Weka Data Mining, Microsoft R, Anaconda, H2O.ai, Apache Mahout, GNU Octave, HP Haven Predictive Analytics, Lavastorm Analytics Engine, Apache Spark, RapidMiner Starter Edition, GraphLab Create, Actian Vector Analytic Database Community Edition, Scikit-learn, KNIME Analytics Platform Community, SciPy, LIBLINEAR, DMWay, Vowpal Wabbit, TANAGRA, Dataiku DSS Community, PredictionIO, NumPy are some of the key players in the freeware predictive analytics market.Predictive analytics uses statistics, machine learning and data mining to search for correlations and patterns which offer clues about customer behavior, market trends and other area in the raw data sets. These solutions on predictive modeling are available in open source or as freeware community edition at no cost via free license. Some of these Predictive Analytics Freeware Software, are free versions or community editions of the commercial versions which offers less functionalities and capabilities.
What are Predictive Analytics Software?
Predictive analytics is the branch of the advanced analytics which is used to make predictions about unknown future events. Predictive analytics uses many techniques from data mining, statistics, modeling, machine learning, and artificial intelligence to analyze current data to make predictions about future.
Predictive Analytics Software is a tool that has advanced analytics capabilities that range from ad-hoc statistical analysis, machine learning, data mining, predictive modeling, text analytics, real-time scoring, and optimization. These tools help the user to collect, analyze and mine structured and unstructured data on what has happened before and predict what is likely to happen based on past historical events. There are two types of predictive models which include classification and regression models. Three commonly used techniques of predictive modeling include regression, decision trees, and neural networks. It also uses other methods that include Bayesian Analysis, Ensemble models, Gradient boosting, memory-based reasoning, incremental response, time series data mining, support vector machine, partial least squares, k-nearest neighbor and principal component analysis.
You may also like to review the top predictive analytics software list.
Predictive modeling and data mining: Use powerful model-building, evaluation, and automation capabilities. Predictive Analytics Software mines data from a wide range of databases and prepares it for analyses.
Data Unification: Predictive Analytics software can unify information on a central or a single platform. It enables the user to combine with data access, in preparation, modeling, and sharing of the analytical results on a single platform.
Modeling: Predictive Analytics Software offers modeling capabilities which allow observational learning or imitation to demonstrate specific behavior patterns, attitude or thought that a client wants to acquire or change. Predictive modeling helps formulate a statistical model of the data mined which allows future forecast outcomes.
Data Visualization: Predictive analytics Software can create graphs and diagrams to represent data.
Analysis: Predictive Analytics tool helps the user to analyze both structured and unstructured data.
Algorithms: Predictive Analytics Software applies statistical algorithms to selected data to study behavior and patterns.
Decision management : analytics with advanced model management and analytic decision management
Top Free Predictive Analytics Software
1
Orange is an open source data visualization and analysis tool. Orange is developed at the Bioinformatics Laboratory at the Faculty of Computer and Information Science, University of Ljubljana, Slovenia, along with open source community. Data mining is done through visual programming or Python scripting. The tool has components for machine learning, add-ons for bioinformatics and text mining and it is packed with features for data analytics. Orange is a Python library. Python scripts can run in a terminal window, integrated environments like PyCharm and PythonWin, or shells like iPython. Orange consists of a canvas interface onto which the user places…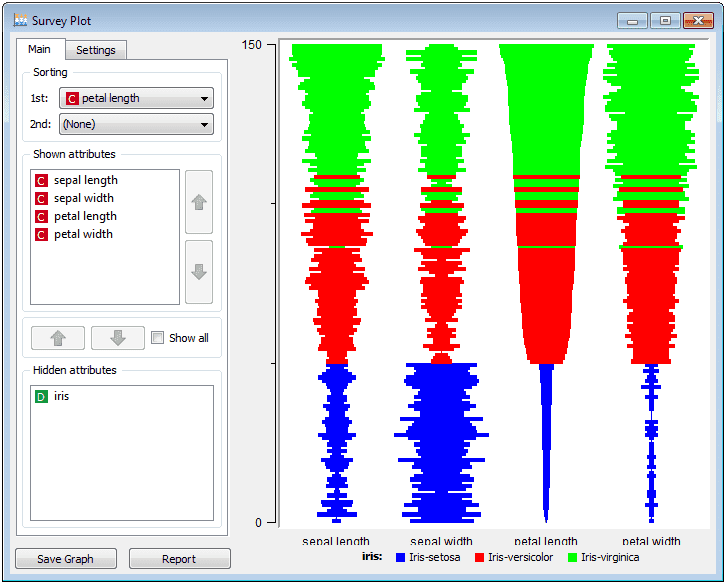 2
R is a free software environment for statistical computing and graphics. It compiles and runs on a wide variety of UNIX platforms, Windows and MacOS. R is an integrated suite of software facilities for data manipulation, calculation and graphical display. Some of the functionalities include an effective data handling and storage facility, a suite of operators for calculations on arrays, in particular matrices, a large, coherent, integrated collection of intermediate tools for data analysis, graphical facilities for data analysis and display either directly at the computer or on hardcopy, and well developed, simple and effective programming language which includes conditionals,…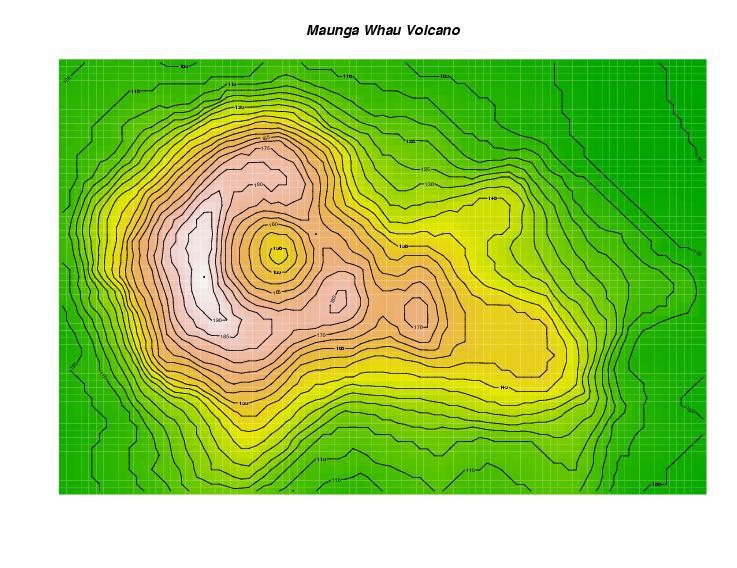 3
Weka is a collection of machine learning algorithms for data mining tasks. The algorithms can either be applied directly to a dataset or called from your own Java code. Weka features include machine learning, data mining, preprocessing, classification, regression, clustering, association rules, attribute selection, experiments, workflow and visualization. Weka is written in Java, developed at the University of Waikato, New Zealand. All of Weka's techniques are predicated on the assumption that the data is available as a single flat file or relation, where each data point is described by a fixed number of attributes Weka provides access to SQL databases…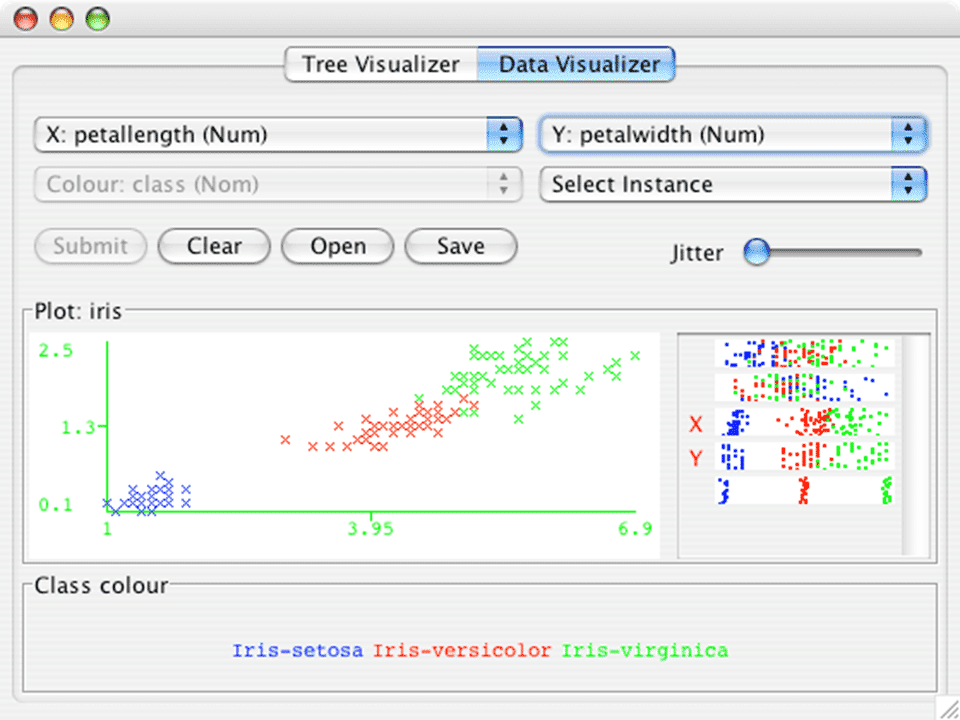 4
R is the world's most powerful, and preferred, programming language for statistical computing, machine learning, and graphics, and is supported by a thriving global community of users, developers, and contributors.The Microsoft R product family includes: Microsoft R Server, Microsoft R Client, Microsoft R Open, SQL Server R Services.Microsoft R Server is the most broadly deployable enterprise-class analytics platform for R . Supporting a variety of big data statistics, predictive modeling and machine learning capabilities, R Server supports the full range of analytics exploration, analysis, visualization and modeling based on open source R. Microsoft R Client is a free, community supported,…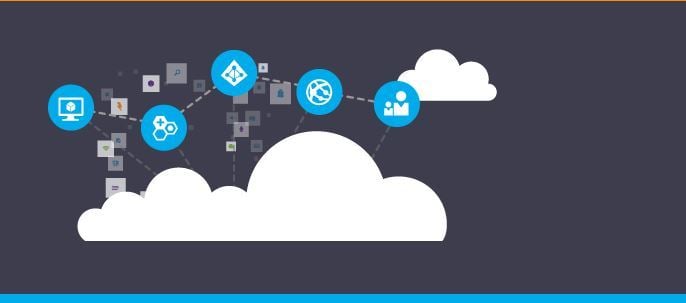 5
Anaconda is an open data science platform powered by Python. The open source version of Anaconda is a high performance distribution of Python and R and includes over 100 of the most popular Python, R and Scala packages for data science. There is also access to over 720 packages that can easily be installed with conda, the package, dependency and environment manager, that is included in Anaconda.Includes the most popular Python, R & Scala packages for stats, data mining, machine learning, deep learning, simulation & optimization, geospatial, text & NLP, graph & network, image analysis. Featured packages include: NumPy, SciPy,…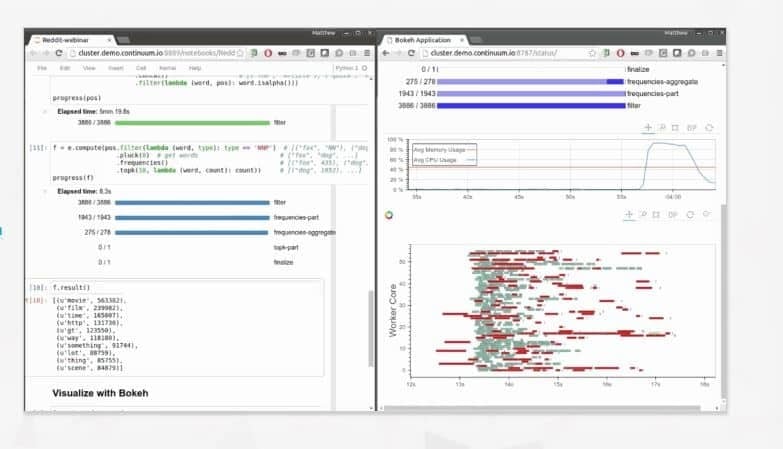 6
H2O is an Open Source Fast Scalable Machine Learning API for Smarter Applications (Deep Learning, Gradient Boosting, Random Forest, Generalized Linear Modeling (Logistic Regression, Elastic Net), K-Means etc.H2O makes it possible for anyone to easily apply machine learning and predictive analytics to solve today's most challenging business problems. H2O was written from scratch in Java and seamlessly integrates with the most popular open source products like Apache Hadoop and Spark to give customers the flexibility to solve their most challenging data problems. H2O's intuitive web-based Flow graphical user interface or familiar programming environments like R, Python, Java, Scala, JSON, and…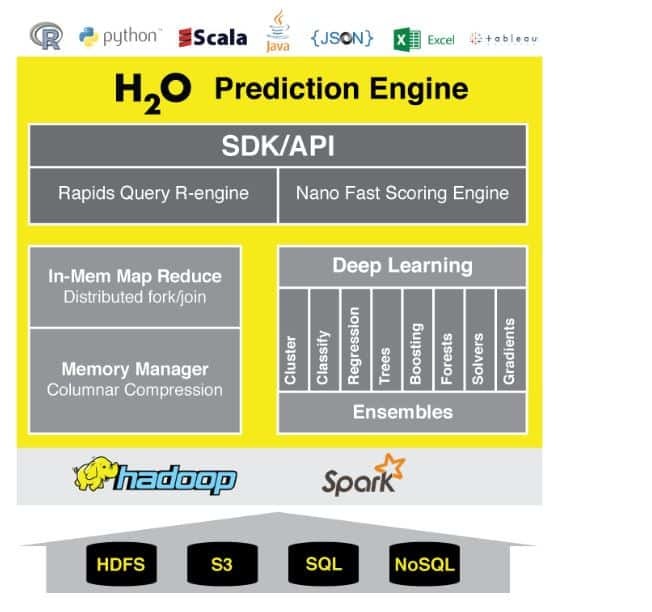 7
The Apache Mahout project's goal is to build an environment for quickly creating scalable performant machine learning applications. Apache Mahout is a simple and extensible programming environment and framework for building scalable algorithms and contains a wide variety of premade algorithms for Scala and Apache Spark, H2O, Apache Flink. It also used Samsara which is a vector math experimentation environment with R-like syntax which works at scale. Apache™ Mahout is a library of scalable machine-learning algorithms, implemented on top of Apache Hadoop and using the MapReduce paradigm. While Mahout's core algorithms for clustering, classification and batch based collaborative filtering are…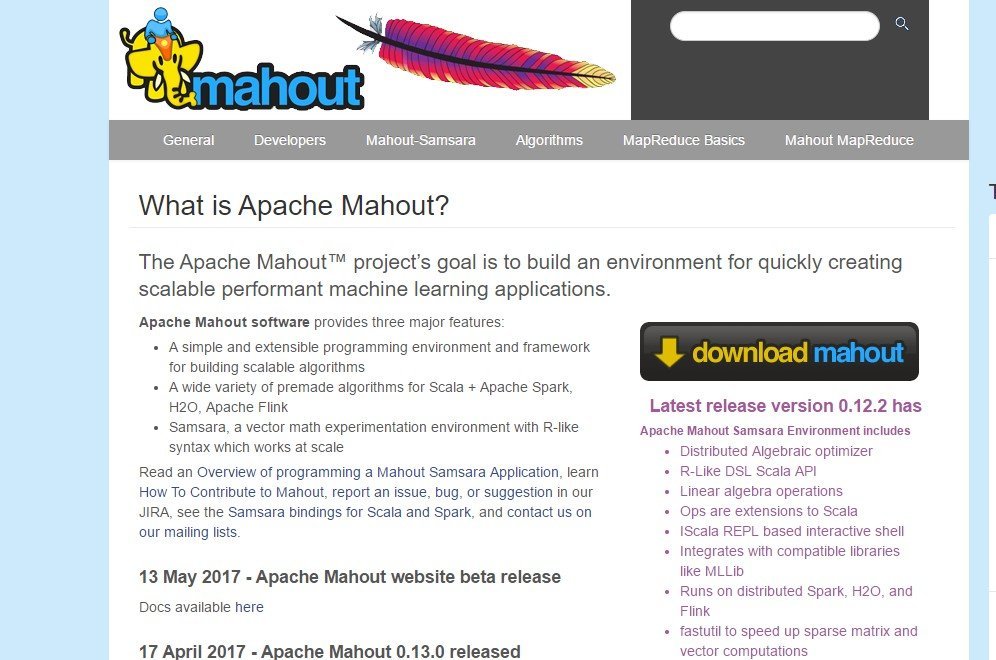 8
GNU Octave represents a high level language intended for numerical computations. Because of its command line interface, users can solve linear and nonlinear problems numerically and perform other numerical experiments through a language that is mostly compatible with Matlab. This software has features such as powerful mathematics-oriented syntax with built-in plotting and visualization tools, it is free software which runs on GNU/Linux, macOS, BSD, and Windows, compatible with many Matlab scripts. A syntax which is largely compatible with Matlab is the Octave syntax. It can be run in several ways - in GUI mode, as a console, or invoked as…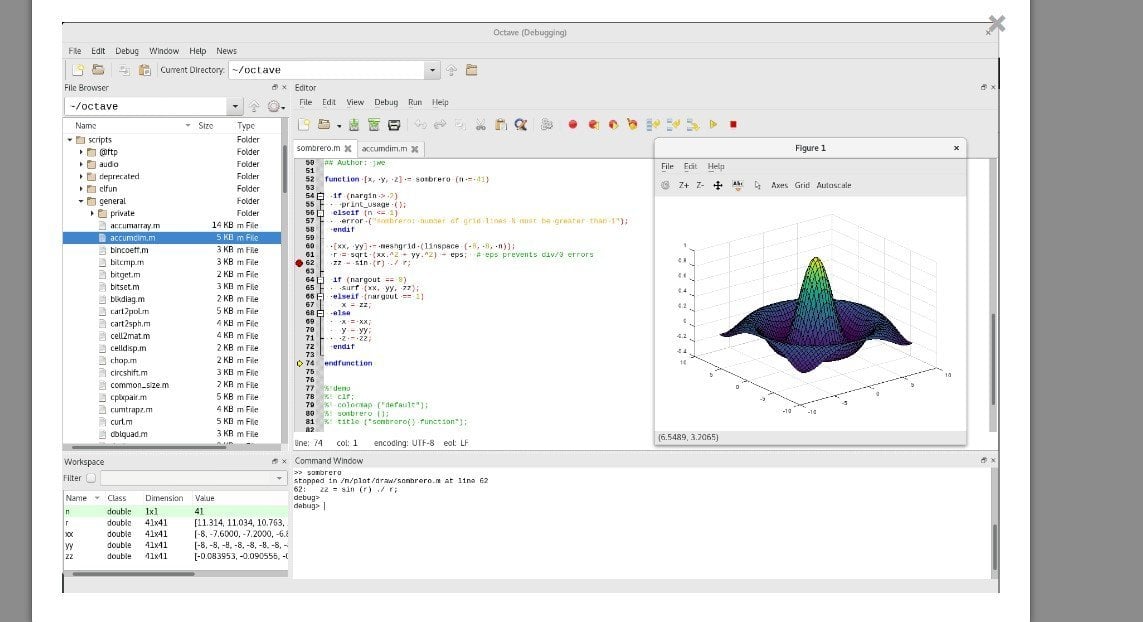 9
HP Haven Predictive Analytics : HP Haven Predictive Analytics is powered by HP Vertica and Distributed R. Distributed R is a high performance analytical engine based on the open source R language developed with HP Labs to address the most demanding, Big Data predictive analytics tasks. Distributed R improves performance and enables users to analyze much larger data sets than was previously possible with the popular R statistical programing language. Haven Predictive Analytics provides data acceleration and native SQL support with HP Vertica. The native integration with the market leading columnar MPP database increases overall data access performance by up…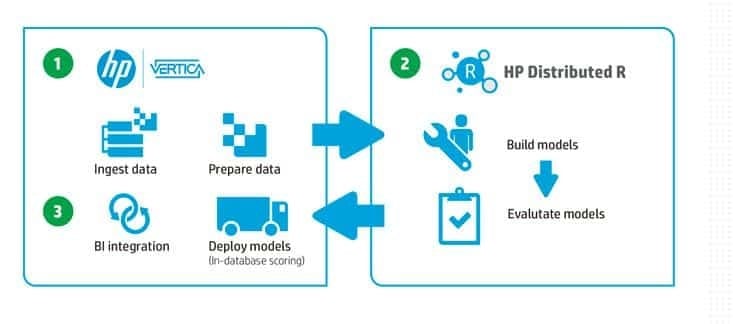 10
Lavastorm is a visual data discovery solution that allows to rapidly integrate diverse data, easily discover elusive insights, and continuously detect anomalies, outliers, or patterns. Lavastorm Analytics Engine provides self-service capability for business users and rapid development capabilities for IT users in the areas of integration, analytics, and business control. Features include acquire, transform, combine, and enrich data from virtually any source, including Big Data sources without intensive modeling, pre-planning, or scripting. The solution discover data issues, such as completeness, inconsistent formats, accuracy, automate the evaluation and cleansing process. Lavastorm Analytics Engine use the visual analytic environment and its configurable…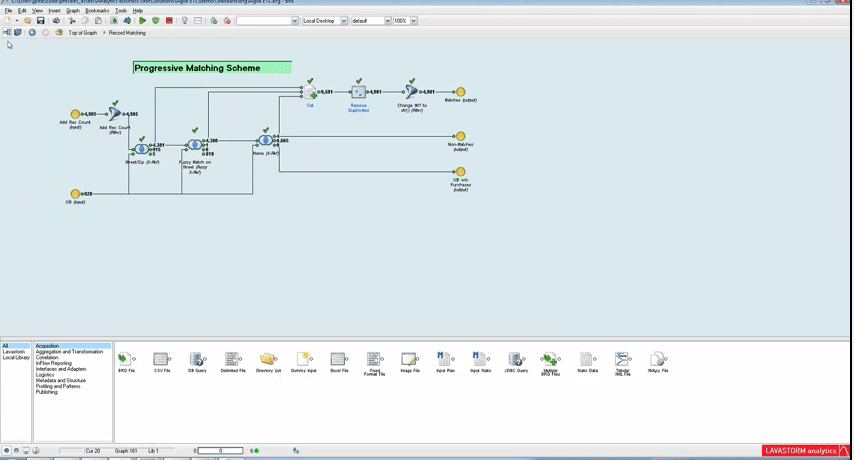 11
Apache Spark is a fast and general engine for large-scale data processing. Spark requires a cluster manager and a distributed storage system. For cluster management, Spark supports standalone (native Spark cluster), Hadoop YARN, or Apache Mesos. For distributed storage, Spark can interface with a wide variety, including Hadoop Distributed File System (HDFS), MapR File System (MapR-FS), Cassandra,OpenStack Swift, Amazon S3, Kudu, or a custom solution can be implemented. Spark also supports a pseudo-distributed local mode, usually used only for development or testing purposes, where distributed storage is not required and the local file system can be used instead, Spark is…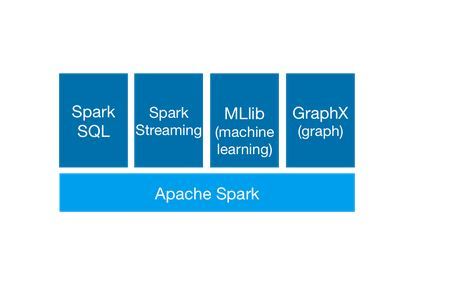 12
RapidMiner Studio provides a wealth of functionality to speed & optimize data exploration, blending & cleansing tasks – reducing the time spent importing and wrangling your data. RapidMiner provides an integrated environment for data preparation, machine learning, deep learning, text mining, and predictive analytics. It is used for business and commercial applications as well as for research, education, training, rapid prototyping, and application development and supports all steps of the machine learning process including data preparation, results visualization, model validation and optimization. Hundreds of machine learning, text analytics, predictive modeling algorithims, automation, and process control features help you build better…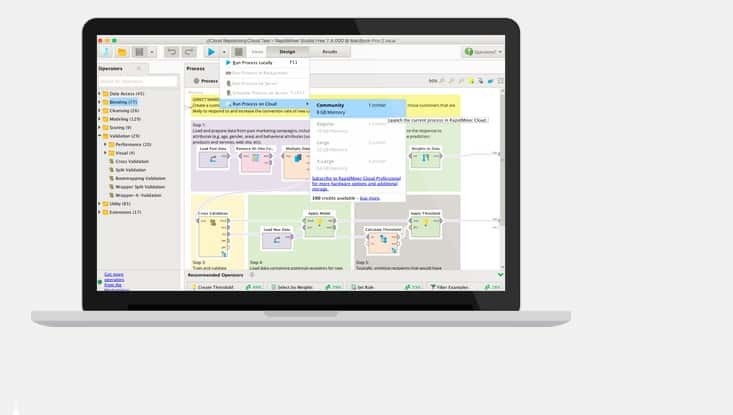 13
GraphLab Create is a machine learning platform to build intelligent, predictive application involving cleaning the data, developing features, training a model, and creating and maintaining a predictive service. These intelligent applications provide predictions for use cases including recommenders, sentiment analysis, fraud detection, churn prediction and ad targeting. Trained models can be deployed on Amazon Elastic Compute Cloud (EC2) and monitored through Amazon CloudWatch. They can be queried in real-time via a RESTful API and the entire deployment pipeline is seen through a visual dashboard. The time from prototyping to production is dramatically reduced for GraphLab Create users. Dato is also…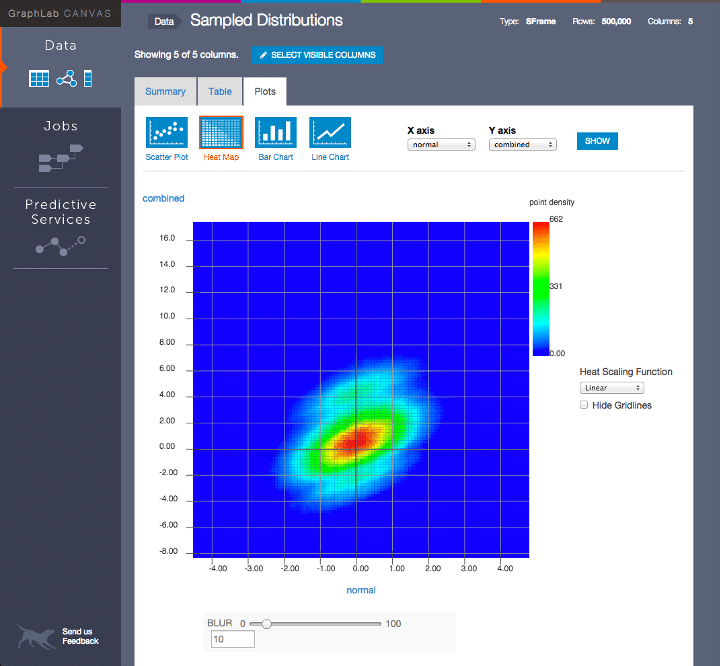 14
Actian Vector is a developer-friendly high-performance analytics engine that has been proven to outperform other popular analytics platforms even on commodity hardware. Requires minimal setup, provides automatic tuning to reduce database administration effort and enables highly-responsive end-user BI reporting. Industry-standard ANSI SQL:2003 support plus integration with an extensive set of data formats makes this platform one of the easiest to adopt. Actian Vector provides security, management, full ACID compliance, support for real time updates and performance that will please even the most discerning CIO. Actian Vector is typically used as a standalone Analytical Data Mart, or as an Analytical Data…
Actian Vector Analytic Database Community Edition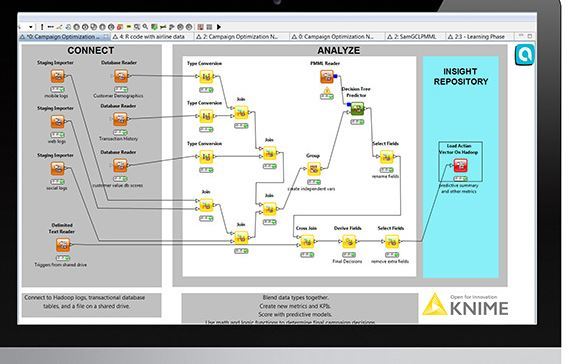 15
Scikit-learn is an open source machine learning library for the Python programming language.It features various classification, regression and clustering algorithms including support vector machines, random forests, gradient boosting, k-means and DBSCAN, and is designed to interoperate with the Python numerical and scientific libraries NumPy and SciPy. Classification : Identifying to which category an object belongs to Applications: Spam detection, Image recognition. Algorithms: SVM, nearest neighbors, random forest. Regression : Predicting a continuous-valued attribute associated with an object. Applications: Drug response, Stock prices. Algorithms: SVR, ridge regression. Clustering :Automatic grouping of similar objects into sets. Applications: Customer segmentation, Grouping experiment outcomes.…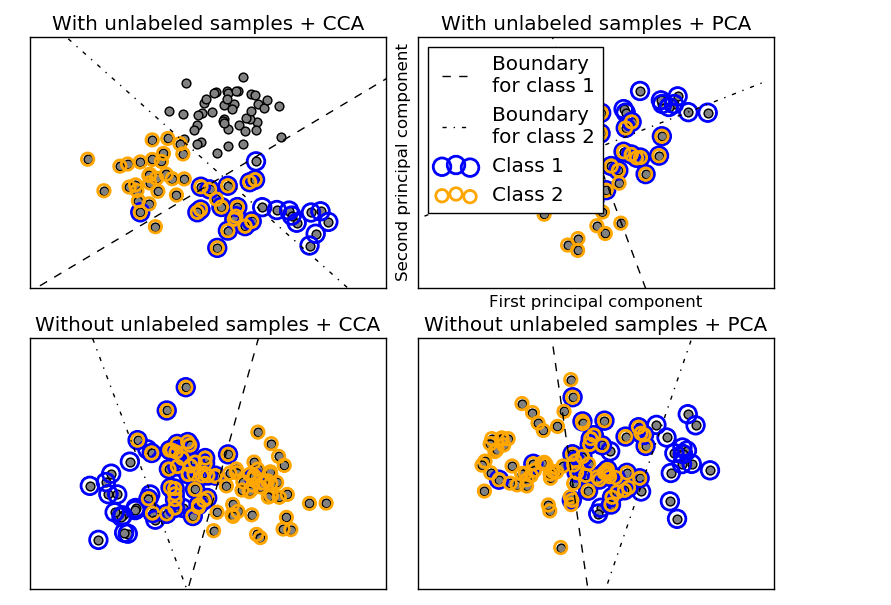 16
KNIME Analytics Platform is the leading open solution for data-driven innovation, helping you discover the potential hidden in your data, mine for fresh insights, or predict new futures. With more than 1000 modules, hundreds of ready-to-run examples, a comprehensive range of integrated tools, and the widest choice of advanced algorithms available, KNIME Analytics Platform is the perfect toolbox for any data scientist. A vast arsenal of native nodes, community contributions, and tool integrations makes KNIME Analytics Platform the perfect toolbox for any data scientist. https://www.youtube.com/watch?v=fw0Vb2gLsgA
KNIME Analytics Platform Community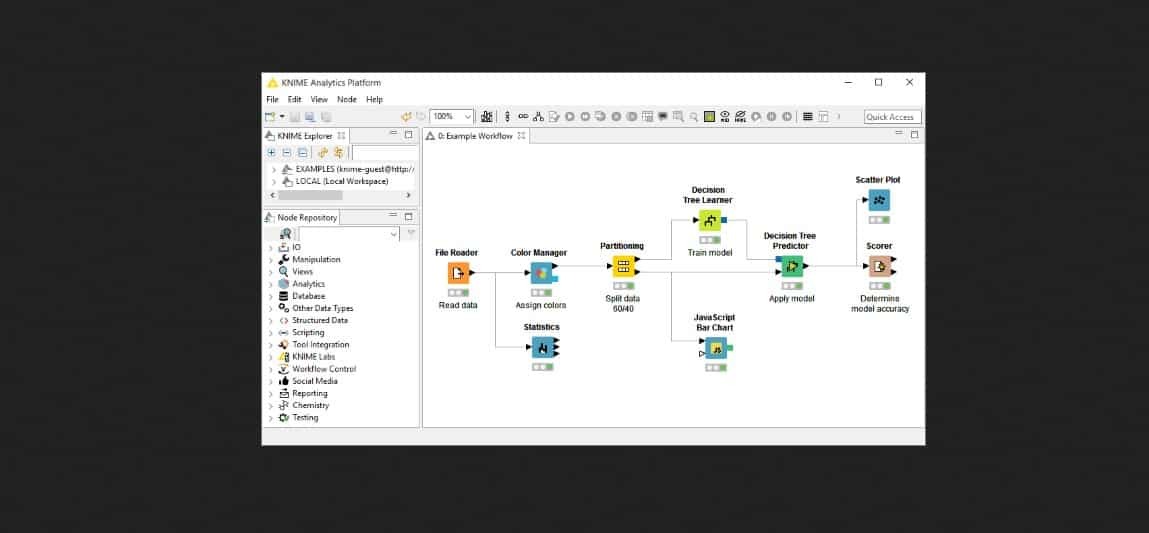 17
SciPy Stack, is a collection of open source software for scientific computing in Python, and particularly a specified set of core packages. SciPy is an open source and free python based software used for technical computing and scientific computing. SciPy is commonly used in solving science, engineering and mathematics problems. SciPy features core packages that provide computing tools for Python. The first package is the Python whose general purpose is acting as the programming language in SciPy. The python provides users with an interactive interface with the ability of interpretation and dynamically typing and suited for interactive work and fast…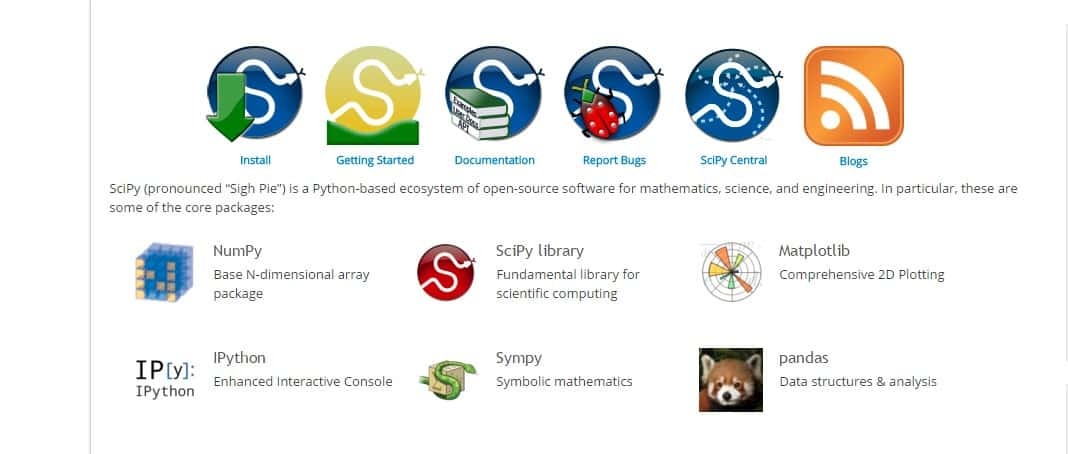 18
LIBLINEAR is an open source library that is used by data scientists, developers and end users to perform large scale linear classification. The easy to use command tools and library calls enables LIBLINEAR to be used by data scientists and developers to perform logistics, regression and linear support for vector machine. With LIBLINEAR developers and data scientists are able to same data format as the one in LIBSVM found in LINLINEAR general purpose SVM solver which also has similar usage. LINLINEAR presents several machine language interfaces that can be used by data scientists and developers. The machine language interfaces presented…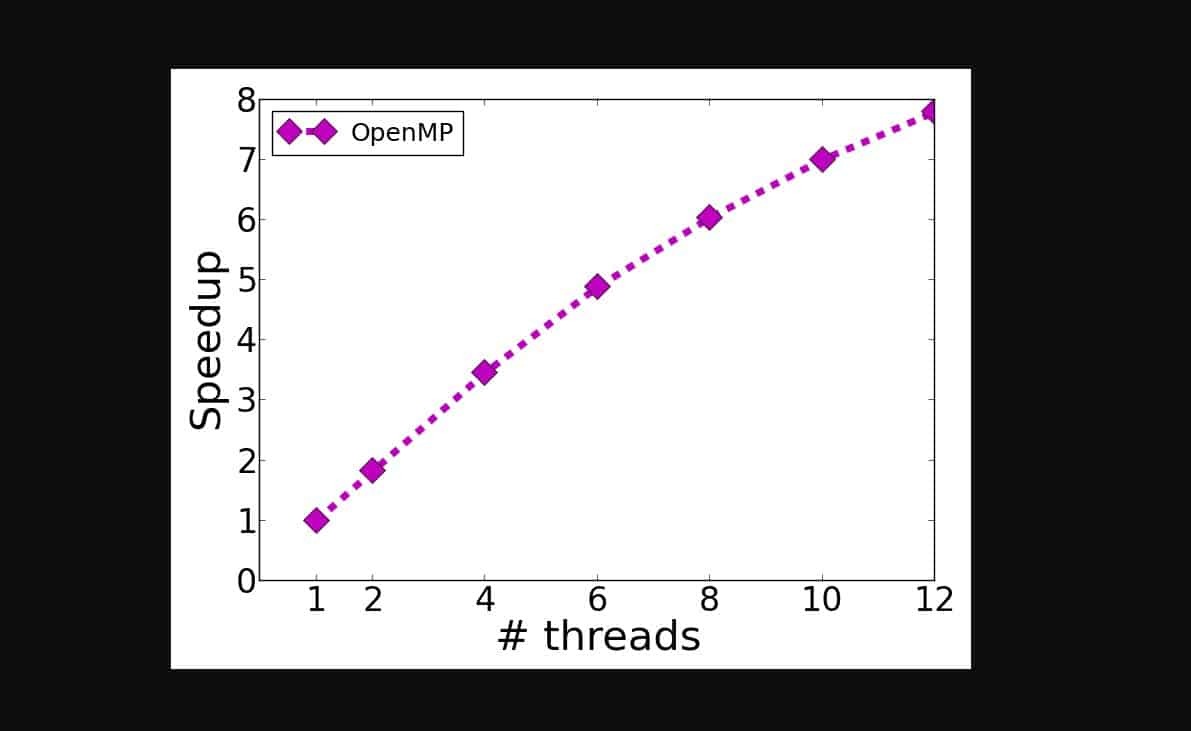 19
The DMWay Analytics Engine is a robust solution available that provides the highest level of modeling. The Analytic engine has been designed to model the steps taken by experienced data scientists in order to build accurate and effective analytics model.This innovative solution is made possible by using an expert system approach, rather than a "robotic" approach, to build models that mimic the way that an experienced data scientist goes about when building large-scale predictive models. The DMWay scoring engine is the tool recommended for businesses seeking assistance in the deployment of the predictive analytics results provided by the Analytics Engine.…

20
The Vowpal Wabbit (VW) project is a fast out-of-core learning system sponsored by Microsoft Research and (previously) Yahoo! Research. Support is available through the mailing list. There are two ways to have a fast learning algorithm: (a) start with a slow algorithm and speed it up, or (b) build an intrinsically fast learning algorithm. This project is about approach (b), and it's reached a state where it may be useful to others as a platform for research and experimentation. There are several optimization algorithms available with the baseline being sparse gradient descent (GD) on a loss function (several are available),…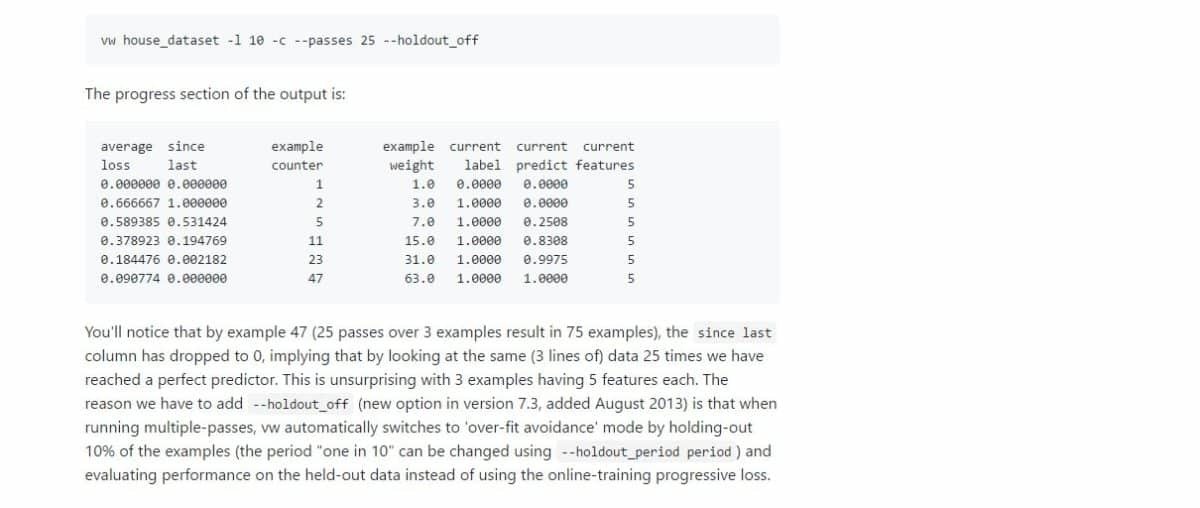 21
Tanagra represents free data mining software for academic and research purposes. It provides several data mining methods from exploratory data analysis, statistical learning, machine learning and databases area. It is a successor of SIPINA which means that various supervised learning algorithms are provided, especially an interactive and visual construction of decision trees. Because it contains supervised learning but also other paradigms such as clustering, factorial analysis, parametric and nonparametric statistics, association rule, feature selection and construction algorithms, Tanagra is very powerful. The main goal of this project is giving researchers and student's easy-to-use data mining software and second goal is…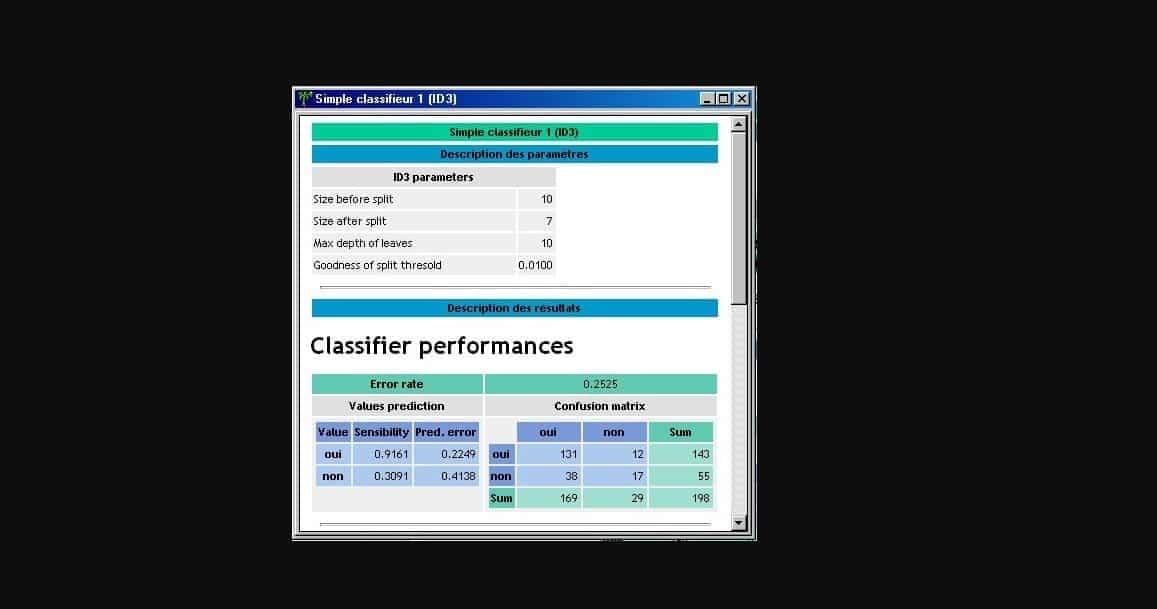 22
Dataiku DSS is the collaborative data science software platform for teams of data scientists, data analysts, and engineers to explore, prototype, build, and deliver their own data products more efficiently. Dataiku develops the unique advanced analytics software solution that enables companies to build and deliver their own data products more efficiently. Dataiku DSS is a collaborative and team-based user interface for data scientists and beginner analysts, to a unified framework for both development and deployment of data projects, and to immediate access to all the features and tools required to design data products from scratch. The visual interface of Dataiku…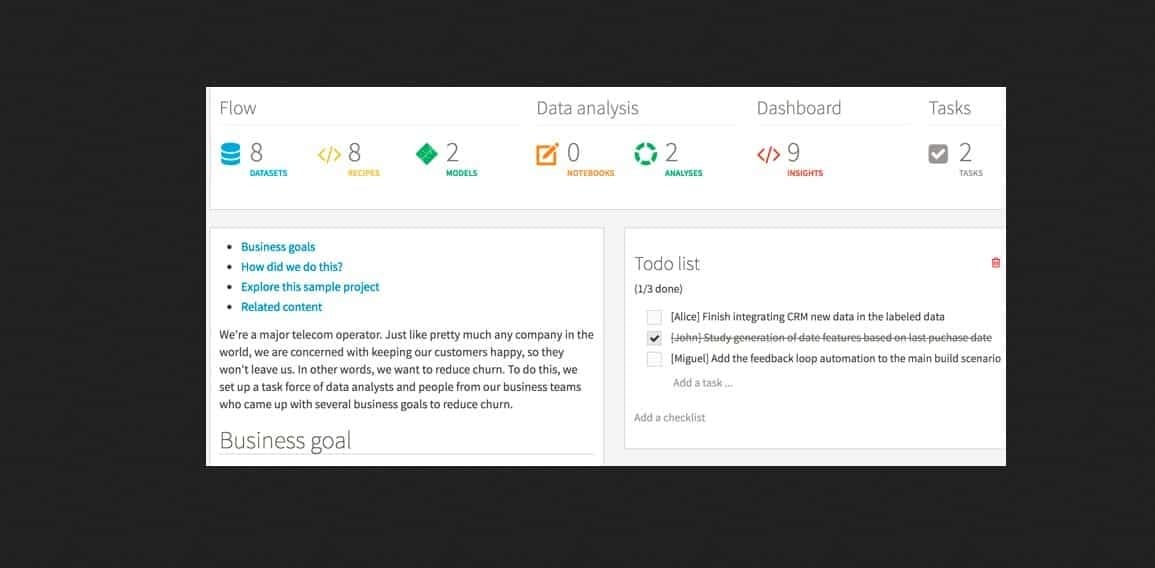 23
PredictionIO is an open source machine learning server that is designed using state of the art technology used by data scientists, end users, and developers for creating predictive engines for any machine learning tasks. The main components of PredictionIO are; PredictionIO platform, event server, template gallery. The PredictionIO platform enables evaluation and deployment of engines using machine learning algorithms. The event server enables unifying of events from several platforms using its analytics layer. The template gallery, a component of PredictionIO, provides users with a good platform for downloading engine templates for the different type of machine learning applications. The engine…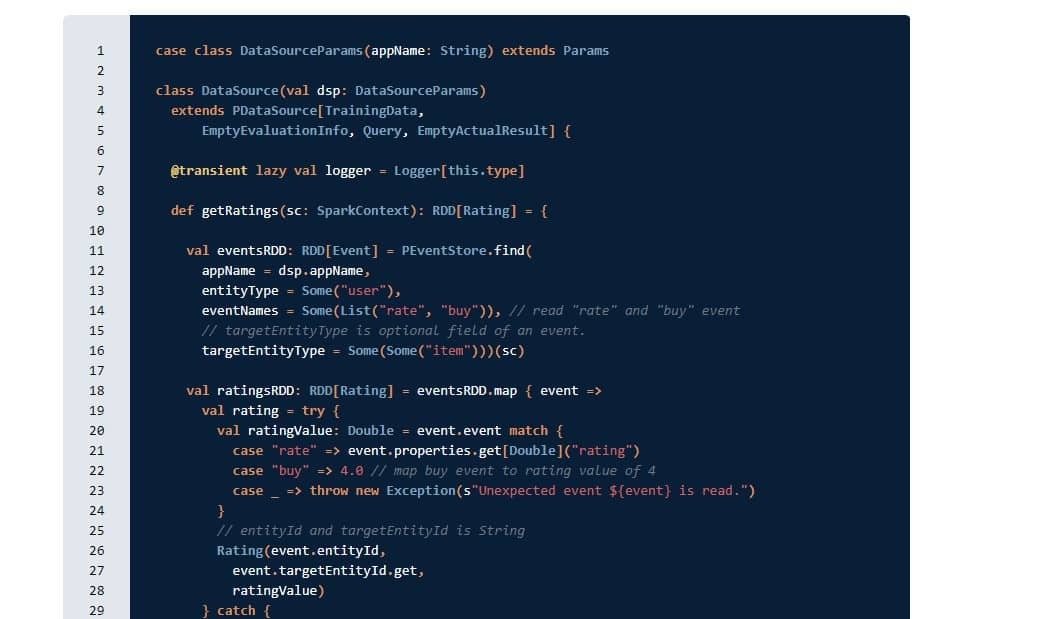 24
NumPy provides a comprehensive package for scientific computing using a python programming language. The NumPy library provides support to big multi-dimensional arrays and matrices. NumPy fully integrated package contains several features that makes it ideal for scientific computing, calculation of multi-dimensional arrays, matrices and even high level mathematics calculations. The first feature of NumPy is the powerful N-dimensional array object that is used in the multi-dimensional arrays. Data scientists and developers performing broadcasting are also sorted out as NumPy provides detailed and easy to use functions. NumPy also provides C or C++ tools to developers and data scientists. The C++…