Review
Apache Mahout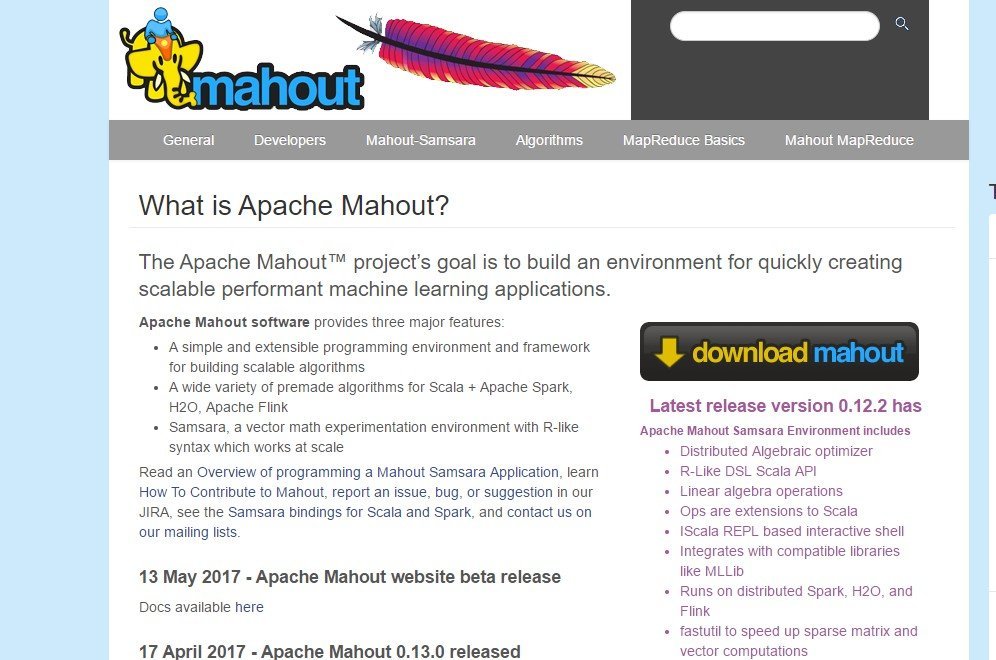 Overview
Apache Mahout project's goal is to build an environment for quickly creating scalable performant machine learning applications
Data Mining Software Free
•Collaborative filtering
•Clustering
•Classification
•Frequent itemset timing
•Distributed Algebraic optimizer
•R-Like DSL Scala API
•Linear algebra operations
Small (<50 employees), Medium (50 to 1000 Enterprise (>1001 employees)
What is best?
•Distributed Algebraic optimizer
•R-Like DSL Scala API
•Linear algebra operations
•Ops are extensions to Scala
•Scala REPL based interactive shell
•Integrates with compatible libraries like MLLib
•Runs on distributed Spark, H2O, and Flink
•Fastutil to speed up sparse matrix and vector computations
What are the benefits?
• Access to extensible programming framework
• Build scalable algorithms
• Access many premade algorithms
• Access to a math experimentation environment
• Provides fault tolerance in case of failure
The Apache Mahout project's goal is to build an environment for quickly creating scalable performant machine learning applications. Apache Mahout is a simple and extensible programming environment and framework for building scalable algorithms and contains a wide variety of premade algorithms for Scala and Apache Spark, H2O, Apache Flink.
It also used Samsara which is a vector math experimentation environment with R-like syntax which works at scale. Apache™ Mahout is a library of scalable machine-learning algorithms, implemented on top of Apache Hadoop and using the MapReduce paradigm. While Mahout's core algorithms for clustering, classification and batch based collaborative filtering are implemented on top of Apache Hadoop using the map/reduce paradigm, it does not restrict contributions to Hadoop-based implementations. Contributions that run on a single node or on a non-Hadoop cluster are also welcomed.
For example, the 'Taste' collaborative-filtering recommender component of Mahout was originally a separate project and can run stand-alone without Hadoop. Machine learning is a discipline of artificial intelligence focused on enabling machines to learn without being explicitly programmed, and it is commonly used to improve future performance based on previous outcomes.
Once big data is stored on the Hadoop Distributed File System (HDFS), Mahout provides the data science tools to automatically find meaningful patterns in those big data sets. The Apache Mahout project aims to make it faster and easier to turn big data into big information. Apache Mahout is a great programming aid that will be useful whether the user is a beginner or more advanced. Easy tutorials are also available online.