Review
Gainsight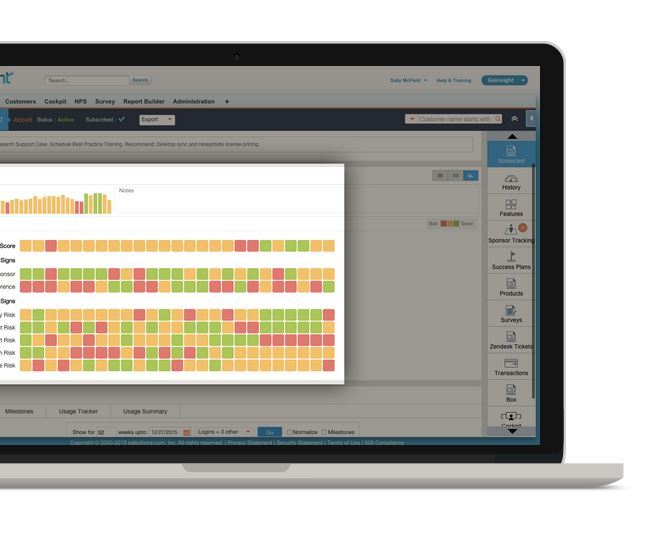 Overview
Gainsight, is a leading Customer Success Management solution, to proactively manage retention, reduce unexpected churn and identify upsell opportunities by leveraging "big data" analytics across sales data, usage logs, support ticket, surveys and other sources of customer intelligence.
Customer Upsell, Cross Sell Software
OPERATIONALIZE THE CUSTOMER LIFECYCLE
MANAGE CUSTOMER RISK
DEMONSTRATE VALUE
ENABLE EXPANSION AND ADVOCACY
ENABLE CROSS-FUNCTIONAL COLLABORATION
Small (<50 employees), Medium (50 to 1000 Enterprise (>1001 employees)
Gainsight, is the Customer Success Management platform. It empowers the Customer Success movement to drive revenue and increase retention at scale. With Gainsight, any company can monitor and engage with a variety of customers—without compromising scalability.
Companies can structure, streamline, and optimize their team's workflow around the customer lifecycle, send the right message to the right customer at the right time and deliver a personalized, unified experience to their customers. Gainsight uses big data analytics to monitor customer health according to usage logs, sales data, support tickets, financial systems, survey responses, and sponsor movements.
Users can measure customer health across a variety of data sources, identify abnormal customer engagement patterns and take action to nurture at-risk customers back to health, and monitor relationships with executives and advocates across all major social networks.
Gainsight helps to keep customers loyal by helping them understand the value users products and services provide. Users can capture usage data and use it to craft personalized messaging to groups and individuals and export branded presentations that incorporate a vast array of data points.
Gainsight empowers users to find their biggest fans and identify accounts ripe for additional sales. Users can: use surveys to keep a pulse on customer satisfaction and pinpoint your biggest fans; leverage rich data analysis to manage renewals and identify customers for upselling and cross-selling; view and track customer references with role-based dashboards and use Gainsight's reporting features to keep the renewal stream flowing strong.
Gainsight empowers users to improve team and task coordination, track business outcomes, and streamline operations—thus elevating them to perform at the top of their game. Gainsight allows to: prioritize users' customer portfolio with just-in-time alerts; track patterns across products, departments, or regions; get ample context around customer issues; enable users' teams to work in perfect tandem.