Top 47 software for Text Analysis, Text Mining, Text Analytics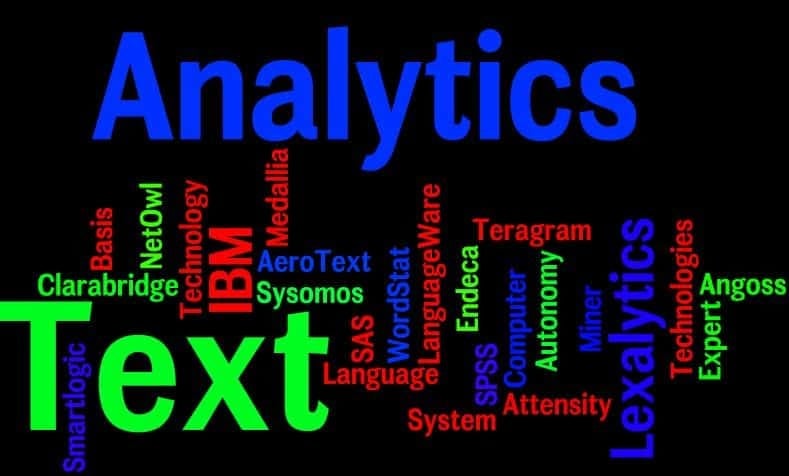 Top 47 software for Text Analysis, Text Mining, Text Analytics : Text Analysis, Text Mining, Text Analytics uses statistical pattern learning to find patterns and trends from text data.SAS Text Analytics, IBM Text Analytics, Lexalytics Text Analytics, Smartlogic, Provalis Research, OpenText, Pingar, AlchemyAPI, Attensity, Clarabridge, Content Analyst, Oracle Social Cloud – Collective Intellect, Expert System, Rapid Miner , Angoss Text Analytics, DiscoverText, NetOwl, Language Computer Corporation, Basis Technology, Oracle Endeca, MeaningCloud, StatSoft, Temis, Verint Systems, Ascribe, Forest Rim's Textual ETL, muText Mu Sigma, Text2data, LinguaSys, Taste Analytics, Megaputer, LingPipe, Saplo , ai-one, AeroText, SAP Text Analytics, HP Autonomy, Loop Cognitive Computing Platform, Brainspace Discovery, AYLIEN, Averbis, Buzzlogix, SIFT, VisualText, Twinword and Kanjoya are some of the key vendors in this area in no particular order.
You may also like to review the Text Analysis, Text Mining, Text Analytics freeware/open source list:
Top Free Software for Text Analysis, Text Mining, Text Analytics
Here is a list of some of the Top 40+ software for Text Analysis, Text Mining, Text Analytics who offers proprietary solutions.
Top 47 software for Text Analysis, Text Mining, Text Analytics
1.SAS Text Analytics
SAS provides a comprehensive Text Analytics software suite to discover and extract information from text content. SAS software uses advanced statistical modeling, natural language processing and advanced linguistic technologies to discover patterns and trends from any text in any format. SAS Text Analytics are used in early-warning systems, citizen intelligence, patient safety and digital content performance.
SAS Text Analytics has the following components: SAS Contextual Analysis, SAS Enterprise Content Categorization, SAS Ontology Management, SAS Sentiment Analysis and SAS Text Miner. SAS Text Miner and Teragram integration provides solutions for commercial text analytics, natural language processing, and taxonomy software.
2. IBM Text Analytics
IBM provides nautral language processing solutions LanguageWare (LW) and IBM Content Analytics (ICA). These solutions provides an easy to use environment for capturing the knowledge into dictionaries and semantic rules for re-use, allows customizable Information Extraction and Offers entity & relationship recognition.
3. Lexalytics Text Analytics
Lexalytics is a provider of a text analytics engine. Lexalytics builds a multi lingual text analytics engine, Salience. Salience is currently integrated into systems for market research, social media monitoring and sentiment analysis, survey analysis/voice of customer, enterprise search, public policy. Salience supports a number of text processing, natural language processing, and text analytics technologies such as Sentiment Analysis, Named Entity Extraction, Theme (Context) Extraction, Entity-Level Sentiment Analysis, Summarization and Facet and Attribute Extraction . Langauges supported are English, German, French, Portuguese, and Spanish.
4. Smartlogic
Smartlogic Semaphore solution provides content intelligence platform containing commercial text analytics, natural language processing, rule-based classification, ontology/taxonomy modelling and information visualization. Smartlogic solution automatically applies the metadata and classification to deliver better search and navigation experience. The solution improves findability of information from text.
5. Provalis Research
Provalis Research is a developer of text analysis software with qualitative, quantitative and mixed methods programs. WordStat is a content analysis and text mining add-on module of QDA Miner for analyzing large amounts of text data.
6. OpenText
OpenText Content Suite provides a platform to capture, document and records management, workflow, search and archiving as well as applications and add-ons such as email, eDiscovery, auto-classification, contract management and engineering document management.
7. Pingar
Pingar delvers the Pingar API which works with existing enterprise information systems Pingar's process is intuitive, and yields contextually relevant results and tools to extract information, and transform that information into intelligence. DiscoveryOne automatic categorization, content inventory, sentiment analysis, and automatic metadata.
8. AlchemyAPI
AlchemyAPI provides cloud based and text analysis infrastructure that eliminates the expense and difficulty of integrating natural language processing systems into application, service, or data processing pipeline.
9. Attensity
Attensity is a hosted, integrated and stand alone text mining and analytics software that uses natural language processing technology to address collective intelligence in social media and forums.
10. Clarabridge
Clarabridge uses proprietary Natural Language Processing and sentiment analysis algorithms to provide accurate, comprehensive text analytics. The Clarabridge Intelligence Platform, powered by the text analytics engine, serves as a hub for multi-source customer feedback analysis that integrates structured and unstructured data for a complete view of the customer.
11. Content Analyst
Content Analyst provide analytics solutions to reduce the time needed to discern relevant information from unstructured data. CAAT, text analytics suite technologies, provides solutions to extract insights from large amounts of unstructured data.
12. Oracle Social Cloud – Collective Intellect
Collective Intellect's semantic analytics engine processes millions of conversations daily, transforming social conversations into actionable intelligence. Collective Intellect was acquired by Oracle and integrated with Oracle's Software-as-a-service Oracle Social Cloud.
Oracle Social Cloud – Collective Intellect
13. Expert System
Expert System provides Cogito which is based on an advanced semantic analysis engine and a complete semantic network. Cogito offer a complete set of features including: semantic search and natural language search, text analytics, development and management of taxonomies and ontologies, automatic categorization, extraction of data and metadata, and natural language processing.
14. Rapid Miner
RapidMiner's Sentiment Analysis application wizard analyze the social media stream and see the customor feedback.
15. Angoss Text Analytics
Angoss Text Analytics solution KnowledgeREADER provides entity and theme extraction, topic categorization, sentiment analysis and document summarization capabilities.
16. DiscoverText
DiscoverText is a cloud-based, collaborative text analytics solution that generate valuable insights about customers, products, employees, news, citizens, and more. With dozens of powerful text mining features, the DiscoverText software solution provides tools to quickly and accurately make better decisions. The unique ActiveLearning machine classification engine improves over time.DiscoverText is able to reliably sift and sort all text data including social media, thousands of survey responses, streams of customer service requests, e-mail, or other electronic text.
17. NetOwl
NetOwl is a suite of multilingual text and entity analytics products, including entity extraction, link and event extraction, sentiment analysis, geotagging, name translation.
18.Language Computer Corporation
Language Computer Corporation provides text extraction and analysis tools, available in multiple languages.
19. Basis Technology
Basis Technology provides a suite of text analysis modules to identify language, enable search in more than 20 languages, extract entities, and efficiently search for and translate entities.
20. Oracle Endeca
Oracle Endeca Technologies provides software to analyze and cluster unstructured text including self service Data Mashup, Drag & Drop Dashboards, Consumer Style Exploration.
21. MeaningCloud
MeaningCloud, formerly Textalytics, is a full set of multilingual cloud-based text analytics APIs for automatic classification, entities and concepts extraction, sentiment analysis, and more.
22. StatSoft
StatSoft provides STATISTICA Text Miner as an optional extension to STATISTICA data miner.
23. Temis
Luxid Content Enrichment Platform brings solutions for structuring, managing and exploiting unstructured content.
24. Verint Systems
Verint Systems provides capabilities for text analytics to collect, analyze, and act on customer interactions from a variety of text-based communication channels.
25.Ascribe
Ascribe provides flexible Ascribe Intelligence platform, which is a suite of integrated analytic tools that empower companies to gather, classify, code and then visualize customer comments affordable.The Ascribe platform – Inspector, Accelerator, Coder and Illustrator delivers the ease and speed of automation.
26.Forest Rim's Textual ETL
Forest Rim's Textual ETL is a technology software that takes raw text, uses textual disambiguation technology and creates disambiguated text into a standard data base ready for analysis. Textual ETL read text in any format in any language and to convert the text to a standard relational data base (DB2, Oracle, Teradata, SQL Server etc) where the text is in a useful meaningful format.
27.muText Mu Sigma
Mu Sigma's text mining engine enables knowledge discovery from unstructured and semi-structured data. It enables advanced analytics by mining business intelligence from varied textual sources such as CRM data (identifying frequently occurring customer complaints, quantifying CSAT, etc.), E-mail data (spam filtering, abuse detection, etc.), etc.
28.Text2data
Text2data analytics solution analyse in-house documents, emails, CRM comments to track customer satisfaction. It can also dynamically change the content of your website based on your user's opinions and set-up early warning and response triggers.
29.LinguaSys
LinguaSys provides a range of text analytics solution, from named entity extraction and social media listening, to actionable intelligence extraction and crosslingual retrieval based on Carabao Linguistic Virtual Machine platform.
30.Taste Analytics
Taste Analytics provides a robust analytics engine that can ingest any type of unstructured data and quickly identify trends, patterns, and outlying themes. It incorporates state of the art predictive modeling, artificial intelligence, and robust statistical NLP algorithms to find the stories that the data is trying to tell.
31.Megaputer
Megaputer provides two separate software packages for text analysis. PolyAnalyst performs linguistic and semantic text analysis and coding, clustering and categorization of documents, entity extraction, visualization of patterns, automated or manual taxonomy creation, text OLAP, and generating interactive graphical reports on results. TextAnalyst provides a list of the most important keywords in a document, a set of related keywords for each word, and the ability to automatically summarize a document or perform natural language queries.
32. LingPipe
LingPipe is tool kit for processing text using computational linguistics. LingPipe is used to do tasks such as find the names of people, organizations or locations in news, automatically classify Twitter search results into categories and suggest correct spellings of queries.
33. Saplo
Saplo provide services that extract and refine valuable information from large quantities of text through an API (Application programming interface). Services can be used either stand alone or combined into new and exiting concepts and technologies.
34. ai-one
ai-one provides application programming interfaces (APIs) that enable developers to build machine learning applications. The product portfolio includes NathanAPP and Topic-Mapper.
35. AeroText
AeroText is a suite of text mining applications for content analysis. Content used can be in multiple languages.
36. SAP Text Analytics
SAP Data Services is an enterprise class solution for data integration, quality, profiling, and text analysis which delivers trusted data to support your critical business functions and improve decision making.
SAP BusinessObjects Text Analysis is a text analysis software from SAP that was originally created by Inxight Software.
37. HP Autonomy
Autonomy provides text mining, clustering and categorization software. HP Autonomy products include Intelligent Data Operating Layer (IDOL). This allows for search and processing of text taken from both structured data and unstructured human information such as e-mail and mobile data originates from a database, audio, video, text files or streams.The processing of such information by IDOL is referred to by Autonomy as Meaning-Based Computing.
38. Loop Cognitive Computing Platform
Loop Cognitive Computing Platform is an artificial intelligence platform that allows organizations to capitalize on the power and potential of their dark data, meaning the digital information they are holding, but they don't know what's in it or understand it.
Loop Cognitive Computing Platform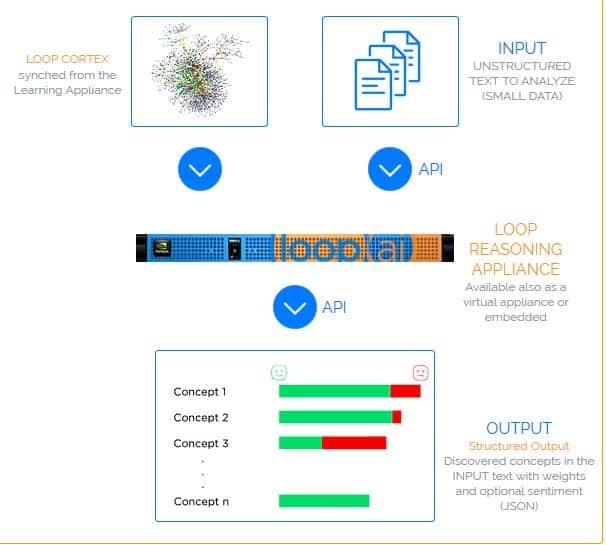 39. OdinText
OdinText makes it easy to understand what is driving various outcomes by allowing to understand what in text is driving other target data (such as customer satisfaction) up or down and by how much.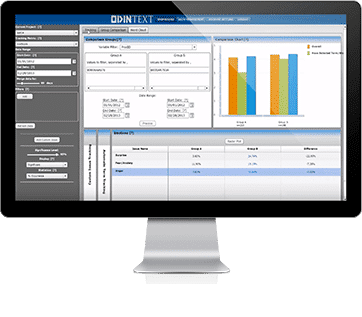 40. Brainspace Discovery
Brainspace Discovery is an advanced solution for analyzing unstructured data from data preparation, to exploration and collaboration, Discovery makes smart decisions, evaluate and mitigate risks, and uncover insights and opportunities.
41. AYLIEN
AYLIEN Text Analysis API is a package of Natural Language Processing, Information Retrieval and Machine Learning tools for extracting meaning and insight from textual and visual content with ease.
42.Averbis
Information Discovery is a text analytics and data exploration platform that allows you to get insights in your structured and unstructured data and explore important information in the most flexible way. Information Discovery collects and analyzes all kind of documents, such as patents, research literature, databases, websites, and other enterprise repositories.
43. Buzzlogix
Buzzlogix Smart Assistant offers a unique set of features that assist the social media specialists to simplify their social media campaigns, measure results, extract valuable insights, automate tasks and make valuable suggestions throughout the process.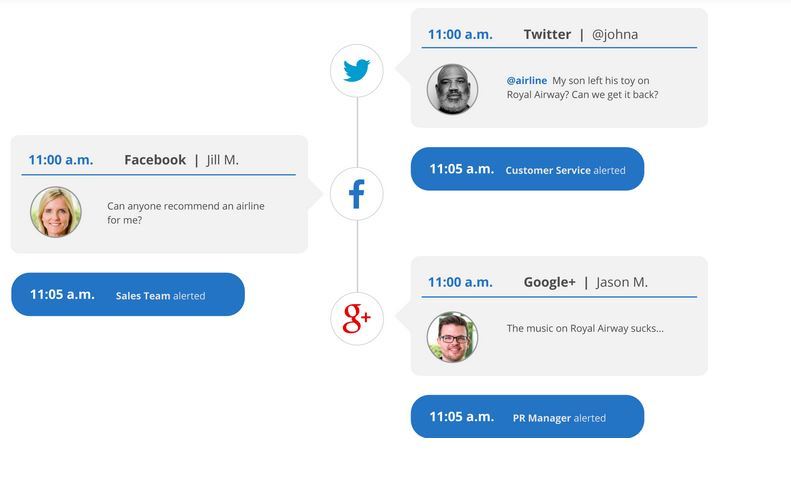 44. SIFT
SIFT helps to mine through volumes of unstructured customer feedback in minutes with simple and intuitive functionality to quickly become an expert in gleaning valuable insights from your customers' opinions.
45.VisualText
VisualText is the premier integrated development environment for building information extraction systems, natural language processing systems, and text analyzers.
VisualText
46.Twinword
Twinword provides text analysis APIs that can understand and associate words with features including context and topic extraction ,online consumer sentiment analysis for brands and products and personalized and targeted e-commerce/advertising platforms.
47.Kanjoya
Kanjoya uses quantitative and text-based data and uncover hard-to-get qualities like emotion, sentiment, bias, and intent.
You may also like to review the Text Analysis, Text Mining, Text Analytics freeware/open source list:
Top Free Software for Text Analysis, Text Mining, Text Analytics
You may also like to review the Top Qualitative Data Analysis Software proprietary software list:
Top Qualitative Data Analysis Software
You may also like to review the Top Free Qualitative Data Analysis Software software list:
Top Free Qualitative Data Analysis Software