Top 63 Software for Text Analysis, Text Mining, Text Analytics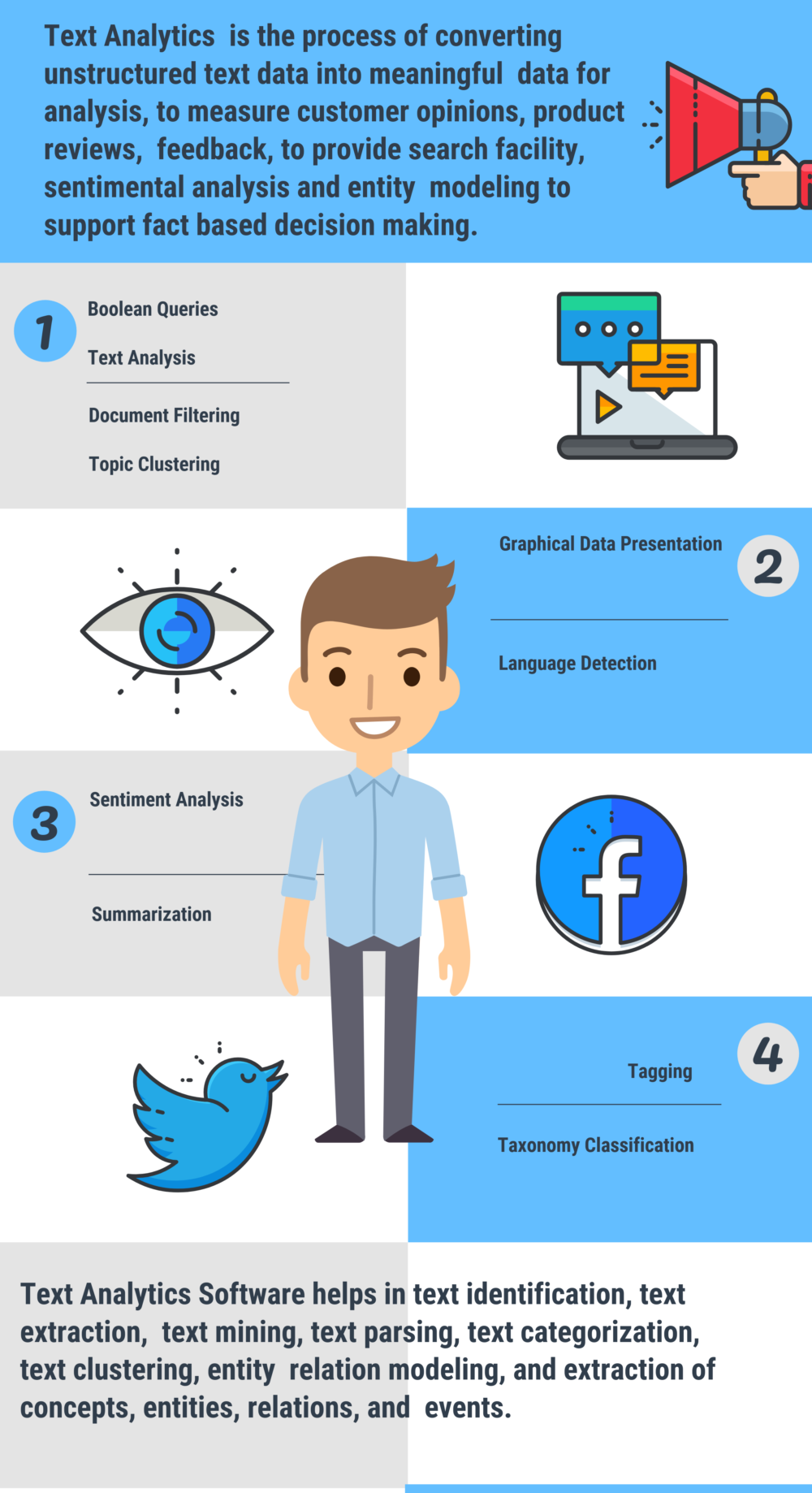 Text Analysis, Text Mining, Text Analytics uses statistical pattern learning to find patterns and trends from text data. Often times, customers write their opinions, reviews, and feedback after they use different products and services. They make comments regarding a company on the company's website, app, emails or social media accounts and other places. They express their positive and negative opinions about the kind of product or service that they received from the company.
Business need to go through all the comments one by one to understand each and every customer's concern. This is usually a very tedious task when done manually especially if the business has numerous comments to analyze. Analyzing the opinions of customers is only one such example dealing with unstructured data. Every day business need to analyze many unstructured text which are vital for the decision making process. Business also needs to do research that involves analyzing a huge amount of content to serve their customers better and to guarantee and improve customer satisfaction and for a return with cross sell, up sell or renewal in the future.
The Business also needs to understand how their customers respond to their products so that they can use the information to make their products and services better. To make the task of analyzing unstructured text easy, text analytics software comes in.
What are the Top Software for Text Analysis, Text Mining, Text Analytics Software: DiscoverText, Expert System, IBM SPSS Text Analytics, Lexalytics Salience, Provalis Research Text Analytics Software, Bitext, Google Cloud Natural Language API, Microsoft Azure Text Analytics API, SAS Text Miner, Twinword, IBM Watson Natural Language Understanding, OpenText, UltiPro Perception, Stratifyd, Semantria for Excel, Narrative Science Quill, Thematic, Brainspace, MeaningCloud, indico, Luminoso, General Sentiment, OdinText, Ascribe, TheySay, Semantria, Keatext, Buzzlogix, STATISTICA Text Miner, Rosette Text Analytics, NetOwl, Oracle Social Cloud, Pingar DiscoveryOne, Smartlogic, Open Calais, WordStat, Etuma, Synapsify, Averbis, AYLIEN, Megaputer, Angoos KnowledgeREADER, Text2data, Relativity Analytics, Loop Cognitive Computing Appliance, ai-one, Aspect NLU, muText, TextualETL, Language Computer, Rocket Search and Text Analytics, SYSTRAN, Semantria API, LingPipe, Oracle Endeca Information Discovery, Intellexer, PrediCX, Kapiche are some of the Top Software for Text Analysis, Text Mining, Text Analytics Software.
You may also like to review the Free Text Analysis, Text Mining, Text Analytics
What are Text Analysis, Text Mining, Text Analytics Software?

Text Analytics is the process of converting unstructured text data into meaningful data for analysis, to measure customer opinions, product reviews, feedback, to provide search facility, sentimental analysis and entity modeling to support fact based decision making. Text analysis uses many linguistic, statistical, and machine learning techniques.
Periscope Data is an end-to-end BI and analytics solution that lets you quickly connect your data, then analyze, visualize and share insights. Periscope Data can securely connect and join data from any source, creating a single source of truth for your organization. Perform BI reporting and advanced analytics operations all from one integrated platform. Communicate insights more effectively by selecting from Periscope Data's wide range of visualization options (including standard charts, statistical plots, maps and more) and instantly share real-time insights via direct linking, email or Slack.With Periscope Data you can also incorporate Natural Language Processing into your data analysis.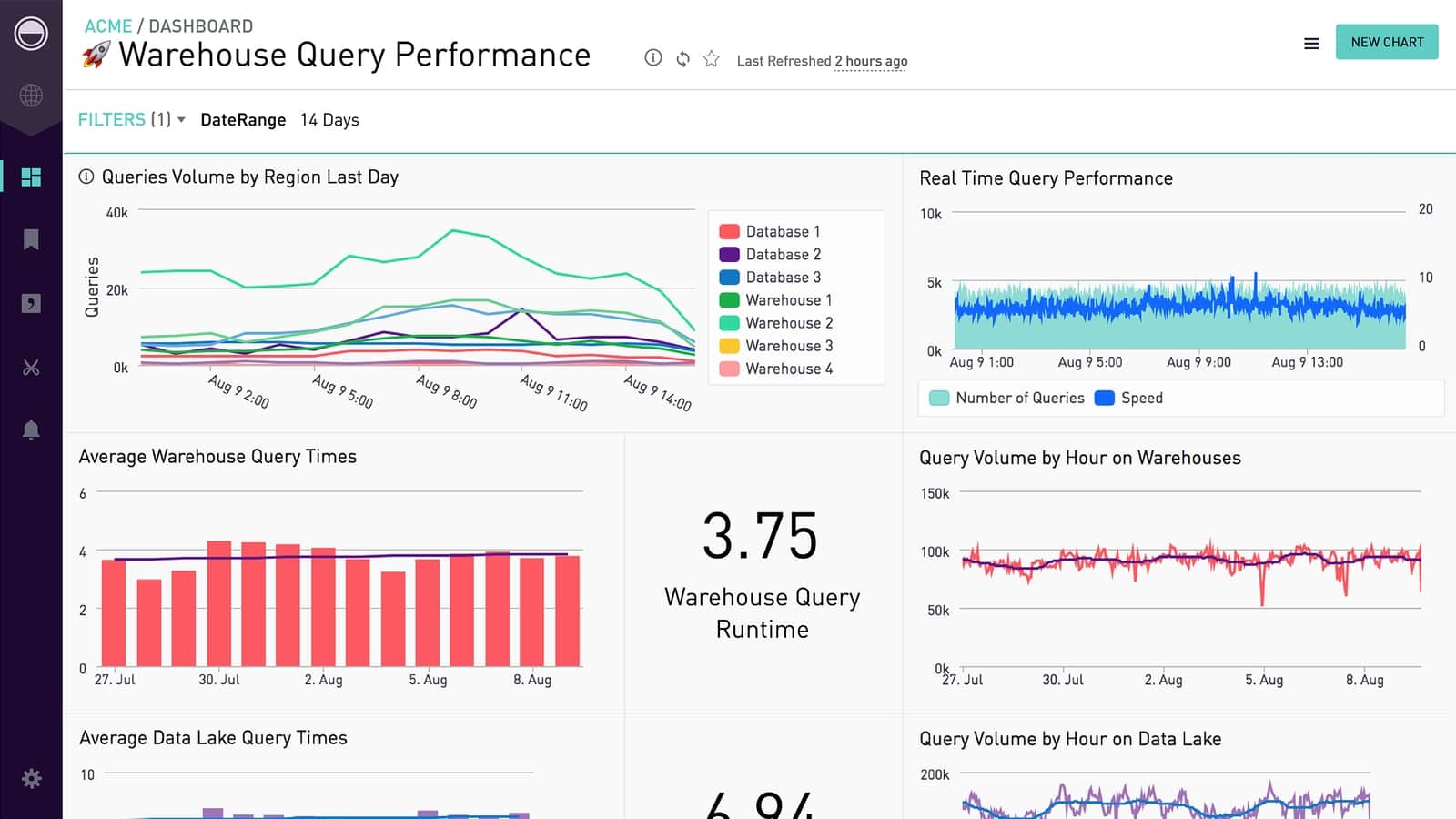 Text Analytics Software is a system that helps analyze unstructured data to draw meaning and to measure customer opinions, feedback, and product reviews to derive patterns, trends and to help the user make an informed decision. Text Analytics Software helps in text identification, text extraction, text mining, text parsing, text categorization, text clustering, entity relation modeling, and extraction of concepts, entities, relations, and events. Text Analytics Software uses machine learning, statistical and linguistic techniques to analyze data.  Text Analytics Software determines topics, keywords, semantics, category, tags from a huge amount of text data available in the company's formats and files.
Text Analytics Software helps search unstructured data, filter email spam that are likely to be phishing, ads, or unwanted materials, automated ad placement, social media monitoring, competitive intelligence, enterprise business intelligence, records management, e-discovery, national intelligence, scientific intelligence and competitive intelligence.
Text Analytics Software is great innovations that can assist business to analyze data from multiple sources, files, and formats to help them make fact-based decisions.
Top Software for Text Analysis, Text Mining, Text Analytics
DiscoverText, Expert System, IBM SPSS Text Analytics, Lexalytics Salience, Provalis Research Text Analytics Software, Bitext, Google Cloud Natural Language API, Microsoft Azure Text Analytics API, SAS Text Miner, Twinword, IBM Watson Natural Language Understanding, OpenText, UltiPro Perception, Stratifyd, Semantria for Excel, Narrative Science Quill, Thematic, Brainspace, MeaningCloud, indico, Luminoso, General Sentiment, OdinText, Ascribe, TheySay, Semantria, Keatext, Buzzlogix, STATISTICA Text Miner, Rosette Text Analytics, NetOwl, Oracle Social Cloud, Pingar DiscoveryOne, Smartlogic, Open Calais, WordStat, Etuma, Synapsify, Averbis, AYLIEN, Megaputer, Angoos KnowledgeREADER, Text2data, Relativity Analytics, Loop Cognitive Computing Appliance, ai-one, Aspect NLU, muText, TextualETL, Language Computer, Rocket Search and Text Analytics, SYSTRAN, Semantria API, LingPipe, Oracle Endeca Information Discovery, Intellexer, PrediCX, Kapiche are some of the top software for Text Analysis, Text Mining, Text Analytics.
1
DiscoverText combines flexible and adaptive software algorithms with human-based coding to provide a framework for conducting accurate and reliable large-scale analyses. The software has the capability to merge data from various sources, such as text files, email, open-ended answers on surveys, and online sources including Facebook, Google+, blogs, Tumblr, Disqus, and Twitter. This ability to pull text from diverse sources combines information and associated structured metadata from multiple and unique information channels. DiscoverText, users can capture, filter, de-duplicate, cluster, search, human code, and machine-classify large numbers of small, unstructured units of text. The approach mixes human and computer training in…
2
Expert System's software combines the power of language and technology to transform your ability to use unstructured content. Business and government can enhance insight, make more enlightened decisions, and strengthen what analytics can reveal. Based upon a patented technology that employs millions of definitions, concepts and relationships, our applications read and understand multiple languages the way people do. Cogito is the multilingual cognitive software that reads, understands and answers to empower better, more informed decision making at the speed of current technologies and at the scale of your data repository. Inspired by the human ability to comprehend on a deep…
3
IBM SPSS Text Analytics for Surveys software transform unstructured survey text into quantitative data and gain insight using sentiment analysis. SPSS Text Analytics for Surveys categorizes responses and integrates results with other survey data for better insight and statistical analysis. Automates the categorization process to eliminate the time and expense of manual coding. Uses linguistics-based technologies to reduce the ambiguities of human language, helping you uncover patterns in the attitudes, beliefs and opinions of others.
4
Lexalytics is a leader in text analytics software solutions, providing entity extraction, sentiment analysis, document summarization and thematic extraction for today's businesses. Lexalytics builds a multi lingual text analytics engine, Salience. Salience is currently integrated into systems for market research, social media monitoring and sentiment analysis, survey analysis/voice of customer, enterprise search, public policy. Salience supports a number of text processing, natural language processing, and text analytics technologies such as Sentiment Analysis, Named Entity Extraction, Theme (Context) Extraction, Entity-Level Sentiment Analysis, Summarization and Facet and Attribute Extraction. Lexalytics technology is one of the most tunable NLP engines in the market.…
5
Provalis Research is a leader in Text Analysis software with qualitative, quantitative and mixed methods programs in their solution portfolio. The company is headquarted in Montreal, Canada, and was founded in 1989 and has been developing text analysis programs for more than 20 years. Provalis Research software products are used by more than 2,000 institutions including universities, governments, NGO's and businesses.Provalis Research text analytics software is a collection of tools that allow users to explore, analyze and relate both structured and unstructured data. The main tools are QDA Miner, WordStat and SimStat. Provalis Research Text Analytics Software Provalis Research text…
Provalis Research Text Analytics Software
6
Bitext presents a grammar-based approach to Aspect-Based Sentiment Analysis which is currently available in 20+ languages. This means that these 20+ languages are in production in numerous commercial projects mainly in the area of VoC and survey coding projects.The Bitext technology is a data-driven system with a strict separation between code and the linguistic knowledge that powers the analysis of text. The linguistic knowledge is captured in machine-readable grammars and dictionaries that can be quickly and easily customized. This ability is exploited in the implementation of our semantic services. Bitext's API offers text analysis resources that are particularly useful for…
7
Google Cloud Natural Language API reveals the structure and meaning of text by offering powerful machine learning models in an easy to use REST API. You can use it to extract information about people, places, events and much more, mentioned in text documents, news articles or blog posts. You can use it to understand sentiment about your product on social media or parse intent from customer conversations happening in a call center or a messaging app. You can analyze text uploaded in your request or integrate with your document storage on Google Cloud Storage. Extract actionable insights on product reception…
Google Cloud Natural Language API
8
Microsoft Azure Cognitive Service Text Analytics API detect sentiment, key phrases, topics, and language from your text. For Sentiment Analysis, the API returns a numeric score between 0 and 1. Scores close to 1 indicate positive sentiment and scores close to 0 indicate negative sentiment. Sentiment score is generated using classification techniques. The input features of the classifier include n-grams, features generated from part-of-speech tags, and word embeddings. English, French, Spanish and Portuguese text are supported. For Key phrase extraction the API returns a list of strings denoting the key talking points in the input text. English, German, Spanish, and…
Microsoft Azure Text Analytics API
9
SAS Text Miner discovers information buried in collections of text. By automatically reading text data and delivering algorithms for rigorous, advanced analyses, the solution makes it possible to grasp future trends and act on new opportunities more precisely and with less risk. It includes advanced linguistic capabilities within the core data mining solution of SAS Enterprise Miner to extend text insights into structured data mining and predictive analysis. SAS Text Miner provides a rich suite of linguistic and analytical modeling tools specifically developed for discovering and extracting knowledge from collections of text content. Across electronic text snippets, document archives and…
10
Twinword provides text analysis APIs that can understand and associate words in the same way as humans do. The APIs are currently being used by search engines, online e-Commerce sites, and many other developers creating software that analysis and categorize text. Twinword's products are based on its patented technology of gathering a sizable database that understands, organizes and extracts true knowledge from websites and information repositories in a way that mimics natural human thought.
11
IBM Watson Natural Language Understanding analyze text to extract meta-data from content such as concepts, entities, keywords, categories, relations and semantic roles. IBM Watson Natural Language Understanding returns both overall sentiment and emotion for a document, and targeted sentiment and emotion towards keywords in the text for deeper analysis. NLU understands text in nine languages, and through customization with Watson Knowledge Studio. IBM Watson enable Cognitive Computing Features In Your App Using IBM Watson's Language, Vision, Speech and Data APIs. AlchemyAPI provides cloud based and text analysis infrastructure that eliminates the expense and difficulty of integrating natural language processing systems…
IBM Watson Natural Language Understanding
12
OpenText Content Suite creates an integrated, enterprise-wide information grid that transforms Personal Productivity, Process Productivity, and Control.OpenText Content Suite offers a hugely expanded feature set to dynamically aggregate, categorize, correlate, share, and extract value from information across the enterprise. Content Suite connects information from across the enterprise with the people and systems that need it, driving Personal Productivity with simple, intuitive tools and user experiences, Process Productivity through full integration with lead applications such as SAP and Microsoft, and Control with OpenText governance and security functionality. Content Suite and Extended ECM offers a simple, responsive UI, with role-based views to…
13
Ultimate Software's UltiPro Perception solution offers a modern way for collecting and understanding employee feedback from surveys, helping businesses enhance the employee experience and improve performance. Perception is a platform that reveals employee, manager, and team attitudes, values, and performance traits from employee surveys, performance reviews, and other sources of employee feedback. The Kanjoya platform spans employee surveys, performance reviews, and people analytics solutions. Perception customers have used the solutions to capture and analyze feedback from employees in diverse industries – from technology and financial services to healthcare and retail – all over the world. The real-time solution eliminates the…
14
Stratifyd is designed to equip business leaders worldwide with deep intellectual business insights in minutes instead of months. Stratifyd Platform is an Artificial Intelligence (A.I.) powered Data Analytics platform that analyzes and visualizes complex unstructured and structured data sets. The platform is built on our patented algorithms that leverage Machine Learning(ML) and Natural Language Processing(NLP) for any businesses. Stratifyd Platform can take the unique approach of targeting the most difficult elements of analytics – unstructured textual data. It removes the inherent biases in pre-defined taxonomy based systems by using unsupervised ML and NLP. The platform uses an interactive visualization layer…
15
Semantria for excel is a tool which offers you with some useful features and also provides you with text and sentiment analysis for surveys, social media, and reviews. Semantria for Excel is uniquely applicable to all industries around the globe. This tool supports 22 languages, including English, Italian, Japanese, and German. No matter your industry and your demographics, you'll benefit from applying Lexalytics text mining tools. Some interesting feature about this product is that every feature in Semantria for excel is customizable, including context determination, categorization, entity extraction and sentiment analysis all respond to user feedback and tweaking. Not forgetting…
16
Quill platform analyzes data from disparate sources, understands what is important, then automatically generates perfectly written narratives to convey meaning from the data for any intended consumer or business audience, at unlimited scale. It does what data visualizations cannot: it identifies and conveys relevant information in conversational language that people can immediately comprehend, trust and act on. Quill identifies the facts that are foundational to your narrative. Since not every result from this data is interesting or important, Quill uses your business rules to identify thresholds, drivers, trends and relationships to determine what matters most to your business. Quill leverages…
17
Thematic is the text analytics and visualizations that can be trusted to turn customer feedback into actionable insights. Thematic offers products such as emerging themes, editable code frame and proven accuracy which is tested on multiple groups of people. Thematic is the fastest and most reliable way for finding deep insights in NPS®, CSAT, user research surveys and chat logs. Thematic easily connects with SurveyMonkey, Zendesk, Salesforce, CSV and API. Thematic lets users understand priorities with unbiased and quantified view about what matters to customers. Thematic finds actionable insights fast with specific and meaningful recurrent themes. Thematic lets users tell…
18
Brainspace helps enterprise clients derive meaning, gain insights and identify human connections in unstructured data.Discovery 5 enables a truly unique analytics experience by dynamically linking multiple views of data including: Overview Dashboard, transparent concept search, timeline, document clusters, communication analysis, and structured data facets. Brainspace expands concepts to help you discover related content, collections and people. Amplify concepts of interest with one click. Brainspace unlocks the knowledge trapped within organizational silos, suggesting new content and continually connecting people to the most valuable information. Brainspace for Enterprise is a new breed of intelligent work experience for the knowledge-driven enterprise.
19
MeaningCloud is the easiest, powerful and affordable way to extract the meaning of all kind of unstructured content such as social conversation, articles, documents, etc. MeaningCloud extracts insights (valuable information) from multilingual, multimedia contents. MeaningCloud provides text analytics functionality for Text Classification - Entities and Topics Extraction - Sentiment, Opinion and Reputation Analysis - Clustering - User profiling - Voice of the Customer/Employee/Patient Analytics (User Experience in general). It provides graphic interfaces to allow the user to customize easily the system using his/her own dictionaries and models.Use it from the add-in for Excel, integrate it without coding through our plug-ins…
20
indico provides developer-friendly tools and APIs that turn raw text and image data into human insight.Sentiment Analysis API takes a sample of text (tweet, article, email, forum post, report, etc) and returns the positivity. For example, the text of a 5 star review is positive, while the text of a 1 star review is negative.Keyword Extraction API parses text to find the most important words that have been used. For example, within the sentence "Boston can get very cold during the winter", this API will tell you that the words "Boston", "cold", and "winter" are the most important words in…
21
Luminoso enables to understand, measure and act on large amounts of unstructured text across multiple channels. Luminoso enables global companies to tap into customer experience, fine-tune marketing strategy, elevate customer service and evolve product offering. Luminoso contextualizes survey responses, satisfaction scales, and rating scores Luminoso recognizes, surfaces, and visualizes all themes, topics, and associations within feedback - and understands their context in relation to each other automatically. Luminoso Compass enables you to collect, measure, and understand large-scale customer, employee, and marketplace feedback in real time. Luminoso Compass unearths the root causes and illuminates the driving themes and topics behind sentiment.…
22
General Sentiment is a social analytics company that delivers insights that change the way brands make product and marketing decisions. Fueled by big data natural language processing and text analytics, the company offers a Social Intelligence Platform that interprets online conversations and discovers actionable social insights. In addition to the Social Intelligence Platform, General Sentiment provides an API and a custom reporting service, which also allow corporate executives to comprehensively understand brand perception and optimize the effectiveness of marketing campaigns.
23
OdinText is often used by market researchers to understand what different segments of customers are talking about as well as how this is changing over time. OdinText makes it easy to understand what is driving various outcomes by allowing you to understand what in your text is driving other target data up or down and by how much. OdinText can also identify and track not just sentiment, but emotions. OdinText helps you visualize your data in tables, charts, and more advanced visualizations and can easily drill down to the actual record level from anywhere in OdinText, and any tables can…
24
Ascribe's leading suite of text analytics technologies delivers precise, actionable insights using innovative software and services that efficiently transform open-ended customer comments from your existing platform within a matter of hours. Ascribe is unique in that it uses a suite of text analytics technologies to deliver accurate and actionable customer insights from a broad range of customer comment channels. Ascribe is a leading provider of innovative text analytics software and solutions to businesses throughout the world. Ascribe Intelligence is the Industry-leading suite for text mining and customer comment analytics, with additional available features. Ascribe Auto Translate Enables you to universally…
25
TheySay's Social Media monitoring platform is called MoodRaker. The platform monitors multiple data sources and channels (Twitter, Facebook, news, digital media, amongst others) and uses a rich real-time dashboard to track, compare, summarise, and make sense of public opinions, moods, and feelings at a truly vast scale beyond what any single human would be able to read and digest.MoodRaker allows you to keep track of what people say about any topic across Social Media and news networks. TheySay's real-time Sentiment Analysis API gives you access to a state-of-the-art sentiment analysis algorithm through a scalable and secure RESTful API service. The…
26
Semantria Categorization and Named Entity Extraction tools are easily trained to match industry specific vocabularies, and every aspect of our Sentiment Analysis system can be tweaked to match your specifications. Semantria for Excel Windows only is a powerful workbench, tuning and reporting application that resides inside Microsoft Excel. It's the perfect tool for data analysts to get actionable insights, instantly. Easily analyze Microsoft Excel or text-based datasets right from your Mac desktop. The analysis output is provided in a BI Tool friendly output format (for use in tools like Tableau, Qlik, Microstrategy, and many others or, for developers, in an…
27
Keatext uses advanced natural language processing and machine learning technology to analyze unstructured customer feedback faster than you can say artificial intelligence. Keatext is a cost-effective, cloud-based app that quickly gives businesses a picture of their entire interaction with their customers, across all touch points so they can take the right action. Keatext uses natural language processing technology to analyze unstructured customer feedback such as customer comments, product reviews, call center transcripts and open-ended survey responses. Keatext is a Cloud-based customer feedback analysis and reporting platform that helps organizations make sense of unstructured customer feedback in minutes. Keatext uses natural language…
28
Buzzlogix monitor, discover and pinpoint the most important discussions about your brand, products and services, market and competitors. Buzzlogix Smart Assistant offers a unique set of features that assist the social media specialists to simplify their social media campaigns, measure results, extract valuable insights, automate tasks and make valuable suggestions throughout the process. Sentiment analysis discovers whether your audience is talking in a positive, negative or neutral mood. Keyword Extraction enables you to extract from an arbitrary document, webpage or data stream all the keywords and word-combinations along with their occurrences in the text.
29
STATISTICA Text Miner is an optional extension of STATISTICA Data Miner, ideal for translating unstructured text data into meaningful, valuable clusters.STATISTICA Text Miner is used to analyze the contents of Web pages. For example, users can automatically process and summarize all Web pages of particular companies, message boards, etc. Include unstructured notes in predictive data mining projects. For example, users may include responses to open-ended interview questions, patients' own descriptions of medical symptoms, etc. in data mining projects involving the clustering of patients and symptoms. STATISTICA Text Miner was specifically designed as a general and open-architecture tool for mining unstructured…
30
Rosette brings the power of AI to text analysis components within search, business intelligence, e-discovery, social media, financial compliance, and enterprises. Rosette text analytics uses linguistic analysis, statistical modeling, and machine learning to accurately process unstructured text and names, revealing valuable information and actionable data. Basis Technology provides software solutions for text analytics, information retrieval, digital forensics, and identity resolution in over forty languages. The Rosette linguistics platform is a widely used suite of interoperable components that power search, business intelligence, e discovery, social media monitoring, financial compliance, and other enterprise applications. Basis Technology is at the forefront of applied…
31
NetOwl offers a suite of best-of-breed text and entity analytics products. NetOwl analyzes Big Data in the form of text data – news, email, web, social media, and any other text document that organizations would like to exploit – as well as structured entity data about people, organizations, places, and things. NetOwl has a long history of empowering our most demanding customers who have mission-critical requirements to analyze an extremely large volume of data in a variety of forms and languages. NetOwl TextMiner is a text mining solution that enables users to find, organize, analyze, and mine a large volume…
32
Oracle Social Cloud is a scalable, enterprise-ready social relationship management solution that empowers brands to leverage the power of social media across their organizations. Oracle Social has deep listening, global reach, a unified social media management platform, and integrations with Customer Experience (CX) applications. Oracle Social Cloud provides Deeper Listening uses Latent Semantic Analysis (LSA) listening technology, filters more spam and gives you more accurate and relevant listening data and indicators feature shows consumer intent, product likes/dislikes, and customer service issues. Social cloud tools allow brands to listen, create, and engage at the speed of social with the consistency and…
33
Pingar, make analyzing text as easy as analyzing data in databases. Unstructured data such as text represents 80% of your organization's content and grows at 45-60% annually (according to Gartner, Inc). Being able to organize, collate and identify what is relevant, active and important is an ongoing problem with significant measurable financial implications for any organization. Pingar DiscoveryOne lets enterprises identify opportunities and risks hidden in the text of corporate and web data. It reduces the cost of document storage, security and compliance. DiscoveryOne's powerful text analytics engine reads millions of pages in hours identifying what content matters most to…
34
Smartlogic's Semaphore is an enterprise grade Content Intelligence platform that complements an organization's investment in enterprise search, workflow, analytics and content management systems. Semaphore is the bridge between human language and computers. It extracts the human intelligence from information assets and applies precise and consistent metadata to harmonize information and drive business decisions. Semaphore 4 platform combines the power of semantic web technology with Smartlogic's powerful auto classification and fact extraction to result in a rich sematic experience without the hassle and complexity. Semaphore 4's Ontology Manager is browser based for simple collaboration. Models can be accessed anytime, from anywhere…
35
Open Calais uses Natural Language Processing (NLP) and machine learning algorithms where users feed unstructured text into the extraction engine like news articles and blog postings to examine users' text and locate entities, relationships, facts, events and topics. Open Calais offers entities, topic codes, events, relations and socialtags. Open Calais will link to permanent entity identifiers, served by our new beta initiative where applicable. Open Calais is a free service currently accessible via a public website (opencalais.com) and will also be available via a Thomson Reuters sponsored public website called PermID.org. This free service provides document tagging using an extensive…
36
Wordstat is a highly rated advanced content analysis and text mining software with unmatched handling which comes along with analysis capabilities. This tool is a flexible and user-friendly program. it doesn't matter whether you need text mining tools for careful and precise measurement or fast extraction of themes and trends. This tool can be used by someone who is in urgent need of quickly extracting and analyzing information from large amounts of documents. This program contains quite some useful features such as; it relates unstructured text with structured data such as dates, numbers or categorical data for identifying temporal trends…
37
Etuma's text feedback categorization service lets you know what your customers are talking about, ranking feedback categories and sentiment in order of importance. This allows you to choose when to take action in acute cases. It also detects the sentiment per category , letting you know which aspects of your product, service or campaign are positive or negative. All this in real-time and in ten languages. The feedback categorization quickly uncovers the hidden opportunities residing in large amounts of text and presents them in a structurally and visually understandable way. Etuma Feedback Categorizer detects all relevant keywords and maps them…
38
Synapsify, is a text analytics and search company that helps organizations prioritize and understand their written content for greater business insight and recommendations. Synapsify empowers its clients to get to the heart of the story, in dramatically less time. The Synapsify Core API is based on a core set of linguistic algorithms, utilizing natural language and semantic processing, machine learning, etc. It has been designed to be as flexible as possible, and can be adapted to enable its users to find the most meaningful, salient and signal rich content in order for end users to focus on the content that…
39
Averbis is a specialist for text analysis solutions and present everywhere companies require effective searching of data, its contextual structuring and specific evaluation. The core strength is the analysis of unstructured and structured data, e.g. social media data, news, web resources, reports, patents, company-internal data, emails and research literature. The Averbis software enables the tapping into and evaluation of these knowledge sources and the automation of information processes. By integrating in existing business processes, the solutions contribute to lowering costs, boosting productivity, founded decision-making and better prognoses. Information Discovery is a next-generation text analytics and data exploration platform that allows…
40
AYLIEN provide Text Analysis & News API's that allow users to make sense of human-generated content at scale. AYLIEN Text API is a package of Natural Language Processing, Information Retrieval and Machine Learning tools for extracting meaning and insight from textual and visual content with ease. AYLIEN provide Proper categorization, Concept Extraction, Automatic Hashtag Suggestion. Concept Extraction takes Entity Extraction to new heights, providing Linked Data for topics mentioned, including semantic types and URIs. Automatic Hashtag Suggestion helps you get more exposure for your content on Social Media. Language Detection quickly and accurately ensures that you and the text in…
41
Megaputer provides two separate software packages for text analysis. PolyAnalyst performs linguistic and semantic text analysis and coding, clustering and categorization of documents, entity extraction, visualization of patterns, automated or manual taxonomy creation, text OLAP, and generating interactive graphical reports on results. TextAnalyst provides a list of the most important keywords in a document, a set of related keywords for each word, and the ability to automatically summarize a document or perform natural language queries.The solution is offered by Text Mining the technology for automated knowledge discovery in large volumes of text based on a combination of linguistic, semantic, statistical…
42
Angoos KnowledgeREADER brings a new age of integrated customer intelligence by combining visual text discovery and sentiment analysis with the power of predictive analytics. Angoos enrich your text discovery process with robust text mining functionality that provides you with access to Natural Language Processing (NLP), sentiment analysis, text discovery dashboard, association discovery maps, document exploration/sentiment markup, classification, and entity and theme extraction. Native language packs greatly enhance the accuracy of sentiment analysis and catch many nuances that are usually lost in translation. KnowledgeREADER offers multi-language support for English, French, Spanish, Portuguese, German, Chinese (Mandarin), Korean, Italian, Dutch, Japanese, Malay and…
43
Text2data offers text analytics SaaS services like in-depth analysis, social media/ survey data and cloud computing. Text2data offers features such as sentiment analysis API, Twitter sentiment engine, user classification models (self-trained), excel add-In (one seat), email support and SLA up-time guarantee. Text2data's In-depth Analysis lets users analyze in-house documents, emails, CRM or verbatim comments, track customer satisfaction, train document classification models with your own data, to achieve up to 90% accuracy, implement content driven events in your organization and set-up early warning and response triggers. Text2data's Social Media/ Survey data lets users analyze sentiment to the user or user's competitor's…
44
Relativity Analytics and Assisted Review amplifies the user's e-discovery efforts with visual data analytics and machine learning technology when the users are facing growing volumes of unstructured data and tight deadlines. Users can bring Relativity Analytics and Assisted Review into the user's workflow at any time, for any project, to follow an investigative pattern of thought and get to a focused list for review. Relativity Analytics and Assisted Review is fully integrated to minimize timely and risky data transfers between platforms and to make it seamless to use from early case assessment through production. Relativity Assisted Review workflows give the…
45
Loop Cognitive Computing Appliance, is a fully unsupervised next-generation machine intelligence technology, consisting of proprietary algorithms and low-cost, custom-built High Performance Computing GPU accelerated hardware. It automates processing and understanding of the dark data specific to each enterprise, breaking prevailing barriers that previously required tradeoffs among speed, cost, and quality. The Loop Cognitive Computing Platform works on principles inspired by the neocortex, the brain's center for language and reasoning. Loop AI's homegrown algorithms learn the underlying structure and concepts within each organization's dark data. Unlike competitors, our appliance does not require human guidance or labeling, domain-specific programming, or pre-defined dictionaries.…
Loop Cognitive Computing Appliance
46
ai-one provides application programming interfaces (APIs) that enable developers to build machine learning applications. Our tools enable programmers to build intelligence into almost any software application. The technology transforms information into a generalized rule set and processing environment. ai-one is capable of multiple higher-order concept formation, i.e. it can learn new concepts by taking multiple layers of context information into account such as visual information structures in pictures or the whole range of lexical, syntactic, semantic and pragmatic context in text. These information structures are transformed into generalized rule sets, which can then be applied to further input facts.
47
Aspect NLU (Natural Language Understanding) makes it possible to deliver automated self-service interactions via customer support chatbotson channels like SMS, Twitter, or Facebook Messenger, with interactive, intuitive dialogues that are conversational and convenient. Aspect NLU transforms text-based self-service into natural, two-way, powerful interactions. While simple automated interactions guide users through a predefined set of options, NLU complements Aspect's CXP Pro solution for omni-channel self-service by actually understanding customer intent and providing the ability to answer open-ended questions which is essential to improving success rates for more sophisticated tasks.
48
muText is text mining engine that enables knowledge discovery from unstructured and semi-structured data.Analyze raw text from a wide range of sources, such as surveys, customer feedback, product reviews, and social media. Perform data analysis to understand the text characteristics like frequency and relationship analysis and transform unstructured textual data into workable entities through a series of data cleansing and pre-processing rules. Mu Sigma is a category defining Decision Sciences and Big Data analytics company helping enterprises institutionalize data-driven decision making. The unique interdisciplinary approach and cross-industry learning drive innovation in solving high-impact business problems across marketing, risk and supply…
49
TextualETL is the technology that allows an organization to read text in any format in any language and to convert the text to a standard relational data base (DB2, Oracle, Teradata, SQL Server et al) where the text is in a useful meaningful format. TextualETL does not put text into a blob. Once text is placed in a blob it is essentially not useful. Instead TextualETL creates a textual data base in a relational format that is fit for analytical processing. TextualETL reads, integrates, and prepares unstructured data that is ready to go into standard technologies such as Oracle, DB2,…
50
Language Computer offers a complete line of interoperable natural language processing, semantic search, and knowledge acquisition products.Language Computer's CiceroLite recognizes hundreds of different types of named entities in English, Arabic, and Chinese texts with nearly 90% precision and recall. Language Computer's CiceroCoref increases the utility of entity extraction from natural language texts by identifying multiple references to the same entity, even when different expressions used to refer to the same entity are used. LCC's Pinpoint temporal and spatial normalization system unlocks value from raw texts by automatically converting temporal and spatial expressions into formats that can be easily visualized.
51
Rocket Enterprise Search and Text Analytics solutions make it easy for teams to find the information and data they need to get their work done, and the intuitive, flexible interface helps to ensure that they don't get bogged down in complex queries and incomprehensible results.The team gets the right answers to their questions quickly, with comprehensive results delivered in a single, well-organized view. You can even create customized views tailored to meet the needs of different audiences, and built-in access managment tools give you full control over who can access information, what they can do with it, and how many…
Rocket Search and Text Analytics
52
SYSTRAN.io enables you to utilize and analyze both structured and unstructured multilingual content, such as user-generated content, social media, Web content and more. Easy to use, Scalable and reliable, the new SYSTRAN.io brings the power of SYSTRAN's best-of-breed language processing technologies to your apps and websites. SYSTRAN is a language translation technology company, opened its language intelligence technology to multi-national companies of all sizes with a cloud-based application program interface (API) named SYSTRAN.io. Systran.io offers features such as translation, NER, language identification, segmentation & tokenization, part of speech, morphology, speech to text (ASR), text extraction and dictionary. To attract application…
53
Semantria API is a platform which analyzes and processes millions of documents in the cloud in each and every day. Semantria API securely and scalably fits your scenario, from high demand social platforms to desktop analytics. This platform has quite some interesting features which make it rather outstanding from the rest. Semantria has highly tunable NLP with broad language support, this shows that Semantria API Categorization and Named Entity Extraction tools are easily trained to match industry-specific vocabularies, and every aspect of our Sentiment Analysis system can be tweaked to match your specifications. Semantria platform has an important component which…
54
LingPipe is tool kit for processing text using computational linguistics. LingPipe is used to do tasks like to find the names of people, organizations or locations in news, automatically classify Twitter search results into categories and suggest correct spellings of queries. LingPipe's architecture is designed to be efficient, scalable, reusable, and robust. Highlights include: Java API with source code and unit tests; multi-lingual, multi-domain, multi-genre models; training with new data for new tasks; n-best output with statistical confidence estimates; online training (learn-a-little, tag-a-little); thread-safe models and decoders for concurrent-read exclusive-write (CREW) synchronization; and character encoding-sensitive I/O.
55
Oracle Endeca Information Discovery is a complete enterprise data discovery platform that combines information of any type, from any source, empowering business user independence in balance with IT governance. Now organizations can access the information they need, when they need it, to make business decisions they can trust. Oracle Endeca combine personal and enterprise data sets using intuitive wizards, without the need for formal IT-led projects. Iterate and make changes as you learn more about the data to continuously evolve what is already created. Explore data as soon as it is loaded with pre-built templates and visualizations. Drag and drop…
Oracle Endeca Information Discovery
56
Intellexer semantic products enable users to deal with various text processing tasks and which can solve diverse problems associated with the processing of electronic documents. Intellexer offers features such as the Intellexer.API which lets users get access to the most up-to-date and intellectual tools for text information processing with semantic technologies that also allow users solve the issues of information search, extraction and systematization by means of easy web access you can retrieve and manage knowledge from their documents in the most efficient way and the Intellexer. SDK which is a software development kit for developers and integrators which lets…
57
Warwick Analytics offers PrediCX that utilizes powerful artificial intelligence to automatically convert text data all in near real-time. PrediCX has the ability to deal with customer's voice data and employing machine learning. It is also ideal for automating the contact center and providing insights for the contact center. With PrediCX, enterprises can perform automatic classification of the voice data of the customer with little user input and high level of accuracy. Enterprises can also boost their profits by having a clear picture of topics that boost the clients' loyalty. The contact centers allow saving money and improving the satisfaction of…
58
Great businesses are built on two key pillars: a highly capable and engaged workforce and customers that love you. Sounds simple right? But when you have 1,000's of employees and customers, how can you get the understanding of the key issues affecting them to make the most impactful decisions possible? Kapiche is an AI-powered text analytics solution for understanding customer and employee feedback at scale, enabling you to make the most impactful decisions for your business. At the heart of Kapiche is a state of the art AI-powered Natural Language Processing and Analytics engine hosted on Microsoft Azure, capable of…