Review
Bitext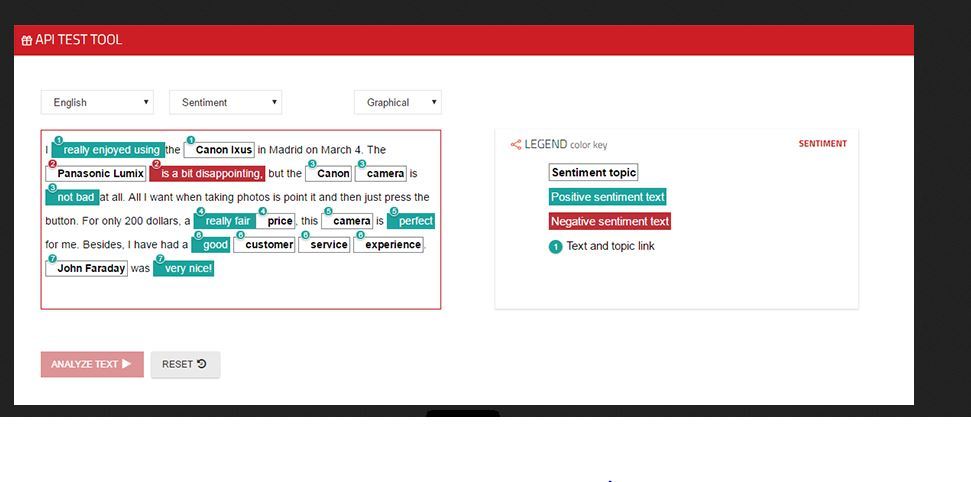 Overview
Bitext presents a grammar-based approach to Aspect-Based Sentiment Analysis which is currently available in 20+ languages. This means that these 20+ languages are in production in numerous commercial projects mainly in the area of VoC and survey coding projects
• Sentiment Analysis
• Text Categorization
• Entity Extraction
• Concept Extraction
• Consultancy Services
• Applications
Small (<50 employees), Medium (50 to 1000 Enterprise (>1000 employees)
What is best?
• Sentiment Analysis
• Text Categorization
• Entity Extraction
• Concept Extraction
What are the benefits?
• Technology & Services
• Linguistic Approach
• Online Services
• Highest Accuracy
Bitext presents a grammar-based approach to Aspect-Based Sentiment Analysis which is currently available in 20+ languages. This means that these 20+ languages are in production in numerous commercial projects mainly in the area of VoC and survey coding projects.The Bitext technology is a data-driven system with a strict separation between code and the linguistic knowledge that powers the analysis of text. The linguistic knowledge is captured in machine-readable grammars and dictionaries that can be quickly and easily customized. This ability is exploited in the implementation of our semantic services.
Bitext's API offers text analysis resources that are particularly useful for Market Research activities:
Sentiment Analysis with Built-In Topic Detection accurate (>90%) sentiment analysis with precise topic detection, so that strengths, weaknesses and customer pains can be easily identified and acted upon.
Entity and Concept Extraction and Categorization Apply a customized categorization scheme to your survey responses, reviews or social media mentions. Combine categories with topics so that your sentiment analysis results are meaningful, comparable, and actionable within your organization.