Lattice Engines Buyer Insights for Boosting Sales Productivity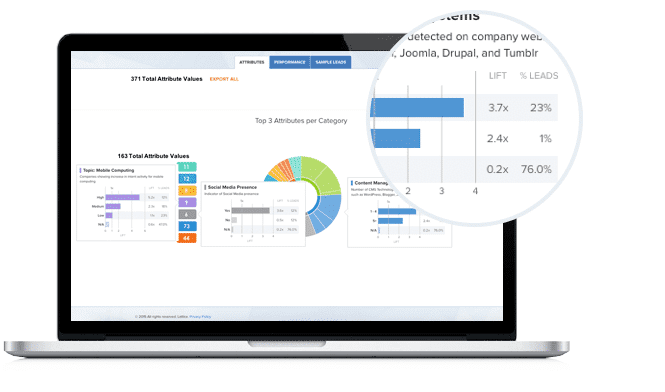 Lattice Engines, Buyer Insights CRM plug-in is for growing sales productivity and increasing sales and marketing alignment. Buyer Insights (a) embeds predictive insights about buyers within a customer's lead, account and opportunity workflows, (b) provides a single place with insights that reps can go to prepare for sales calls and (c) creates a feedback loop via reports and dashboards highlighting the performance of recommendations and factors leading to their close. Sales and marketing alignment is paramount to revenue success. Misalignment can result in lost sales productivity, because sales is focusing on the wrong leads, and ultimately lost revenue – upwards of 10% per year. In working with global companies with large sales forces like Dell, Office Depot and Staples, Lattice has created Buyer Insights, which surfaces opportunities identified by Lattice along with other predictive insights within Salesforce™ – all in context of their lead, account or opportunity workflows. After deploying the new app, a leading business supplier company was able to reduce the time spent by reps preparing for calls by 40%. They found that exposing predictive scores and insights along with embedding the scores into sales rep opportunity management workflow were key to driving sales productivity.
"Predictive marketing creates value when sales teams actually act on the recommended leads and opportunities," said Shashi Upadhyay, CEO of Lattice Engines. "By embedding the predictive recommendations and insights directly into a sales rep's workflow, our customers will be able to bring marketing and sales teams together, while creating measurable value."
Lattice generates predictive scores and insights about leads and accounts using thousands of data points on more than 150 million companies, including fit and intent indicators. The new release of Buyer Insights makes these scores and insights available to sales in a very consumable way:
The new app is natively integrated into the Salesforce1 platform. Leads and accounts scored by Lattice are presented as recommendations within the Salesforce dashboard. Each recommendation tells the rep not only the score for that particular lead or account, but the underlying data attributes that make up that score, as well as the products that lead/account is likely to buy and estimated revenue.
Dynamic talking points provide a template for marketers to shape sales conversations and shorten call prep times for each lead or account scored by Lattice. Customers can pull in additional data points about the lead or account such as company history, marketing campaign activity, executive changes, and even prior purchase history and other transactional data – all in one place to streamline the call prep process.
Predictive program dashboard provides out-of-the-box reporting and KPIs on how leads and accounts identified by Lattice are generating pipeline and converting. Also included are reports for front line managers to see which reps are following up on target leads and which reps aren't – so they can identify opportunities for sales rep coaching and improve team performance.
The new app is integrated across mobile platforms, so field reps working exclusively from a tablet are able to access lead and account insights identified by Lattice just as quickly as a telesales rep who is sitting in front of a desktop.
You may also like to read, Predictive Analytics Free Software, Top Predictive Analytics Software, Predictive Analytics Software API, Top Free Data Mining Software, Top Data Mining Software,and Data Ingestion Tools.
Top Predictive Lead Scoring Software, Top Artificial Intelligence Platforms, Top Predictive Pricing Platforms,and Top Artificial Neural Network Software, and Customer Churn, Renew, Upsell, Cross Sell Software Tools
More Information on Predictive Analysis Process
For more information of predictive analytics process, please review the overview of each components in the predictive analytics process: data collection (data mining), data analysis, statistical analysis, predictive modeling and predictive model deployment.