Rapid Insight QuickStart Solution for Competitive Enrollment Analytics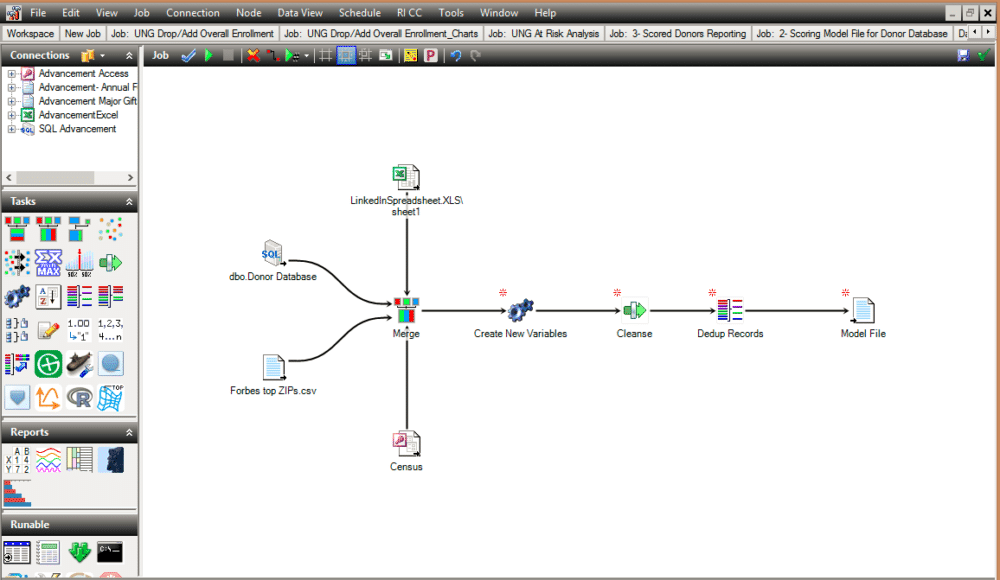 Rapid Insight QuickStart for Competitive Enrollment Analytics is a QuickStart solutions aimed at streamlining the process for colleges and universities to use their information for data-driven decision making. Each year, colleges and universities lose a large percentage of their applicants to competitor schools. Whereas many schools have been analyzing the patterns and trends of students who enroll with them, few have been analyzing the patterns and trends of the applicants who are choosing to enroll elsewhere. This QuickStart solution blends a school's historical applicant data with data from the National Student Clearinghouse (NSC) and produces a series of analyses on the admitted applicants that are choosing competitor schools.
Some examples of the types of questions an institution can answer with this QuickStart:
• Who are an institution's top competitor schools?
• How many admitted applicants are being lost to each competitor?
• How many applicants are choosing out of state schools vs. in-state?
• Which schools are applicants being lost to within each program or major?
• Are applicants being lost to other 4 year schools, or to 2 year schools?
• What is the profile of applicants by school chosen (avg. SAT/ACT, High School GPA, etc…)?
• What is the probability for each current applicant that they will choose a competitor?
"With the higher ed landscape becoming more competitive, it is vital to be able to use data as a strategic asset. This QuickStart enables schools to analyze their competitive environment so that they can quickly react and make any changes needed to remain competitive," noted Paul Kirsch, Marketing Manager for Rapid Insight.
Rapid Insight is a leading provider of predictive analytics software and solutions that provides organizations with the ability to make data-driven decisions. Rapid Insight products enable users of any skill level to quickly turn their raw data into actionable information.
You may also like to read, Predictive Analytics Free Software, Top Predictive Analytics Software, Predictive Analytics Software API, Top Free Data Mining Software, Top Data Mining Software,and Data Ingestion Tools.
Top Predictive Lead Scoring Software, Top Artificial Intelligence Platforms, Top Predictive Pricing Platforms,and Top Artificial Neural Network Software, and Customer Churn, Renew, Upsell, Cross Sell Software Tools
More Information on Predictive Analysis Process
For more information of predictive analytics process, please review the overview of each components in the predictive analytics process: data collection (data mining), data analysis, statistical analysis, predictive modeling and predictive model deployment.