Top 33 Data Mining Software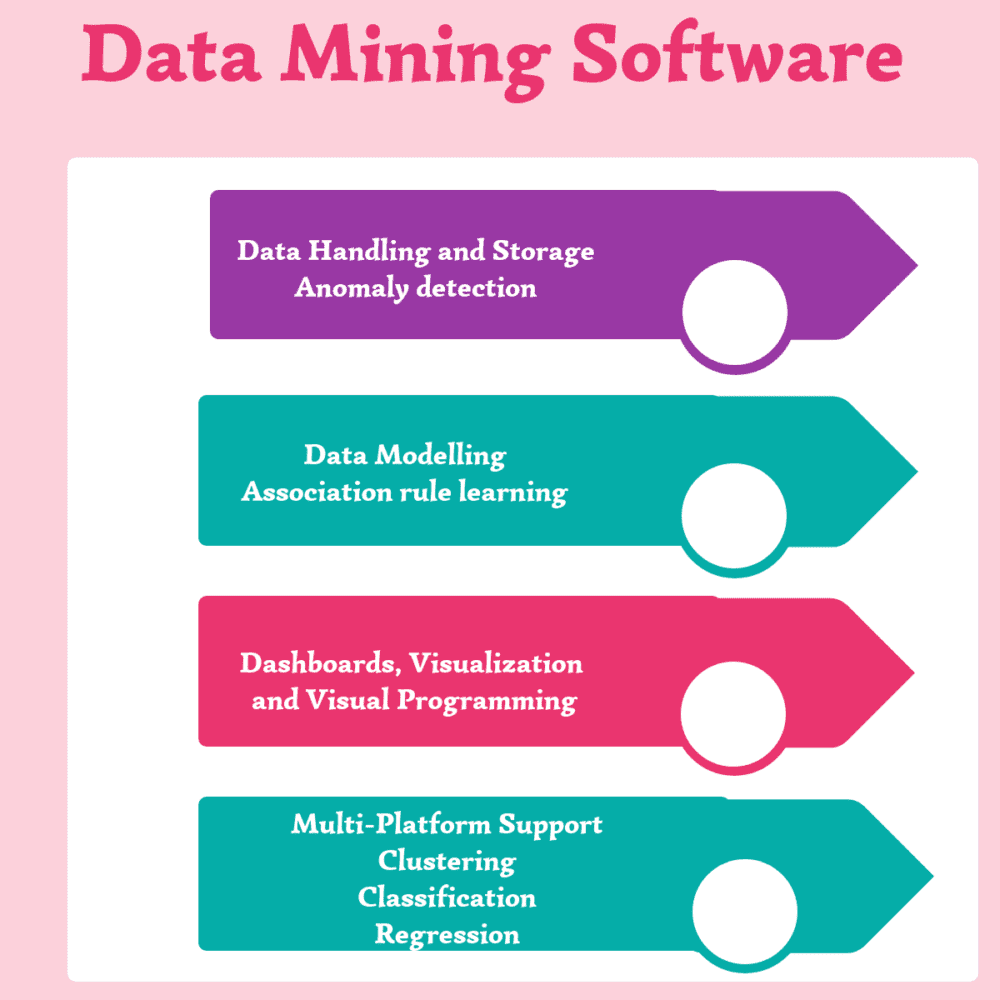 Data is a cornerstone of smart decisions in today's business world and companies need to utilize the appropriate data mining tools to quickly discover insights from their data.
Data mining has become an integral part of analytics because it has helped businesses to benefit from predictive modelling and maximize on analytics programs. The modern market is characterized by stiff competition and businesses in various sectors have to mine relevant data in order to stay on ahead of the competition.
Companies can utilize the analytics models provided by data mining tools to gain insights from large volumes of customer data and predict the behaviours of their customers.
Moreover, companies use data mining tools and their analytic know-how to solve complex problems, price products and services more effectively, discover competitive strategies, predict performance, develop intervention strategies, predict potential problems, identify market risks, develop more targeted marketing campaigns, and improve customer relationships.
Examples of Data Mining Software from the propriety vendors including Periscope Data, Neural Designer, RapidMiner Studio, KNIME Analytics Platform, Dataiku DSS, Microsoft SQL Server Integration Services, Lavastorm Analytics Engine, IBM SPSS Modeler, SAS Enterprise Miner, Oracle Data Mining ODM, Angoss Predictive Analytics, STATISTICA, TIBCO Spotfire, LIONoso, Alteryx Analytics, AdvancedMiner, Analytic Solver, Portrait Predictive Analytics, PolyAnalyst, OpenText Big Data Analytics, GhostMiner, Teradata Warehouse Miner, HP Vertica Advanced Analytics, TIMi Suite, QIWare, pSeven, Civis Platform, Rialto, Valo, Salford Systems SPM, FICO Data Management Solutions, Think Enterprise Data Miner , Viscovery Software Suite, Rapid Insight Veera. Data Mining is the process of extracting information from a data set and transforming it into an understandable structure for further use.
What are Data Mining Software?
Data mining software refers to software that allows companies and other users to extract usable data from a large set of raw data to find correlations, patterns, and anomalies. The results of the data mining process help companies predict outcomes. The key techniques used by data mining software to mine data include statistical analyses, specific algorithms, machine learning, database statistics, and artificial intelligence.
The main goal of using these methods is to retrieve useful information from a large dataset and transform it into a structure that is easy to understand and use when needed. In simple terms, data mining applications help companies gain insights from huge volumes of data and transform data into actionable information.
There are many data mining systems and some of them offer more advanced functionalities. Individual products also use different methods to process information and validate results. Therefore, your choice of data mining software will depend on your preferences or needs.
Data Handling and Storage: The ability to process and store data is the most important feature of data mining software. Users of the software can extract, transform, load, store, and manage data in databases and data warehouses. Business analysts and other users can use application software to access the stored data.
Data Modelling: This feature helps data mining software users perform descriptive, predictive, and prescriptive modelling. Data modelling involves using techniques such as clustering, anomaly detection, affinity grouping, principal component analysis, regression, classification, decision trees, and neural networks to uncover shared similarities, categorize data, and predict future events or outcomes.
Dashboards, Visualization and Visual Programming: One of the most important features of data mining software is the ability to present analyzed data in easy-to-understand forms. For example, users of the software can display data in graphs, tables, scatter plots, pie charts, and geographical maps. Some data mining software products have customizable dashboards with drag-and-drop features (visual programming) and widgets.
Multi-Platform Support: Most data mining software products can run on popular operating systems including Windows, Mac OS, Solaris, Unix, Linux, and AIX.
Anomaly detection: The identification of unusual data records, that might be interesting or data errors that require further investigation.
Association rule learning: Searches for relationships between variables..
Clustering: The task of discovering groups and structures in the data that are in some way or another "similar", without using known structures in the data.
Classification: The task of generalizing known structure to apply to new data.
Regression: Attempts to find a function which models the data with the least error that is, for estimating the relationships among data or datasets.
Some of the benefits include:
Companies can extract customer data from different sources to create effective marketing campaigns and improve lead conversion rates.
Businesses can build prediction models based on historical patterns.
Companies can use data mining software to detect frauds and create risk models.
Data mining tools can help companies improve product quality and safety.
Top Data Mining Software
Periscope Data, Neural Designer, RapidMiner Studio, KNIME Analytics Platform, Dataiku DSS, Microsoft SQL Server Integration Services, Lavastorm Analytics Engine, IBM SPSS Modeler, SAS Enterprise Miner, Oracle Data Mining ODM, Angoss Predictive Analytics, STATISTICA, TIBCO Spotfire, LIONoso, Alteryx Analytics, AdvancedMiner, Analytic Solver, Portrait Predictive Analytics, PolyAnalyst, OpenText Big Data Analytics, GhostMiner, Teradata Warehouse Miner, HP Vertica Advanced Analytics, TIMi Suite, QIWare, pSeven, Civis Platform, Rialto, Valo, Salford Systems SPM, FICO Data Management Solutions, Think Enterprise Data Miner , Viscovery Software Suite, Rapid Insight Veera are some of the top data mining software.
Data Mining Software
PAT Index™
1
Periscope Data
Periscope Data is an end-to-end BI and analytics solution that lets you quickly connect your data, then analyze, visualize and share insights. Periscope Data can securely connect and join data from any source, creating a single source of truth for your organization. Perform BI reporting and advanced analytics operations all from one integrated platform. Communicate insights more effectively by selecting from Periscope Data's wide range of visualization options (including standard charts, statistical plots, maps and more) and instantly share real-time insights via direct linking, email or Slack. Periscope Data is a data analysis tool that unifies business data across multiple…
Overview
•One Tool For All Your Data Needs
•Enable data experts to answer more complex questions, quickly.
•SQL Editor Built By Experts, For Experts
•Advanced Analytics With Python And R
•Intuitive Drag-and-Drop Interface
2
Neural Designer
Neural Designer is a desktop application for data mining which uses neural networks, a main paradigm of machine learning. The software is developed by the startup company called Artelnics, based in Spain and founded by Roberto Lopez and Ismael Santana. Neural networks are mathematical models of the brain function, computational models which are inspired by central nervous systems, in particular the brain, which can be trained to perform certain tasks. Neural networks are capable of machine learning as well as pattern recognition. Neural networks are generally presented as systems of interconnected neurons, which can compute outputs from inputs. Neural network…
3
RapidMiner Studio
RapidMiner Studio is a visual design environment for rapidly building complete predictive analytic workflows. It provides a deep library of machine learning algorithms, data preparation and exploration functions, and model validation tools to support all your data science projects and use cases.Data science teams can easily re-use existing R and Python code, and add new functionality via a large marketplace of pre-built extensions. RapidMiner provides an integrated environment for machine learning, data mining, text mining, predictive analytics and business analytics and is used for business and industrial applications as well as for research, education, training, rapid prototyping, and application development.…
Overview
• Unified Platform
• Visual Workflow Design
• Breadth of Functionality
• Open Source Innovation
• Broad Connectivity
• Data Science at Every Scale
4
KNIME Analytics Platform
KNIME, the Konstanz Information Miner, is an open source data analytics, reporting and integration platform. KNIME integrates various components for machine learning and data mining through its modular data pipelining concept and provides a graphical user interface allows assembly of nodes for data preprocessing, for modeling and data analysis and visualization. KNIME Collaborative Extensions and KNIME Analytics Platform includes KNIME TeamSpace, KNIME Server Lite,KNIME WebPortal, and KNIME Server. KNIME Analytics Platform provides over 1000 data analytic routines, either natively or through R and Weka, for such topics as Univariate and Multivariate Statistics, Data Mining,Time Series, Image Processing, Web Analytics, Text…
Overview
• Powerful Analytics
• Data & Tool Blending
• Open Platform
• Over 1000 Modules and Growing
•Connectors for all major file formats and databases
•Support for a wealth of data types: XML, JSON, images, documents, and many more
•Native and in-database data blending & transformation
•Math & statistical functions
•Advanced predictive and machine learning algorithms
• Workflow control
• Tool blending for Python, R, SQL, Java, Weka, and many more
• Interactive data views & reporting
5
Dataiku DSS
Dataiku DSS is the collaborative data science platform that enables teams to explore, prototype, build, and deliver their own data products more efficiently. Dataiku DSS provides an interactive visual interface where they can point, click, and build or use languages like SQL to data wrangle, model, easily re-run workflows, visualize results, and get up-to-date insights on demand. Dataiku DSS provides tools to draft data preparation and modelisation in seconds, that wish to leverage their favorite ML libraries (scikitlearn, R, MLlib, H2O, and so on), and that rely on automating their work in a completely customizable interface. Data Ops. It also…
Overview
• Connectivity
• Data Wrangling
• Machine Learning
• Data Mining
• Data Visualization
• Data Workflow
• Realtime Scoring
• Code Or Click
• Collaboration
• Deployment
• Enterprise Readiness
6
Microsoft SQL Server Integration Services
Microsoft Integration Services is a platform for building enterprise-level data integration and data transformations solutions. Integration Services is used to solve complex business problems by copying or downloading files, sending e-mail messages in response to events, updating data warehouses, cleaning and mining data, and managing SQL Server objects and data. The packages can work alone or in concert with other packages to address complex business needs. Integration Services can extract and transform data from a wide variety of sources such as XML data files, flat files, and relational data sources, and then load the data into one or more destinations.…
Overview
•Built-in data source connectors
•Built in tasks and transformations
•ODBC source and destination
•Azure data source connectors and tasks
•Hadoop/HDFS connectors and tasks
•Basic data profiling tools
Microsoft SQL Server Integration Services
7
Lavastorm Analytics Engine
Lavastorm is a visual data discovery solution that allows to rapidly integrate diverse data, easily discover elusive insights, and continuously detect anomalies, outliers, or patterns. Lavastorm Analytics Engine provides self-service capability for business users and rapid development capabilities for IT users in the areas of integration, analytics, and business control. Features include acquire, transform, combine, and enrich data from virtually any source, including Big Data sources without intensive modeling, pre-planning, or scripting. The solution discover data issues, such as completeness, inconsistent formats, accuracy, automate the evaluation and cleansing process. Lavastorm Analytics Engine use the visual analytic environment and its configurable…
8
IBM SPSS Modeler
IBM SPSS Modeler is an analytics platform from IBM, which bring predictive intelligence to everyday business problems. The solution provides a range of advanced analytics including text analytics, entity analytics, social network analysis, automated modeling, data preparation, decision management and optimization.SPSS Modeler offers capabilities include conducting analysis regardless of where the data is stored such as in a data warehouse, a database, Hadoop or flat file and regardless of whether it is structured such as age, price, product, location or unstructured such as text, emails, social media. IBM SPSS Modeler is offered as three editions: IBM SPSS Modeler Gold –…
Overview
• Deploy insights into business processes
• Hands-on predictive analytics
• Full breadth of predictive analytics techniques
• Open source statistical software tools
9
SAS Enterprise Miner
SAS Enterprise Miner : SAS Enterprise Miner is a solution to create accurate predictive and descriptive models on large volumes of data across different sources in the organization. SAS is the leader in business analytics software and services, and the largest independent vendor in the business intelligence market. Through innovative solutions, SAS helps customers at more than 70,000 sites improve performance and deliver value by making better decisions faster. Since 1976 SAS has been helping customers around the world. SAS was developed at North Carolina State University from 1966 until 1976, when SAS Institute was incorporated. SAS Enterprise Miner offers…
Overview
• Easy-to-use GUI and batch processing
• Sophisticated data preparation, summarization and exploration
• Advanced predictive and descriptive modeling
• Open source integration with R
• High-performance capabilities
• Fast, easy, self-sufficient way for business users to generate models
• Model comparisons, reporting and management
• Automated scoring
• Ability to call SAS Viya actions within a process flow
• Scalable processing
• Cloud deployment option
10
Oracle Data Mining ODM
Oracle Data Mining ODM provides powerful data mining functionality and enables the users to discover new insights in hidden data. Oracle Data Mining ODM has several data mining and data analysis algorithms and is part of Oracle Relational Database Management System Enterprise Edition.These algorithms provide means for creation, manipulation, application, test and deployment of models. They are used for classification, prediction, regression, associations, feature selection, anomaly detection, feature extraction, and specialized analytics. The models are implemented in Oracle database kernel and are stored as database objects. Models can be created using a graphical user interface. Business analysts can do predictive…
Overview
• Active Data Guard
• Advanced Analytics
• Advanced Compression
• Advanced Security
• Database In-Memory
• Database Vault
• TimesTen Application-Tier Database Cache
• Label Security
• Management Packs
• Multitenant
• Online Analytical Processing (OLAP)
• Partitioning
• Real Application Clusters
• Real Application Clusters One Node
• Real Application Testing
• Spatial and Graph
11
Angoss Predictive Analytics
Angoss is a global leader in delivering predictive analytics to businesses looking to improve performance across risk, marketing and sales. The Angoss portfolio includes a suite of desktop, client-server and big data analytics software products and cloud solutions. The predictive analytics software suite includes: KnowledgeSEEKER, KnowledgeSTUDIO, and KnowledgeREADER all with best-in-class Decision Trees and Strategy Trees. Fully hosted and managed KnowledgeCLOUD solutions provide industry leading analytics for organizations that need in-house specialization. Solutions also include KnowledgeSCORE for lead and opportunity scoring, FundGUARD for asset management, and ClaimGUARD for insurance fraud detection. Many of the world's leading financial services, insurance, telco,…
Overview
• Risk Analytics
• Customer Analytics
• Marketing Analytics
• Prescriptive Analytics
• Text & social Analytics
• Sales Analytics
12
STATISTICA
STATISTICA : STATISTICA provides solutions for data analysis, data management, data visualization, and data mining with predictive modeling, clustering, classification, and exploratory techniques in one software platform. This is a propriety software from StatSoft, which was acquired by Dell. STATISTICA Data Miner contains comprehensive selection of data mining methods such as selection of clustering techniques, neural networks architectures, classification/regression trees, multivariate modeling including MARSplines, Support Vector Machines, association and sequence analysis and many other predictive techniques, such as methods for advanced/true simulation and optimization of models. Data Miner can process, read, and write data from virtually all standard file formats,…
Overview
• Powerful analytics and streaming visualizations
• Empower Data Scientists and Citizen Data Scientists
• Industrial strength analytics
• Compliant and auditable
• For data scientists, statisticians and expert managers – whether you code or not
• Enable Collective Intelligence
• Embed analytics everywhere
• Become data-driven, collaborate and reuse
• Analyze all data, at the right time
• Orchestrate analytics across the enterprise
13
TIBCO Spotfire
TIBCO Spotfire provides interactive dashboards, visualizations, and predictive and event-driven analytics, to develop unexpected insights immediately on any device. Spotfire is an enterprise class analytics platform that helps both business and technical users quickly explore data to develop actionable insights, without requiring IT intervention. Spotfire meets the analytic needs of users across the enterprise with data discovery and ad-hoc analysis, interactive reporting and dashboards, domain-specific applications, event-driven real-time analysis, and powerful predictive analytics. All these capabilities are delivered from a single product architecture. Spotfire Analyst makes comprehensive analytics fast and easy for a variety of users, allowing them to gain…
Overview
• Data Discovery
• Data Wrangling
• Predictive Analytics
• Big Data Analytics
• Location Analytics
• Enterprise Scale Analytics
14
LIONoso
LIONoso is a comprehensive Machine Learning and Intelligent Optimization tool for non-profit research and academic use. LIONoso is the ideal tool for the rapid development of prescriptive analytics application.In addition to the ML and optimization tools, advanced users adopt it for orchestrating heterogeneuos components. Orchestration deals with automating processes, with the arrangement, coordination, and management of complex software components connecting data, experiments, simulators, models, decisions. LIONoso is a machine learning and intelligence optimization tool. The tool is targeted for academic use and for nonprofit organizations. Researchers can get their work done through this tool. It helps in the quick development…
Overview
•Allow learning from data
•Allow machine learning and optimization
•Provide solution to healthcare
•Allow research and development
15
Alteryx Analytics
Alteryx Analytics portfolio includes Alteryx Designer, Alteryx Server and Alteryx Analytics Gallery. Alteryx Designer allows to blend internal, third-party, and cloud-based data, build powerful R-based predictive and spatial analytics applications without any programming and share deep data insight with business decision makers. Predictive modeling techniques, such as logical regression or decision trees, clustering techniques such as K-centroid clustering and principle component analysis, data investigation techniques, such as scatter plots and association analysis- all can be included with out any programming using Alteryx Designer. Alteryx Server, scale the critical analytic workflows to meet data and analytic requirements, schedule multiple workflows and…
Overview
• Cloud-based, run-time solution
• Empower everyone to make data driven decisions
• Create a secure, private studio for analytic apps
• Customize and run analytic apps from the cloud
• Desktop-based, design-time solution
• Prep and blend all data in a repeatable workflow
• Run predictive, spatial, and statistical analytics without coding
• Output analytic results to all popular formats
•1 Year Subscription (Per User, Per Year)- Alteryx Analytics Gallery - $1,950, Alteryx Designer - $5,195, Alteryx Server - $58,500
16
AdvancedMiner
AdvancedMiner is an integrated analytical tool for data processing, analysis and modeling. With a graphical interface (Workflow) it offers a complete and user-friendly environment for data exploration. Advanced miner allows for data processing. AdvancedMiner provides features for extracting and saving data from/to different database systems and files, performing a wide range of operations on data, such as sampling, joining datasets, dividing into testing/training/validating sets, assigning roles to attributes, graphical and interactive data exploration, outlier filtering, supplying missing values, PCA, various data transformations, building association models, clustering analyses, variable importance analyses, constructing various analytical models with the use of diverse Data…
Overview
•Allow customer segmentation and profiling
•Analyze data and prepare data modals
•Allow data exploration
•Allow fraud detect and risk analysis
17
Analytic Solver
Frontline's Analytic Solver Comprehensive is the integrated tool that enables a business analyst to "do it all in Excel," with point-and-click rapid model-building instead of R or Python programming. It includes all the capabilities of Analytic Solver Data Mining for data visualization, data mining and machine learning, text mining, and time series forecasting; all the capabilities of Analytic Solver Simulation for Monte Carlo simulation and risk analysis, decision trees, simulation optimization, stochastic programming and robust optimization; and all the capabilities of Analytic Solver Optimization, by far the leading tool for large-scale conventional optimization in Excel. With point-and-click ease, enterprise-grade power,…
Overview
•Allow data mining, predictive analysis and data visualization
•Easy to use interface
•Built in feature in Excel
•Can manage large data sets
•Perform statistical procedures
18
Portrait Predictive Analytics
Portrait Predictive Analytics: Portrait Suite consists of products Portrait Dialogue, Portrait Interaction Optimizer, Portrait Explorer, Portrait Miner and Portrait Uplift. Portrait's comprehensive set of customer analytics offerings integrate with its core Predictive Analytics and Data management tool. Portrait Dialogue is a customer interaction solution which converts customer interactions into a connected two way dialogue .Portrait Interaction Optimizer provide the most accurate, targeted sales, service and retention offer.Portrait Explorer makes navigating and understanding your customer data easy.Portrait Miner enables customer insight professionals and business users alike to achieve a clear picture of their customers. Portrait Miner features include easy to use interface…
Overview
• Interactive Personalized Media
• Print & Digital Communications Management
• Customer Contact & Interaction Management
• Customer & Marketing Analytics
19
PolyAnalyst
PolyAnalyst derives data from various sources. The data is processed into reports and modal. These reports can be used for decision making. Modal can studied in-depth to develop actionable strategies for business processes. The software is capable of preparing reports that are straight forward and easy to understand. These results can be easily interpreted and converted to applicable strategies. The software is capable of data extraction, processing, data modeling and analysis. The software allows users to make selection for algorithms in order to analyze data. The software can analyze structured data and text data types. Users can perform various operations…
Overview
•Perform categorization, clustering and prediction
•Perform link analysis, anomaly detection and pattern discovery
•Perform entity and key word extraction
•Analyze structured and text data
•Perform flexible reporting and multi-purpose analytics
20
OpenText Big Data Analytics
Open Text Big Data Analytics software analysis huge volumes of data quickly. The software is easy to use and delivers quality results. The software enables users to analyze data without dependence on IT experts. The software makes data analysis and easy job to do. It allows data exploration, analysis, access and blend of data to produce accurate results. The software provides a deep insight into customers' needs and demands. It helps in understanding customers. The software provides information to analyze markets and their ongoing trends. The software enable businesses to carry out their operations smoothly. The software extracts data from…
Overview
•Easy to use
•Does not require complex coding
•Extracts data from all sources
•Allow data visualization
•Perform statistical procedures
•Helps in understanding markets and customers
21
GhostMiner
GhostMiner is unique data mining software from Fujitsu that not only supports common databases (or spreadsheets) and mature machine learning algorithms, but also assists with data preparation and selection, model validation, multimodels like commitees or k-classifiers, and visualization. GhostMiner is software designed to carry out data mining. It makes use of unique algorithms and data mining capabilities to produce best results. It enables users to create modals and multimodal. It helps users to support databases. GhostMiner Developer is the tool for data-model designers and developers who, using databases, can train, test run and select useful models. The use of this program…
Overview
•Allows data mining
•Prepare modals and multimodal
•Allow segmentation of customers
•Identify fraudulent customers
•Allow data preparation
22
Teradata Warehouse Miner
Teradata Warehouse Miner will help you discover meaningful new data patterns and trends. It contains an array of data profiling and mining functions ranging from data exploration and transformation to analytic model development and deployment that are performed directly in the Teradata Database. Teradata Warehouse Miner allows you to analyze detailed data without data movement, streamlining the data mining process. TERADATA allows users to carry out data mining. The software provides a variety of data mining functions to choose from. Users can perform data exploration and can identify trends. The software allow users to carry out detailed analysis on data…
Overview
•Perform statistical tests
•Carry out data modeling
•Carry out data mining and analytics
•Enable data profiling
•Allow data exploration
•Identify trends
23
HP Vertica Advanced Analytics
Vertica Advanced Analytics manages and organizes data for businesses users. It analyzes data quickly and rapidly. The software can manage both structured and semi structured data. HPE Vertica is the most advanced SQL database analytics portfolio built from the very first line of code to address the most demanding Big Data analytics initiatives. HPE Vertica delivers speed without compromise, scale without limits, and the broadest range of consumption models. Choose Vertica on premise, in the cloud, or on Hadoop. With support for all leading BI and visualization tools, open source technologies like Hadoop and R, and built-in analytical functions, Vertica…
Overview
• Parallel approach to big data
• Faster data loads and higher concurrency
• Flexibility and scalability
• Columnar storage
• Intelligent compression
• Deploy on premise, in the clouds, and on Hadoop
• Complete and advanced SQL-based analytical functions
• Certification for common ETL and visualization tools
• Geospatial and other advanced analytic functions
• Machine learning models including regression and K-means that you can predict and share with spark
• Integration with Hadoop, including parquet and ORC files
24
TIMi Suite
The TIMi Suite is a complete and integrated suite of datamining tools that are covering all analytical needs for enterprise! The TIMi Suite produces reliable predictive analyses & segmentation analyses that give the best business-insight about B2B or B2C market, advertising campaigns and more. The TIMi Suite software is a real decision-making support system helping with good pro-active management. With TIMi, companies can capitalize on their corporate data to develop new ideas, to make business critical decisions and boost their corporate performance. TIMi enables better decisions at every management level. Through predictive analysis, TIMi produces extensive colorful Excel reports containing…
Overview
•Extremely Large Datasets
•Extremely fast and advanced analytical engine
•The analytical engine of TIMi (which creates the predictive models) is 100% automated
•Complete documentation of the algorithms
•All computations can be conducted in "interactive mode" (with the mouse) or in "batch mode" creates a predictive model
•Estimation of the quality of the generated predictive models
•Data Audit
25
QIWare
QIWare is an agile analytics solution that delivers a complete suite of capabilities to support end-to-end data mining cycle. Simplify data preparation and modeling while increasing business productivity, minimizing human error, and significantly improving usability. QIWARE has the capability to carry out data mining. It makes use of agile capabilities to provide solution to businesses to carry out the complete and end to end data mining cycle. It enables businesses to ease preparation of data and enable data modeling. It reduces human errors and increases speed and efficiency. It improves productivity too. The software helps in the management of customer…
Overview
•Enable data preparation, analysis and data mining
•Allow segment management
•Allow customer retention
•Enable revenue maximization
•Enable cross sales and up sales
•Prevent risks
26
pSeven
pSeven platform allows users to solve their engineering and design related problems. The software has been designed to capture and present the view of the entire design process and present it as a single view. The software integrates several design software that users are already using. The software allows users to carry out data mining. The software has design optimizing algorithms to perform the work effectively. Design is captured and is presented in an easy to understand modes. Design is presented in four platform modes. The design is delivered using a four step usage scenarios. These modes include, workspace mode,…
Overview
•Solve engineering problems
•Create work flows
•Visualize data
•The software provides four data modes where design and processes are presented.
27
Civis Platform
Civis Platform allow users to extract maximum value from the data. The software allows users to resolve complex data related problems. The software enable's users to analyze and guide decision making. The software has been designed by data scientists to deliver maximum value out of data analysis. Data has become increasingly important for businesses. Data guide strategy formulation, insight into markets and customers, trends and potential problems and opportunities. Thus data is a valuable asset for the company. The software helps in scheduling tasks and activities. The software allows users to share and create workflows. It provides an insight into…
Overview
•Analyze and transform data
•Provide insight in to customers and markets
•Guide decision making
•Create work flows
•Schedule tasks
28
Rialto
Rialto is a Business Analytics platform based on Machine Learning techniques for models induction.Rialto enables the construction of complex Knowledge Discovery process through a visual approach supported by a simple and intuitive graphical interface.Rialto provides support for the entire Knowledge Discovery lifecycle. It is equipped with over 100 basic plug-ins for data acquisition, pre-processing, data mining and model visualization.Rialto can efficiently manage large data volumes, as it is required by real-world data mining applications. Efficiency and scalability are a consequence of advanced memory managemet techniques, along with an architecture capable of supporting both parallel and distributed executions.Rialto can interoperate with…
Overview
•Comprehensive Analytics Lifecycle Support.
•Complex Knowledge Discovery process
•Simple and intuitive graphical interface
29
Valo
Valo is a streaming big data analytics platform that simplifies the complexity involved in analysing vast amounts of data at speed.Valo combines a real-time computation engine with big data storage, all within a simple to use platform. Designed to solve complex data analytics problems, Valo has in-built analytical functions and machine learning with the ability to BYO. Valo clustered node architecture consists of equal nodes that each have their own computation and storage ability. This means Valo can be easily scaled up and back elastically, as required, while maintaining high throughput and low latency. Valo combines big data storage with…
Overview
•Analytical functions and Machine learning
•Highly Scalable / Availability
•Big Data Storage
30
Salford Systems SPM
SPM Salford Predictive Modeler software suite is a highly accurate and ultra-fast analytics and data mining platform for creating predictive, descriptive, and analytical models from databases of any size, complexity, or organization. This suite of data mining tools includes Salford Systems' flagship products of CART, MARS, TreeNet, and Random Forests. Salford Systems SPM's brainpower includes more than 70 pre packaged automated scenarios that are inspired by how leading model analysts build their work.Salford Systems SPM currently offers 4 different product versions that users can choose from depending on what they need for the company. The Basic Version provides data mining,…
31
FICO Data Management Solutions
FICO's Data Management Solutions' streaming data platform aims to help organizations find the right information in making big decisions that would be beneficial to the business. With a huge data available for most companies, being able to utilize them well and gather the most relevant data is the key to be productive. This provides powerful insights derived from various sources to establish rightful decisions. FICO's Data Management Solutions collects data from structured and unstructured sources. By sing analytic processing, it gives definitive information regarding customer relationship with real time streams of data. This will then generate real time insights that…
FICO Data Management Solutions
32
Think Enterprise Data Miner
Think Enterprise Data Miner offers a unique solution for complex business problems when it comes to managing data and understanding how analytics can help provide solution for strong decision makings. Its data mining techniques and knowledge discovery is the key for enterprises to work on their connections that needs huge amount of information in order to establish customer relations and better plans for the future. This information is gathered from various sources and is streamed real time for queries. Think Enterprise Data Miner's predictive intelligence is provided to all its users to be able to accurately utilize them to gain…
33
Viscovery Software Suite
Viscovery Software Suite, help customers uncover high value insights in complex data sets and offers a selection of software for predictive analytics and data mining designed to comprehensively address the needs of business and technical users. The Software suite consists of Viscovery Profiler, Viscovery Predictor, Viscovery Scheduler, Viscovery Decision Maker, Viscovery One(2)One Engine and Viscovery SOMine. Viscovery Profiler offers explorative data mining, visual cluster analysis, segmentation, and profiling with features including Workflow Orientation, visual representation, statistical information and reports. Viscovery Predictor offers a generation of linear and non linear predictive models and scorings. The system enables workflow-oriented prediction, scoring, and…
Overview
• Mature, reliable software, under continual development for more than 20 years
• Workflow navigation through analytical projects
• Self-explanatory user interface
• Comprehensive data mining capabilities
• Predictive marketing
• Explorative data mining
• Customer behavior modeling
• Risk analysis
• Business performance analysis
• Demand chain management
• Text mining
• Industrial process optimization
• Database imaging and querying
• Data quality assurance
34
Rapid Insight Veera
Rapid Insight products enable users to turn their raw data into actionable information. The company's analytic software simplifies the extraction and analysis of data, enabling clients ranging from small businesses to Fortune 500 companies to fully utilize their information for data-driven decision making. Rapid Insight Veera is a solution that eliminates the complexity of working with data with an easy to use visual interface. It helps to create a repeatable process without the need for complex programming. Its easy-to-use visual interface eliminates the complexity of working with your data. The solution integrates data from disparate sources and formats and effortlessly…
Overview
• Predictive Modeling
•Analyze the Past
•Understand the Present
•Predict the Future
• Data Blending
• Access any data from any source in any format
•SQL, Oracle, Excel, Access, Hadoop, Salesforce, Teradata, text, MySQL, Vertica, Splunk, Aster Data, Amazon Redshift
•Develop visual workflows
•Drag and drop UI that requires no coding
•Develop your own ad-hoc analyses
•Build datasets for predictive modeling
•Share results via the Cloud, email, or directly
•Seamlessly integrate with other tools like Python, R and Tableau
• Cloud-Based Reporting
•Merge data sources
•Share reports, dashboards and visualizations
•Schedule and automate updates
•Facilitate team discussion
•View shared reports on your phone, tablet or computer