Lavastorm for Tableau Delivers Powerful Data Preparation, Advanced Analytics and Data Visualization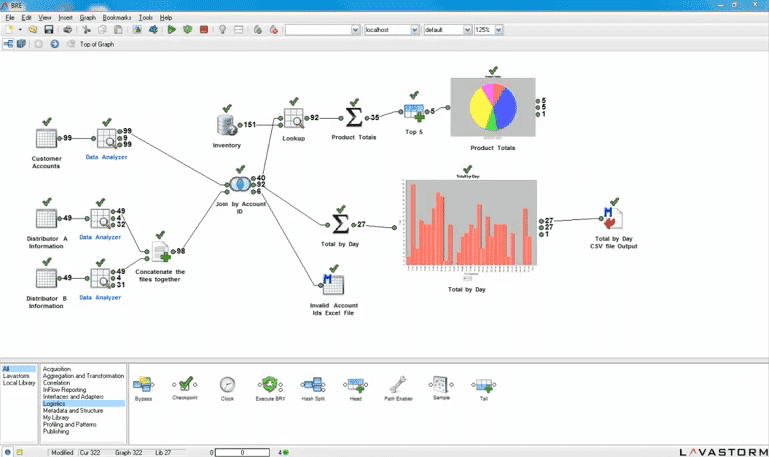 Lavastorm, announced the launch of its new self-service software designed specifically for Tableau users. Offered by monthly subscription, this powerful, yet simple solution will enable current and new Tableau customers to quickly build sophisticated, governed analytical flows that accelerate business insights and promote data confidence. Lavastorm has been providing self-service data preparation capabilities to some of the largest enterprise companies for over a decade, enabling them to quickly access data and build analytic applications on their own. With Lavastorm for Tableau, users have a cost effective tool that provides advanced analytic controls to help easily and quickly prepare, transform and publish insights directly into Tableau's dashboards with a single click. The software is offered by monthly subscription, and will include 67 pre‐built custom libraries for script‐free analytic app building that allow users to edit and execute multiple analytic data flows simultaneously. The software also offers collaboration tools that enable users to create, reuse and share custom analytic functions or libraries, including advanced statistical and predictive analytic capabilities.
"Tableau's mission to help people see and understand data, no matter where the data resides is one that Lavastorm supports and shares," said Dan Jewett, Vice President of Product Management at Tableau Software. "We are excited to bring Lavastorm's powerful data preparation and advanced analytic capabilities to all Tableau users and further empower them to provide trusted data analysis with our dynamic visualization dashboards."
Features of the new Lavastorm for Tableau:
Acquire Data : Any source, any format in a single easy-to-use tool and assemble data from any financial, operational or enterprise data source to drive greater insights, instantly. Prepare Data : Cleanse, match and enrich data, prepare data for accuracy and greater confidence in your visualization and build a powerful set of models and analytics to establish, maintain and share a consistent, systematic analyses framework. Publish Data : Visualize in Tableau to share with anyone and drive maximum impact from your visualizations and import your Lavastorm data flows directly into your Tableau dashboard. Data Lineage : Provide traceability and Audit Trails – inspect the data sources and business logic behind the dashboard and deliver a step-by-step flow of data analysis to show where data and logic is coming from during the data prep process.
The new product is powerful, yet simple to use. The basic out the box functionality makes it easy for users to perform mission-critical analysis with template-driven data flows that are simple to follow and trace back to original data sources. Lavastorm's open architecture provides a full set of APIs that allow integration into most BI stacks and sales automation solutions such as Salesforce.com. Lavastorm also provides governance capabilities to ensure that data is not only accessible, but also has the necessary controls in place. To get up and running, users have access to premium support options including training and educational videos, live online training and on‐site, instructor led training.
"We are excited to bring this new product to market, and to enable more users to accurately visualize their data, and ensure confidence in their analysis," said Drew Rockwell, Chief Executive Officer of Lavastorm. "Tableau has helped bring the data visualization revolution to the forefront of the self-service analytics market, and together with Lavastorm's data preparation and predictive analytics capabilities, we will be able to accelerate time to insight, while providing governance, transparency and enhanced collaboration for our joint customers."
You may also like to read, Predictive Analytics Free Software, Top Predictive Analytics Software, Predictive Analytics Software API, Top Free Data Mining Software, Top Data Mining Software,and Data Ingestion Tools.
Top Predictive Lead Scoring Software, Top Artificial Intelligence Platforms, Top Predictive Pricing Platforms,and Top Artificial Neural Network Software, and Customer Churn, Renew, Upsell, Cross Sell Software Tools
More Information on Predictive Analysis Process
For more information of predictive analytics process, please review the overview of each components in the predictive analytics process: data collection (data mining), data analysis, statistical analysis, predictive modeling and predictive model deployment.