Top 23 Predictive Lead Scoring Software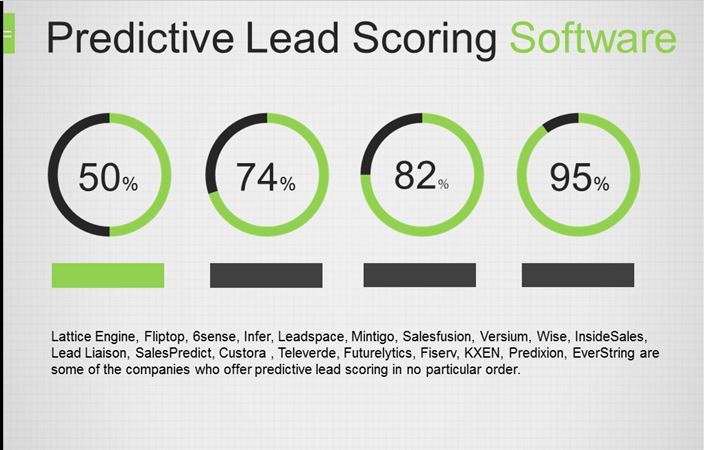 23 Predictive Lead Scoring Software: Lead scoring is a very useful system for measuring a prospect's likelihood of buying. Lead scoring is used to rank prospects against a scale that represents the perceived value each lead represents to the organization. The resulting score is used to determine which leads will engage and in the order of priority. A score can be arrived by considering the prospect's previous interactions with the organisation along with other external data points and signals, such as demographics and prospects behaviour attributes from various other data sources. This can be achived by connecting organisations customer relationship management system with a predictive lead scoring platform. The predicted lead score and the potential future value of the prospect provides the marketers a 360 degree view of all buying signals and will allow sales people to prioritize their targets. Lattice Engines, Infer, Angoss Predictive Analytics, LinkedIn Sales Navigator, 6sense, Leadspace, Mintigo, EverString, Versium Predictive Scores, Custora, QIWare, Predixion Insight, Salesfusion, Wise, InsideSales, Lead Liaison, Televerde, Fiserv, SalesWings, Sparklane, GrowthIntel, LeanData, Velocify are some of the companies who offer predictive lead scoring platforms .
Top Predictive Lead Scoring Software
Lattice Engines, Infer, Angoss Predictive Analytics, LinkedIn Sales Navigator, 6sense, Leadspace, Mintigo, EverString, Versium Predictive Scores, Custora, QIWare, Predixion Insight, Salesfusion, Wise, InsideSales, Lead Liaison, Televerde, Fiserv, SalesWings, Sparklane, GrowthIntel, LeanData, Velocify
1
Lattice is a cloud based predictive marketing and sales applications provider who offers a set of predictive applications to score and segment, to retain and sell, to enable sales to prioritize leads and accounts, and to expand customer relationships and mitigate churn. Lattice Engines complete set of marketing and sales applications predicts who will buy, what they are likely to buy and when. Lattice's applications combine billions of buying signals and apply advanced machine learning to help drive predictable sales and marketing performance. Lattice's predictive lead and account scoring, finding your best leads is easy and prioritize your existing and incoming leads, based on millions of buying signals. Lattice Predictive Insight Platform is an enterprise-grade marketing platform that features real-time contact and account scoring, rapid self-service modeling, and native applications for Marketo, Eloqua and Salesforce. Marketing teams of any skill level can…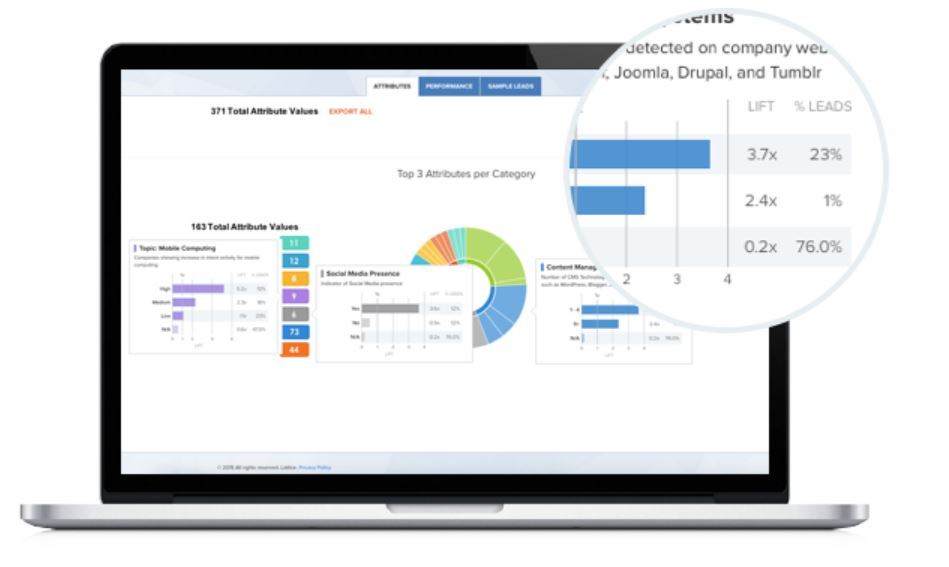 2
Infer is a cloud-based solutions that leverage proven data science to rapidly model the untapped data sitting in enterprises, along with hundreds of external signals from the web to calculates a score, to enable the business to see which leads are most likely to convert or have the biggest revenue impact. Infer delivers data powered business applications that help companies win more customers. Infer is a predictive and analysis tool target for marketing activities. The software enables users to identify target market and potential customers who are likely to convert to real customers of the company. The software makes of use of machine learning algorithms and data analysis technique coupled with machine learning and predictive intelligence, to get its work done. The software delivers accurate results to find and target potential customers. The software is fast and efficient. The software follows some steps before delivering final results. Infer collects data already available inside the organization. It collects data from organizations systems, marketing automation…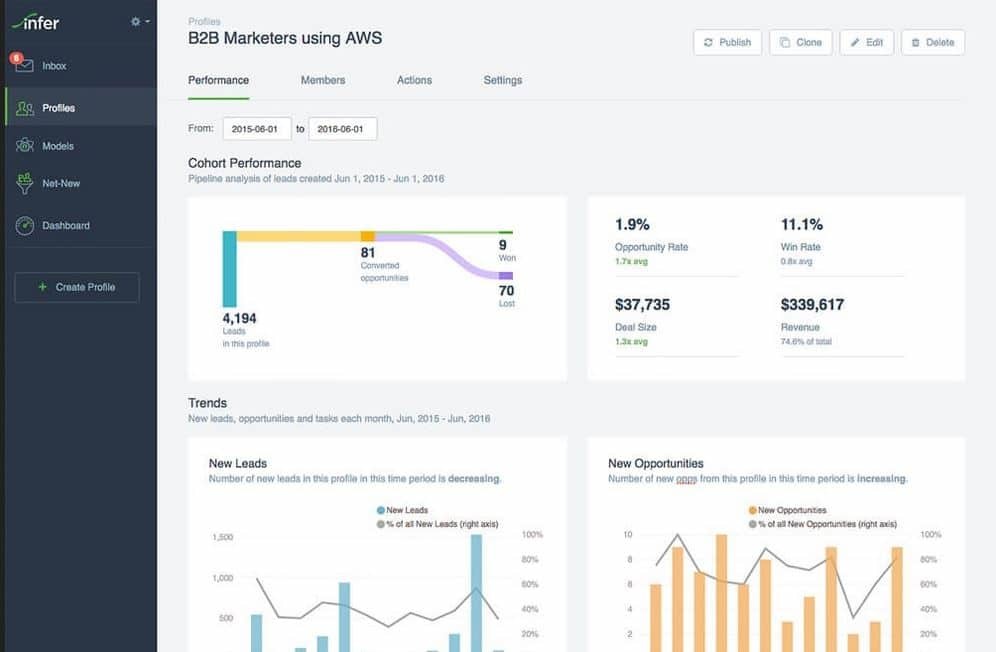 3
Angoss KnowledgeSCORE is a cloud-based solution for CRM systems that uses predictive analytics to score leads and opportunities, improving marketing effectiveness, increasing sales productivity and helping to drive overall revenue growth.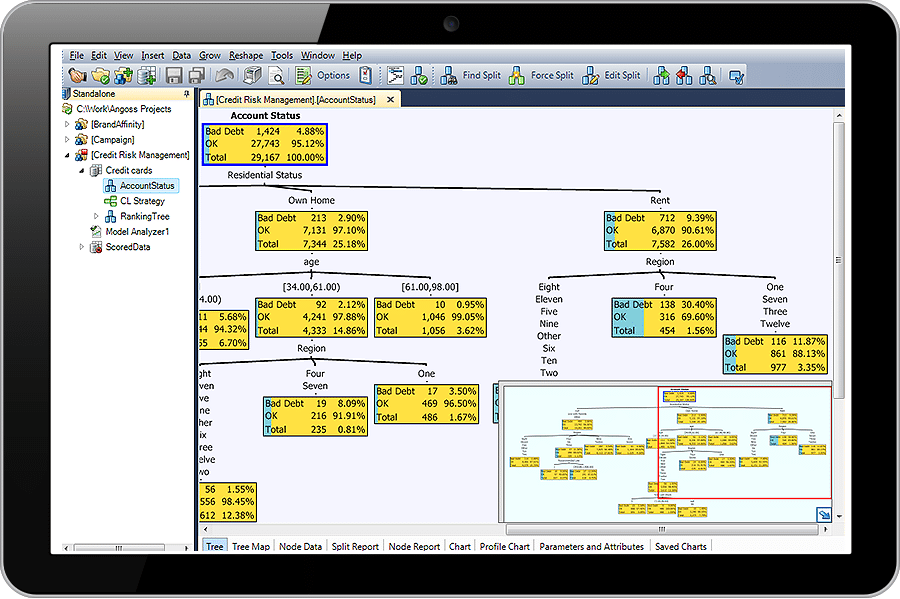 4
LinkedIn Sales Navigator tool features sophisticated algorithm to give you lead recommendations that are tailored to you. LinkedIn Sales Navigator has the tools to help you stay informed and up-to-date about your prospects. LinkedIn Sales Navigator get custom lead recommendations based on your preferences. Instantly import your Salesforce data with a single click and easily find the right leads with Advanced search with lead builder. Provide real-time sales updates on your prospects and customers, unlock full profiles for leads who aren't in your network and measure and track your social selling efforts with SSI dashboard. LinkedIn…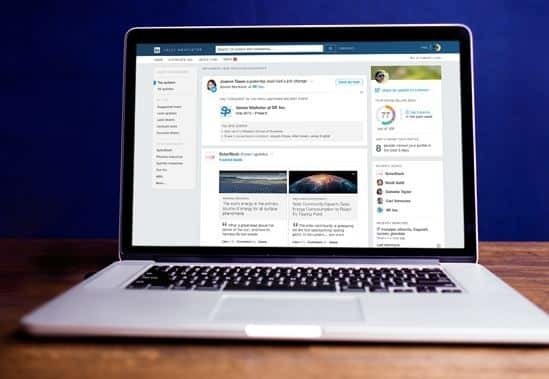 5
6sense is a B2B predictive intelligence engine for marketing and sales which uncovers net-new prospects at every stage of the funnel and determines which existing prospects are in market to buy. 6sense predicts what products prospects will buy, how much they will buy, and when and deliver qualified leads to sales teams with the data to back up each account and contact's score. 6sense is a predictive tool targeted to companies and organizations. The software helps in making predictions regarding sales and marketing. The software relies on statistic, demographic and firmographic analysis to make predictions. The software is fast, efficient and effective in making predictions. The software delivers results with accuracy. Companies no longer have to rely on intuitions. The software delivers best results by making important calculations and analysis. The results are delivered with accuracy of up to eighty five percent. The software combines time sensitive data in order to make predictions. The software enables users to make accurate B2B web based…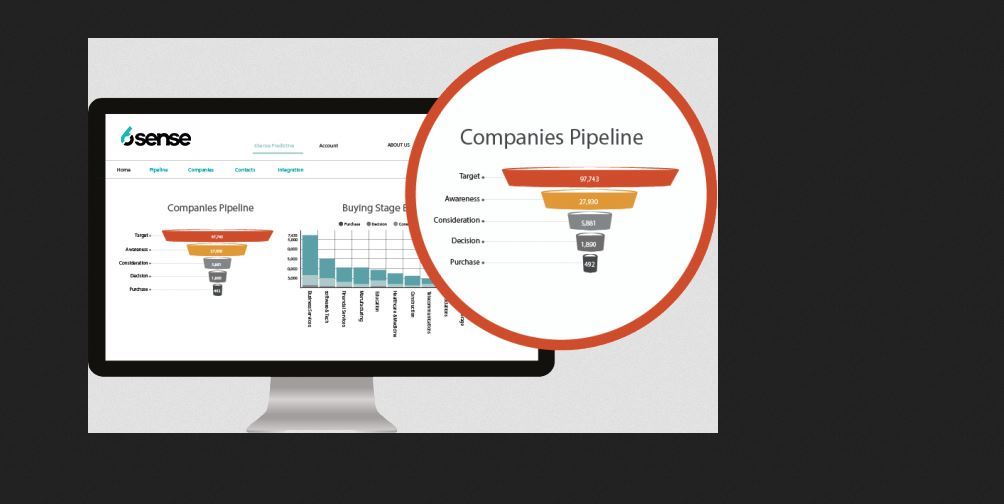 6
Leadspace is a SaaS solution, B2B demand generation platform that enables companies to tap into social, internal and external data in real-time to discover, engage and understand prospects to drive increased marketing and sales performance from data enrichment, scoring and ranking to social targeting and sales prospecting via predictive analytics. Leadspace enables users to gain an insight into available data, analyze it and make important decisions. The software helps users to connect with their customers and understand them. The software provides fast and accurate lead solutions. It delivers quick end to end solutions to users. Marketers have to work closely with customers, they need to understand their needs and demands. Important marketing decisions cannot be taken if inaccurate and inadequate data is available. The software provide analytic solutions to marketers to gain a better insight into customer needs. The software makes customer relationship management and market automation much more valuable…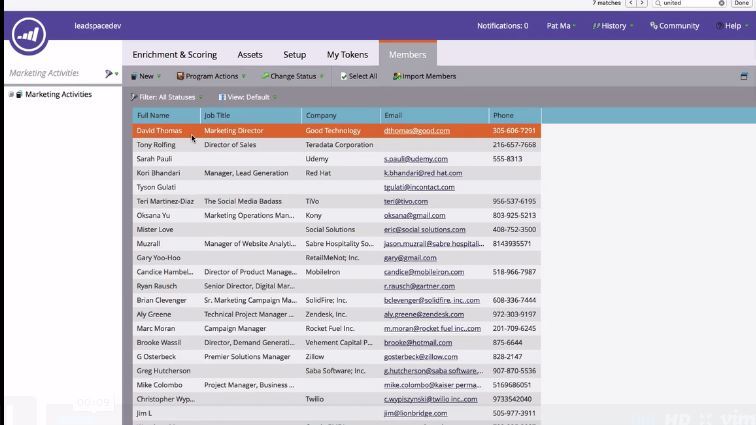 7
Mintigo is a Predictive Marketing Platform to discover, target, and engage the best prospects. Mintigo learns from every campaign and user interaction, predictively scores and enriches every lead in real time, and finds the best way to target and engage your prospects. Mintingo collects data from diverse sources. Data is collected from all over the world related to finances, sales, marketing, technology, staffing procedures and so on. Data is collected from various companies across the globe. The software collects these data points and compares them with the data of customer relationship management and marketing automation platforms. The data is analyzed. Analyses reveals important and relevant information related to customers. Analysis provides a deep insight into customer's behavior their needs and demands. The software identifies a set of indicators related to leads or highly valuable customers. These indicators enable better marketing decisions. The…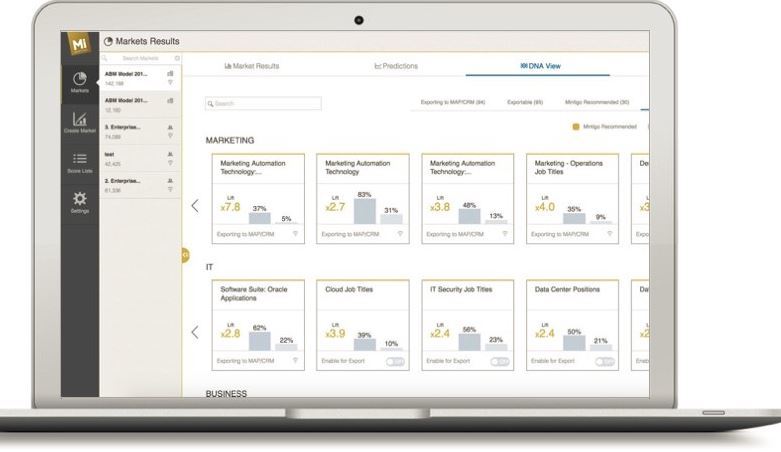 8
Everstring helps several companies influence data to optimize sales and marketing capabilities. Everstring has a self-service platform that gives sales and marketing team access to the predictive marketing. It has predictive segmentation that enables marketers to influence thousands of data signals to create data-backed groupings of accounts for marketing technology. Everstring platform has the capability to create predictive segments in a minute. These predictive segments can drive different marketing activities like marketing programs, new products release, market expansion, and more. Everstring has the capability to expand predictive demand generation that can increase the database and market to accounts of several…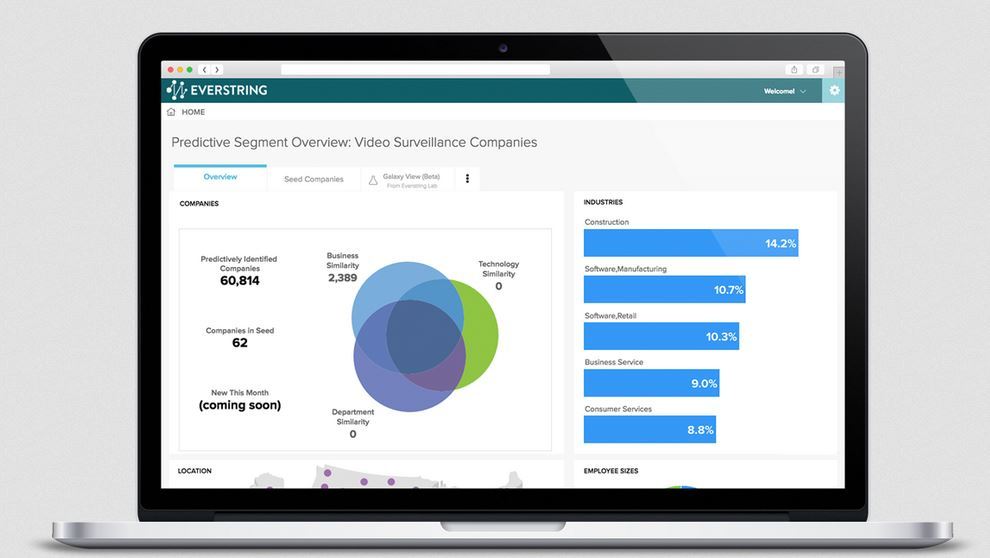 9
Versium Predictive Scores are the outcome of matching technologies that enable predictive models to utilize enterprise data in combination with Versium's LifeData. These predictive scores allow businesses to act on a single piece of information, without having to worry about mathematical equations and complex associations of data. Versium is a data technology company that operates the LifeData predictive analytics scoring service. Versium delivers predictive scores that are built from the company's proprietary LifeData platform which contains over half a trillion data attributes sourced from publicly observable and commercially available means. When matched to an enterprise's CRM,…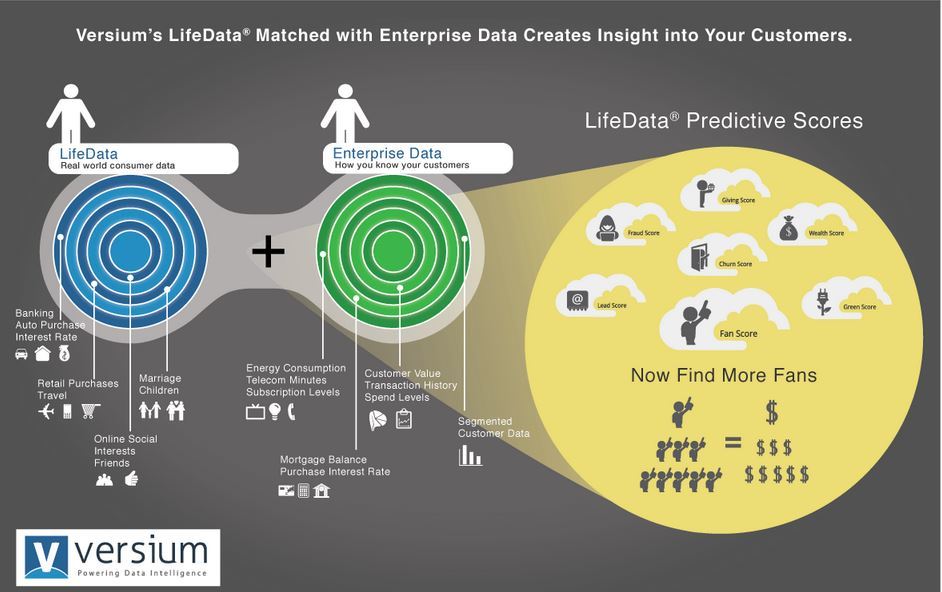 10
Custora is a SaaS platform to help online retailers better understand and market to their customers. Custora software employs customer analytics methodologies and integrates directly with email providers to help marketers deliver more relevant, meaningful communications. Custora is an analytic software platform. The software performs analysis of customer related data, the software reveals terms and information relation to customers, it enables users to keep a track of important and high value of customers. The software enables users to win back their customers and to retain them. The software uncovers essential data points related to customers. The software predicts potential group of customers. The software identifies what customers want to buy, how they will buy it, how frequently they will purchase it and how much they would spend in their buying process. All this information helps users…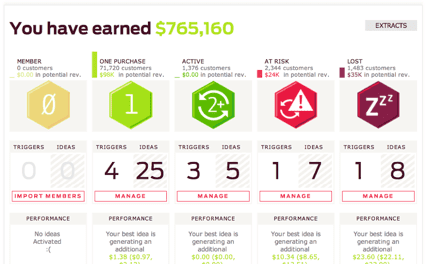 11
QIWare is an agile analytics solution that delivers a complete suite of capabilities to support end-to-end data mining cycle. Simplify data preparation and modeling while increasing business productivity, minimizing human error, and significantly improving usability. QIWARE has the capability to carry out data mining. It makes use of agile capabilities to provide solution to businesses to carry out the complete and end to end data mining cycle. It enables businesses to ease preparation of data and enable data modeling. It reduces human errors and increases speed and efficiency. It improves productivity too. The software helps in the management of customer…

12
Predixion Software provides customer retention, customer Segmentation and Targeting, Lead Ranking, Scoring, and Definitive Action Plans and Upselling and Cross-selling. Predixion RIOT delivers impact in every layer of your IoT system, whether it's deployed by OEMs on the device itself with RIOT Nano, embedded by OEMs on the IoT gateway with RIOT One, or delivered to the enterprise with a global view across all connected assets in the organization with RIOT Enterprise. Predixion Insight is designed for business analysts and other non-technical users to enable broader adoption of predictive analytics, but is powerful and flexible enough for data scientists. In addition, Predixion expedites the "Last Mile of Analytics" – the deployment of powerful predictions directly to the people who need them to take action – so the…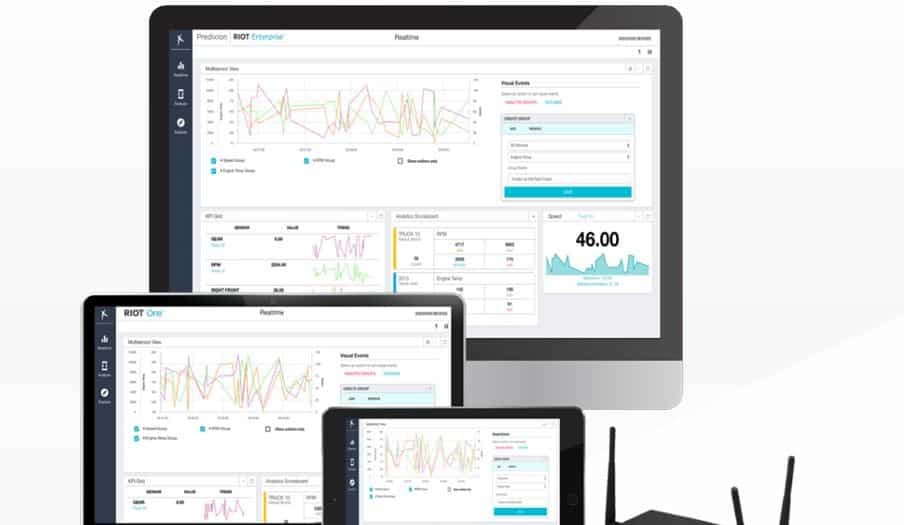 13
Salesfusion is a cloud-based marketing automation vendor to provide relevant, contextual information to sales by delivering a lead nurturing and engagement marketing automation platform to marketers. Salesfusion help marketers attract new opportunities, convert them into customers and nurture them into lifetime relationships. Salesfusion enables online companies to get an access to email and marketing automation solutions. The software collects data about visitors who visit the website. The software identifies their browsing history and patterns. The software points out when big potential customers browse through the website. Web tracking information is integrated with CRM systems. In this way the software sends signals to sales personnel about web tracking and every single visitors who visits the website. The software can be integrated with a social platform known as Oktopost. The software allows post to posted and shared within and outside business hours. The software…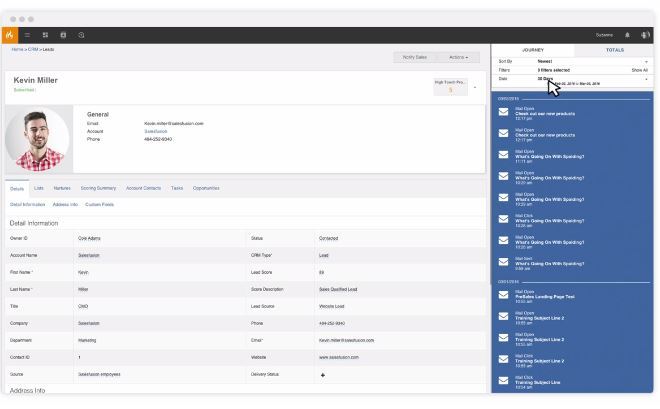 14
Wise provides machine learning applications enabling to optimize customer's experience across their lifecycle including acquisition, monetization, retention and support. Wise Applications use open APIs and OAuth to automatically connect to data. Wise.io is a predictive intelligence tool. It allow users to keep track of customers and to know them deeply. The software allow users to manage customers and identify their needs. It helps agents to be responsive towards customers. Agents can be more productive and focused towards what is needed by customers the most. The software maintains data regarding customers' behaviors. The software helps agents to deflect tickets. The agents can lower their response time. Agents are more responsive to customers' problems and issues using this particular software. Issues of custo0mers are identified instantly. These issues are addressed by agents in…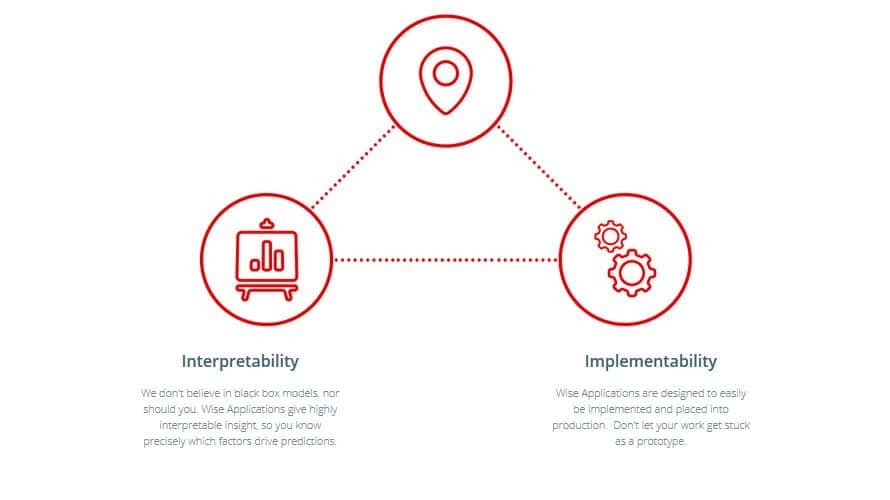 15
InsideSales offers cloud based sales acceleration technology, using Neuralytics the platform creates high performance sales teams by offering communications for immediate response, gamification for sales motivation, data visualization for an immersive experience with sales data, and predictive analytics for lead prioritization, score and hiring. InsideSales has been designed to deliver efficient, effective and productive sales solution. The InsideSales platform includes sales communications, email tracking, gamification, prioritization and more – all built on Neuralytics, a predictive and prescriptive self-learning engine that prioritizes sales activities to target the most promising leads and opportunities. The InsideSales sales acceleration platform is built on Neuralytics, a multi-tiered predictive analytics engine. It processes massive and complex data sets in order to produce simple insights and directives that help your sales team make more money. It contains the largest sales database in the world: 90 billion interactions and counting. This multiple tiered…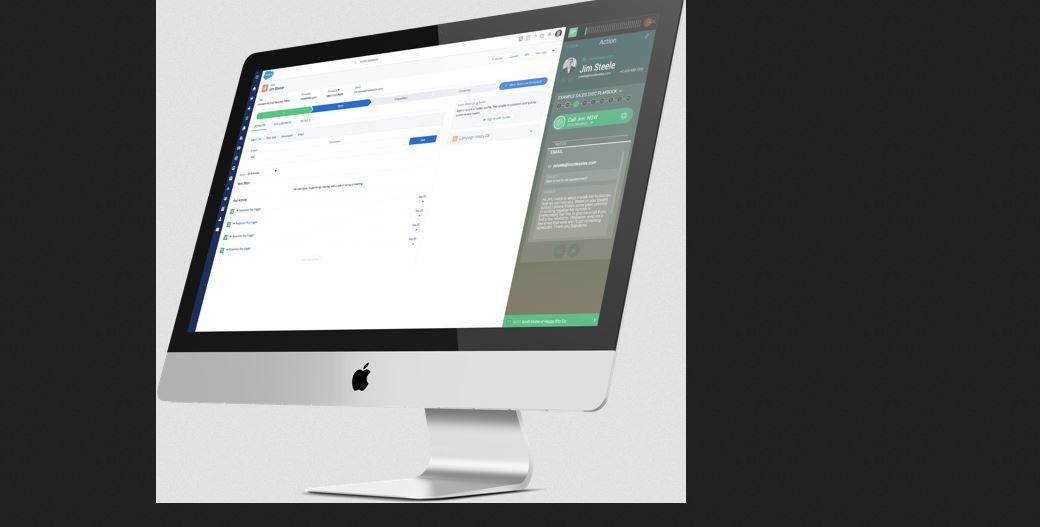 16
Lead Liaison is a cloud based sales and marketing automation solution that helps businesses accelerate sales by attracting, converting, closing and retaining more prospects. Provides solutions such as a hot-lead dashboard, Buy Signals and a live ticker alert, lead scoring using the single platform, called Revenue Generation Software. Leadliasion has been designed to attract customers towards online businesses. The software helps users carry out their marketing efforts. Users can design marketing and email campaigns. They can work more closely with their customers. They can engage and stay in contact with their customers. They can publish and launch marketing campaigns so as to reach their customers. ProspectVision provides sales reps with crucial sales insight via the industry's deepest level of proactive tracking.Lead Management Automation helps sales and marketers do their job more efficiently and build stronger relationships with customer, prospects, and partners.SiteEngage helps convert and engage more website visitors…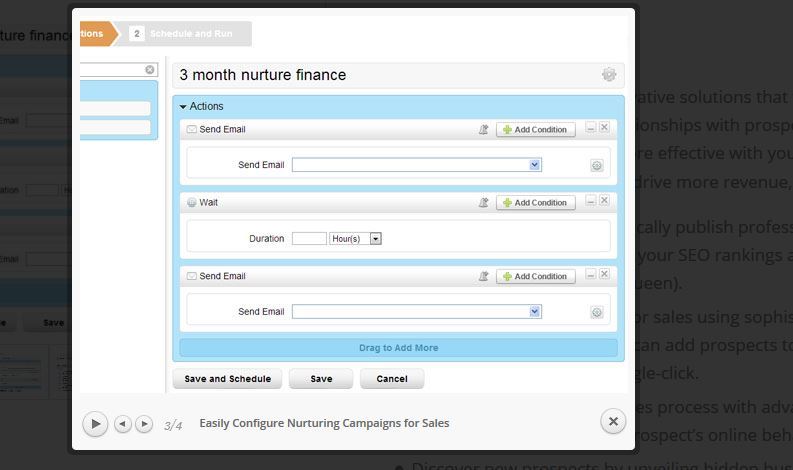 17
Televerde solutions optimize pipeline volume, quality and velocity and help to benefit from fresh insights for successful sales outcomes with integrated demand generation, lead Scoring and sales pipeline solutions. Televerde is a global demand generation company that is dedicated to acquiring new business and to accelerate revenue for clients. It provides customer acquisition management through a variety of marketing services. Televerde provides innovative delivery and impactful results with end-to-end sales and marketing solutions. Televerde team provides outstanding communication with the customers for demand generation success. Most of the companies all over the world depend on Televerde to accelerate their revenues because it gives sales and marketing solutions. Televerde also provides world-class B2B telemarketing services for the acceleration of sales cycle.B2B teleservices agents need proper training to represent the brand…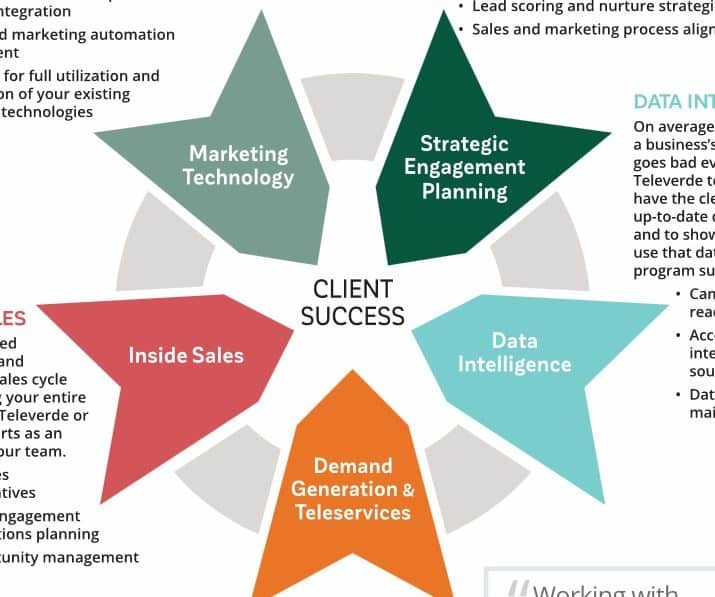 18
Predictive Scores from Fiserv is a predictive modeling solution for customer behaviour. It uses customer data to create a 360-degree view of a relationship, based on account data, online/mobile banking activity, and debit card and electronic bill pay usage. Fiserv is a global leader in financial services technology solutions. It helps many clients all over the world to create experiences for the digital world. The associated branches of Fiserv drive innovative technologies in payments, processing services, risk & compliance, and insights & optimization that provide service solutions and integrated technology for the clients. Predictive scores of Fiserv is a predictive model solution that helps to boost profits by identifying ready-to-buy customers for company's product lines. By using predictive scores model of Fiserv, companies can grow their deposits and loan income, increases customer's values, drives new revenues and improves customer…
19
SalesWings connects to most available email marketing platforms and web forms, in order to allow you to track and qualify your leads accurately.The intelligent algorithm analyzes data from your lead's website activity such as frequency of visits, time they spend and visit behavior, to clearly identify the hottest Leads. SalesWings then automatically sends notifications to your sales team about opportunities to follow-up, in case they are too busy to check.Saleswings is a smart and lead scoring web application that qualifies the marketing leads and sales prospects of several companies with the predictive lead scoring of website activity. Saleswings connects to…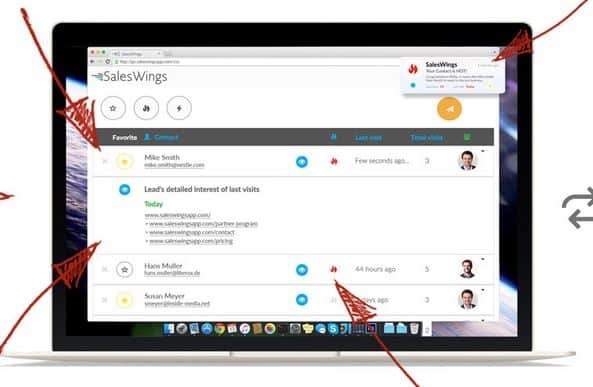 20
Sparklane is the first editor of predictive lead scoring solutions for the European B2B market. The job is to help you identify your market and steer you to the best business opportunities. Sparklane predicts companies most-likely-to-buy through scored leads and then allows you to close more deals. Sparklane is a SaaS predictive Lead Scoring Solution. It helps marketers and salespeople to target "the most likely to buy" companies. Sparklane helps to generate new clients by producing active prospects and identifying opportunities. Sparklane improves the demand generation campaigns of the customers with the smart data. It can deliver customized messaging across…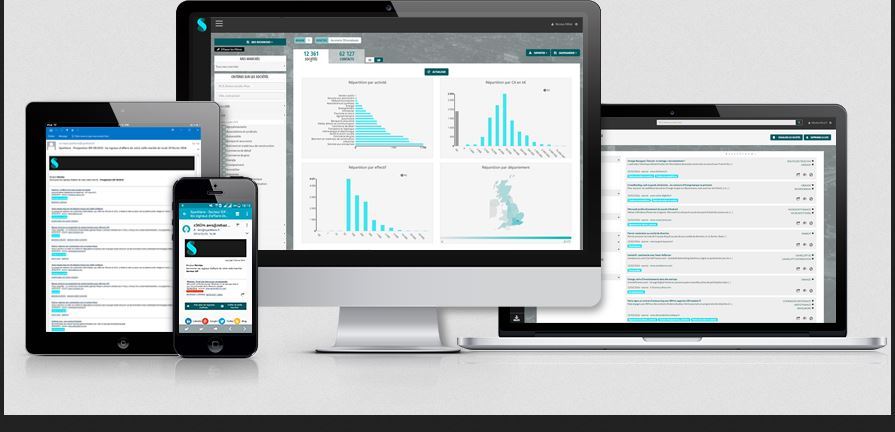 21
GrowthIntel offers a software-as-a-service product to B2B corporations to search for sales leads. The platform of GrowthIntel uses NLP, data science and machine learning to provide the most sophisticated overview of the customer's addressable markets. GrowthIntel empowers the B2B trade through data science. GrowthIntel identifies every company with the requirement of products and services of the customers and prioritized them according to the requirements. This platform generates high-quality sales opportunities with the same effort. It can discover new in-market prospects. GrowthIntel is a global pioneer in predictive intelligence and they want the most talented people to join their team. The…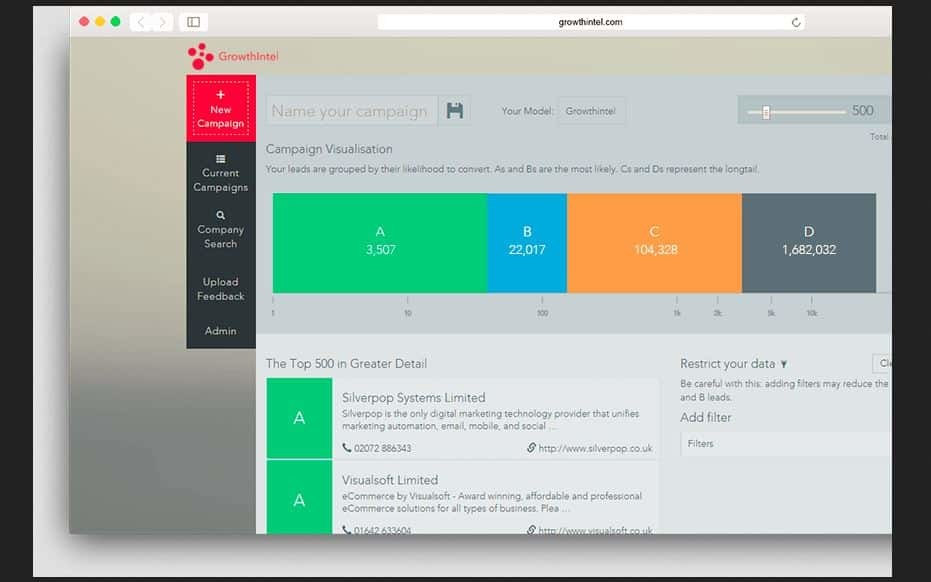 22
LeanData enables strategic lead management where leads are assigned to the correct rep and never get misplaced in the sales process, every dollar spent on lead generation is given the best chance at returning positive ROI and lead flow is seamlessly aligned with go-to-market strategy as it changes. Safe and secure within Salesforce, LeanData's core technology is built on proprietary fuzzy matching algorithms. The software solution has been developed over four-plus years and continues to improve over time with each new implementation. The matching algorithm is designed to look beneath the surface. LeanData utilizes more than just email domains. It…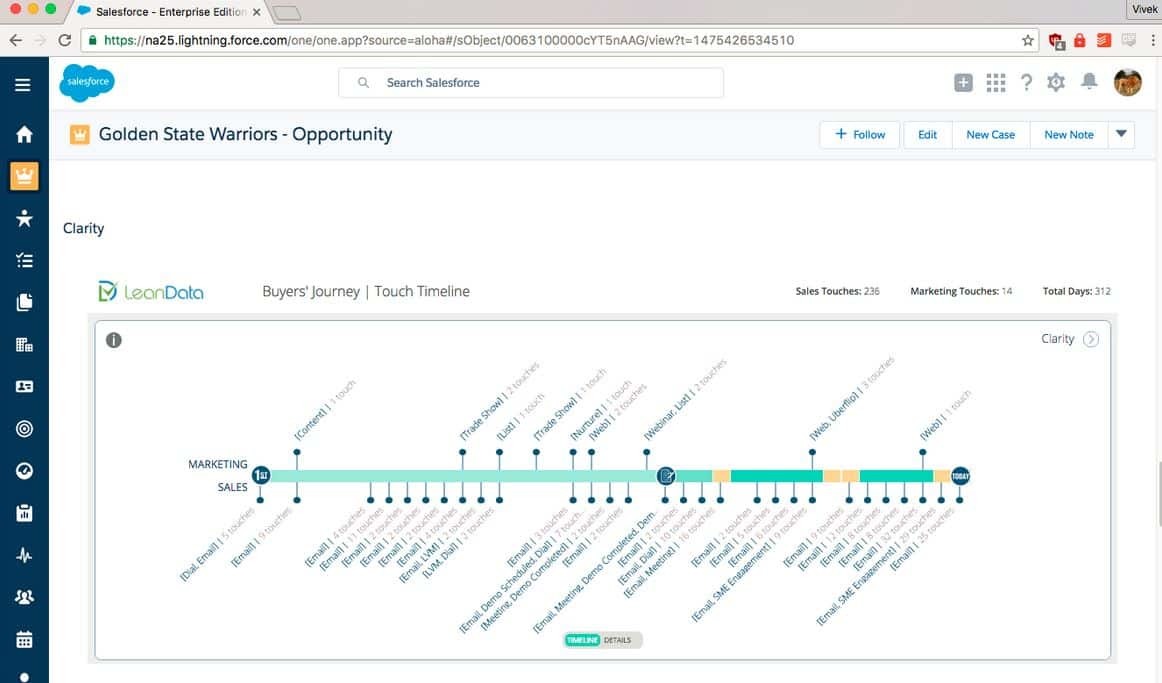 23
Velocify is the leading sales acceleration platform. The company helps more than 1,500 sales teams sell more by bringing speed and control to the entire sales process. Velocify helps sales teams prospect with more precision, accelerate lead engagement, and implement optimized workflows, ultimately helping sales teams find and convert more leads. Velocify LeadManager automatically captures, de-dupes, intelligently distributes, and prioritizes leads so sales reps stay ahead of the competition and focused on closing more deals. Users can seamlessly capture and automatically de-dupe and distribute inquiries coming from a variety of sources, including website lead forms, marketing automation systems, and more…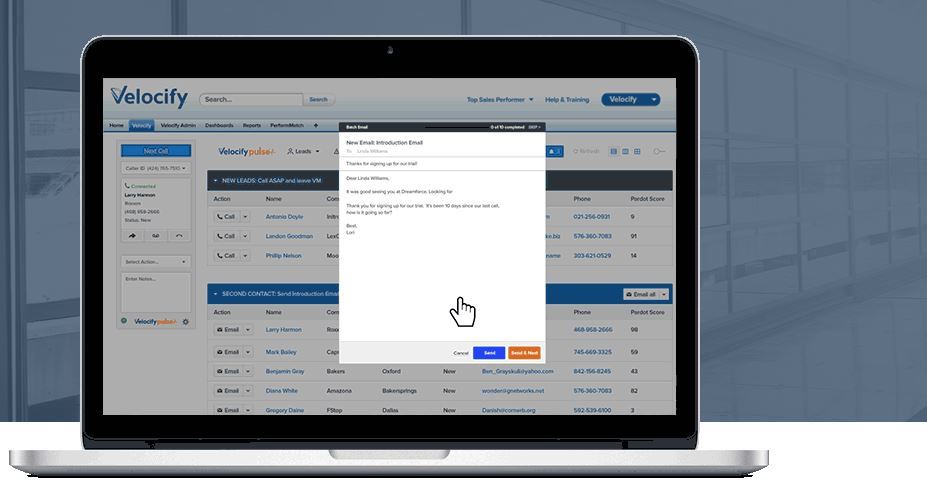 You may also like to review the predictive pricing software list :
Predictive Pricing Software
You may also like to review the predictive analytics free software list :
Predictive Analytics Freeware Software
You may also like to review the top predictive analytics proprietary software list:
Top Predictive Analytics proprietary Software
You may also like to review the predictive analytics software API :
Predictive Analytics Software API
More Information on Predictive Analysis Process
For more information of predictive analytics process, please review the overview of each components in the predictive analytics process: data collection (data mining), data analysis, statistical analysis, predictive modeling and predictive model deployment.